Quick And Easy Chicken Soup Recipe For Colds-Flu
This is my quick and easy chicken soup recipe for colds and flu that anyone can make easily. My neighborhood is experiencing a cold or some kind of virus that is lasting 3-6 weeks. Some of the people have bronchitis, coughs, sinus infections and they are feeling drained of energy. I have talked to two neighbors who have been sick since Christmas and they just can't seem to kick the cold symptoms. One mentioned her husband thought he was on the mend and then BAM he was flat in bed. This must be a bad virus, flu, cold or whatever is going around. My husband and I have been taking meals to families and today I'm going to make the biggest pot of my chicken soup recipe and put it in quart jars to deliver to more people. If you have neighbors that are ill this recipe can be taken to them in quart jars or disposable containers. All they have to do is heat it up and enjoy this chicken soup recipe that is homemade.
Here's the deal with chicken soup when people have a cold or influenza without complications, of course, it soothes the throat and helps clear the nasal passages. I would call it a comfort food we all grew up on that Grandma made for anyone who was sick. We rarely went to the doctor and somehow the soup made us feel better. This is truly the best homemade chicken noodle soup in the world. I have made this for years and now my grandkids ask me for the recipe. The reason I think this is the best chicken soup recipe is the fact that 99.9% of the ingredients are right there in your pantry, freezer, refrigerator or food storage pantry. You can interchange chicken in cans or use frozen chicken or leftover chicken.
You can make your own noodles, or use my secret ingredient noodles: Grandma's Frozen Egg Noodles. Of course, you can boil your packaged noodles/pasta of choice and add them later when the soup is almost finished cooking. I use my electric slow cooker so I can do other things because I usually have ten things going on at once. So I set the slow cooker on low and go about my day doing stuff we all do each day. I call it my set and forget dinner. It really is a very yummy smooth soup with just the right amount of spices. It practically fills my 3-1/2 quart crock pot. Cuisinart 3.5-Quart Programmable Slow Cooker
Secret Ingredient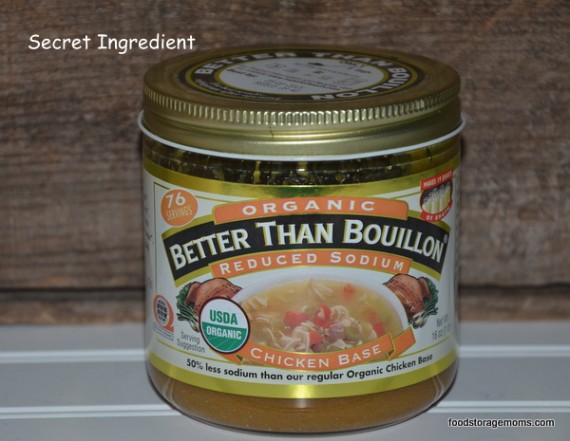 My favorite noodles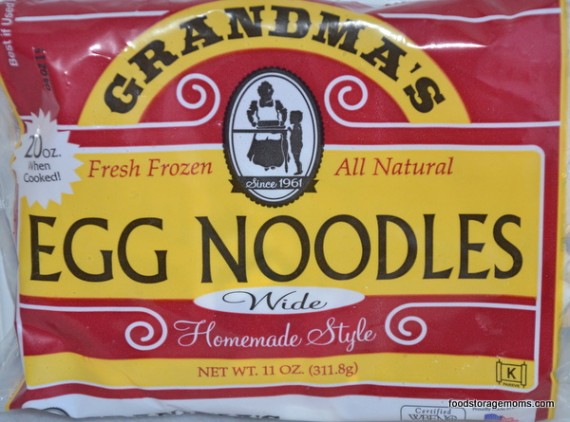 Here is a picture of my favorite frozen Grandma's Egg Noodles (as close to homemade as I have ever tasted).
Chicken Soup Recipe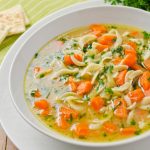 Chicken Soup Recipe by FSM
Ingredients
2

cans of chicken or 2 cooked chicken breasts

6

cups

water

1/4

cup

Better Than Bouillon Chicken Base or substitute equal amounts of water with chicken broth

1

onion, chopped in bite-size pieces

1-1/2

cups

diced fresh carrots

1-1/2

cups

diced fresh celery

1

teaspoon

dried parsley

1

teaspoon

dried sweet basil

1

teaspoon

pepper

salt to taste

1

package Grandma's frozen egg noodles

2

cans cream of chicken soup undiluted
Instructions
Combine all ingredients in a slow cooker for 6 to 8 hours on low, BUT add the Grandma's Noodles, the last two hours or they will be mushy. Enjoy!
If you have some neighbors who are ill this week, they will love this chicken soup recipe, I promise! Keep up the good work by storing water and adding one can at a time to your pantry.