Quick And Easy Creamy Italian Sausage Soup
This quick and easy creamy Italian sausage soup recipe taste's like the soup I order at the Olive Garden with those yummy breadsticks and all the salad you can eat. I love making any soup and letting it simmer on the stove while the room smells fabulous with soup aroma, I guess you could call it. I make some bread and I'm good to go with this easy to make soup. It's great for adding some of those leftovers of mushrooms, extra Kale or spinach hiding in the refrigerator. Who doesn't love a hot steaming bowl of soup with a slice of hot bread with butter slathered on it? I know Mark and I do!
I know the pressure cookers and the new Instant Pot are very popular and I love cooking with those. But, I really love cooking with a Lodge Dutch oven like this one on the top of my stove: Lodge EC6D43 Enameled Cast Iron Dutch Oven, 6-Quart, Island Spice Red
. I am going to start doing more giveaways after the first of the year and, depending on availability, this Dutch Oven may be one of the giveaways! Let me know if any of you would use it, I would love to know.
Creamy Italian Sausage Soup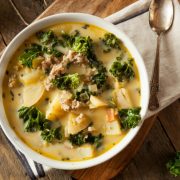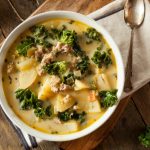 Creamy Italian Sausage Soup
Ingredients
1-1/2

pounds

cooked Italian mild sausage

you can crumble it or not

2

large russet white potatoes

peeled and cubed into bite-size pieces

1 to 2  

chopped onions

I like a lot of onions

1/2

cup

cooked bacon bits or pieces chopped into bite-size pieces

2

minced cloves of garlic

2

cups

Kale

Spinach or Swiss Chard torn into bite-size pieces

2

8-ounce cartons chicken broth

1

quart

of water

1-2

cups

heavy whipping cream

depending on how thick you like your soup
Instructions
Chop, crumble or slice the Italian sausage and cook thoroughly

Add the chicken broth and the water into the soup pot

Add the onions, potatoes, and garlic

Cook on medium until the potatoes are cooked

Add the bacon

Salt and pepper to taste

Simmer for another 10-15 minutes

Turn the heat to low and add the Kale, Spinach or Swiss Chard, and the cream

Heat through, serve and enjoy
The thing I like about this Italian sausage soup is the fact that I can stretch the recipe to serve more people just by adding a few extra leftovers I have in the refrigerator! Do you have a favorite soup you like to make on a cold, chilly night? This is when I wish I had a fireplace or woodburning stove, those were the good old days! May God bless you and your family for being prepared for the unexpected with one #10 can at a time. One gallon of water a week is awesome too!
My favorite things:
Lodge EC6D43 Enameled Cast Iron Dutch Oven, 6-Quart, Island Spice Red
Farberware Professional Ladle (Stainless Steel)
Lodge L12CO3 Camp Dutch Oven, 6-Quart
Nordic Ware Natural Aluminum Commercial Baker's Half Sheet
Prepare Your Family for Survival: How to Be Ready for Any Emergency or Disaster Situation