Pioneer Recipes Everyone Should Know How To Make
Have you made some pioneer recipes your ancestors made many years ago? They didn't have the ingredients we have today, so they had to make do with what they had. And make do is what they did for sure. They had to fill the belly because they were traveling in covered wagons, in most cases, with limited access to the General Store, back in the day.
Plus, even when they got to their destination, it could have been months or years before regular food supplies or merchant stores were readily available to them.
I sometimes think we will be making these recipes once again if and when we have a grid down or whatever you believe will happen. And it will happen, trust me. Our power grid in the US is so outdated and will take years, actually several years to replace, if it can even be done.
These pioneer recipes are pretty well known, but I want to put them in printable form so you, my readers, can print them now before you may need them.
Of course, if you cook from scratch you know several recipes to get you by if the grocery stores are shut down for days, weeks, or months.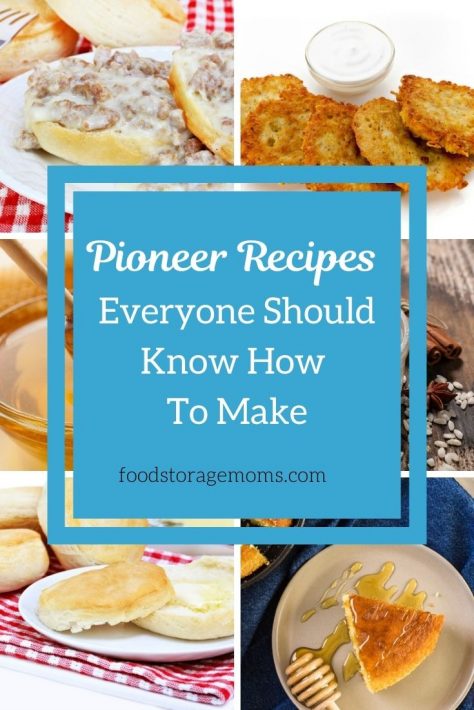 Typical Ingredients:
Cornmeal
Salt
Baking Soda
Molasses
Buttermilk
Eggs
Rice
Raisins
Vanilla
Cinnamon
Baking Powder
Oil/Lard
Flour
Brown Sugar (1/4 cup molasses per one cup white sugar)
Potatoes
Milk or Cream
Pioneer Recipes
Mormon Johnny Cake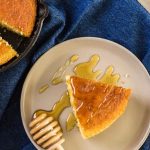 Mormon Johnny Cake by FSM
Ingredients
2

cups

cornmeal

1/2

cup

flour

1

teaspoon

baking soda

1

teaspoon

salt

2

cups

buttermilk

2

tablepoons

molasses

2

eggs (optional for fluffy cake)
Instructions
Combine the dry ingredients and add the buttermilk and molasses. Add eggs if desired. Cook in a hot greased cast iron pan for about 20 minutes on high heat.
Spotted Pup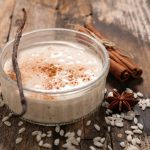 Spotted Pup by Food Storage Moms
Ingredients
2

cups

cooked rice

1-1/3

cups

milk

1/2

cup

brown sugar

1

tablespoon

butter

1

teaspoon

vanilla

1

teaspoon

cinnamon

1/2

cup

raisins

2

eggs, slightly beaten
Instructions
Preheat a seasoned Dutch oven and add ingredients as stated. Stir the eggs in quickly or you will have scrambled eggs. Cook until the eggs are cooked through. This was served for breakfast, lunch, or dinner. This recipe makes a bowl of sweet rice and fills the belly.
Soda Biscuits
My family made soda biscuits all the time. There is something awesome about making homemade biscuits. Did you grow up making them? I sure did. We would lather them with butter and homemade jam. We would also make bacon gravy or chipped beef gravy to pour over biscuits a few times each week for dinner.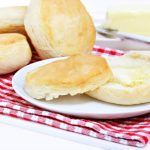 Soda Biscuits by Food Storage Moms
Ingredients
3/4

cup

milk

1/2

teaspoon

salt

1-1/2

teaspoons

baking soda

2

cups

flour

1/3

cup

oil
Instructions
Combine the ingredients and roll out onto a floured board and cut with an unfloured cutter. Bake in a Dutch oven or on an ungreased cookie sheet bake at 425 degrees for 10-12 minutes or until golden brown.
Honey Candy
My church group used to pull this honey candy all the time. Those were great times when people socialized with one another. I miss those days.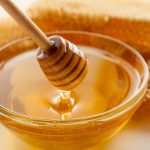 Honey Candy by Food Storage Moms
Ingredients
2

cups

honey

1

cup

sugar

1

cup

cream
Instructions
Combine the ingredients and cook to a hard ball stage. You can test the syrup for a hard ball stage by drizzling a small amount of the syrup into a cold cup of water. If a ball forms quickly it's ready. Pour onto buttered platters. Let it cool until your greased hands can start pulling it in sections to a light golden color. Cut into pieces.
Potato Cakes
This is a recipe my family made all the time. It's truly a cheap and filling meal. I grew up drizzling honey on mine. How did you eat yours? Life is so good, isn't it?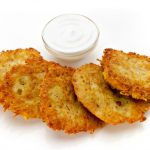 Potato Cakes by Food Storage Moms
Ingredients
6

potatoes, peeled and grated

1/2

cup

milk or cream

2

tablespoons

salt

1

cup

flour

2

eggs, slightly beaten
Instructions
Combine ingredients and scoop a 1/8 cup onto a hot griddle. Turn the potato cakes halfway through cooking so each side browns. Bake until light and golden brown in a greased cast iron pan. I grew up serving honey over my potato cakes.
Norwegian Lefse
This is one of my favorite recipes made by my great-grandmother, Danny. I love mine spread with butter and brown sugar. My family prefers white sugar. My mouth is watering right now. It's all about memories, right?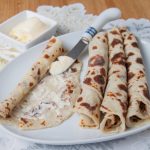 Norwegian Lefse by Food Storage Moms
Ingredients
4

cups

mashed potatoes

3

tablespoons

butter

2

teaspoons

sugar

1/2

cup

sweet cream

2

teaspoons

salt

1

cup

flour (approximately-enough to roll lefse thin)
Instructions
Boil the peeled potatoes, mash very fine and fluffy. Add the cream, butter, sugar, and salt. Beat again until light and fluffy. Add flour just before rolling out. Roll a piece of the dough as for pie crust, rolling as thin as possible. Bake in a frying pan until light brown, flipping to cook both sides. When baked, place on a table between cloth to keep them from drying out.
Bacon or Sausage Gravy
I love biscuits and gravy, probably more than I should. I grew up with these because they were cheap to make and my mom could stretch a meal with more flour and milk. I actually went to several restaurants with a friend here in Southern Utah to see who made the best sausage and biscuits. We decided it was a restaurant called Black Bear Diner. They were awesome!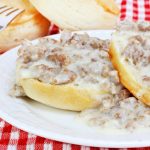 Bacon or Sausage Gravy by FSM
Ingredients
1/2

cup

butter

1

cup

flour

1/2

gallon

of milk

1

pound

bacon or sausage

sugar to taste (optional)

salt and pepper to taste
Instructions
Grab a frying pan and brown the bacon or sausage. Remove the bacon and crumble it when it cools. Add the butter in the same pan and let it melt. Add the flour to make a roux with the butter and bacon grease. When the roux is smooth, add the milk and stir until completely cooked through. Add the bacon bits or sausage pieces. Salt and pepper to taste. I add a little sugar which is optional.
Final Word
I feel strongly about learning to cook inexpensive meals because I believe hard times are coming. Please teach your family how to cook from scratch. Learning how to cook these pioneer recipes would be a great start. Thanks for prepping. May God bless this world. Linda