10 Simple Ideas on Beginning Prepping
If you've recently learned about prepping and the advantages of it, you might want to start prepping at home with your family. Being prepared for potential emergencies is essential. You never know what can happen, but you can make sure that you're ready for anything by stocking up on essentials. Check out these ten simple ideas on beginning prepping that are easier than you might think!
10 Simple Ideas on Beginning Prepping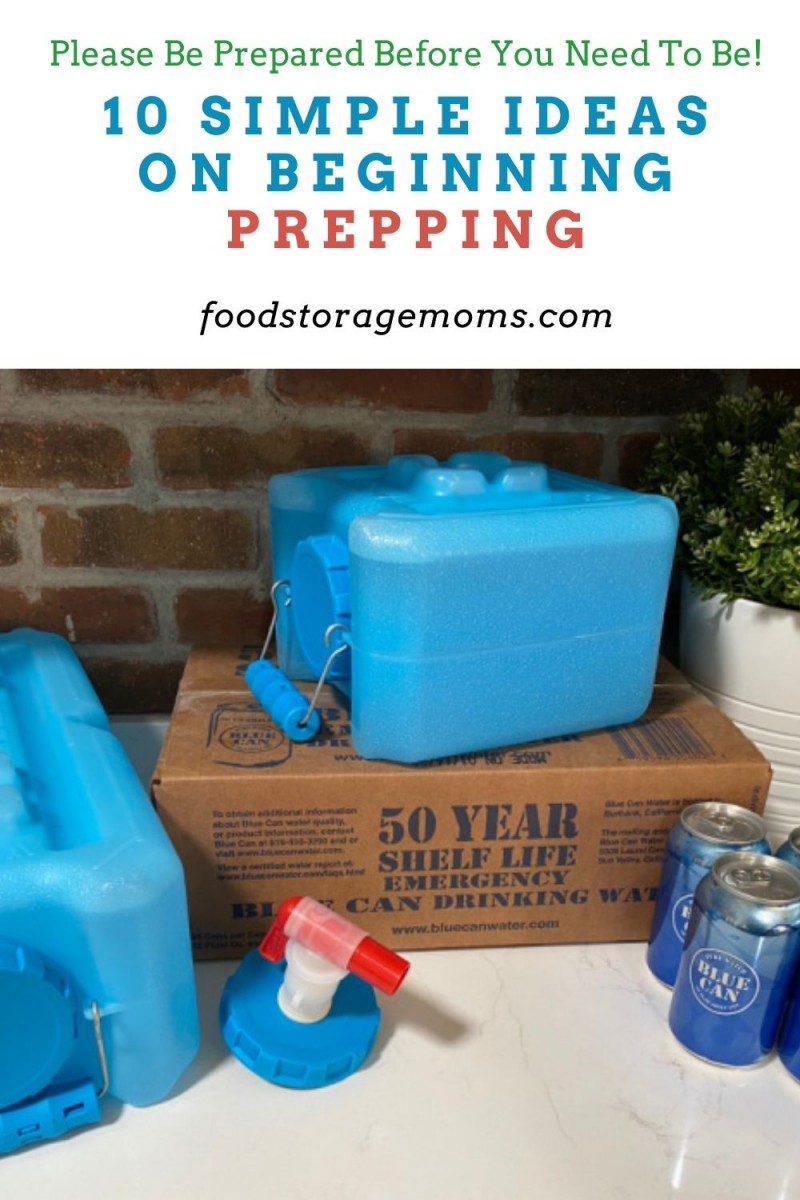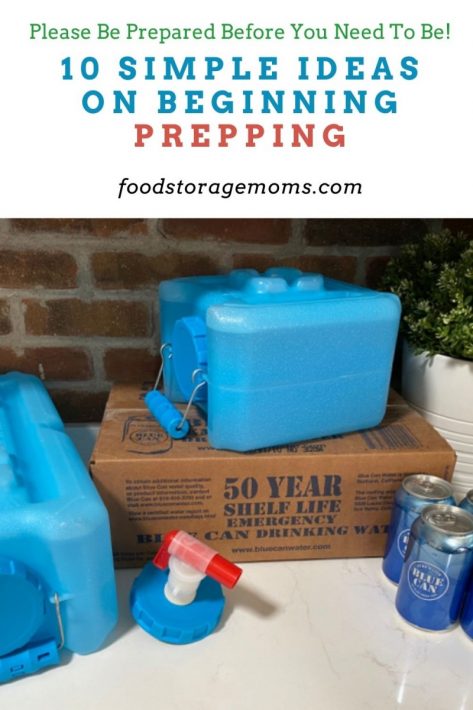 1. Start Collecting Non-Perishable Foods
It's always a good idea to start collecting non-perishable foods to have at home. These foods included canned meats, canned tuna, containers of peanut butter, protein bars, and more. You don't need to run out and buy the first non-perishable foods you can find. Instead, try to catch these items while they're on sale. If you grab them on sale, you'll save money and add them to your stockpile at the same time. Don't waste money on food you know your loved ones won't eat, even in an emergency! This may be one of those simple ideas on beginning prepping, but it's an important one.
2. Store Plenty of Water For Everyone in the Household
Storing water is a must. You'll need it to stay hydrated, but it can also come in handy for boiling pasta, rice, and other ingredients you can eat in an emergency. If you're going to store water, you need to do it the right way. Don't place it in old milk jugs. While it may seem like a good idea, it's not because those jugs can easily break, causing the water to leak out and get everywhere.
It's best to store water in storage containers with lids to keep the water free of dirt and debris. I have a few ideas I want to show you. Some of you know about these, I'm sure. But for those who are getting started and may not be familiar with various products, I want you to have some options to choose from. I store water in many ways, that's what we need to do.
Please make sure you keep your water safe by storing it on 2 by 4's to keep it off the ground or concrete. You don't want chemicals to leach into the water container(s).
Blue Cans
You may want to look at these Blue Cans, they are truly my favorite water to store or the long haul. They are good up to 145 degrees outside, but they could freeze outside, depending on where you live. The heat is my issue. They taste better right out of the can than any water I have stored. The cheapest place to buy them is at Brownell's. They sell out fast, so put your name on their email list if they are out of stock so they can notify you when to order. Brownell's Website These do not need Water Preserver. A 50-year shelf-life is the best thing ever.
Yes, they may be a little pricey, but when you need water to survive, price really isn't an issue.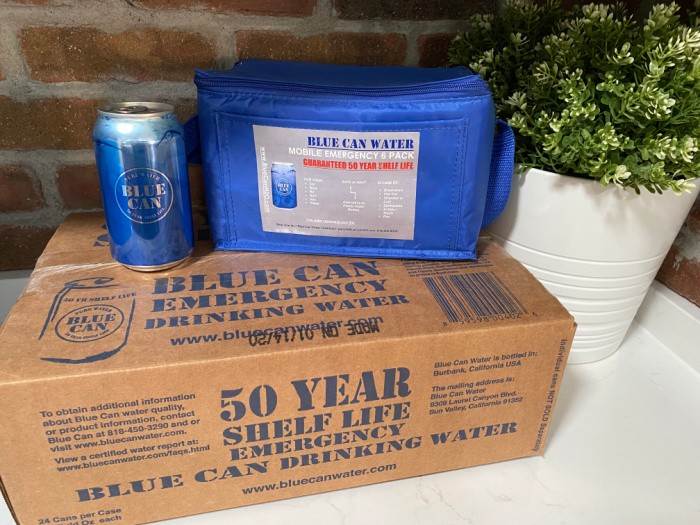 WaterBricks
I love WaterBricks, I have several of the 3.5-gallon ones and a few of the 1.6-gallon size. The larger units are more practical because you can carry one in each hand to balance them. They each weigh about 27 pounds if filled with water. My guest room has 16 of the larger ones under a queen bed, so this means I have 56 gallons under that bed. No one knows they are under there. WaterBricks They are really handy since they have the carry handles, but also are designed so they can be stacked. You can see in the picture below the ridges and grooves for stacking purposes.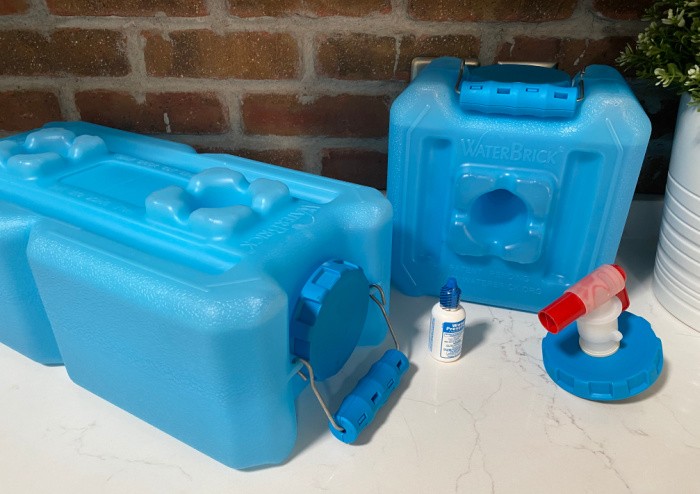 55-Gallon Barrels
I have four 55-gallon barrels on the side of my house. They are from my early days of prepping. They are inexpensive and need a pump to get the water out. Because I live in the desert, I cover them with UV water barrel covers to protect the plastic. 55-Gallon UV Water Barrel Covers I have only replaced them once in 15 years. This water may best be used for hygiene purposes, but could be put to use for cooking and drinking if needed. As a precaution, you may want to filter the water, or even boil it if you're nervous, before you consume it in food or as drinking water.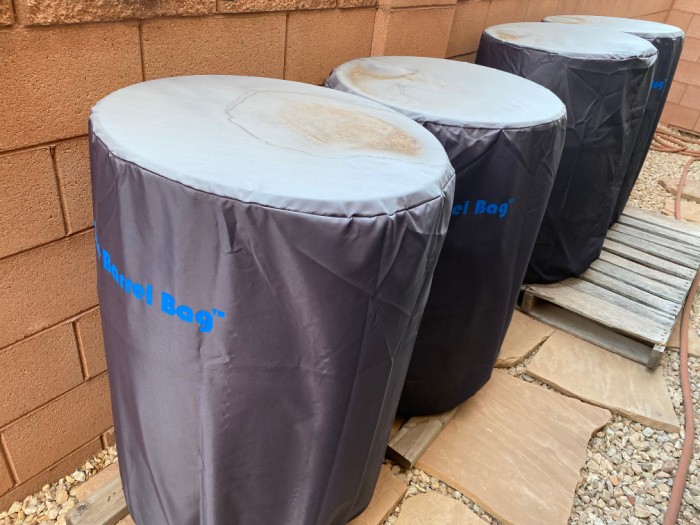 3. Build a Garden in the Backyard
Focus on building your garden in the backyard. If you're growing different fruits, vegetables, and herbs, you'll have access to fresh food in an emergency. You can start small, especially if you don't have much gardening experience or growing space. If you're not sure what to grow, think of the vegetables and fruits that you eat and add to recipes more often than anything else. Those are the best fruits and vegetables to start growing if they work in your location. Consider planting lettuce, potatoes, tomatoes, berries, and other produce that you can use in an emergency. These pictures show some of the items we have growing in our garden right now.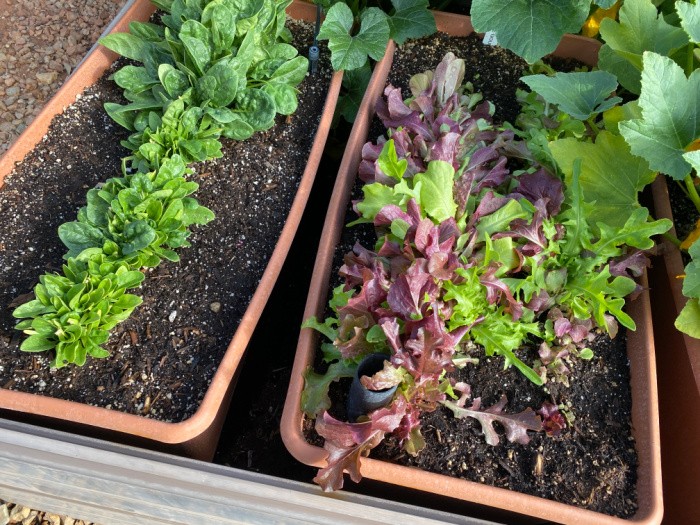 4. Use Coupons to Get Must-Have Prepping Items
When you know that you need specific items while prepping, such as mason jars with lids or flashlights, make a list of those items. Start looking through sales flyers or newspaper ads to see which stores are offering these items at discounted prices. The goal is to find what you need at a discounted price to save more money. You don't need to rush out and spend all your money in a day while trying to get the prepping essentials. Take your time and collect what you can based on family size, budget, and storage space. When it comes to simple ideas on beginning prepping, this tip is essential.
5. Get a Storage System Set Up in a Convenient Spot
Invest in a sound storage system that you can place in a convenient spot, such as the basement. It's out of sight and out of the way, but you can use it to hold some of the most critical items, including bottled water and canned foods. It would help if you had a safe place to put your things to prevent them from getting damaged. You can buy plastic or metal shelving units that are sturdy, reliable, and spacious. We keep our storage food on metal shelves from Costco. They almost fill one small bedroom in our home.
The items that aren't affected by temperature changes, like our 72-hour kits (bug out bags), Sun Ovens, Dutch ovens, cooking fuel sources like charcoal, etc. are on the same kind of selves but located in our garage.
6. Buy Batteries While They're on Sale
If you're going to start prepping, you'll need to have plenty of batteries. If you don't have a power source, batteries are a must-have because you can put them in flashlights to see where you're going and what you're doing. Try to buy batteries when they're on sale. You can find batteries at many different stores, including your local home goods store and grocery store, but it's best to get them when they're available at a discounted price. While the brand doesn't necessarily matter, you might want to choose a brand known for its reliability. Please invest in some solar items as well. Solar Lanterns or Solar Flashlights Make sure you rotate batteries as needed. Nothing worse than grabbing some in an emergency only to find your stored batteries are depleted.
7. Put Multiple First-Aid Kits Together
Work on putting multiple first-aid kits together. If you have several people living in the household, it's best to have a first-aid kit for each person. You can collect different items for the kits over time, such as rubbing alcohol, bandages in assorted sizes, gauze pads, ointments, allergy medication, and other helpful first-aid products. It's always good to have these items in case someone gets injured or ends up in pain. In case you missed this post, First Aid Kits-What You Need To Survive
I highly recommend this book: The Survival Medicine Handbook
8. Invest in the Right Cookware
Try to buy the best cookware for emergencies. You can find a portable grill, emergency stoves, pie irons, and other items that you can use to prepare meals without a traditional power source. You might also want to invest in wood to use for fires in emergencies. If you have a garage, you can store the wood there until you're ready to use it. Pie Irons for Cooking
Please invest in Cast Iron Pans and a 6-Quart Cast Iron Dutch Oven. You can survive with a cast-iron Dutch oven if you have charcoal and some matches stored, or have a fire starter.
9. Work on Eliminating Your Debt
Try to get out of debt. Being prepared isn't just about having water, food, and a first-aid kit, but also about getting your finances in order so you can still meet your financial obligations when out of work or if your home or car are damaged. You can start with your smallest debt and work your way up to the most significant debt to get everything paid off within a reasonable amount of time. Once you've eliminated most or all of your debt, you'll feel much better prepared for the future. You can also start saving some extra cash in a safe at home to become more financially secure.
10. Learn How to Start Canning
Don't forget to learn how to start canning different foods at home. It can save you money in the long run when you're trying to build your stockpile full of foods that your family will eat. Learn about different canning methods, such as pressure canning, before you even get started. You can get the supplies needed and get started, canning some of your favorite foods, including vegetables, jams, fruits, and meats. Please invest in one of these canning books: USDA Canning Guide or The Ball Canning/Preserving Book
Final Word
If you're just getting started with prepping, these helpful ideas are worth considering. You don't need to rush out and spend your last dollar on essential prepping items. Consider making a list of what you need, take your time, and get items while they're on sale to save more money. You can focus on slowly, but steadily, building your stockpile until you feel comfortable with what you have at home. What are some simple ideas for beginning prepping you'd like to share? May God Bless this world, Linda.