We've all heard at one time or another that breakfast is considered the most important meal of the day. That's because your body needs not only the calories but also a boost in energy and alertness after fasting all night long. Breakfast also provides you and me with several essential nutrients that are necessary for good health. Check out this emergency breakfast food list that everyone should stock up on!
Emergency Breakfast Food
If you're ever faced with an emergency survival situation, maintaining a healthy diet and still getting the nutrients that your body needs, like fiber, will be more crucial than ever. These are emergency breakfast foods that you should consider stocking in your emergency food pantry today.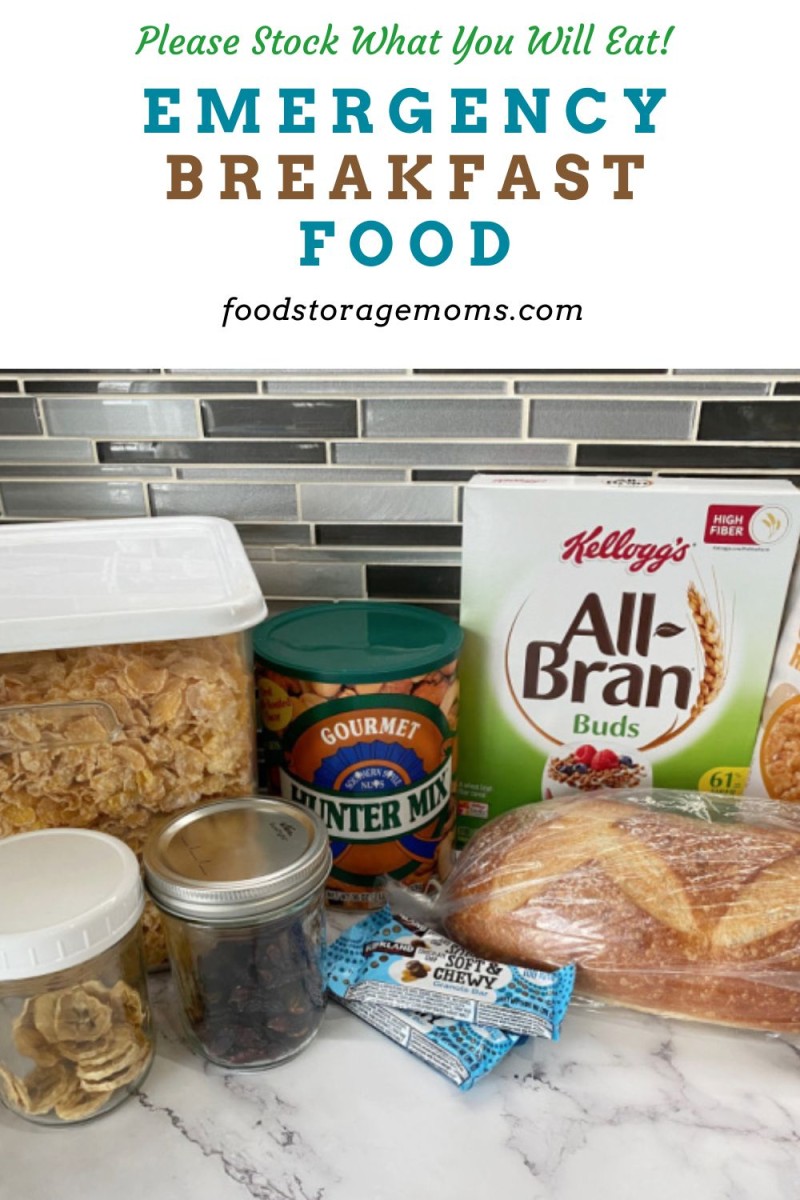 1. Whole Grain Cereals
Cereal is a breakfast staple for many, and it can be beneficial during an emergency situation, too. Look for cereals made from whole grains such as oats, barley, or wheat; these will contain more fiber and other essential nutrients than those made from refined grains. If you have younger kids, it's okay to have a few of their favorite cereals as well because they too have vitamins and minerals in them. If you're filling up for it maple multi-grain cereal is a big hit around here. There are plenty of low-fat milk alternatives out there, so you can have something to eat with your cereal. How To Mill Grains & Grind Wheat
In case you missed this post, 6 Week Bran Muffin Refrigerator Recipe
2. Oatmeal
Speaking of oats… oatmeal is another great option to have in your emergency pantry and can last for up to two years if properly stored. It's high in fiber and packed with essential vitamins and minerals like magnesium, iron, zinc, and Vitamin B-6. Plus it's very easy to prepare – just add hot water and whatever toppings you enjoy with it! Having pouches of brown sugar oatmeal in your breakfast kit is a great idea! Make sure you keep the right number of servings on hand, so you have enough for everyone! 20 Cozy Baked Oatmeal Recipes
3. Frozen Bread
Stocking your freezer with frozen bread like Ezekiel Bread is a great way to get a breakfast full of fiber. They will last for up to 8 months in the freezer and can be used for breakfast sandwiches or toast with various toppings. You're probably all wondering the same thing. While it's true that it's very likely that your power will be out during an emergency situation, you'll still get about 5 to 6 days before your bread starts to go bad once it's been returned to room temperature. While bread doesn't have as extended shelf life as other foods, it's still a really good perishable food to have on hand. Soft white wheat bread just doesn't last as long as Ezekial bread. Making White Bread Ingredient Bags
4. Granola Bars and Power Bars
Granola bars and power bars are great breakfast items to have, especially when you're always on the go. They'd also be convenient to have during an emergency. Both of these bars contain protein as well as carbohydrates for energy. Look out for ones that contain whole grains, nuts, and dried fruits. These bars also make for a quick breakfast when you're in a hurry!
5. Nuts and Trail Mix
While these two may not be necessarily considered breakfast items, nuts or trail mix can be added to your oatmeal or yogurt for an extra boost in protein and energy. They also provide healthy fats and vitamins that your body needs. Just be sure that they're vacuum-sealed so that they stay fresh. I'd highly recommend adding nuts and trail mix to your emergency food kit.
6. Dry Fruits
Without fresh fruit available, you'll need healthy snacks like dried fruits to ensure your family is still getting the nutrition that they need during an emergency. Dried fruits like raisins, prunes, dates, and apricots are great sources of fiber and potassium as well as antioxidants. They make excellent options if you're short on time during an emergency situation. Store them in air-tight containers to preserve their freshness and they'll last up to a year! Dried fruits are another one that you can add to your oatmeal, cereal, or yogurt. Pros and Cons of Freeze Drying
7. Peanut Butter
For those of you with children, this is a breakfast and snack food item that you won't be able to go without. Peanut butter is another great option to have on hand during an emergency. It's a great source of protein, fiber, and healthy fats that will help keep your family well-fueled throughout the day. You can spread it on crackers or toast or add it to your oatmeal for added flavor. Is Peanut Butter a Good Survival Food?
8. Rice Cakes
Although not as popular as they once were, rice cakes are still a great option to have in your emergency food pantry. They can be added to any meal or enjoyed as a snack and have little to no fat or sugar. Rice cakes are an excellent source of complex carbohydrates that you need for energy throughout the day. Rice cakes and food storage go hand in hand because they are great for long-term emergency storage.
9. Powdered or Instant Milk
While you may not like the idea of pouring powdered milk over your Cheerios, you'll definitely appreciate having it when regular milk is not an option. Powdered milk like regular milk is an excellent source of calcium, vitamin D, and other key nutrients. Just be sure to store your powdered milk in a cool dry place. 10 Uses for Powdered Milk or Instant Milk
10. Coffee and Tea
Don't ever get caught up in an emergency situation without having the caffeine to help you cope. In fact, I shudder when even thinking about it. Coffee and tea are great options for those who need a morning jolt. If you're someone who needs coffee in the mornings, then it's a must to have some stored away for an emergency so that you can remain alert and focused when needed. If you don't have much else to eat, coffee or tea can make for a delicious breakfast. Enjoying a Cup of Coffee as a Prepper
11. Multivitamins
Multivitamins are especially beneficial to have in an emergency food pantry because they can provide you with the extra nutrients that your body needs when fresh foods aren't available. Be sure to check out what's offered at your local drug store or grocery store and find a multivitamin formula that best suits your needs. But it's still okay to go with the gummy fruity flavored ones if you prefer vitamins that are less boring. Multivitamins are great for everyday use! If you can't always get nutrition from the food you're eating, the vitamins really help! What Are Natural Antibiotics for Humans?
12. Pouches
Anytime I can get my hands on pouches of foods, I try! Pouches of crunchy granola, pouches of apple cinnamon cereal, pouches of strawberry granola crunch, and even mylar pouches full of breakfast foods! You can save and store a number of pouches to make sure your family has plenty of breakfast servings to eat in case of an emergency! 15 Foods That Last Forever
Final Word
These are just a few ideas when it comes to stocking up on breakfast foods for emergencies. There are many other items such as freeze-dried eggs, canned meats, peanut butter, and even instant oatmeal packets which can also be added to your emergency food stash. Ultimately, the goal is to stock up on items that are easy to prepare and nutritious! What are some other breakfast food items to consider that I forgot to mention? I'd love to hear from you! The uncertainty of an emergency situation can be relieved a little bit by having plenty of calories stored up for your family to eat in an emergency. May God Bless this world, Linda