How To Mill Grains & Grind Wheat
As you know I love to grind wheat and teach people how to make bread because I'm so passionate about it. To me, whole wheat is the staff of life. It's been around for thousands of years.
You can grind it and make healthier bread than you can buy in the store. When we make it we know what's in our bread. Today I am sharing a review about a wheat grinder and grain mill I have wanted for years.
Let me tell you before I begin that this KoMo wheat grinder was sent to me by Pleasant Hill Grain to do a review on it. It was a "cartwheel moment" for me! I was giddy for days waiting for it to arrive in the mail.
Today I am sharing my own opinion about this wheat grinder. You may recognize the name of the company because that's the company where I buy all my colored buckets, Gamma lids and so much more. I'm sure you have seen me mention that awesome company several times over the years.
When I taught bread classes at a local kitchen store I wanted one of these KoMo Mills so bad. The store had just received a shipment of them and the whole staff was going crazy over it because it could grind wheat so much faster than any other wheat grinder we had ever seen before.
First of all, this KoMo grain and wheat grinder uses 360 watts of power. This is critical to me because if we have a power outage I can still use my solar generators to power this machine to grind my wheat or whatever grain I have a need to work with (I will share the grains you can mill shortly).
Grind Wheat The Easy Way:
When the delivery truck came to deliver this KoMo Grain Mill/Wheat grinder it was neatly packaged in a very sturdy box, and after removing the KoMo it was pretty much ready to turn on. One exception is if you want fairly fine flour like I do the hopper must be empty.
I quote from the KoMo book "To locate the finest setting, turn on the mill with the grain hopper EMPTY, and rotate the hopper clockwise in the 'fine" direction until you hear the millstones grinding against each other." End of quote. Can you see the silver bar on the front of the mill?
The fine setting is the farthest on the left and the coarse setting is on the far right side. You can turn the hopper during grinding to make a coarser flour or cereal texture. Remember the hopper must be empty in order to have the finest flour setting.
That's how I like whole wheat flour. You can also see the black circle above the silver bar.  My KoMo is set to the finest setting as you can see because it's set all the way to the left side.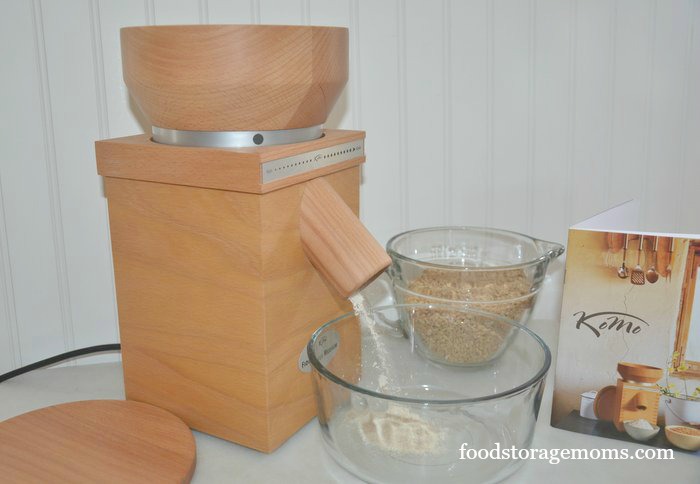 The first thing you need to do is run at least several cups of whole wheat berries through the mill and discard the flour. This will ensure the initial cleanout of the mill before grinding for consumption. Be sure and have a bowl ready to collect the flour.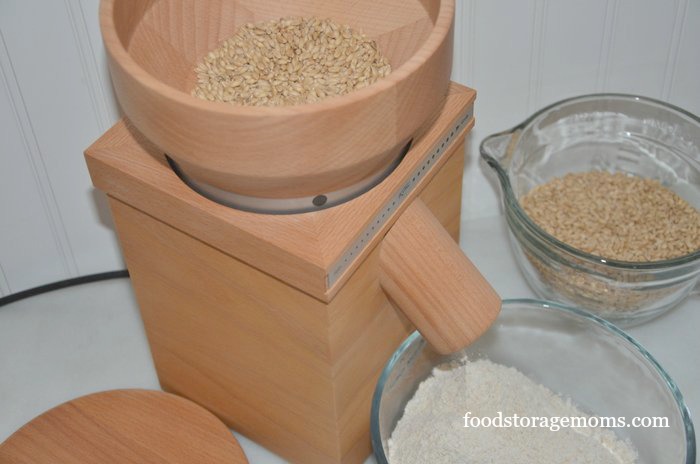 What I really like about the KoMo is the cleanup. Oh my goodness, all you do is make sure you have all the wheat kernels ground and turn it off and wipe out the spout.
My current electric wheat grinder I have to clean the bowl, the lid, the separator cup, the filter, and the inside of the unit where I place the bowl. I never wash this other unit because I use it so often. I do clean the wheat "dust" so it doesn't get on my counter.
This KoMo unit has 360 Watts and will grind 8-9 ounces per minutes. Oh my goodness, I swear it's faster than that! I didn't have a timer, but this baby is so much faster than the wheat grinder I use now.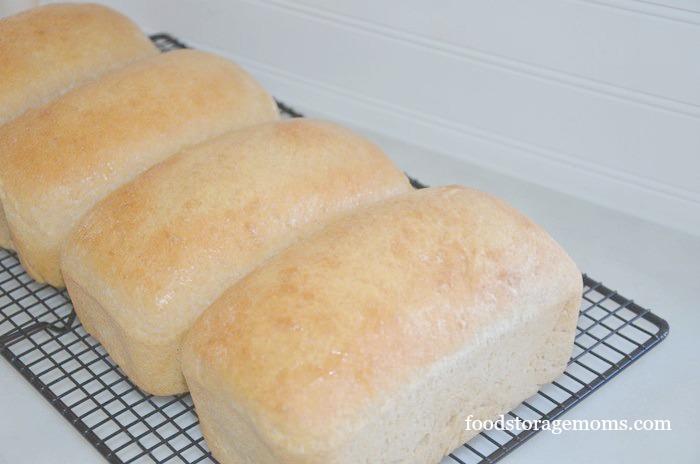 Here is my whole wheat bread recipe: Whole-Wheat-Bread-For-Two Recipe or if you want to make more loaves: Whole-Wheat-Bread Recipe
This statement is from the Pleasant Hill Grain website:
I quote "The KoMo Medium grain grinder will mill dry grains, including soft or hard wheat, oat groats (dehulled oats), rice, triticale, Kamut (TM), Spelt, buckwheat, barley, rye, millet, teff, quinoa, amaranth, sorghum and dent (field) corn.
It will also grind lentils, dry beans (pinto, red, garbanzo, kidney & more), and dried, non-oily spices. It isn't suitable for herbs, oilseeds like flax or sesame, popcorn, or fibrous materials.
The grind of the KoMo Medium grain mill is continuously adjustable from fine flour to coarse meal and cracked grain simply by turning the hopper bowl to align its index mark with the graphic scale on the front of the mill. As with all KoMo grinders, cleanup is minimal and easy, and access to the milling chamber takes just a moment and requires no tools." End of quote.
Pleasant Hill Grain Mill Comparisons
If at all possible save your money to buy a wheat grinder-grain mill. Wheat is the staff of life. If you can make bread you can survive almost anything. One of my favorite things about this wheat grinder is the size. It can sit right on my kitchen counter and I can grind just enough for some muffins.
This unit is very attractive to look at and makes the kitchen area look clean and well organized. The wood grain color is a positive addition to ANY kitchen, believe me.
The clean up is a dream like I said before. Thanks for learning the steps to be prepared for the unexpected. May God bless your family for your efforts.
Copyright Images: Depositphotos_163559720_m-2015