Pomegranate-Avocado Salsa
Mark and I went to a party recently where someone had made this pomegranate-avocado salsa. By now you know I love appetizers and this one is by far the best one ever! As the guests stood around munching on this yummy bowl of salsa with several different types of chips, we all asked for the recipe.
By the time we had all finished the appetizers, salads, main dish, and dessert, we all wrote down the ingredients to make this pomegranate- avocado salsa. It was fabulous! Who loves pomegranates? I sure do, especially if they are red, sweet, and juicy.
Pomegranate-Avocado Salsa
This salsa has pretty much all fresh ingredients. I did trade out the fresh small oranges for some Mandarin oranges I had in the pantry. It has fresh pomegranates, avocado, green onions, freshly squeezed limes, honey, and, cilantro, and some salt. I seeded the one jalapeno and chopped it.
I had Mark help me chop the green onions and cilantro. It's a really easy recipe to throw together.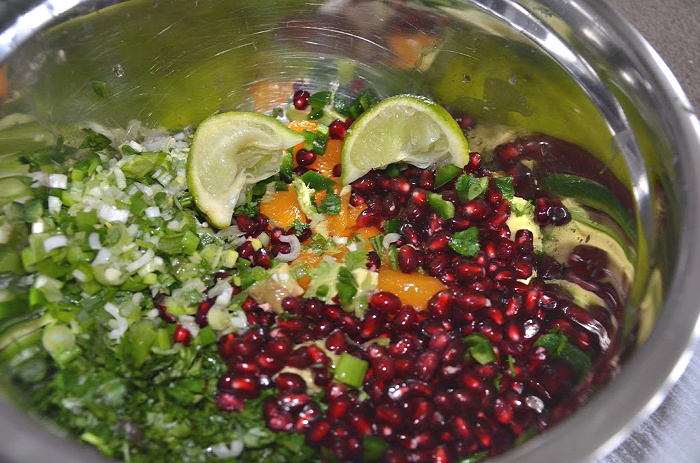 We drained the oranges a little and started adding the ingredients to this medium-sized bowl. You could smell the cilantro of course, and luckily these pomegranates were sweet and juicy.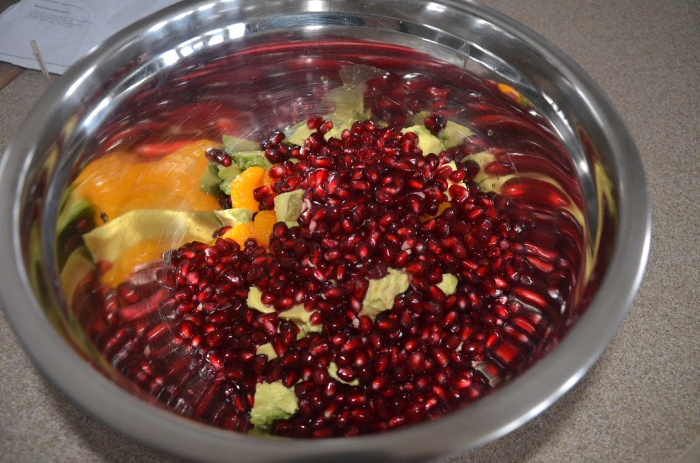 There is something about making appetizers for family and friends get-togethers. It breaks the ice so people can start mingling and chatting with one another, right?
I'm so excited to be able to pick my own pomegranates next year, our friends gave us a bush, yippee! It's about four feet tall now and is growing like a weed, literally. They grow well in Southern Utah!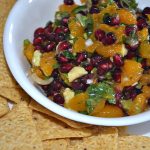 Pomegranate-Avocado Salsa by Food Storage Moms
Ingredients
1-1/2 to 2

cups

peeled, diced and seeded avocados

1

whole

lime (squeezed)

2-

20-

ounce cans Mandarin oranges, drained

2

cups

Pomegranate seeds

1/2

cup

finely chopped green onions

1/2

cup

minced fresh cilantro

1

jalapeno, seeded and chopped

2

tablespoons

honey

salt to taste
Instructions
Chop the items as indicated and place all of the ingredients into a medium-sized bowl. Stir until thoroughly combined. Serve with tortilla chips or chips of choice.
Final Word
Please let me know if you try making this Pomegranate-Avocado Salsa, I love to hear from you! This is actually a really good plant to grow to be self-reliant. How many of you have a pomegranate bush? Let me know how you use pomegranate seeds in your meal preparations. May God bless this world. Linda