The Best Strawberry Recipes In The World
Are you ready for the best strawberry recipes in the world? I have gathered all my recipes from family and friends for today's post. Where I live the stores are just starting to get strawberries that are ripe and juicy. I bet you can taste them just thinking about a delicious juicy strawberry, right? This year I planted my first raised garden with strawberry plants right here in Southern Utah. I have had plants before up north but not here.
I decided on the Sequoia plants because they produce larger strawberries in May of each year. I have had the ever-bearing ones, but the fruit is smaller and I would rather have large fruit for a month or two than for six months where I live. The great thing about strawberries they keep producing year after year!!
I decided I not only wanted vegetables in my yard but I wanted some fruit that would keep on producing year after year with very little work. My yard is too small for fruit trees and I'm not up to taking care of fruit trees right now in this stage of my life. I will trade, barter or whatever with people for fruit if it comes to that in my lifetime. Here is a great link about growing strawberries: Growing Plants by Bonnie Plants They show how to plant them, when to plant them, how to fertilize and everything else you need to know about gardening. It's a great resource for composting, vegetables and so much more.
I have a PRINTABLE at the bottom of my post with all of these recipes.
Strawberry Recipes
Fresh Strawberries
Wash and remove stems from the berries and dip in freshly whipped cream. Yummy treat!
Fresh Strawberries
Wash and remove stems from the berries and dip them in sour cream and then brown sugar. Fabulous snack!
Fresh Strawberries
Ingredients
2

cups

Fresh strawberries

1/2

cup

brown sugar

1/2

cup

sour cream
Instructions
Dip the fresh strawberries in the sour cream and then dip it in the brown sugar.
Quick Strawberry Soda
Quick Strawberry Soda
Ingredients
Ingredients:

2

tablespoons

strawberry jam

1/2

cup

vanilla ice cream

Ginger ale or 7-Up
Instructions
Instructions:

Spoon the jam into the drinking glass, top with the ice cream and fill with your soda of choice.
Strawberry Slush
Strawberry Slush
Ingredients
Ingredients:

3

cups

water

2

packages Kool-aid strawberry flavored powder

2

quarts

pineapple juice

2

cups

sugar

5

cups

mashed strawberries
Instructions
Instructions:

Combine all of the ingredients together and freeze for 6-8 hours. I use a large stainless steel baking pan to store the mixture in the freezer. Break up the frozen mixture and mix with 7-Up. Serve with a ladle in a punch bowl and enjoy.
Strawberry Fluffy Delight Cake
Strawberry Fluffy Delight Cake
Ingredients
One white cake mix

prepared as directed in a 9-inch by 13-inch pan

One pint heavy whipping cream

whipped with sugar and vanilla

1

cup

sugar

8-

ounce

package cream cheese

softened

3

cups

sliced fresh strawberries

1

package Danish Dessert
Instructions
Make a white cake as directed or make one from scratch. Cool. Whip the cream until fluffy. Add the sugar and cream cheese and beat until smooth. Spread this mixture over the cooled white cake. Make one package of the Danish Dessert using 1-1/2 cups water instead of the two cups indicated on the box. Cool slightly and add the strawberries to the Danish Dessert. Carefully scoop and spread this mixture over the whipped cream layer. Chill the cake in between layering. Chill for 2-4 hours before serving.
Strawberry Spinach Salad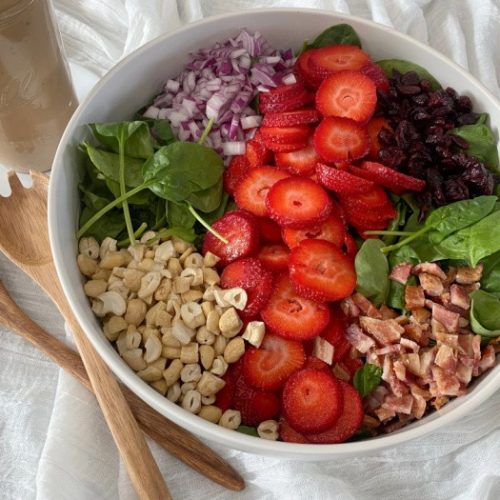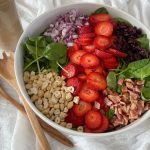 Strawberry Spinach Salad
Ingredients
One bag of baby spinach or salad greens (your choice, any size)

6

pieces

of thick bacon (cooked, drained and crumbled)

1/4

cup

chopped cashews or sliced almonds

1/4

cup

craisins

1/4

chopped red onion

8-10

ounces

of sliced fresh strawberries
DRESSING:
1

cup

mayonnaise

1/4

cup

milk

1/8

cup

of your favorite balsamic vinegars (strawberry is good for this salad)

1/8

cup

sugar

2

tablespoons

strawberry jam
Instructions
Strawberry Spinach Salad
Grab a large bowl and layer the spinach, bacon, cashews, Craisins, chopped red onions, and freshly sliced strawberries.
Strawberry Spinach Salad Dressing
Use a blender to mix the ingredients for the dressing. Chill the dressing and pour it over the salad just before serving.
Strawberry Trifle
Strawberry Trifle
Ingredients
2

small packages instant vanilla pudding

4

cups

milk

20

vanilla wafer cookies

8

cups

fresh sliced strawberries

2

cups

freshly whipped cream

Save three fresh strawberries to garnish on top
Instructions
Mix the milk with the pudding and set aside. This recipe is great with a 2-quart glass bowl or trifle container. Scoop half of the prepared pudding in the bottom of the bowl. Next spread the cookies on top of the pudding and then place the strawberries on top of the cookies. Scoop the rest of the pudding on this layer. Top with whipped cream and garnish with a few strawberries before serving. Serve chilled.