21 Vintage Kitchen Tools We All Must Have
If we lose power we will need at least these 21 vintage kitchen tools at the very least. I love going to antique stores and checking out items that I consider very useful if we have zero electricity. Actually, even if we don't lose power I still use these tools today in my kitchen. Plus, I think some of these items will bring back a few good memories when grandma was in the kitchen cooking or baking.
My Grandma Made Lefse
I can still picture my great-grandma making Lefse, one of our favorite Norwegian family treats made with leftover mashed potatoes. Oh, my goodness, I better make some of that today, my mouth is watering for it. I like Lefse with butter and brown sugar. Let me know what traditional treats you enjoyed eating together as a family.
As a child, this is when I learned to cook from scratch. There were not many packaged items, except for bags of flour or sugar, baking soda, baking powder, and spices, how life has changed. We used the bags the flour came in for kitchen towels or made aprons out of them.
Nothing was ever wasted, ever. Now some of these items we use today, but some families have never used them. Let me know the vintage kitchen tools you love to use! And I want to share my grandmother's Lefse recipe today!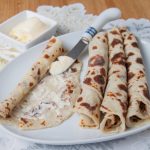 Norwegian Lefse by Food Storage Moms
Ingredients
4

cups

mashed potatoes

3

tablespoons

butter

2

teaspoons

sugar

1/2

cup

sweet cream

2

teaspoons

salt

1

cup

flour (approximately-enough to roll lefse thin)
Instructions
Boil the peeled potatoes, mash very fine and fluffy. Add the cream, butter, sugar, and salt. Beat again until light and fluffy. Add flour just before rolling out. Roll a piece of the dough as for pie crust, rolling as thin as possible. Bake in a frying pan until light brown, flipping to cook both sides. When baked, place on a table between cloth to keep them from drying out.
21 Vintage Kitchen Tools
1. Big Stainless Steel Bowl
I think I still have the two original ones I got when Mark and I were married almost 50 years ago. They are approximately 18 inches in diameter. Those bowls have been used for making bread, cookies, large salads, and cleaning the windows.
2. Potato Masher
I remember my mom having a pan like deal and we all took turns turning the handle to "mash" the potatoes. My grandmother preferred a ricer for her fluffy mashed potatoes. Even a few chunks are okay in my mashed potatoes. I'm fine even with the peelings on them as well. I just use this tool: Potato Masher
3. Ebelskiver Cast Iron Pan
I grew up on Ebelskivers, they are basically round balls of pancake batter. My mom had a cast iron pan. They are so yummy! Ebelskivers by Linda
4. Cast Iron Fry Pans
Did your mom save the bacon grease after frying bacon? I still do! I swear, cast iron pans make the very best scrambled eggs, cornbread, and homemade pizza dough too! Wow, I love cast iron pans! Pizza by Linda
5. Cast Iron Griddle
Who uses a griddle for pancakes, grilled cheese and so much more? I think I have three cast iron griddles. I love them!
6. Hand Mixer
I can still remember Mom having a SunBeam electric mixer sitting on the counter and she was so proud of that baby, no more hand mixing. But she still used her wire whipped hand-cranked mixer because it was easier to clean.
7. Whisk/Danish Whisk
Everyone needs a whisk to quickly stir those scrambled eggs, right? I can't see any of the white stuff, I'm such a baby. I use my beloved Danish whisk all the time.
8. Egg Separator
I still remember my mom making seven-minute frosting after using an egg separator. I think I still have the yellow Tupperware one I've had for decades!
9. Can Opener
We can't get by without a can opener. I love the hand-operated ones which I still use sometimes today. But I also remember when the electric can opener came out. WOW, happy day! "Church Key" Can Opener or Hand Cranked Opener
10. Large Soup Pot
Everyone needs a soup pot for soup or boiling water for a large pan of spaghetti!
11. Pancake Turner
I can still picture the skinny silver pancake turners my mom had. Now we have larger ones to flip pancakes, fried eggs or grilled cheese sandwiches.
12. Wooden Spoons
I always have wooden spoons in the crock sitting on my counter top to grab when I need one.
13. Pastry Cutter
I wish I could say I make great pies, but I don't, I buy them. But, I still need one of these for my biscuits to cut in the butter.
14. Biscuits Cutters
I'm like addicted to collecting biscuit cutters at antique stores. I love all the different shapes.
15. Canisters On The Counter
Do you remember your mom or grandma having canisters sitting on the counter with flour, sugar, tea, and coffee written on them? I even had some, but then switched to plastic buckets with Gamma lids. The plastic buckets certainly aren't as attractive, but the contents seem to stay fresh longer.
16. Rolling Pin
I can't get by without a rolling pin or two. I use them for my cinnamon rolls, pasta, and biscuits. Cinnamon rolls by Linda
17. Spatulas
You can never have too many spatulas, right?
18. Meat Grinders
I love ham salad and my mom and dad made pork sausage with a meat grinder. I finally found my parent's homemade pork sausage recipe! Here's a manual meat grinder: Meat Grinder
19. Terracotta Brown Sugar Bear
Terra Cotta Bear Sugar Bear – it's terracotta and soaked in water. It's then placed in the brown sugar canister to keep the sugar "moist."
20. Coffee Percolators
I have a couple of coffee percolators to make coffee or boil water. The ones I have you can use over a small fire. They would be great with a rocket stove or Kelly Kettle.
21. Vegetable Peelers
You can always use a couple of vegetable peelers, right? I use mine for carrots, potatoes, and cucumbers.
22. Pot Holders
You can never have too many of these!
Final Word
This was a fun post for me to write today. Please share your memories of your vintage kitchen tools. I need to make a batch of cookies, what do you feel like baking this week? Thanks for being prepared for the unexpected. May God bless this world, Linda