20 Satisfying Meatless Taco Recipes
I have 20 satisfying meatless taco recipes for my readers today! Tacos are always a favorite way to enjoy a handheld meal, and these meatless recipes will have you exploring tasty ways to create delicious fillings for your favorite tortilla wrap. From savory veggie stuffings to plant-based protein options, you'll enjoy finding new flavors and textures that are delicious replacements for traditional taco meals.
Meats of all kinds have proven to be much more expensive the past few months, and the increases don't show any signs of letting up. Although most of us grew up with meat as the backbone of almost every meal, it is great to consider using a meatless substitute from time to time, and in doing so, taking a more healthy approach to meal planning.
Beans, cauliflower, sweet potato, jackfruit, zucchini, scrambled eggs, tofu, mushrooms, and more are ingredients that can be turned into a savory filling for your favorite taco shell. Toppings get up-leveled to shredded cabbage, pickled onions, and homemade specialty sauces with these creative and satisfying meatless tacos that you'll want to try right away!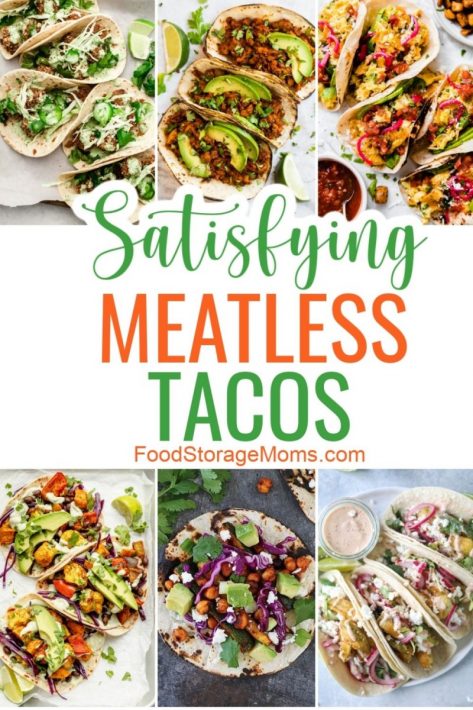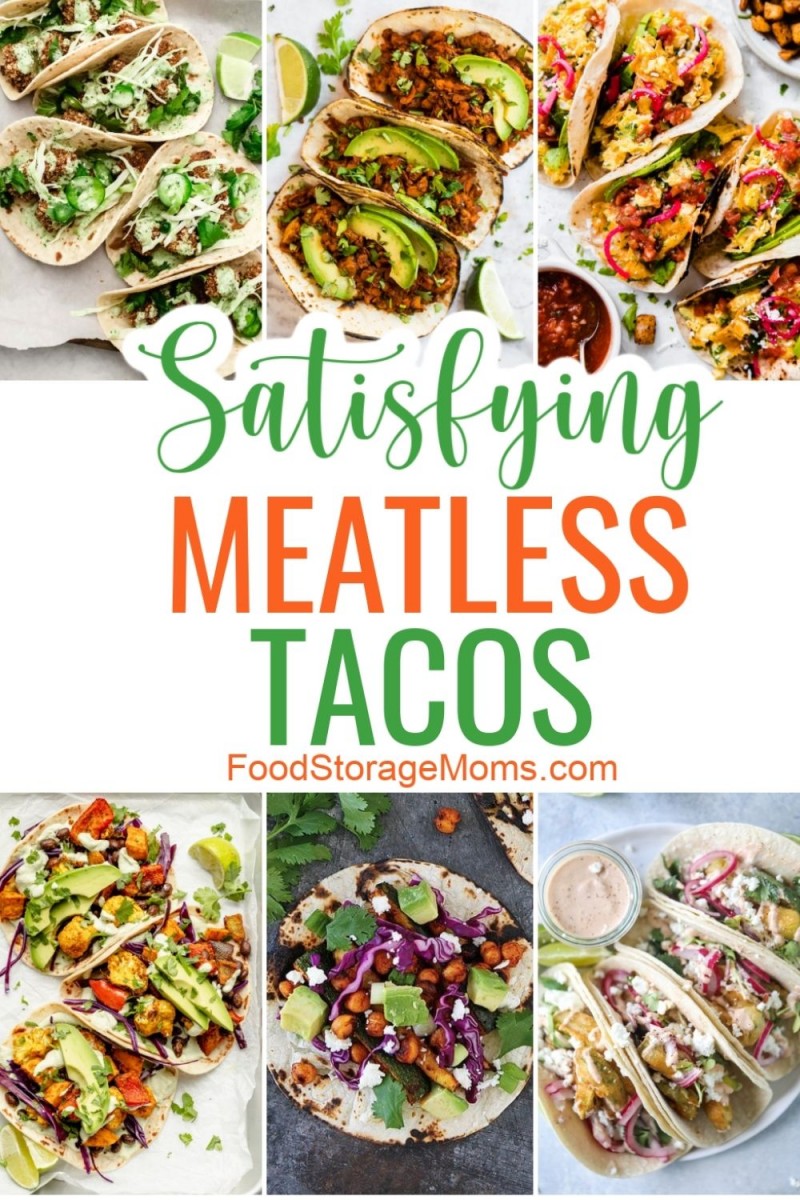 Breakfast Tacos With Eggs And Black Beans by Killing Thyme
Start your day with this satisfying meatless taco meal that's a savory and spicy combo of scrambled eggs, black beans, and grated cheddar cheese. Pack this vibrant filing into warm flour tortillas and top with shredded lettuce, diced tomatoes, avocados, and hot sauce. Oh, my!
Buffalo Chickpea Tacos by Snixy Kitchen
This quick taco meal includes seasoning cooked chickpeas on the stovetop with a spicy mixture of dried seasonings. Pack your taco shells with this hearty savoriness and add shredded lettuce, pickled or raw red onions, sliced jalapeño peppers, and drizzle with ranch dressing. Easy and delish!
Cauliflower Tinga Tacos by Culinary Hill
Cauliflower takes on a robust flavor by being infused with a spicy homemade tomato and chipotle tinga sauce and cooked to tenderness on the stovetop. Add this deliciousness to a warm corn tortilla and top with shredded lettuce, sliced radish, avocados, and drizzle with the homemade avocado crema.
Butternut Squash Mushroom Tacos with Chimichurri by Two Peas And Their Pod
You'll love this explosion of flavor and color from these veggie-inspired tacos! Chunks of butternut squash along with cremini mushrooms are seasoned with a blend of chipotle dried seasoning, drizzled with olive oil, and roasted to zestiness. Stuff in your tacos shells and top with shredded red cabbage and avocado. The homemade chimichurri sauce is the perfect way to finish off these meatless tacos.
Asian Tofu Tacos by Eating Bird Food
Transform bland tofu into a flavorful Asian-inspired protein that's perfect for stuffing in taco shells. Soy sauce, sesame oil, and garlic powder coat chunks of tofu before its session in the oven to bake it to golden crispness. Fill your shells with it and add a homemade Asian slaw and drizzle it with hoisin sauce.
Roasted Veggie Tacos by Ambitious Kitchen
Spicy roasted vegetables make a tasty taco filling and here you'll use cauliflower florets, cubed sweet potatoes, diced red bell pepper, and onion. Season it all with dried spices and drizzle with oil before roasting on a sheet pan in the oven. Fill your tacos with this savory veggie mixture and top with red cabbage, avocado, sour cream, and cilantro.
Battered Avocado Tacos by How Sweet Eats
Avocado spears are transformed into a crunchy battered veggie that's perfect for layering in taco shells. Garlic and smoked paprika provide delicious seasonings for the batter. You'll deep fry them in a skillet until golden. Build your taco with them and top with microgreens, pickled onions, and homemade avocado crema.
Grilled Portobello Mushroom Tacos by Salt And Lavender
You'll get a delicious smoky flavor when you grill seasoned portobello mushrooms that will act as the filling for these vegetarian tacos. Once they're tender from their time on the grill, slice them to fit in your taco shells. Top with shredded lettuce, tomatoes, onions, and guacamole.
Black Bean Tacos by A Couple Cooks
Whether you cook your black beans yourself or pop open a can, these legumes make a great filling for tacos. They pair perfectly with corn fresh off the cob or from a can, and of course, your choice of cheese, shredded or crumbled. Shredded lettuce, onions, cilantro, avocado, and sour cream round out the topping that makes this a hearty meal.
Grilled Zucchini And Chickpea Taco by Two Peas And Their Pod
Cooked chickpeas and zucchini spears are seasoned with dried spices of paprika, onion, garlic, chili powder, and cumin before being grilled to produce a charred and smoky flavor. This filling is especially delicious in corn tortillas. Top with shredded red cabbage, diced green onions, avocado, and cheese. Try a tomatillo salsa for the dressing.
Migas Breakfast Tacos by Little Spice Jar
Scrambled eggs get a new taste when they're stuffed into your favorite taco shell. Give them a zesty flavor by adding sautéed peppers and onions. Add your favorite shredded cheese and salsa as a topping. Enjoy these delicious tacos for breakfast, lunch, or dinner!
Sweet Potato And Brussels Sprouts Tacos by Evolving Table
Fill your warm tortillas with this savory sauteed Brussels sprouts and sweet potato filling full of aromatic flavors. Toss them with a homemade sweetened sriracha sauce as they finish cooking to help caramelize and solidify the flavors. Stuff your tacos and top with cheese and fresh cilantro.
Tempeh Tacos by Well Plates
Protein-packed tempeh is flavored with a savory mix of hot spices and liquid smoke before being sauteed, along with shredded sweet potato, to deliciousness. Add this satisfying filling to warm flour tortillas and top with your favorite additions.
Spicy Jackfruit Tacos by Minimalist Baker
Jackfruit is a great protein to work with and will give a meat-like texture to your taco filling. Season it with spicy onions and garlic, plus chipotle peppers in adobo, and cook in a skillet until the mixture has reduced and caramelized. Load up corn tortillas with the filling and add some refried black beans and cabbage, too. Drizzle with hot sauce and garnish with cilantro.
Roasted Cauliflower And Lentil Tacos by Cookie And Kate
These meatless tacos use seasoned cooked lentils and savory roasted cauliflower as a protein-packed filling. This is a great way to use leftover lentils, too! The homemade chipotle sauce pairs perfectly with filling in charred corn tortillas. Garnish with cilantro.
Grilled Baha Tofu Tacos by Simple Veganista
Grill spears of marinated tofu to taste similar to a meatless protein filling. You'll use a cumin-lime marinade to infuse the tofu before its grill session which will transform the way you think about meatless protein. Stuff your corn tortilla with the tasty tofu and top with the zesty homemade red cabbage slaw.
Sweet Potato Tacos by Budget Bytes
You won't miss the meat with this winning combo of black beans and sweet potatoes as a protein-packed filling. Chunks of sweet potatoes are sautéed with garlic for a savory touch. Fill your favorite taco shells and top with green onions and a homemade garlic sour cream sauce.
Vegan Teriyaki Cauliflower Tacos by Lauren Caris Cooks
Cauliflower is a great taco filler because it can take on any flavor of seasonings. Here, a homemade teriyaki sauce with flavors of soy sauce, ginger, and garlic coat fresh cauliflower florets before they're roasted in the oven. Fill your favorite taco shells with this hearty mixture and top with red cabbage, onions, and a creamy homemade avocado sauce.
Hummus Breakfast Tacos by Budget Bytes
You can elevate scrambled eggs with a smear of your favorite hummus on flour tortillas before stuffing them with the savory egg filling. Top with shredded cheese and any other of your favorite veggie toppings, like diced bell peppers and onions. Simple, quick, and tasty!
Vegan Crispy Tofu Tacos by Blissful Basil
Tofu gets up-leveled to a crisp deliciousness by being seasoned, panko-breaded, and baked to tasty perfection. Fill your tortillas with the baked tofu and top with shredded cabbage and the zesty homemade jalapeño ranch dressing which takes it over the top!
Final Word
Let me know if you try any of these meatless taco recipes! It's all about cooking from scratch and changing out recipes to make them with less meat to save money and possibly be more healthy at the same time. May God Bless this world, Linda