20 Creative 4th Of July Cupcakes
Independence Day is the perfect time to get creative with your desserts, and what better way to show your spirit than with these 20 delightful 4th Of July cupcakes designed to delight your family and friends. From colorful red, white, and blue swirled batter and frosting, to flag-inspired decor, these cupcakes will be the star of the party. Top your cupcakes with amazing and edible fireworks displays, or get crafty with the use of summer berries to continue the patriotic theme. Whether you're looking for an over-the-top display of homeland pride, or going for simpler stars and stripes look, you'll find just what you need with these 20 creative 4th of July cupcake recipes!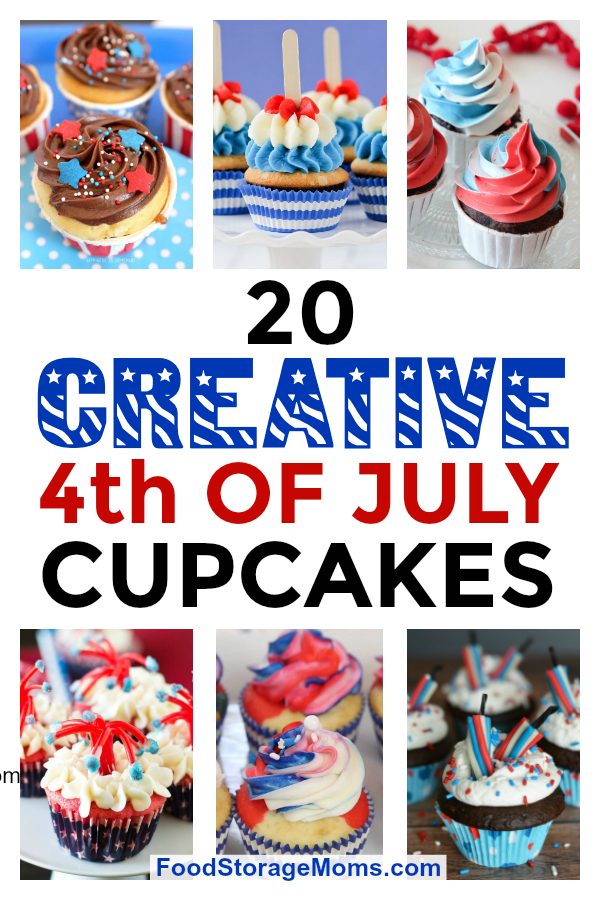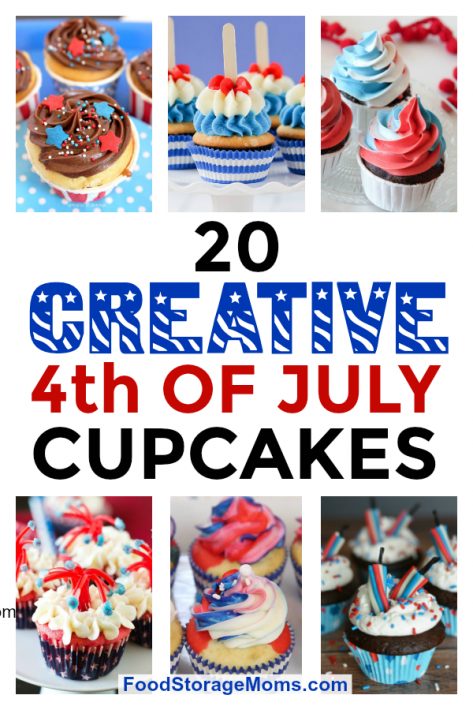 Your friends and family will love the festive surprise that they find when they bite into this decadent cupcake. You'll be the star of the party for this creative cupcake!
4th Of July Star Cupcakes by Happiness Is Homemade
Twizzlers make the perfect "firecracker" topping for this 4th of July sweet treat. Plus, they're fun to make and the kids can help, too!
Twizzler Cupcakes
Twizzler Firecracker Cupcakes by Tastes Of Lizzy T
Learn how to swirl different colors together for your frosting with this easy tutorial, which makes the perfect red, white, and blue combination for these patriotic cupcakes.
Patriotic Cupcakes by The Girl Inspired
These 4th of July cupcakes are super easy to put together. Red velvet cupcake, plus white icing, with some blueberries on top give you a stunning red, white and blue display for these sweet treats.
Red Velvet 4th Of July Cupcakes by Your Cup Of Cake
Delight your friends and family with these "surprise inside" cupcakes to celebrate the 4th of July. Kids will love to help "fill the well" in the cupcakes.
Patriotic Firework Cupcakes by Sizzling Eats
Learn how to swirl red, white, and blue batter for a stunning cupcake effect. Video tutorial included!
Red-White & Blue
Red White Blue Cupcakes by Tidy Mom
Learn how to work with fondant to create these adorable patriotic pinwheels as a cupcake topper. Get creative with the designs, or just use solid colors of red, white, and blue.
Patriotic 4th of July Cupcakes
DIY Patriotic Pinwheel Cupcakes by The Cake Blog
These adorable tie-dye effect cupcakes get high treatment with a mound of decorative icing to complete the effect.
Red, White and Blue High Hat Cupcakes by Love From The Oven
Get creative with Twizzlers and black licorice to make a firecracker topper for these yummy chocolate cupcakes.
Patriotic Cupcakes
Patriotic Firecracker Cupcakes by Mom Endeavors
Fun and creative "sparklers" are easily made with candy melts in this tutorial. These are easy cupcake (or cake) toppers that you can make for any festive occasion.
4th Of July Sparkler Cupcakes by This Grandma Is Fun
These adorable cupcakes are reminiscent of ice cream bomb pops of yesteryear. They are easily assembled with red, white, and blue buttercream frosting plus popsicle sticks!
Bomb Pop Cupcakes by Confessions Of A Cookbook Queen
Learn how to make a red, white, and blue cupcake batter with layers. Top with patriotic flags and sprinkles for the full effect!
Flag 4th of July Cupcakes
Flag Cupcakes by Baked Bree
Fun marbled batter looks stunning when that first bite is taken! Top each cupcake with a different color frosting for the ultimate visual effect.
Patriotic Marble Cupcakes by Two Sister Crafting
Make these deliciously elegant cupcakes topped with red or blue fruit for a quick and easy patriotic effect.
Lemon 4th of July Cupcakes
Lemon Whipped 4th Of July Cupcakes by Your Cup Of Cake
Learn how to make candy stars toppers for these red, white, and blue layers cupcakes. Perfect for Memorial Day or 4th of July.
Red White And Blue Cupcakes by Skip To My Lou
Check out this cute use of lifesavers candy to make shooting fireworks toppers for your cupcakes. Very unique!
4th of July Fireworks
4th Of July Firework Cupcakes by Crayons And Cravings
No time for fancy decoration? Here's a super simple way to make an American Flag right on top of your cupcake frosting.
American Flag Cupcakes by Created By Diane
Licorice doubles are a firecracker topping for these festive cupcakes. Looks impressive but is simple to make!
Firecracker Cupcakes by Inside Brew Crew Life
Use strawberries and blueberries to create these "surprise" 4th of July cupcakes.
Fourth Of July Berry Cupcakes by Chocolate Covered Katie
Here's a unique frosting of coconut Swiss meringue buttercream which is topped with dyed coconut flakes for an adorable 4th of July cupcake treat.
Pina Colada 4th Of July Cupcakes by Beyond Frosting
Final Word
Do you love the holidays as much as I do? There is something awesome when I see lots of 4th of July cupcakes all lined up on a table. My family loves to make cupcakes of any flavor. Plus, the colors of red, white, and blue, are spectacular together! Please keep prepping, we must be diligent. May God bless this world, Linda