15 Valuable Skills I Learned In Home Economics
I'm sharing 15 valuable skills I learned in Home Economics way back in the day. I understand some cities or states have stopped the Home Economics classes now. This is very sad to me because even though my mother taught me a lot at home, I had great teachers when I took those classes during high school. I learned a lot, and I mean a lot, from them.
Was it because I was a teen and the teacher taught me a few things my mother didn't think to teach me? That's a good question, I just remember looking forward to those classes.
Here's the deal, I can still picture that oversized kitchen that was stocked with aprons for us girls to wear while we got to make a different recipe every week. In between, we learned many more things than just cooking. Please let me know the things you learned in your Home Economics classes, I really want to hear about them.
This post is updated for a reason, can your family use some help in the kitchen?
15 Home Economics Skills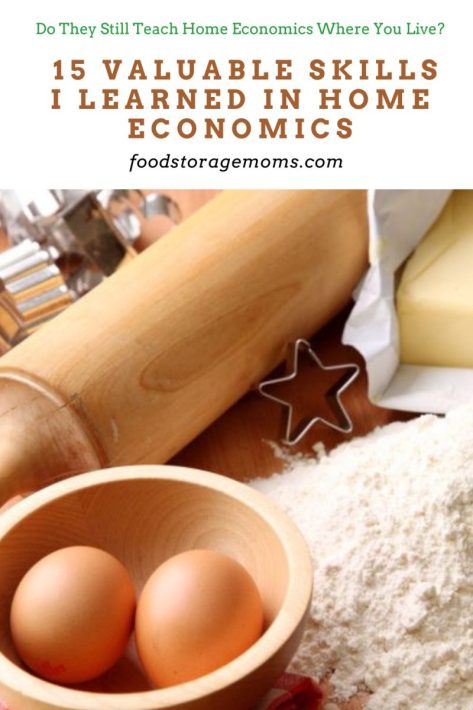 1. How To Measure Ingredients
Do you remember learning how to measure flour for instance? We were taught to use a knife to scrape across the top of the measuring cup to level the flour, right? I never liked doing that so I stopped. I scoop my flour, what do you do? I make bread and I'm not going to scrape 14 cups of flour, just giving you the heads up. I have to giggle about the leveling, it's who I am. Keep using a knife if it works for you, my friends.
2. How To Sift Flour or Powdered Sugar
Yes, I have a sifter, but I rarely use it. I bought it just in case I need to sift flour, but in the last ten or more years I have never sifted flour. But, I'm glad I learned how to sift the flour in my high school cooking class. Another very good reason to have a sifter or a very fine strainer, I can use it to "sprinkle" some powdered sugar very lightly over a fancy dessert.
3. Rolled Cookies
One of the most fun classes in Home Ec was when we made rolled-out sugar cookies and we frosted them in so many different ways using cake decorating tips. We piped the edges and so much more. We learned to roll the frosting bag down as we emptied the bag. I had a very patient teacher who loved all the girls in the class.
4. Drop Cookies
One thing that was really nice, I was able to help the teacher show the students how to use two teaspoons to make drop cookies. I can only remember making chocolate chip cookies dropped onto parchment paper that was placed on top of the cookie sheet. Looking back I bet a lot of the girls never made any cookies at home. My mom taught me how to cook, bake, and the usual kitchen tricks.
5. Biscuit Making
Did you grow up making biscuits? Several of the girls in my class had never made biscuits. My family made biscuits all the time, we ate them with cream-chipped beef and creamed tuna and peas. Yummy! If you're nervous to make bread, please start practicing by making biscuits once a week or every two weeks. I can guarantee you we'll need to make biscuits when things get tough.
6. Sewing/Mending
I can still see the sewing machines all lined up in the class. Wow, I knew how to sew, but I still learned a lot from my teacher. The students learned many sewing techniques, some were easy as we learned basic sewing skills, and some were very hard as the advanced classes started and we gained more expertise. We learned how to thread a needle, thread a sewing machine, use good scissors when we cut out the patterns on fabric, etc. We also learned how to sew a button on a shirt and how to make a reinforced buttonhole.
She showed us different fabrics and even how to iron different fabric varieties. You only burn a piece of fabric once, right? She even showed us how to clean and oil the sewing machines.
7. Budgeting
I remember a class or two on how to budget. Most of us had jobs and it came in handy. We learned to play with pretend cash, a cash register, start a savings account, how to apply for and use credit cards, and how to manage our checkbook. Debit cards weren't a thing back then, but the principles are pretty much the same. It was great training on how to start with this much money and then begin to subtract expenses. It was a great experience to gain some financial literacy regarding personal finance. These were all valuable practical topics for young adults to learn before facing the real world of families and finances when going on our own.
8. Manners
I was lucky enough to have learned most manners at home, but some of my classmates and other young people in my school didn't know. We were taught to say, "please, thank you, and excuse me." Some of these things we may take for granted until we see a child who has no manners. Home-taught lessons often last the longest, but I appreciated what our teacher passed on to us.
I'm surprised when I see how boys and girls interact these days. Maybe it's due to all the time they spend online, but common courtesy seems lacking. The language I hear in public places really amazes me too. I also feel that young people these days can learn some better communication skills since we have so many options to communicate with family, friends, and others. Manners as part of basic life skills have taken a hit over the past few decades!
9. Table Setting Etiquette
Do you remember taking a test on where to put the different-sized forks, spoons, and which way to turn the knife blade in the table setting? Or where to put the glass, at the tip of the knife? We learned how to fold napkins. I swear this is why I love a beautiful table set with nice dishes when serving guests. It was critical that we learn where to put the bread plate and knife and never touch that dessert fork until dessert was served. Life was good in those classes as we learned basic skills.
This is the best Infographic I could find, and I love purple. This gives you an idea of where to put forks, knives, spoons, and goblets. Please keep in mind I'm not this fancy, but I do like my silverware where it's supposed to be placed. And I can't eat a meal without a napkin on my lap.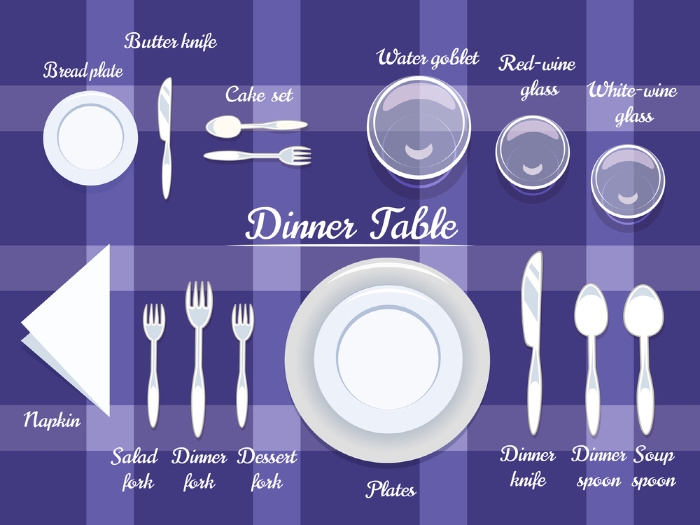 10. How To Use A Pancake Turner
This may sound really funny, but it takes practice on how to flip a pancake, a grilled cheese sandwich, or make over-easy eggs. We learned how to do all of this since she felt it was part of learning important life skills we'd use each day. The neat thing about learning stuff like this at school was that the school had the resources and tools so we could take a practical and even my technical skills approach to learning. My home economics teacher was one patient teacher.
11. Laundry
The school had a washer and dryer and we were taught how to wash the aprons, dish towels, and rags. I'm sure there were a lot of girls that didn't know how to even start a washing machine before they took that class. I taught my kids at a young age, about 10 years old, how to sort out the clothes by color and type of fabric so they were protected during the washing process. I think this helped prepare me, and my girls, for some important problem-solving skills since they had to make decisions and follow through.
Some people think these home economic class skills are only for those planning to be homemakers. It bugs me that the term homemaker seems to have a less-than-pleasant connotation these days. I was glad to see some guys my age take these classes since it would prepare them to "share" the responsibilities of home and child care, meal planning using a weekly menu, doing laundry, and taking on assignments often thought of as "womens'" work. Taking care of things around the house doesn't need to be gender specific.
12. Cleaning Tips
We were instructed on how to clean the kitchen countertops, stovetops, and refrigerator. We had to wash the items we used and then let them dry in dish drains. No dishwashers back then.
It's funny to see our own kids try to give the grandkids instructions on how to keep their bedrooms clean and organized. I feel they are pretty good instructors, but having their kids follow those instructions is another thing! I'm glad I learned many of those skills at school at a fairly young age so I could incorporate them into my daily routine. I tend to be a clean freak, as Mark can attest!
13. Personal Hygiene
One critical item my teacher taught was to always wash our hands before starting to prep any meal. It's the little things that make it so important to stay healthy in every area of the house. Wash your hands, wash your hands, and wash your hands again.
14. Cutting Board Safety
I can still remember being told to use one wood-cutting board for meat, one for vegetables, one for fruits, and one for bread. We learned about the different bacteria and cleaning the boards with hot soapy water, and oiling them when dry. Little did I know that it would last me a lifetime in the kitchen. As mentioned, I'm a clean freak, and yes, I own it.
15. Cooking
I remember learning to make white sauce, gravy, mashed potatoes, and deviled eggs. Having great memories in Home Economics helped make me the cook I am today. We did spend some time learning about the importance of nutrition as part of meal planning. I harp on my blog all the time that all of us need to learn the skills of cooking from scratch. Eating processed foods, foods from the drive-through, and not eating enough fresh fruits and veggies have all contributed to so many in our culture struggling with obesity. Eating healthy foods was taught in my classes, and my mom must be given a lot of credit as well.
Final Word
I really wish the states that dropped the Home Economics classes will eventually bring them back to the classrooms. It's a real shame that some of our youth may not learn these skills we all need to survive. Yes, survive. When we have a grid down, and we will, there will be no laundromats up and running, and the fast food drive-throughs will close down in the short term. My wish is that everyone can teach each other to do at least half of the skills I have listed today. Please keep prepping, we must be diligent. May God bless this world, Linda.
101 Homesteading Skills We Need