When I started my blog ten years ago, I wrote a post about making DIY laundry detergent. Some people may call it laundry soap, either way, you get the idea.
I had a friend teach me how to make it years ago and that's how I was able to write that original post. I decided to update this post to show my readers how to make it. Let me know if you make your own detergent and what you use. In case you missed this post, How To Make Emergency Washing Machines
I highly recommend a Lavario Portable Washing Machine (currently out of stock)
What I love about this recipe is you can make as little or as much as you want at any given time. Yes, I stockpile the ingredients.
Dry DIY Laundry Detergent Over Liquid
It is really easy to make laundry detergent, it really is. I prefer the dry over the liquid because I'm one of those chicks that like to be prepared for the unexpected and we all need to do laundry.
Yep, I will probably never run out of the stuff. I have several years stored in a closet in five-gallon buckets. I couldn't do that with liquid detergent.
I only use 1-3 teaspoons of laundry detergent in my front-end loader washing machine (HE). I started out using 1 tablespoon, but I got the same results with half of that, so now it makes my cost even less. Gotta love the savings, and it does a great job getting my clothes clean!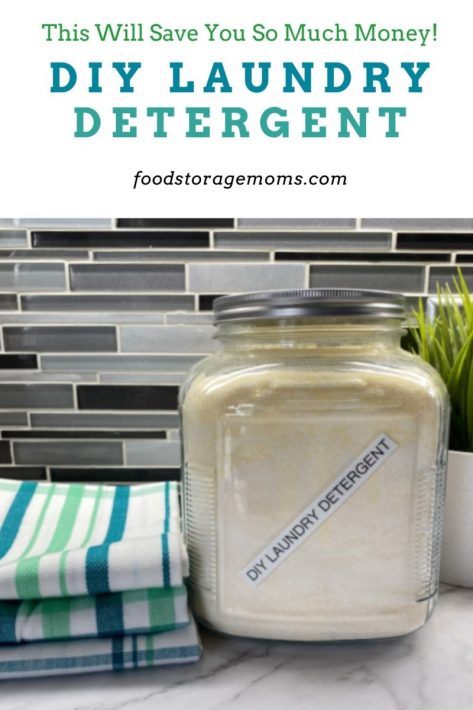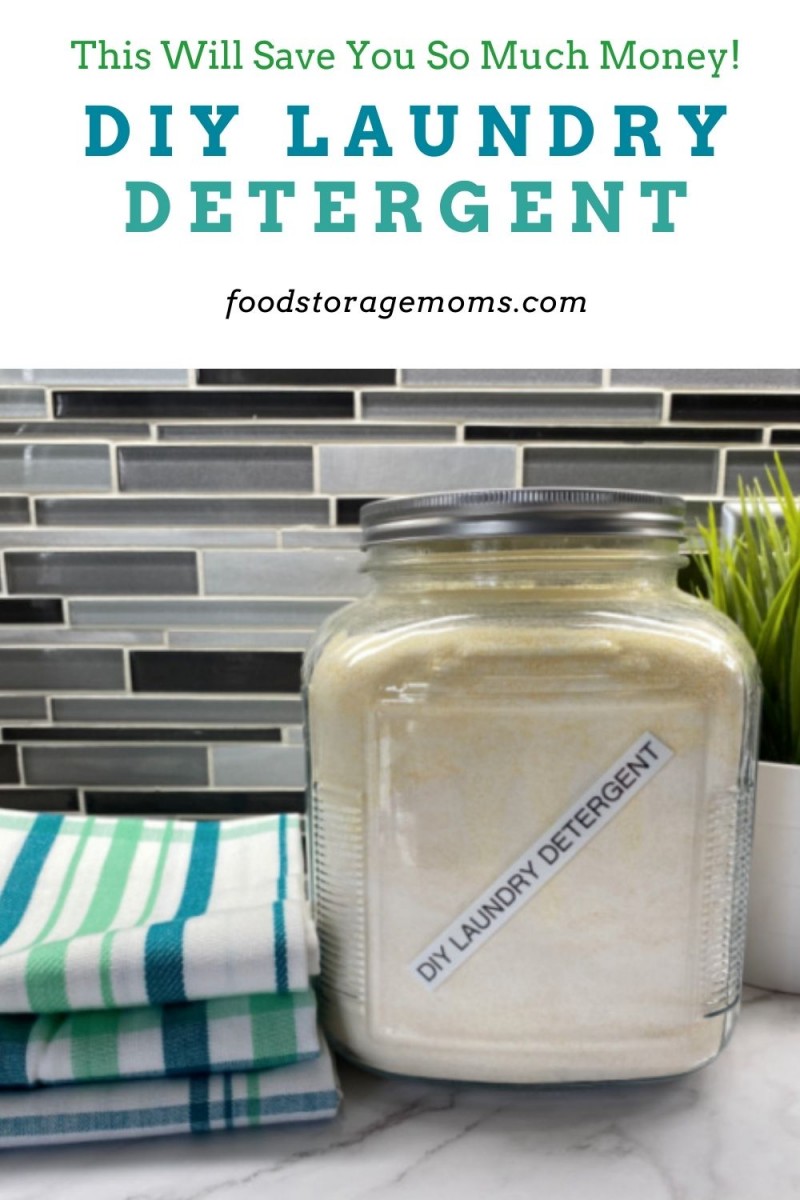 Grater And Blender
If you have a cheese grater and a blender you can make this stuff. Some people say it makes their cheese grater or blender smell like soap. When I'm done I soak them with a little bleach and rinse them with really hot water and that works out great for me since I don't taste or smell the detergent on the tools.
Then I wash the items to rid them of any bleach residue. This year I used my Nutriblender to blend the ingredients instead of my Bosch blender. I used a Vegetable Grater to shred the bars of soap. You can use a cheese grater as well, just be careful while grating so you don't damage your fingers.
You will have to let your blender of choice cool down between batches because it may overheat. I waited about an hour and went back and made a few more batches in order to fill the gallon container. You could also use mason jars, but I opted for this glass jar. One Gallon Jar
DIY Laundry Detergent
Here's the deal, you don't have to invest in a lot of equipment to make laundry detergent. I make it in huge quantities to share with my daughters. You can use a salad shooter or just a plain grater to grate the bars of soap.
Any blender will work as long as you make sure it doesn't overheat. I love the smell of Fels Naptha bars, but I have seen people using castile soap bars as well. I think it is just a personal preference. I stick with the Fels since I've had such a good experience with the job it does, my clothes come out clean.
On Facebook, I've noticed families getting together on a weeknight to make their own DIY laundry detergent together. What a great idea! I hope you enjoy this recipe as much as I do! Saving money is a huge thing for all of us!
In case you missed this post, 15 Ways to Clean Your Home with Borax
Kitchen Items You May Need:
DIY Laundry Detergent Ingredients
DIY Laundry Detergent Recipe
Step One: Gather Your Ingredients
The first thing I like to do is gather all of the ingredients, and this recipe only has three. I love it! You can use different bars of soap, I understand but I have only used these Fels-Naptha bars because I've learned over the years that they actually work. I used one 65-ounce box of Borax and one 55-ounce box of Washing Soda and 5-6 bars of Fels-Naptha to fill the one-gallon-size jar.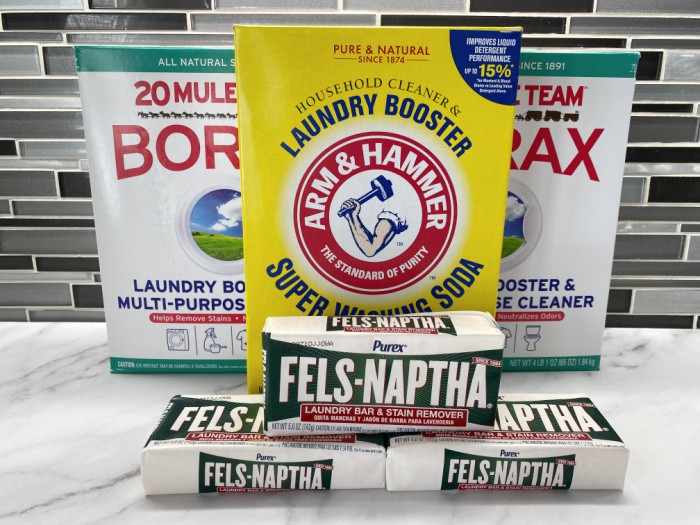 Step Two: Prepare Soap for Grater/Shredder
Because I'm using my electric salad vegetable grater, I cut the bar of soap in half lengthwise to fit inside the top of the grater. Here you can see one cup of Borax, and one cup of Arm & Hammer Super Washing Soda.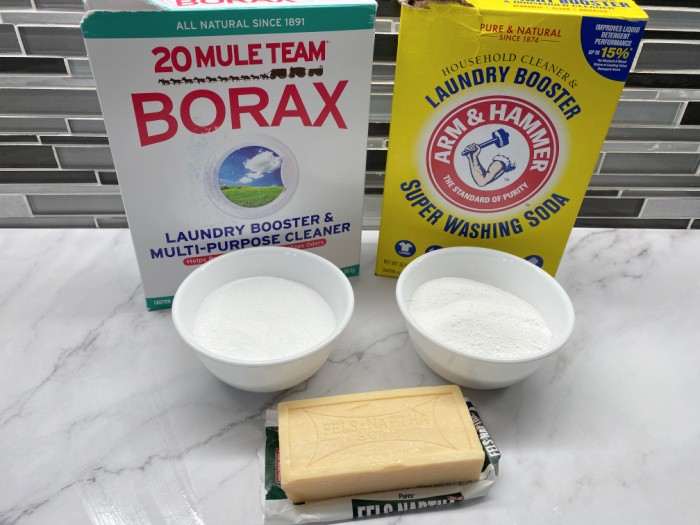 Step Three: Grate or Shred the Soap Bars
It's really easy to use my Presto Salad/Vegetable shredder. Mark and I have grated many bars of soap by hand, so don't think you need fancy equipment to make it.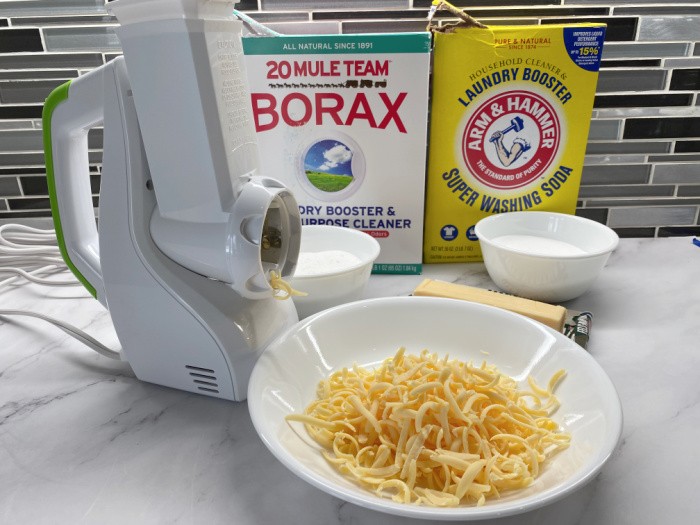 Step Four: Grind Ingredients Together
Because the soap powder is pretty thick, I opted to "grind" a half batch at a time to keep my unit from overheating. So, you can see below, 1/2 bar of soap, 1/2 cup of Borax, and 1/2 cup of Arm & Hammer Super Washing Soda. Then after mixing that batch, I started mixing the other half of the recipe. Yes, it takes two steps, but I and my equipment stay sharp.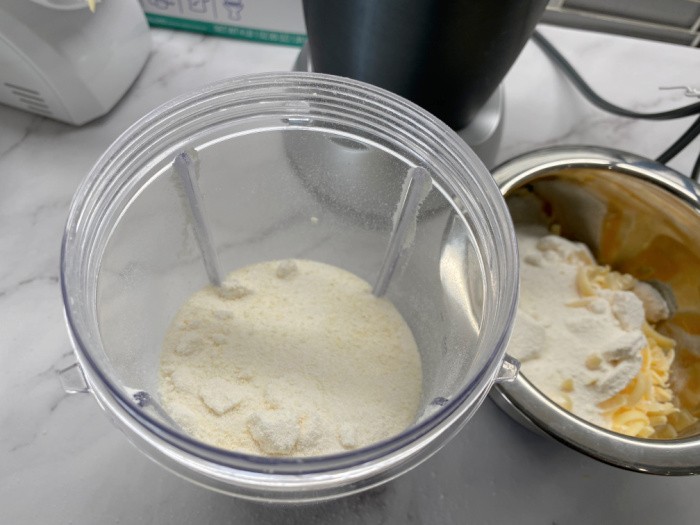 Step Five: Store Detergent in Container
This picture shows you how much ONE batch of my recipe filled the one-gallon jar. You can fill mason quart jars, or even pint jars, if you want to, depending on storage space and how easy it is for you to lift things. Because you use so little detergent for each load of laundry, it lasts a very long time.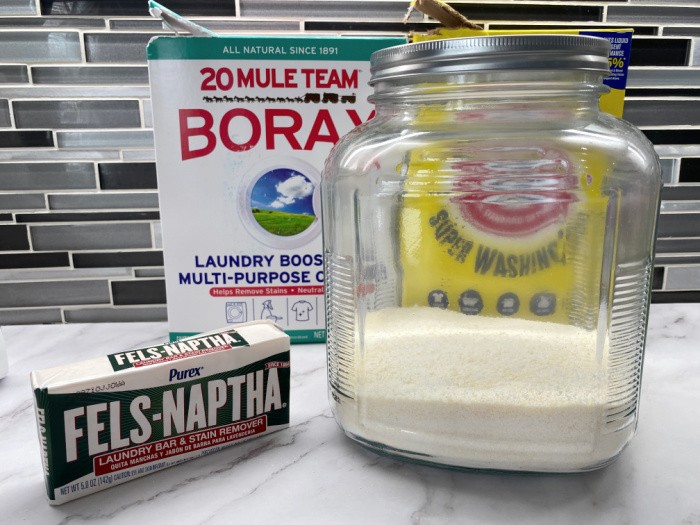 Finished Product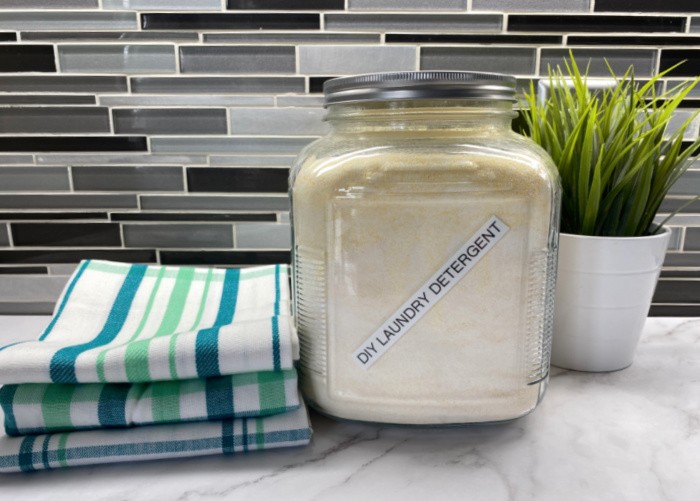 Homemade Laundry Laundry Recipe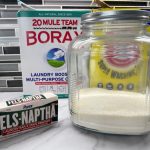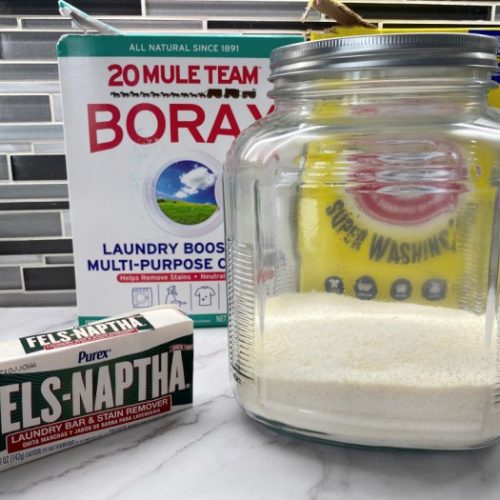 DIY Laundry Detergent/Soap
Ingredients
1

bar

Fels-Naptha Soap-grated either by hand, food processor, or salad shooter

1

cup

Borax Detergent Booster

1

cup

Arm and Hammer Super Washing Soda (not regular baking soda)
Instructions
Grate the bar of soap by hand, or use an electric vegetable grater. Put these 3 ingredients in a blender to blend. After doing this, it will look just like the store-purchased detergent, but will not include all the "fillers." You will use less product per load and will have fewer "soap bubbles." Remember, just having bubbles doesn't mean clean. I use 1/2 to 1 teaspoon per load, depending on the size of the load. I have a HE-High Efficiency washer, and it works great in regular washing machines as well. Store the finished product in an airtight container, preferably glass to keep it dry. I store some in 5-gallon buckets, but I don't live where it's humid. Just giving you the heads up.
Will Borax take the smell out of my clothes?
Borax works by absorbing the smells and odors in our clothes, so yes, it will take out many unpleasant smells.
Is Borax good for laundry?
Yes, it's very good for your laundry. When added to your wash it will help brighten and whiten your clothes, especially bright-colored items.
How many boxes of Borax, Super Washing Soda, and Fels-Naptha soap bars fill a one-gallon jar?
This is a little tricky, I used one box of Borax, One box of Super Washing Soda, and 5 bars of Fels-Naptha soap bars. I had a little bit of the product left in each box. I will save it for the next batch. It will never be exactly an even number of boxes and soap bars to fill a one-gallon jar.
How do I store these products in a humid area?
I highly recommend storing the detergent, the Borax, and the Super Washing Soda in glass airtight containers.
How do I store Borax, if I live where it's humid?
This is actually a really good question because humidity causes havoc with borax. Over time it will become clumpy, or even like a total brick. I highly recommend you store your borax in an airtight container as shown above filled with detergent or use mason jars.
Final Word
Please let me know if you have tried making my DIY Laundry Detergent, I would love to hear. We are all aware of how much everything has gone up in price, right? If you're like me, you're willing to try new things that save money while still providing the same quality results.
Well, the ingredients I used today have really gone up as well. Even so, this recipe uses so little per laundry batch, I'm still saving money. May God Bless this world, Linda