25 Survival Items You Forgot to Buy
Most preppers have already covered the basics, including making sure that they have enough food, water, a first-aid kit, and various tools, but there are other important items that you may be forgetting about. I'll share with you a few that often get overlooked so that you're able to establish a complete survival kit. Here are 25 survival items that you forgot to buy.
25 Survival Items You Forgot to Buy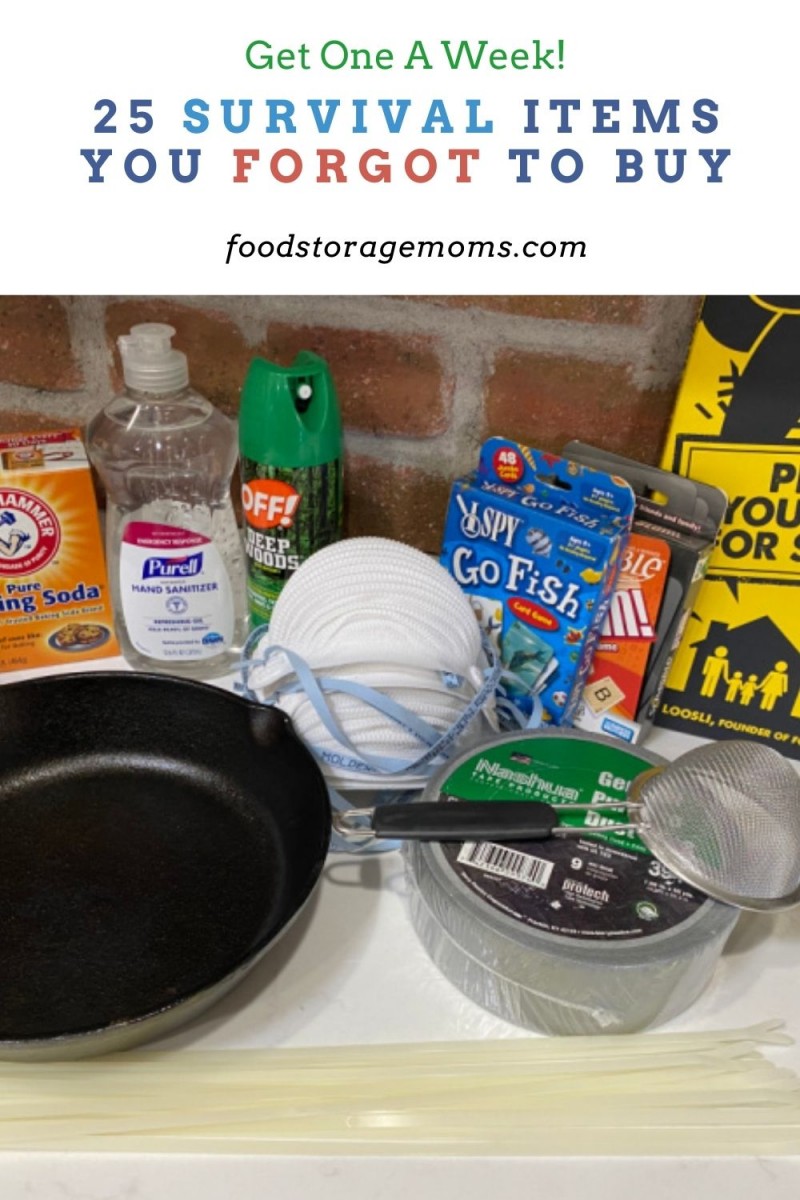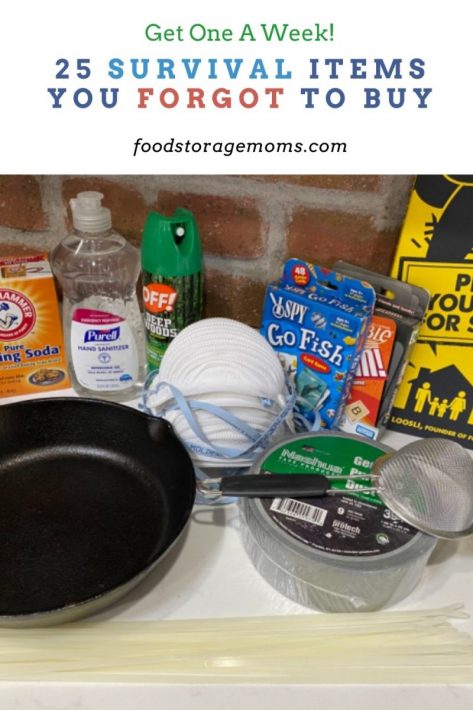 1. Duct Tape
Duct tape is one of the most versatile household items on the planet. It's convenient to have for a quick repair, or used to help create something like a splint or shelter. This may be one of the most major survival items you forgot to buy.
2. Dust Masks
When doctors and other medical services are no longer available, it will be critical to have dust masks in order for your family to keep from breathing in dust, smoke, or fumes. The NIOSH N95 Standard mask even provides some protection from inhaling smoke and may provide some help during a nuclear fallout situation.
3. Paper Plates/Cups/Paper Towels
While you have the food covered for an emergency situation, that doesn't mean that your family has to eat like animals. Don't forget to buy cheap paper plates that keep you from using valuable soap and water used when cleaning dishes.
4. Portable Toilet/Emergency Washing Unit
Your toilet may only flush so many times after a major disaster. Pretty soon it could be useless, and if you're forced to bug-out, you'll be glad that you purchased a portable toilet. You could consider making a portable toilet unit like this one: Linda's Make It Your Own. Or consider purchasing one: LugaLoo
You should also consider purchasing or making an emergency washing unit. Here is a homemade one: Emergency Washing Bucket. I purchased a Lavario, about a year ago, it will do blue jeans and sheets!! Check it out: Lavario Washing Unit.
5.Candles/Matches/Solar Lights
Most preppers stock up on flashlights and gobs of batteries, but in a major disaster scenario, those batteries will only last so long. Be sure to have candles and matches for backup as well. I prefer solar lights over candles, but I realize candles are cheap. You may want to consider buying solar lights for your yard so you can bring them inside your home when needed. I love having the extra lighting outside as well for security. I finally decided to purchase these this week for security in my backyard: Solar LED Yard Lights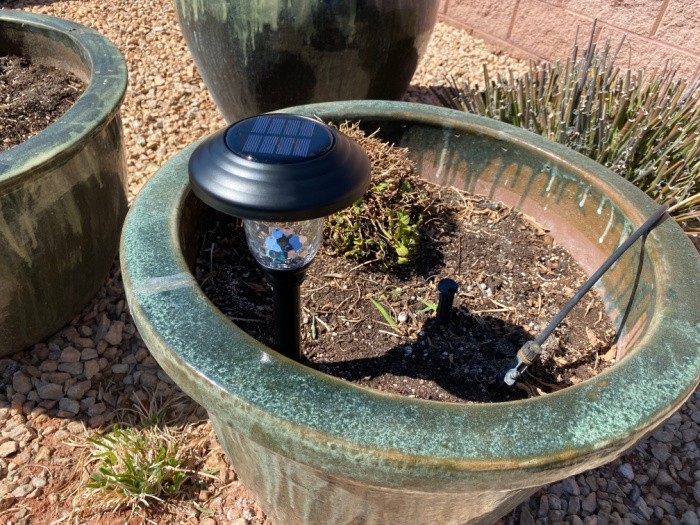 6. Sewing Kit
There may come a day that you can't just go out and buy a new pair of jeans because your current ones have a huge hole in the knees. A sewing kit and basic sewing skills will go a long way in repairing your family's clothing.
7. Hand Sanitizer/Vinegar
Keeping your hands clean is always important, whether you are dealing with an emergency or not. There may come a time when you don't have soap or running water that's available, but your stockpile of hand sanitizer is still capable of handling the job. Vinegar is another great item, it can be used for cooking, baking, cleaning, killing weeds, and so much more.
8. Tarps
Tarps are great to keep your supplies dry, to use as sun cover as you're working throughout the day, and also build a shelter so that your family can escape the elements at night.
9. Mylar Blankets
Mylar blankets do an awesome job of preserving body heat during an emergency situation. Most of them are also durable and waterproof.
10. WD40
Imagine how many obnoxious squeaky doors we'd have to deal in a world without WD-40. This handy-dandy lubricant can work on an endless number of repair and maintenance projects, so I'd stock up on a few cans if I were you.
11. Baby Wipes
A lot of people don't use baby wipes on a daily basis. It's probably because they don't have any babies. Yet baby wipes provide a way for you and your family to freshen up when a hot shower is no longer an option for you. Just so you know, if those baby wipes dry out after a year or so, no worries. Just add water to the container when you open it.
12. Baking Soda
Baking soda is an ingredient that can be used for more than just baking. It can also be used as a cleaner and deodorizer.
13. Bug/Animal Repellent/Sunscreen
After a major disaster, sanitation is one of the first things that gets tossed out the window. This means there will be more critters and bugs roaming around. Be sure to have extra packages and spray canisters of both bug and animal repellent. Don't forget sunscreen to protect your skin from the sun!
14. Diapers/Formula
When it comes to prepping, you have to consider every one of your family members' needs. If you have an infant, you'll want to have a heavy stockpile of diapers and formula, pacifiers, and other essential items. Kay reminded me about evaporated milk diluted 50% with water for a substitute for the baby formula they use to use about 40 years ago.
15. Floss
You may have your toothpaste and toothbrush situation covered, but flossing is extremely important to keep up on for your oral health.
16. Paracord
Paracord is another absolute must for every prepper. You may think it's a thin piece of rope, but it's extremely strong and can hold an incredible amount of weight. It's not only for climbing, but it will work as a tourniquet, fishing line, building snares and booby traps. Here are more ways that you can use paracord in a survival situation.
17. Axe
How else do you plan on obtaining firewood? An axe with a couple of extra handles is a must. It also wouldn't be a bad idea to buy yourself a saw as well.
18. Zip Ties
Zip ties work great on several things, including building a shelter, repairing clothing, used as handcuffs, or making snares. Zip Ties/Cable Ties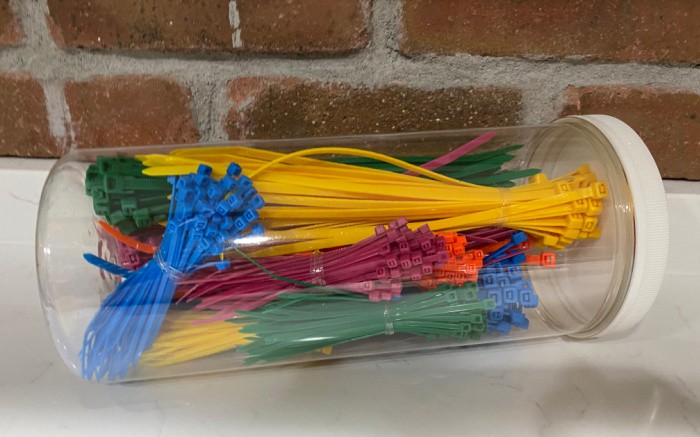 19. Pantyhose
Pantyhose can be used other than for leggings. You can use them for filtering water, fishing, dehydrating food, and many more. Check out these 20 survival uses for pantyhose.
20. Mesh Strainer
Don't forget to have a mesh strainer that you can use to strain fats, oils, and herbs from your food.
21. Condiments
How bored would you be with your meals when you don't have any ketchup, mustard, mayo, ranch, or hot sauce? Stocking up on these condiments in little packets is a must, in my opinion.
22. Cast Iron Cookware
Having to cook over a fire will take a toll on your regular cookware. Invest in some cast iron cookware that's extremely durable and will last you forever.
23. Board Games and Toys
Chances may be that your children's iPads and electronics will no longer work. Keep your kids distracted during a crisis by stocking up on board games and toys that don't rely on batteries. This is also for mom and dad's sanity so that they can focus on solutions for what they're dealing with.
24. Playing Cards
Even grownups can get bored sometimes. Especially if they don't have their phones to look at every few minutes. Grab a pack of playing cards to help pass the time.
25. Survival Books
Most preppers aren't experts in every area when it comes to survival. Having a few good survival books will have tips you may need, and also provide you with information on plants and herbs that are safe for you to eat. This keeps you from guessing. I'm sure you have many survival books, but in case you missed mine: "Prepare Your Family For Survival" by Linda Loosli
25 Survival Items You Forgot to Buy
Final Word
This is by no means an exhaustive list of survival items that you may have forgotten to buy, but these are some of the most common ones that are missed. If you are an experienced prepper, what are some other survival items that the average prepper oftentimes forgets? What survival items you forgot to buy would you add to this list? May God Bless this world, Linda.
Other Content to Check Out:
100 Items to Store for Survival
How to Be Prepared for Survival