How To Make Your Own Portable Emergency Toilets
Today it's all about emergency toilets. I may have mentioned this before, but every family needs their own emergency toilets. I will not share mine. Nope, nada. So, there you have it. When I teach classes I always mention to those attending that emergency toilets are cheap to make and they better make one because I doubt anyone will share a used toilet with them.
Yes, it's gross to talk about, but we all have to go pee and poo, it's a fact of life. I love hearing from readers because someone always comes up with a new idea for me. You will see that several of those making comments use kitty litter with theirs, but I also suggest this product: Reliance Bio-Blue
Well, I received an email with two pictures from Dave H. Let me tell you it was a cartwheel moment. A cartwheel moment to me means I wish I could do a cartwheel because I'm so excited about the idea. Dave mentioned he got the idea from my nephew who built a wood emergency toilet. So today, I decided I would put all the emergency toilets into one post so everyone can decide which one works for them. So let's get started.
Emergency Toilets
Dave H. Design:
Is this awesome or what? I need to ask my son-in-law to make me one because he works with steel. Dave mentioned he used one-inch square tube steel for part of it. Is this fabulous or what? Plus, Dave mentioned he uses a Gamma Lid to keep the smell and the flies away. Why didn't I think of that? Woohoo!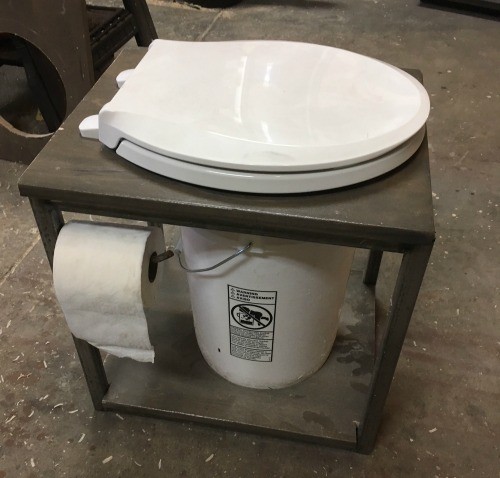 He even made a toilet paper holder. This rocks, right? I need to figure how to use the ten-gallon bags with the Gamma Lids. Just so you know, most Walmart stores sell Gamma lids in the emergency preparedness section. I have only seen 5-gallon buckets at Walmart, just giving you the heads-up here. I like the 6-gallon size or mine.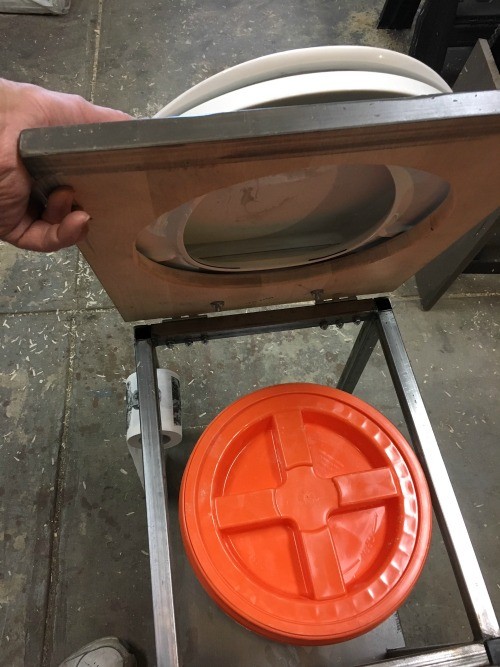 The Gamma Lid is the best idea, ever!!!
Dane's Design: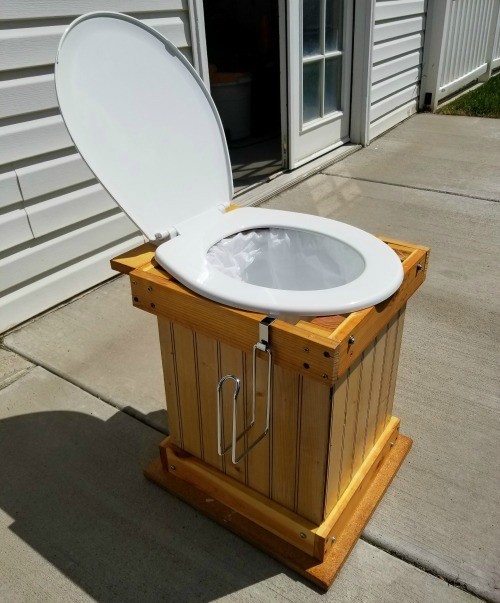 The one above was made by my awesome nephew, Dane. I wish I had the instructions to make it but he used some scrap wood he had in his shop to make it. It takes a regular toilet seat, a 6-gallon-bucket and a toilet paper holder from your local hardware store. It uses 10-gallon size bags as well.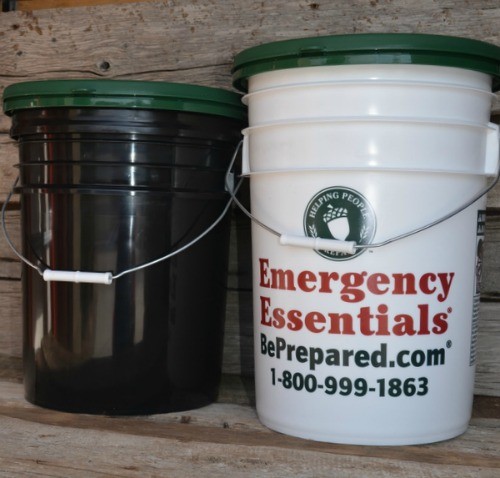 The black bucket above is a 5-gallon bucket, therefore, you will need to squat down a bit more to use it. The one on the right is similar to this 6-Gallon Bucket With Gamma Lid (the size my hard white wheat comes in) from Amazon. The Green Toilet Lid on the top is a good one, I have two of these. I had one reader suggest one bucket for PEE and one bucket for POO. That's an awesome idea. I hope we never have to use them, but I want my own emergency toilets if we do.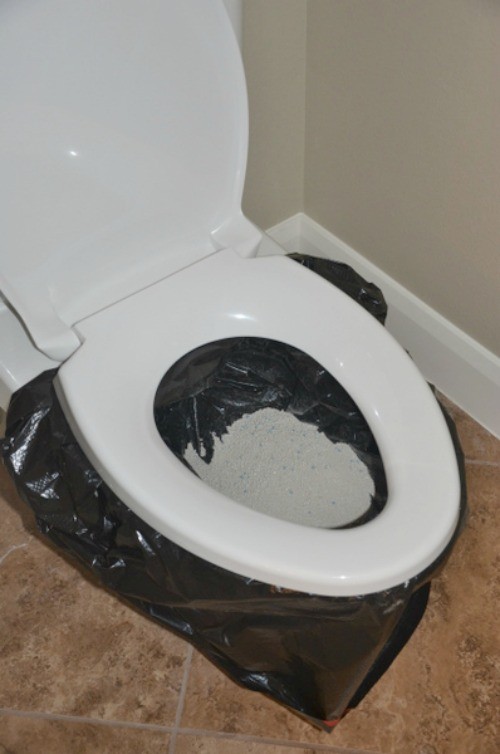 This one is simple, just use your own toilet in your home, duct tape the handle so no one can flush it. This one uses 33-gallon size black garbage bags. You can use duct tape to tape the bag in place. This one uses kitty litter or sawdust to help absorb the liquid.
This kit above is my emergency car toilet. It's an empty #10 can (7 inches tall and 6-1/4 inches in diameter) with a lid and uses 4-gallon bags. I fill the can with baby wipes, 4-gallon bags, small tissue packs and a container of hand sanitizer. Cheap and easy to make.
Here is a 5-Gallon Set (too short for me) but the price is right and it includes a box of Reliance-Bio-Blue.


If you haven't decided which emergency toilets you want, I hope today's post helps you can find one that best suits your family's needs. Please get with your neighbors and start a preparedness group, if you feel comfortable with the people in your area. If we can prepare together as a team hopefully it shows we can work together as a team after an unforeseen emergency or disaster. We will be faced with some sort of a disaster in our lives at some time or another. The government can't help everyone, so please don't expect that to happen. We need to be self-reliant, today, not tomorrow. May God bless this world.
My Favorite Things: