10 Eye-Opening Reasons to Stock Charcoal
If you're like me, you're always looking for ways to prep for the worst. If you're a prepper, you know the importance of stocking up on supplies we all expect to use during a typical emergency. But what else should you stock up on? In this post, we'll list 10 Eye-Opening reasons to stock charcoal. Did you have a Chimney Starter? They help get the coals started faster! Chimney Starter
Charcoal Facts
Charcoal is often used as a fuel, either for cooking or heating. It is also used in a variety of industrial processes, such as producing iron and steel. Charcoal has a number of advantages over other fuels, including its high heat output and low ash content.
Charcoal is also popularly used as a filter material. It provides an effective way to remove impurities from water and air. Charcoal filters are commonly used in water purification systems and aquariums. In addition, charcoal-based air filters are often used to improve indoor air quality.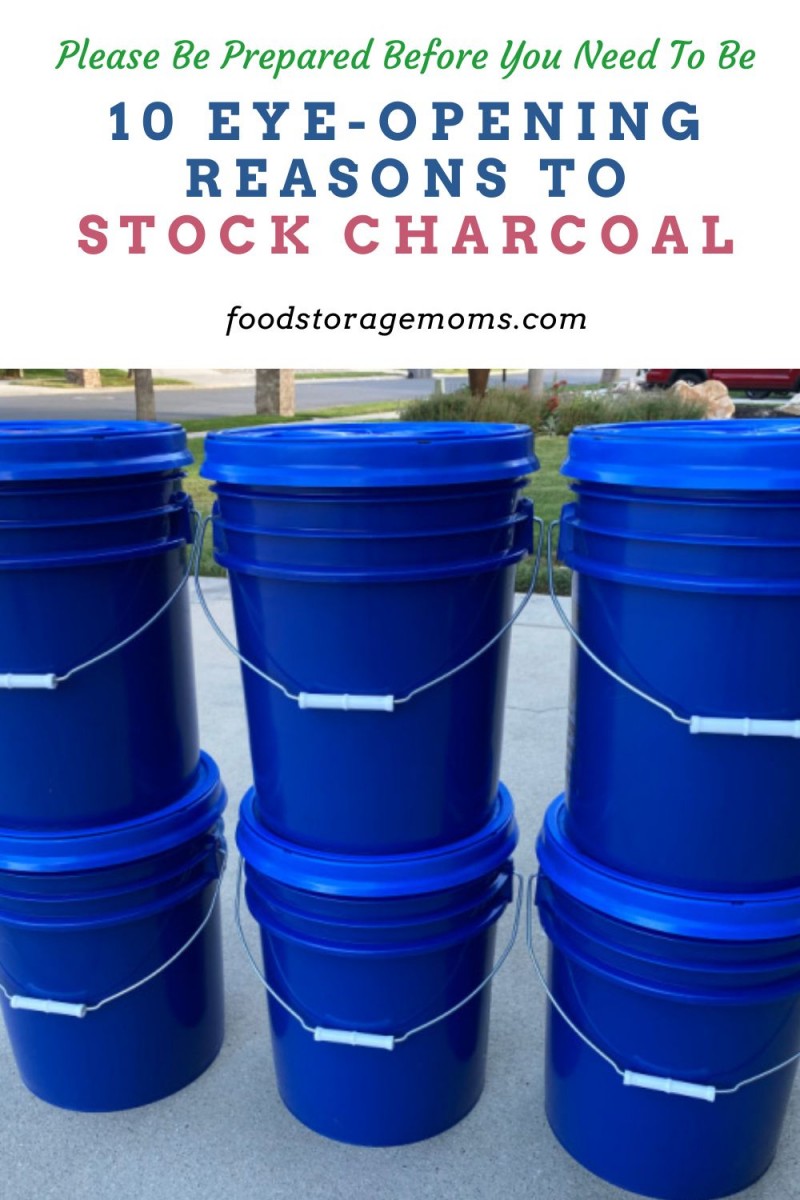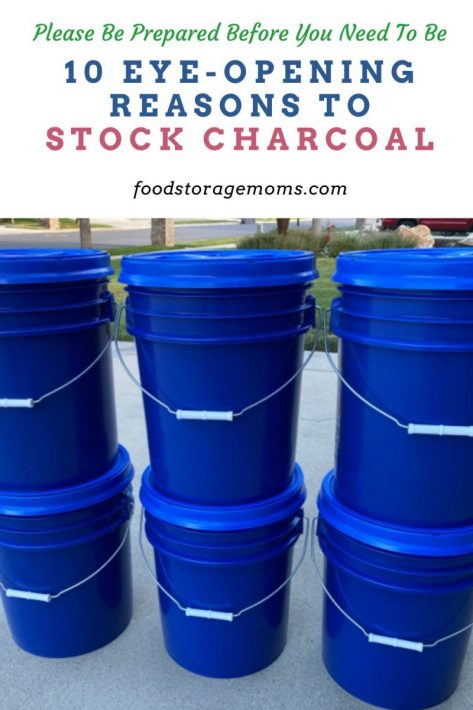 What Charcoal Should You Stock?
When it comes to stocking charcoal, I only recommend buying charcoal produced and packaged without the lighter fluid starter. Charcoal, kept in an airtight container without lighter fule can be stored indefinitely. I recommend Kingsford Charcoal Briquettes. Here are some other options:
10 Reasons To Stock Charcoal
If you're like me, you're always wondering what you're missing in your preps. And if you're into barbecuing, then stocking up on charcoal as a cooking fuel is a no-brainer. Here are ten reasons why you should make sure to have plenty of charcoal on hand:
Stock Charcoal for Emergency Fuel
In a long-term grid-down scenario, you're going to need all the fuel you can get your hands on. Charcoal is a great way to fuel your fires. It's easy to store, and it burns hot and long.
Stock it for Barbecuing
Even if the power is out, you can still cook up a tasty meal with charcoal. Barbecuing is a great way to cook in an emergency, and it's a lot of fun, too!
Stock Charcoal for Blacksmithing
If you're into blacksmithing, then you know that charcoal is an essential fuel. It burns hot, and it's easy to find. Blacksmithing is a great skill to have in a survival situation.
Stock it for Survival Heating
In a long-term survival situation, you're going to need all the heat you can get. Charcoal is a great way to keep warm. It burns hot and long, and it's easy to find. Of course, you can only burn it outside in a fire pit or deep hole to "try" and keep warm around a fire. Don't use it indoors, it could prove deadly.
Charcoal Lasts a Long Time
Unlike gas grills, which can run out of fuel quickly, charcoal grills can last for hours on just a few pieces of coal. This makes them great for long-term cooking in an emergency.
Charcoal is Easy to Store
Charcoal briquettes don't take up much space, and it's easy to store. You can store it in a garage or shed, and it will last indefinitely (only purchase the charcoal briquettes without the lighter fluid added).
You Can Use Charcoal for Barter
In a survival situation, charcoal will be a valuable commodity. It's easy to trade, and it's useful for many things as discussed here.
Charcoal is Easy to Use
All you need to do to use charcoal is light it and let it burn. There's no need for lighter fluid or matches. Just light it and let it go.
Charcoal is Versatile
Charcoal can be used for many things, from cooking to heating to blacksmithing. It's a versatile fuel that should be in every family's stockpile.
Charcoal is Inexpensive
Charcoal is a relatively cheap way to stock up on fuel. You can buy it in bulk, and it will last indefinitely, if you buy the bags without the lighter fluid added. Keep the briquettes in an airtight container.
What Can I Use Charcoal For?
There are many uses for charcoal, and it's a great addition to any prepper's stockpile. Here are a few ways you can use charcoal in an emergency OUTSIDE ONLY:
Cooking (outside only)
Heating (fire pit outside)
Bartering
Blacksmithing (outside only)
Emergency fuel (outside only)
What Happens if My Charcoal Gets Wet?
If your charcoal gets wet, it's not the end of the world. Just let it totally dry out before trying to use it.
How to Dry Out Charcoal
If your charcoal gets wet, there are a few ways you can dry it out:
Set it in the sun.
Spread it out and let a fan blow air across the charcoal.
If you have room, spread it out on the patio or indoor room where moisture is at a minimum.
How Do You Know If Charcoal is Bad?
If your charcoal is bad, it will be crumbly and won't light easily. You can also use a method called "the salt test" to see if your charcoal is still good. To do this, just place a piece of charcoal in a bowl of salt water. If it sinks, it's still good. If it floats, it's time to get rid of it.
How to Store Charcoal
Because charcoal briquettes are made from sawdust and wood scraps, it's imperative to keep them dry in order for them to light. You should store charcoal in a moisture-proof container with a tight lid. I use blue 5-gallon buckets with blue gamma lids, but you can use any color. Other air-tight containers should also work. I like the five-gallon buckets since they hold a significant amount without having to spend a bunch of money.
Additionally, store your charcoal out of direct sunlight, in a cool area that stays dry. If you have an indoor garage or regularly run humidifiers there's no need for concern when storing them too close to windows, just make sure they're sealed off from any leaks!
Using Five-Gallon Buckets With Gamma Lids
Step One
The first step is placing the Gamma Lid ring on the 5-gallon buckets. My son-in-law just snaps them on, but we have used a rubber mallet and a rag to put them on as well.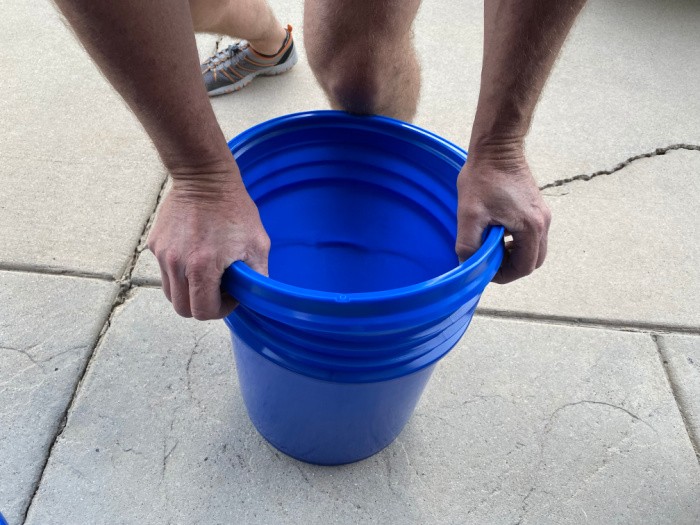 Step Two
Now we are ready to fill the buckets with all the Gamma Lid rings secured on the buckets.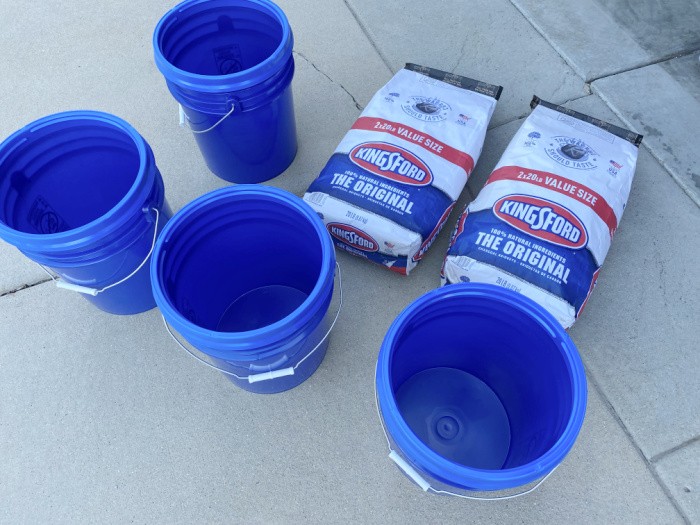 Step Three
We filled all of the buckets with charcoal (without starter fluid) because it will last indefinitely.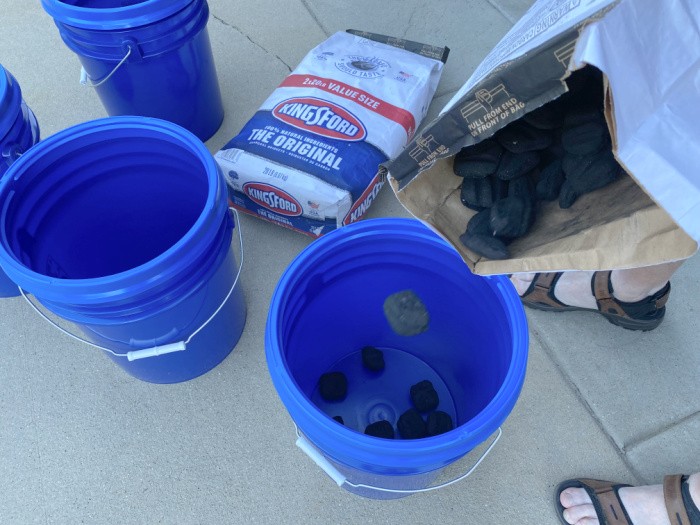 Step Four
It feels so good to have several buckets of charcoal to use when we need it. As you know, charcoal needs to be used outside for safety reasons.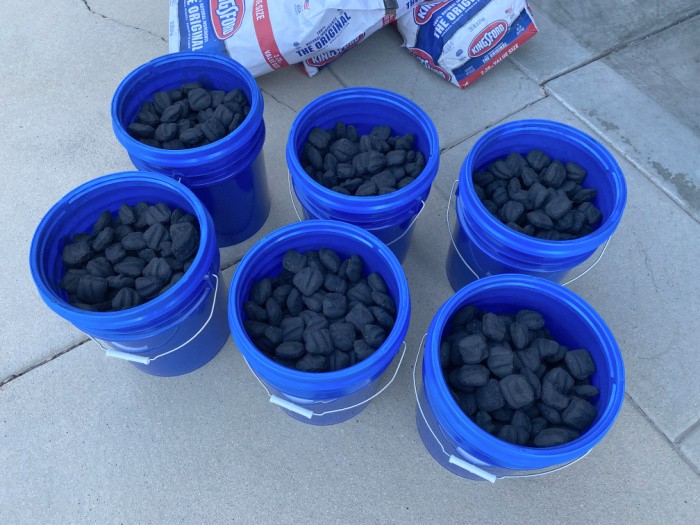 Step Five
After the buckets are filled, you will twist the Gamma Lids on to keep the charcoal airtight.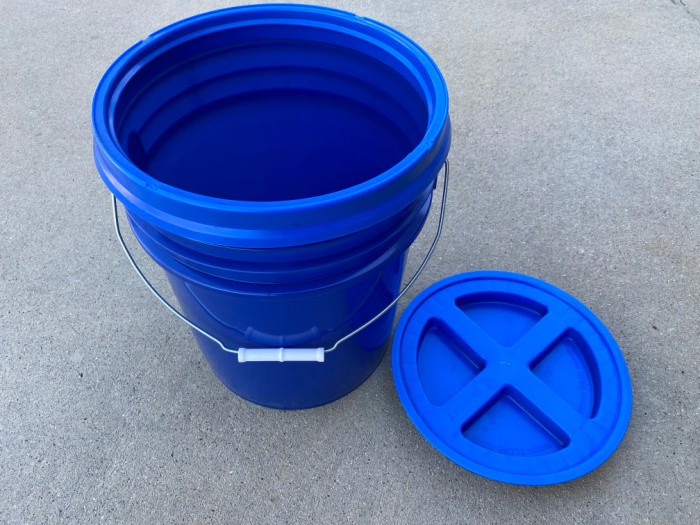 Step Six
I do everything color-coded, that's how I roll. I like to know at a glance what I have stocked. I buy all of my colored buckets and Gamma lids from Pleasant Hill Grain.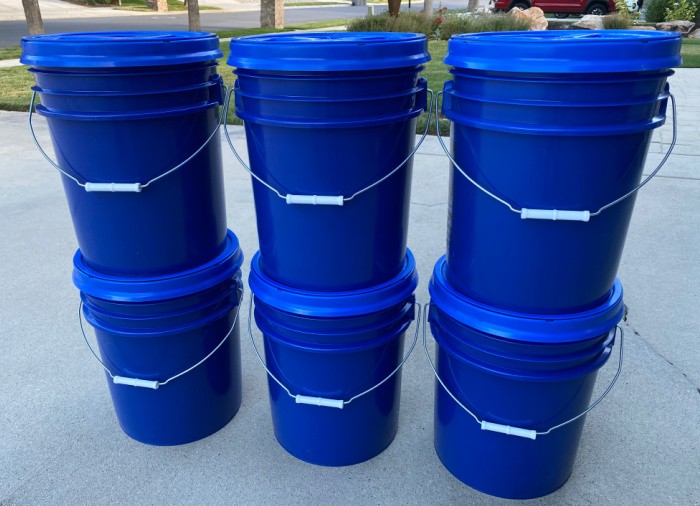 How Much Charcoal Should I Stock?
I recommend stocking at least 10-20 pounds of charcoal per person in your household. This will give you plenty of fuel for cooking and heating in an emergency.
Charcoal Briquettes Versus Activated Charcoal?
Charcoal is made from wood that has been burned in a low oxygen environment. This process drives off impurities and leaves behind a porous material that is ideal for grilling.
Activated charcoal is made from carbon-rich materials that have been treated with oxygen to create a highly porous material. Activated charcoal has a wide range of uses, including water filtration and medical applications.
What is the Difference Between Lump Charcoal and Briquettes?
Lump charcoal is made from 100% natural hardwoods, while briquettes are made from a mixture of wood and other materials like coal or sawdust. Lump charcoal burns hotter and cleaner than briquettes, so it's a good choice for grilling. However, it can be more expensive and harder to find than briquettes.
More Emergency Fuel to Store
In addition to charcoal, you should also consider stocking up on other emergency fuels, such as:
Wood
Propane
Kerosene
Gasoline
Be sure to check out my post "Emergency Fuel to Store For Survival" for more information on what you should be stocking.
Final Thoughts
Charcoal is an essential part of any prepper's stockpile. It's easy to store, it lasts indefinitely, and it has many uses. Be sure to stock up on charcoal, and you'll be better prepared for most emergencies.
Thanks for reading! I hope this article was helpful. If you have any questions, feel free to leave a comment below. And be sure to check out my other articles on prepping and survival. May God bless this world. Linda