How to Take Care of Your Teeth in a World with No Dentist
I can say with confidence that for most of us Covid-19 was a huge wake-up call. The pandemic revealed to us just how fragile our lives really are. Even staying on top of maintaining our oral health became more of a challenge.
That's because nearly every dentist's office across the country was shut down for an unfortunate and uncomfortable amount of time. As bad as it may have seemed, it could have been so much worse. What would a world with no dentist look like?
30 Items You Need To Survive A Pandemic
Prepare Your Family For Survival by Linda Loosli
Taking Care of Your Teeth in a World With No Dentist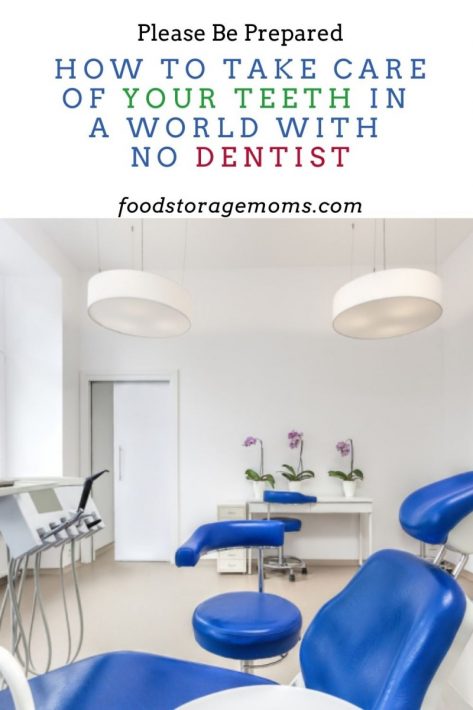 What would you do if something far more sinister than the coronavirus were to show up, no longer leaving you the option to head to the dentist for your 6-month cleaning? Your dentist's office may be forced into a position to close its doors for an indefinite amount of time. 
You'd be left having to fend for yourself when comes to proper dental preventive care, which would be a very bad thing for many people, considering some of their poor teeth cleaning habits. Fortunately for you, I have a few tips that you might find useful. Here's how to take care of your teeth in a world with no dentist.
Always Brush Your Teeth Before Bed
This one may seem like a no-brainer. After all, we've been taught this ever since we were kids, but you'd be surprised how many people hop into bed without doing it. The most important time of the day to brush your teeth happens to be at night. 
That's because you've had a full day of eating foods that have formed plaque in your mouth, which can cause bad breath and bacteria to lurk in the mouth and between the teeth. Going to bed without brushing would be an incredibly poor decision on your part.
You should also consider the practice of brushing your teeth at least 2 times a day, and don't forget to brush your tongue. Toothbrushes are a great item to stock up on as well. Toothbrushes
Flossing Your Teeth is Critical
There are those who are pretty good about brushing their teeth at least two times a day on a regular basis but fail desperately when it comes to the practice of flossing their teeth. Believe it or not, flossing is just as important as brushing your teeth, because it's critical to clear out the food that's stuck in between your teeth. 
Flossing your teeth also helps stimulate your gums, while lowering inflammation. It also helps to reduce plaque and prevent cavities from building up in between your teeth.
Fluoride Toothpaste May be the Way to Go
Fluoride has received a lot of scrutiny over the past few years because of the other health concerns that it is known to cause, but fluoride is still considered to be the best preventative chemical defense against tooth decay.
This type of toothpaste does a wonderful job of fighting germs and bacteria that can cause decay, but it also creates a protective barrier around your teeth.
That's why fluoride toothpaste may be the number one toothpaste of choice when you no longer have a dentist who can help you keep your teeth healthy. Be sure to have a stockpile of it, because you'll never know how important it is until it's too late.
Sue suggested, "I always dip my toothbrush in peroxide then baking soda then top with a natural toothpaste".
Stock Up on Mouthwash
In a world without dentists, more and more people's mouths are going to start smelling more fowl than ever before. It may be a good idea for you to stock up on minty fresh mouthwash so that you're not one of them.
But mouthwash is more than just about freshening your breath, it also reduces the acid in your mouth and helps clean areas in the back of your mouth that's hard to get to with a toothbrush. Mouthwash also provides another benefit of remineralizing your teeth, keeping them healthier and stronger.
Chew Sugar-Free Gum
Chewing sugar-free gum can also help freshen your breath and remove bits of food that are stuck in between your teeth. It gets your saliva working in overdrive, which helps remove bacteria from your teeth even easier.
Drink More Water
You may be wondering how drinking more water has anything to do with the health of your teeth, but it does. Water is the number one fluid that your body needs for good overall health, but also for your oral health. Water helps to wash out acids and some of the stickiness off of our teeth caused by drinking beverages and certain acidic foods.
Eat Less Sugar
Sugar may taste wonderfully sweet to our taste buds, but it's harmful and can do a lot of damage to our teeth and gums. Our saliva glands do a wonderful job washing down most foods from our teeth, but sugar is too sticky. When sugar sits in our mouths, it converts into an acid that begins to eat away at the enamel on our teeth.
Eventually, cavities will start to form, and there's also a greater risk for gum disease to take root. The best thing that you can do in a world without dentists, is to watch and limit the amount of acidic and sugary foods that you are consuming. So try your best to cut down on soda pop, sweets, and processed foods.   
Stop Smoking
I know I'm going to offend a number of people on this one, but it's my job to inform you. Smoking only increases the risk of you having gum disease, or even oral cancer later on down the road.
Tobacco even makes your teeth turn an unappealing shade of yellow. This goes for all tobacco products, including chew, cigars, pipes, snuff, and of course cigarettes.
Final Word
Taking care of your teeth is more than just about brushing and flossing them regularly. Your gums and tongue also play a huge role in the overall health of your mouth, so don't forget to brush there as well. A world with no dentist isn't a fun one!
A healthier diet that contains less sugar, along with drinking more water, is another great way to improve your teeth. If we are ever put in a position again where you're not able to visit your dentist, these simple practices will keep your mouth healthier and better protected against cavities and other oral health problems. May God Bless this world, Linda
Copyright Images: Dentist Room and Chair Deposit photos_27616635_s-2019