9 Ways to Stay Warm Without Electricity
Most of us have faced this situation at one point or another. It's the dead of winter, and sometime during the night you wake up shivering, only to discover that your electricity is no longer working. Unfortunately, you just never know exactly how long it will be until the power is restored. It could be hours or even several days. You may have an idea of a number of different methods that you can use to stay warm, but I have a few others that you might not know about. Here are 9 ways to stay warm without electricity. In case you missed this post, 10 Ways to Stay Cool Without Electricity
Here's the deal, we have to talk about staying warm without power in order for people to be prepared before they need to be. We don't want to be the ones stranded at home with icy roads and no power whatsoever. If we make a plan beforehand, then we can do what we need to do when the situation confronts us.
9 Ways to Stay Warm Without Electricity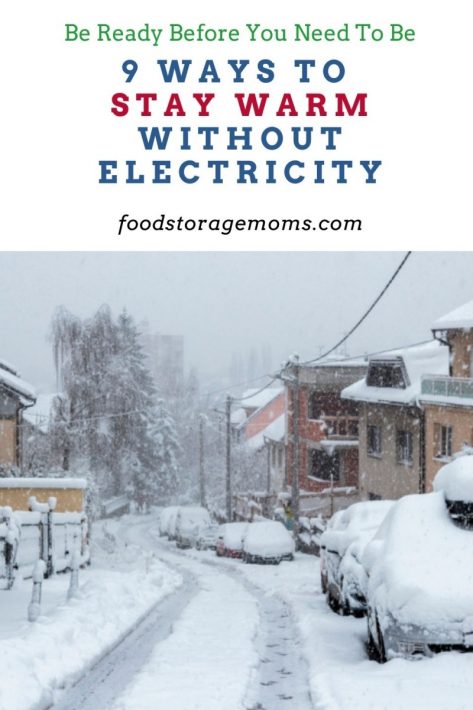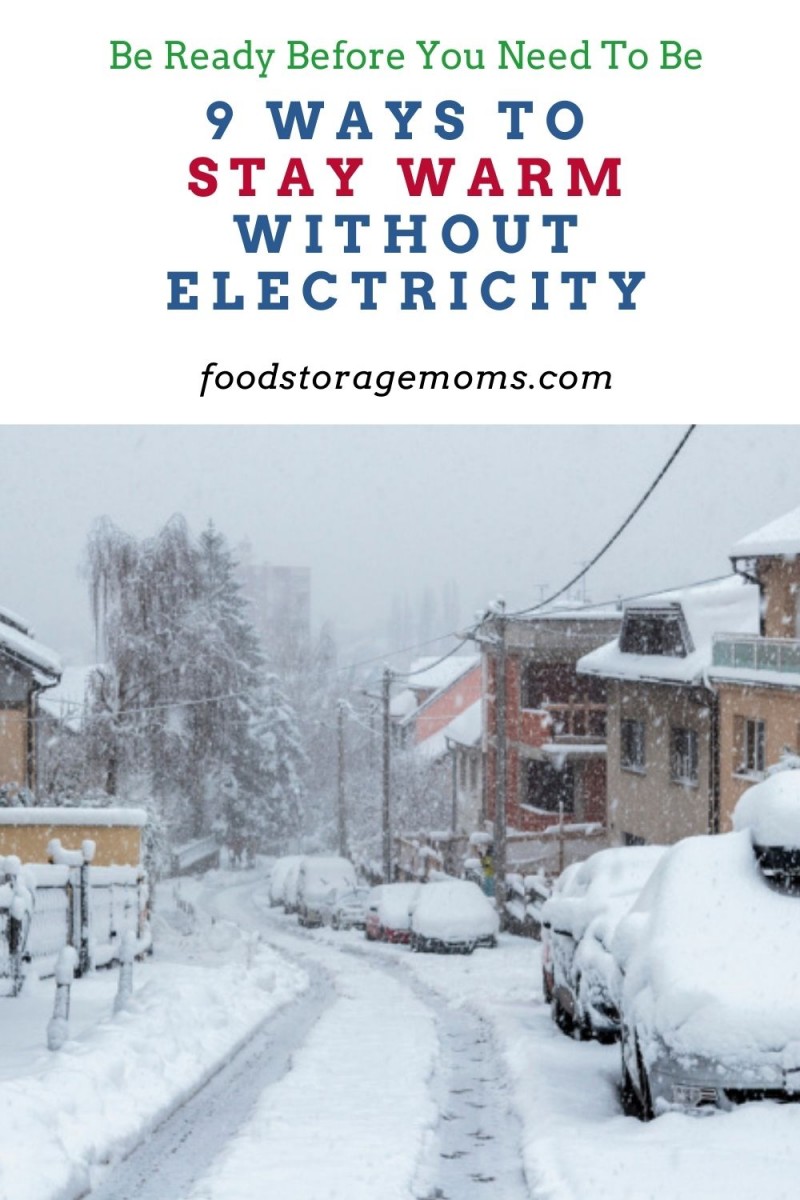 #1. Dress in Layers
Dressing in layers is one of the best ways to regulate your body heat during a power outage, but it's more than just throwing on a hoodie over your t-shirt. I'd encourage you to avoid using cotton and polyester fabrics when choosing your base layer (clothing that touches the skin).
Should you start to sweat, the clothing fabric will absorb the moisture and cause your body to get cold, defeating the entire purpose. Instead, choose thermal clothing, such as a pair of comfortable long johns.
Now you need to focus on the right insulating layers to add to your bottom layer. Wool or a wool-blend sleeved shirt would be the ideal choice to help trap your body heat. You could also throw on a coat or a vest if your circumstance calls for more warmth from clothing.  
#2. Put on a Hat
Did you know that most of your body heat escapes through your head when you're exposed to colder temperatures? So it only makes sense for you to put on a wool hat to better maintain your body temperature.
#3. Stock Up on Hand Warmers
It's a miserable feeling when your hands and feet feel like they've been soaking in ice-cold water all day. You will want to be sure that you stockpile plenty of hand warmers that can be placed inside your gloves or mittens. Hand Warmers
You could also put them in your boots or wool socks to keep your feet feeling warm and cozy. Placing them in your sleeping bag may help you sleep better at night.
Hand warmers should last you anywhere from 5 to 7 hours. If one of your family members has a run-in with hyperthermia, you can place hand warmers under their armpits and in their groin area to help raise their body temperature.
#4. Insulate Windows
Most of the heat in your home that escapes does so through the cracks around your windows. Keep cold air out by insulating your windows with bubble wrap and followed up with window plastic. 
Slightly dampen your bubble wrap and apply it to your windows, and then seal it off with the window plastic. If you're facing extreme cold conditions, you could also place newspapers, towels, or blankets in between the window and the plastic.
Something else you could try is to use clear shower curtains over your windows. That way the sunlight is still able to get in, yet you're still able to keep the cold drafts out.
#5. Utilize the Smallest Room in Your House
You've probably already come to the realization that it's easier to keep the smaller rooms in your house heated during the winter than say, your living room. This is why it's best to designate one of your smaller bedrooms for your entire family during this time, if there's room. 
You can insulate the room even more by caulking your windows and hanging a heavy blanket over the door. Sleeping in a tent would also help trap everyone's body heat at night, along with mylar emergency blankets or good sleeping bags. Mylar Emergency Blankets
#6. Start Your Car
When you've done everything you can think of and are still having a hard time keeping warm, there's always the option of your family sitting in your vehicle with the heat turned on full blast. Don't forget to open up the garage door to avoid carbon monoxide poisoning. This is one of the most important ways to stay warm without electricity.
#7. Wood Stove or Fireplace
If your home doesn't already have a fireplace in it, it may be a good idea that you look into getting a wood stove. It's a great heating source that would hold your family over until your power comes back on. You will need to have a decent supply of dry wood stored somewhere. Remember, you shouldn't leave your wood stove unattended. When my girls were young we cut down and hauled wood every year for three years and heated our home with a wood stove. It was so awesome!
#8. Propane/Kerosene Heater
Purchasing a propane or kerosene heater that doesn't run on electricity would be a huge lifesaver for your family during a power outage. They do a great job at heating a decent amount of square footage in your home, but there are a few things that you still need to consider. I have seen the brand Mr. Buddy Heater recommended but I have not personally used it so I can't vouch for the unit. Do any of you have one? I did ask on my Food Storage Moms Facebook group and one reader mentioned she gave a friend an indoor Mr. Buddy that uses the One-Pound Propane Cylinders.
Make sure that you're getting one that is approved for indoor use and that you also pay close attention to the instructions on how to use one. Getting a heating model with emergency shutoff features would be another good idea. If you choose to go with a kerosene heater, I highly recommend that you have a carbon monoxide detector installed in your home.
#9. Invest in a Gas-Powered Generator
A gas-powered generator would be a great solution if you're dealing with a short-term power outage. Should you decide to buy a really good one, not only will you be able to keep the lights and other appliances around the house working, but possibly even to keep your furnace running. 
This method does require you to stock up on a decent amount of fuel, and you'll also want to be sure that you rotate it out often. Last but most importantly, never bring a generator into your home.
9 Ways to Stay Warm Without Electricity
Final Word
These are 9 easy ways to help keep warm when your home is without electricity. Stocking up on blankets, staying physically active, and drinking warm beverages are other great ways to stay warm. Can you think of any other ways to stay warm without electricity? Please let me know what you've done in the past. May God Bless this world, Linda. 
Copyright Images: Cars and Roads Covered with Snow Deposit photos_273743230_s-2019