How to Live Without a Refrigerator
You may be wondering, "who in their right mind would want to live without a refrigerator?" There are a handful of different reasons why people choose to live life without one. Some people may simply not be able to afford one, while there are individuals out there who prefer to live off the grid, or are seeking a lifestyle that's less dependent on the power grid.
Maybe you're forced to be without a refrigerator because of a power outage that has been caused by a major storm that rolled through your area? Whatever your reason may be, here are tips on how to live without a refrigerator.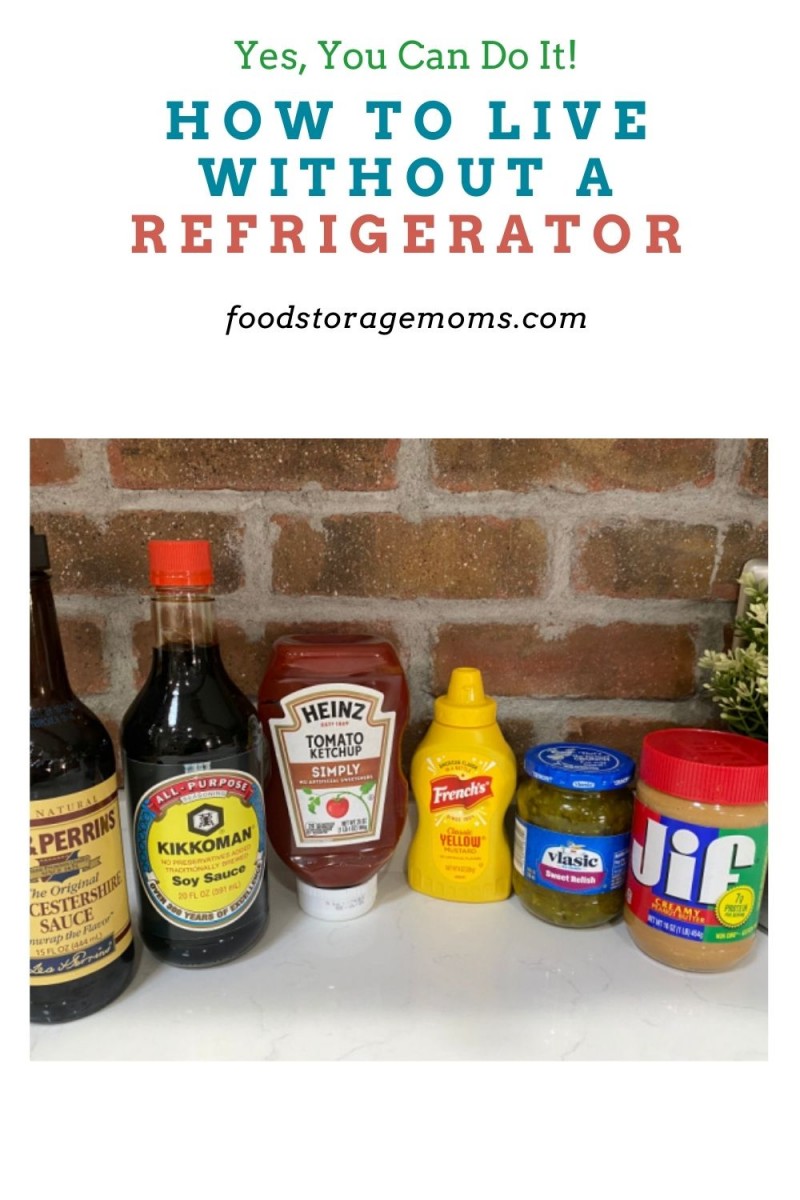 How to Live Without a Refrigerator
It may also come as a surprise to you, that most of the food items that are currently in your refrigerator don't necessarily have to be kept there. Food that is purchased chilled at the grocery store already has about 50% less of a shelf-life than if you had purchased it from a farmer's market on a hot summer's day.
Believe it or not, living without a refrigerator does have its benefits. While you may not be able to enjoy a glass of ice-cold water after a hard day's work, you could be eating healthier and fresher foods. You will also learn to make smaller portions like a true homesteader so you have less spoiled food that you're throwing out. I'll show you more about what I mean in a minute. Here's more on how to live without a refrigerator.
Food Groups and Their Refrigeration Needs
Fruit
Buying your fruit from a farmer's market without it ever being chilled will get you several more weeks out of them. But every fruit comes with a different shelf-life. Here are a few examples:
Bananas (7 to 10 days)
Berries (up to 7 days)
Apples and citrus fruits (4 to 5 weeks)
Pineapples (2 weeks)
Pears, avocados, and papaya (10 days to 2 weeks)
Grapes ( 3 to 5 days) FYI: will last longer if stored with their stems placed in wet sand
Vegetables and Herbs
Just like with fruit, vegetables and herbs can be stored well without refrigeration if they've never been chilled or washed. Below I list how long each of them will last. This is why it's critical we have a garden, big or small. This is where I buy my garden seeds, SeedsNow. Stay tuned, I just purchased five 5-gallon buckets to use to grow some vegetables. Mark is going to drill holes in the bottom of them to let the water drain from the plant soil. I will be taking pictures to show the growth and harvest.
Onions and potatoes (1 to 2 months, don't store them together)
Cabbage, winter squash, and garlic (1 month if wrapped in a towel)
Carrots, green peppers, zucchini (about 2 weeks, cut the tops off your carrots. Peel and soak them in water if they happen to become rubbery.)
Broccoli, cauliflower, and eggplant (1 week)
Other vegetables (about a week)
Eggs
Farm-fresh eggs will last on your kitchen countertop for more than a week. You could also consider raising your own chickens to provide your family with eggs, or also pickling the ones you bought from a farmer. 
From my friend Harry, farm fresh eggs that have not been washed will last a couple of weeks to a month or more on the counter. If they have been on the counter for a while, just test them in cool water. If they stand up but do not float, cook and eat those first. If they float, toss them.
Condiments
Most condiments will last for several months without being chilled, such as ketchup, mustard, relish, and peanut butter. I wouldn't recommend this with mayo products though. Jams and jellies will last about 2 to 4 weeks after being opened. You can also buy individual packages of Ketchup, Mustard, Mayo, and Relish
Meat
Meat is one food group that you will have difficulty with when you're trying to live without a refrigerator. That's because fresh meat will not last long without being kept cold. What you can do is buy your meat from the butcher, where it's typically already been frozen, and put in vacuum-sealed packaging. Then store it in a cooler or a freezer bag filled with ice. This should get you about a week out of your meat. Here are other ways you could get by without a refrigerator:
Buying fresh meat daily and cooking it immediately
Purchase canned or dried meats
Consider drying and canning your own meat
Cut back on your meat consumption
Dairy
Dairy is the last food group on this list that comes with a few problems as well, especially when it comes to milk. Here's a look at a few dairy products and how long they last without refrigeration. When in doubt, throw it out, is my motto. Buy less dairy to be safe without using refrigeration, my friends.
Yogurt: Surprisingly, even the commercial brands of yogurt can last for a couple of weeks without being kept cold, but it is still wise to buy your yogurt in smaller quantities and make sure that it's eaten within a day or two.
Butter: As long as the butter is kept in a cool place, it will last for about 2 weeks if stored in a Butter Bell Crock with cold water. Buying your butter in a can will get you an even longer shelf-life.
Cheese: Hard cheeses that are vacuum-sealed or coated in wax will last you indefinitely without refrigeration. Softer cheeses will last you as well, but they will soften even more over time. For unpackaged cheese, coat it in vinegar, wrap it in aluminum, and place it inside a plastic bag. This one makes me nervous, but I did read about it. I'm not sure I could do it, just giving you the heads up. I have purchased a lot of freeze-dried cheese from Thrive Life. Just add water, it's great for casseroles.
Milk: Milk will last you no longer than 2 hours without being refrigerated. So you will have to purchase your milk on a daily basis, buy instant milk, or canned milk to dilute. You can also buy many shelf-stable milk products now (short shelf-life). I like to think it's a bit like camping, we take what we will use in a short time period.
More Dairy Tips
Get your own cow or goat for milking
Go with powdered milk
Buy ultra-heat treated milk (it can be stored unopened anywhere from two to six months)
Alternatives to a Fridge
You still have a few different options for keeping your food cold even when you don't have a refrigerator. After all, it's not like you need to completely punish yourself. Some people have discovered how to transform their current refrigerator so that it runs entirely on solar power, while others have used various gas fuels.
I'd strongly encourage you to consider building a cold storage room in your basement, and if that's not an option and you have space in your yard for one, a root cellar. Even if all of these don't sound like affordable methods for you, there are still a few other options.
5 Gallon buckets buried in the ground (Best to buy food that's been pre-chilled)
Zeer pot
Swamp cooler (ideal for those living in a hotter climate)
Canning and dehydrating your food for longer preservation
Smoking and curing your meat
Final Word
Though it will take extra time and care, it is possible to live without a refrigerator, whatever your reason may be. You'll not only be eating healthier, but you'll be eating fresher foods as well. Your wallet may even thank you for it as you cut back on your throwouts, along with the savings you see on your electricity bill. Do you plan on figuring out how to live without a refrigerator? If so, let me know what your plans are. May God Bless this world, Linda.