Living Off the Grid: Is it Right for You?
Living off the grid is something many people are thinking about right now. Imagine living the simple life among the trees and wildlife, being self sufficient, and pretty much no bills to pay. This all sounds like a haven, right?
But, it may not be for everyone. Today, we are going to look at what living off the grid looks like, and how to determine if it's right for you!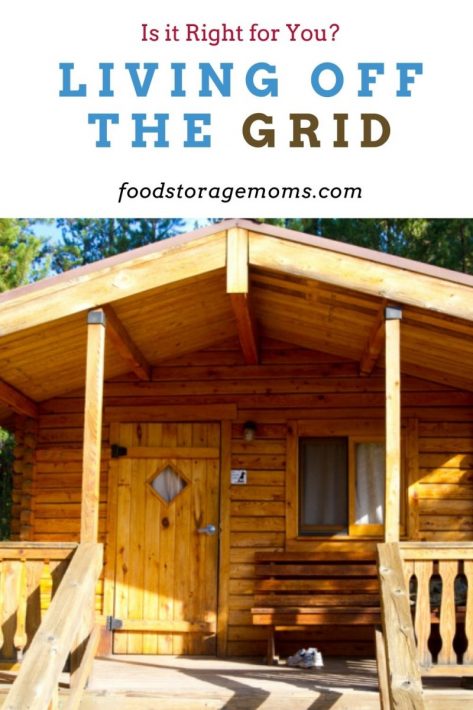 What Does Living Off-Grid Look Like?
Off-grid living is more of a lifestyle choice. It is where you make yourself less dependent on the state for public utilities such as electricity, gas, water, sewage, phone, and internet. Instead, you find your own ways to have all of those things without paying someone a monthly fee for them.
Additionally, not being reliant on the state for your basic needs means that when SHTF, you are not as drastically affected because you already have all your own stuff.
Benefits of Living Off The Grid
There are many benefits to off grid living. It's a whole way of life. It may be different, but it does have its advantages. Here are just a few:
Living Off the Grid is Eco-Friendly
When you live off the grid, you are helping the environment. For example, a tiny off-grid home consumes much less energy than urban homes. Additionally, you won't have to rely on fossil fuels, coal, natural gas, or petroleum. This means you reduce your carbon footprint.
You Can Save Money
Instead of giving your money away to the grocery store, electric company, or anything else, you just do things yourself. After your initial investment for land, water, electricity, and food sources, your monthly output will drop significantly.
Living Off-Grid Means Your Food is Healthier
When you live off grid, you will be growing your own food. By raising your own crops and livestock, you will ensure that you are eating fresh, healthy, and quality food each and every day.
You Don't Rely On Anyone
Being self-sufficient means you don't have to worry about an economic collapse, a pandemic wiping out food sources, or not being able to pay your bills. You are completely self-sufficient and independent from the state. This is security in yourself.
Living Off-Grid Means You Live a Simple Life
Sometimes, simplicity is best. The hustle and bustle of the city life will be far away from you. This means you can take time to connect with yourself, nature, and with your loved ones.
Related: When the Power Grid Fails
Disadvantages of Living Off-Grid
Although living off-grid has many benefits, that doesn't mean it is for everyone. In fact, living off-grid does have its disadvantages as well.
Living Off-Grid Requires a Start-up Cost
Many people just don't have the money lying around to live off-grid. You will need to purchase and install off-grid systems like solar panels, water treatment and wells, and buy your land. This can be pretty pricey, in the beginning.
Maintenance Can Be Expensive
If you don't know how to fix things yourself, maintenance to keep things going can get pretty expensive. For example, let's say your well goes dry…do you know how to drill a new well? You have to think about the things you will need to know how to do.
You May Need Back Up Systems
Let's say you have solar panels, but you don't get enough sunlight to power everything you need. You will have to plan for backups, like generators.

You Can't Go to the Store Whenever
Living off-grid means that you can't just drive down the road to the store and pick up whatever you need. You will need to plan out your trips, write lists, and get everything you need while you are at the store.
You Aren't Around People
When you live off-grid, there typically is not anyone living close by. You will have to get used to only having yourself or your family to talk to in person. This could be something you would love, but for a "people person," this could be a major disadvantage.
How Do I Know if It's Right for Me?
If you have never lived off-grid, I would not suggest just jumping right into it with no experience. Instead, I would suggest trying it out for a week or two. Did you know you could do this?
You can actually rent an off-grid place from Airbnb! Who would have known? Rentals are a great way to see what the off-grid living experience could be like. You can choose to rough it out in an isolated cabin, or you can try a high-tech, solar panel-clad living space in the desert.
Although this won't give you the full experience, it will give you an idea of what it would be like to live completely off-grid. So, go on an off-grid vacation for a couple of weeks and see how you like it.
How Do I Start Living Off-Grid?
Once you have decided that you want to live off-grid, there are six main steps you need to take to get your new homestead up and running:
#1 Where do you want to live?
The first step is finding out where you want to live. You will want to find a large plot of land with at least a couple of acres and a running water source. When looking at places to live off-grid, be sure to consider the following:
Weather and climate.
What plants you will be able to grow.
How you will get water.
How far you are from major cities, etc.
#2 Choose Your Shelter
Many people look for places with a house already there. When going completely off-grid, you don't really have to do that. Instead, you can construct your own cabin, yurt, or tiny home. Additionally, you can look into a pre-built tiny home.
#3 Get Water
What is essential no matter where you live? If you don't already have a house on the property, you will want to plan on one and do so with a ready water source available. The best way to get water where there is not a prior house is to drill a well. Be sure to check drilling laws for that area.
#4 Get Energy
Unless you want to go the Amish way, you will want electricity in your home. Depending on where you will be living off-grid, there are several options for getting electricity to your home:
Wind energy
Micro-hydro electricity
Solar panels
#5 Plan Out Your Waste Disposal
Related: How to Prepare for the Threat of Garbage
We all have garbage we have to get rid of on a daily basis. Your next step is to figure out how you will get rid of your waste. To reduce waste, you can start a composting pile.
For things like paper etc, you can have a burn barrel. You will also want to have a septic tank or an outhouse for your daily trips to the bathroom. My next purchase will be this home incinerator: Plow & Hearth 13900 Incinerator Can I'm feeling an urgency to get one of these ASAP!
#6 Start a Farm and Garden
The key to off-grid living is being self-sufficient. If you are going to the grocery store for your food, you aren't self-sufficient. Growing and harvesting your own food is key. Here are some crops to start with:
Additionally, you will want some livestock. Chickens are super easy livestock to raise and you can then have eggs and/or meat.
Related: How to Make Whole Wheat Bread Using Solar Power
Final Word
When it comes to living off-grid, you have to weigh the benefits and disadvantages to figure out what's right for you. Remember, you can still be prepared without living off-grid.
However, being self-sufficient is great! Do you live off the grid right now or would you like to? Please keep prepping, we must! Linda
Copyright Images: Log Cabin Deposit photos_37085259_s-2019