Prepping Items You Can Buy From The Dollar Tree
Today, it's all about the prepping items you can buy from the Dollar Tree. If you've looked into prepping for natural or man-made disasters, you already know that you'll be spending a small fortune to be ready for it. You'll be spending several thousands of dollars just on creating your "bug-out" area.
Fortunately, Dollar Tree has a large number of items that every prepper needs to get their hands on. Checkout these prepping items you can buy from the Dollar Tree.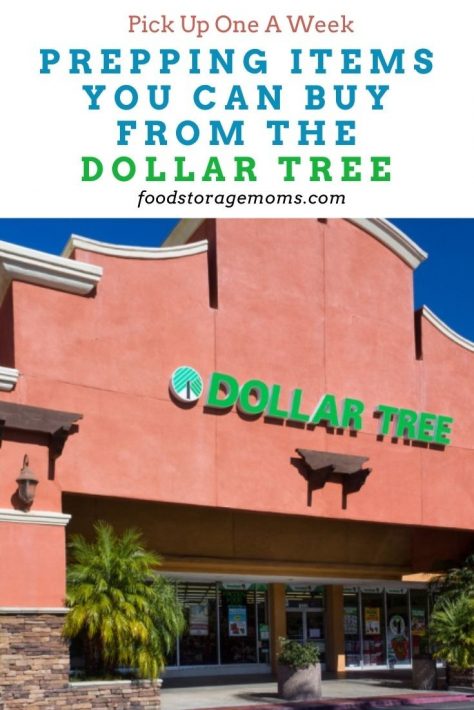 Shop at the Dollar Tree for Prepping Items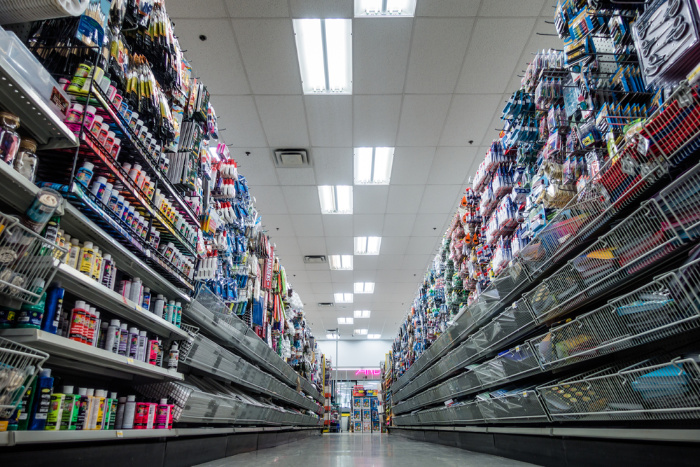 Not only do they have a great selection of medicines and pain relief, but also items that you can use for your family's shelter. Not bad, considering it will only cost you a dollar for each item. Check out our list of prepping items that you will find the next time you head into the Dollar Tree.
Pain Medication
Please read this article about Dollar Tree before buying medications or cosmetics. FDA Warns About Violations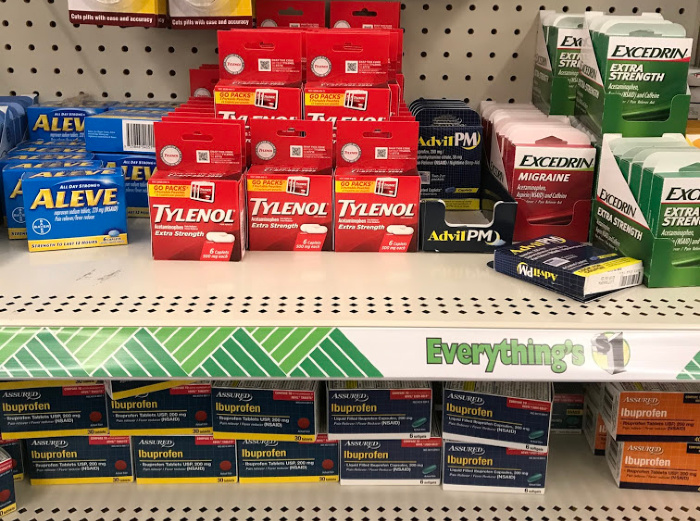 Having pain medication is probably one of the most important items to have that's on our list. Say you have a sprained ankle, a throbbing toothache, or an obnoxious headache that won't go away.
Without it, you'll have to suffer through the pain. Dollar Tree has a number of different kinds for you to choose from. Make sure you stockpile large amounts of it. You can always use it to barter with to get something else your family desperately needs.
Generic Medicine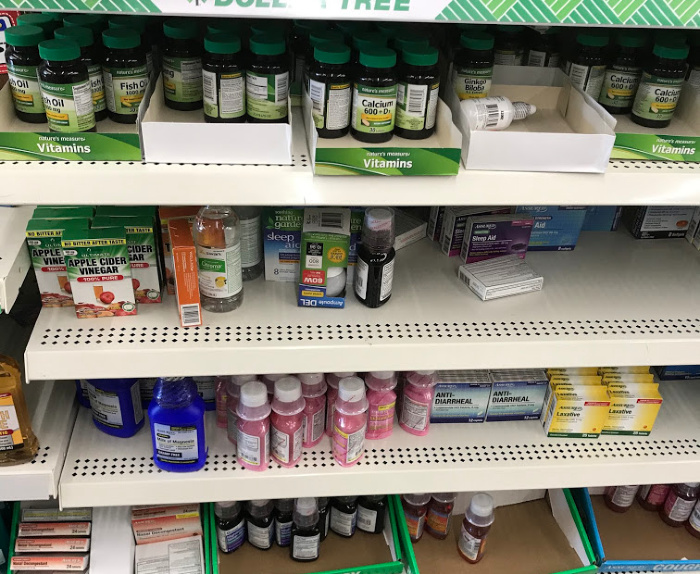 The Dollar Tree also has a handful of other medicine you will most certainly need.
Allergy medicine, antibiotic ointments for cuts and scrapes, cold and cough medicine, as well as stomach relief medicines can be purchased for a dollar each.
Again, doctors and medicine are going to be impossible to come by in a significant emergency situation. Having a large inventory to be able to barter with might prove priceless.
Bandages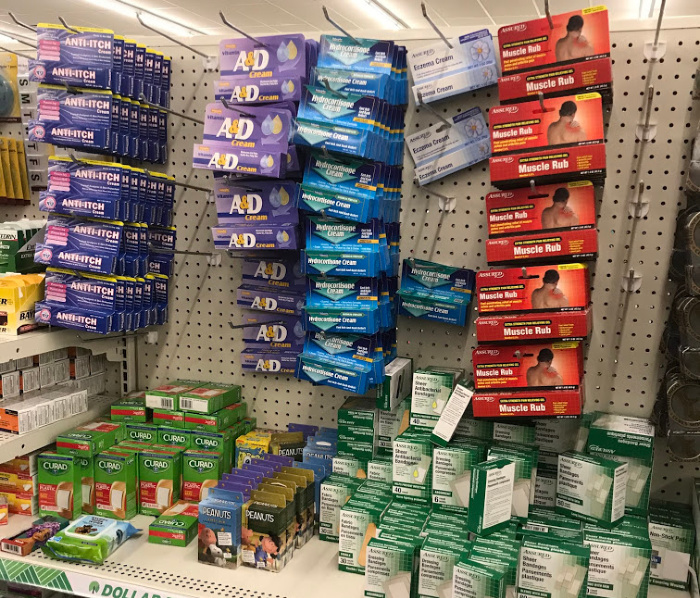 You can also find all kinds of bandages and bandaids, including elastic bandages and medical tape, that can help slow any blood flow and cover those cuts and scrapes.
First-Aid Kits
While these first-aid kits that the Dollar Tree has are not extensive in providing all the essentials, they do have various bandages and moist wipes to help clean any wounds. Sorry, you'll have to get your complete first-aid kit elsewhere.
Toothpaste and Toothbrushes
Are you like me and love to have clean teeth? Rita reminded me to add these, thank you, Rita! Here's the deal, I have a few bags full of items ready for those who may need to move int with me after evacuating their homes for whatever reason. I bet you can picture how happy those people would be if we handed them a bag with a new toothbrush, toothpaste, shampoo, soap, razor, hand sanitizer, a brush or comb.
Toilet Paper and Paper Towels
You can never have too many rolls of paper towels or toilet paper, right? Thanks to Monica for the reminder that the Dollar Tree sells these as well.
Other Paper Products
Debbie reminded me about the paper plates, cups, foil, foil trays, and silverware. We can use all of these to stock up for emergencies.
Hand Sanitizer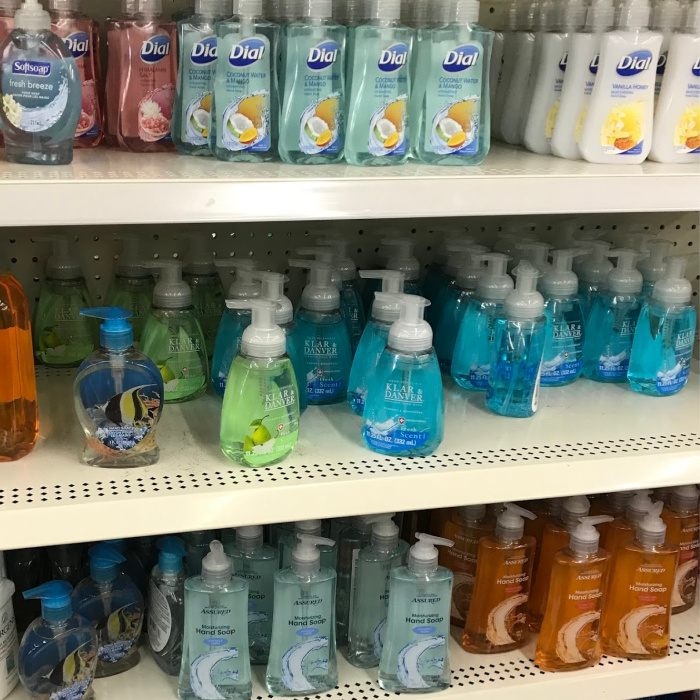 At the Dollar Tree, you will find an 8-ounce size hand sanitizer and soap for a dollar to help keep germs and bacteria under control.
Flashlights
We aren't going to lie, these flashlights are cheap and won't light your path as well as a good flashlight might. But they're cheap and you can buy several of them to hold your family over.
This is another item that you could use to barter with. There's sure to be more than one family that's left in the dark.
Emergency Candles
You can even purchase emergency candles there that are supposed to last for up to 80 hours. Make sure that you get the biggest ones you can find. Candles might not be your first choice of light after a crisis, but they will most certainly come in handy.
I saw a bunch of candles at the Dollar Tree near me. I'm not fond of candles, but I also have a lot of solar lanterns and lights. We must have light so whatever works, do it.
Glowsticks
A handful of glow sticks are not only good for lighting up the night, but they'll also keep your children's attention for a long time. And trust us, your children will already be going crazy without access to any electronics or video games.
They only have one childhood, make the best of it through the worst of circumstances. They need to have some normalcy in their lives.
Cleaning Supplies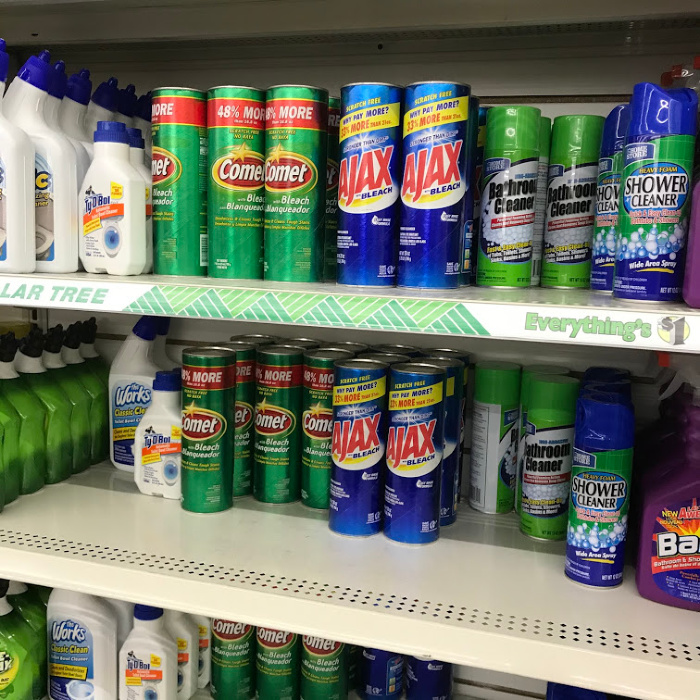 You can never have too many cleaning supplies, right? I realize I'm a cleaning freak in some ways, but after a disaster I have got to be prepared with a lot of cleaning supplies.
Here's the deal, if we are living in filth after a disaster we are more apt to get sick with more diseases we have seen in the US in many years. So, we must be prepared to clean everything, everywhere.
Now, this could be bathroom floors that have overflowed, sewer lines that have backed up in the bathtub, shower, kitchen sink, bathroom sinks, and toilets. I've lived through a few floods, I know what can happen and it's not pretty or clean.
Bleach
Having fresh clean drinking water will be harder to come by after a crisis. You can use bleach not only for cleaning, but also for purifying your drinking water. You need 1/4 teaspoon of bleach per gallon of water to store it or to use for drinking. To be safe I would then boil the water for cooking or drinking.
Please let the water sit for at least 30 minutes to be safe. I prefer Water Preserver for water storage because it lasts 5 years before it needs to be rotated.
So in other words, you want to make sure you stock up a huge supply of it to make sure your family doesn't get sick from any contaminated water. I mainly stock bleach (the maximum I can use in 9-12 months) for sewage clean up or any other major bacteria treatment.
Batteries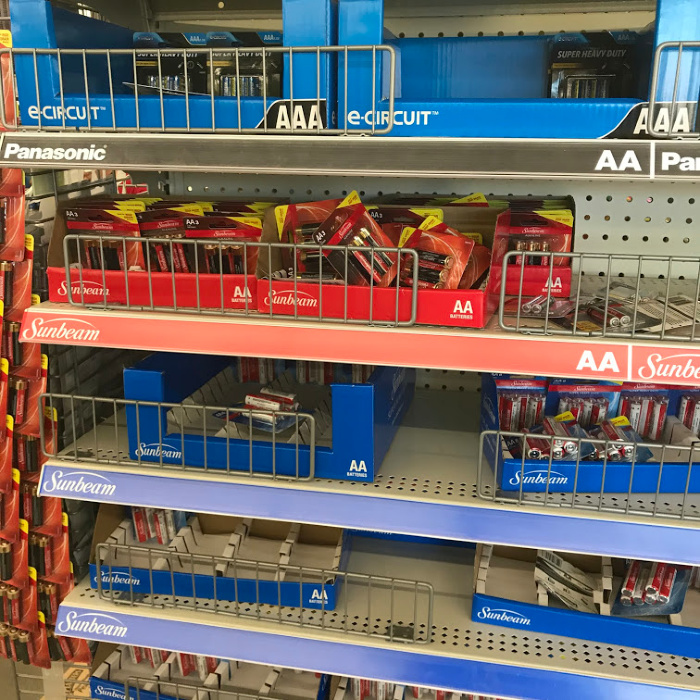 These batteries were a little hit and miss today when I stopped at the Dollar Tree near me. They didn't have a lot of sizes, but the price was right for the ones they did have. Remember, you can always check back next time for the sizes you need.
Trash Bags
Trash bags have many purposes besides throwing out your garbage. They can be used as rain ponchos, cover for your family's shelter, and also help with throwing out human waste.
Putting a trash bag over a large bucket while using the facility will be much better than relieving yourself over a hole in the ground.
Disposable Gloves
How do you plan on changing out that trash bag that's serving as a toilet? You certainly don't want to deal with the messy jobs without disposable gloves. You're going to need a small mountain of them.
Baby Wipes
You probably aren't going to have access to a shower to freshen up. Baby wipes can at least give you a little more comfort that your family's hygiene isn't being tossed to the wayside completely.
Cleaning Supplies
The Dollar Tree has clothes hangers, dusters, and brooms that you can find for a dollar. You can even get laundry detergent and dish detergent for a buck. That's cheap! You can get almost all of your cleaning supplies here.
Microfiber Towels
Microfiber towels are much better than using paper towels. They work on spills and wiping up messes. Many people use them while working on their automobiles.
Shower Curtains
While showers might become useless, shower curtains will definitely not be. Use them to keep your family out from under the elements.
Tablecloths
In their party section the Dollar Tree has tablecloths that can also serve as a cover for your next camping location, away from the rain.
You can also use it to throw over a dirty area for a place to have your family eat. Try to find the ones that are better quality and not paper thin and prone to tear easily.
Nuts and Sunflower Seeds
Stock up on snacks such as sunflower seeds and nuts for a great protein snack.
Canned Meats
While the Dollar Tree doesn't have the best selection of canned meats, they do have mackerel, Manwich, and white chicken that provide extra protein for your family. Several of these canned meats will only cost you 50 cents.
Sports Drinks
Having even the common flu or diarrhea during this time can be extremely dangerous. Your body can become dehydrated and not be holding the fluids that you need to survive. Sports drinks have electrolytes that can help you get the minerals that your body needs.
Final Word
Prepping for a disaster is going to cost you, no question about it. But these items that you will pay only a dollar for at the Dollar Tree will not only keep your cost down but also prove vital when the SHTF.
If you're a faithful Dollar Tree customer, what other items have you discovered that will be necessary to have during the darkest season of your life? Let me know the prepping items you can buy from the Dollar Tree in a city near you. May God bless this world, Linda