20 Items For Emergency Cleaning Buckets
Looking to put together emergency cleaning buckets? Once the threat of a disaster has finally subsided, it's time to pick up the pieces and do your best to move on. Unfortunately, sometimes, it can take a lot of repair work as well as a lot of cleaning to get your home completely restored to how it was before. I've updated this post because I feel it will be needed by many families after a disaster.
I'd like to make your life a little easier by ensuring that you have the right cleaning supplies stocked up beforehand.
These are 20 cleaning items that I believe you should have available for any emergency that may come your way. While I talk a lot about food storage in my blog posts, let's not forget about emergency cleaning buckets and related supplies.
Posts You May Have Missed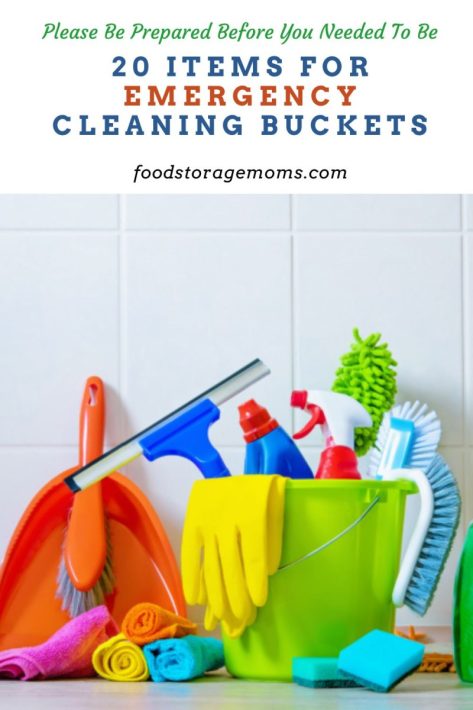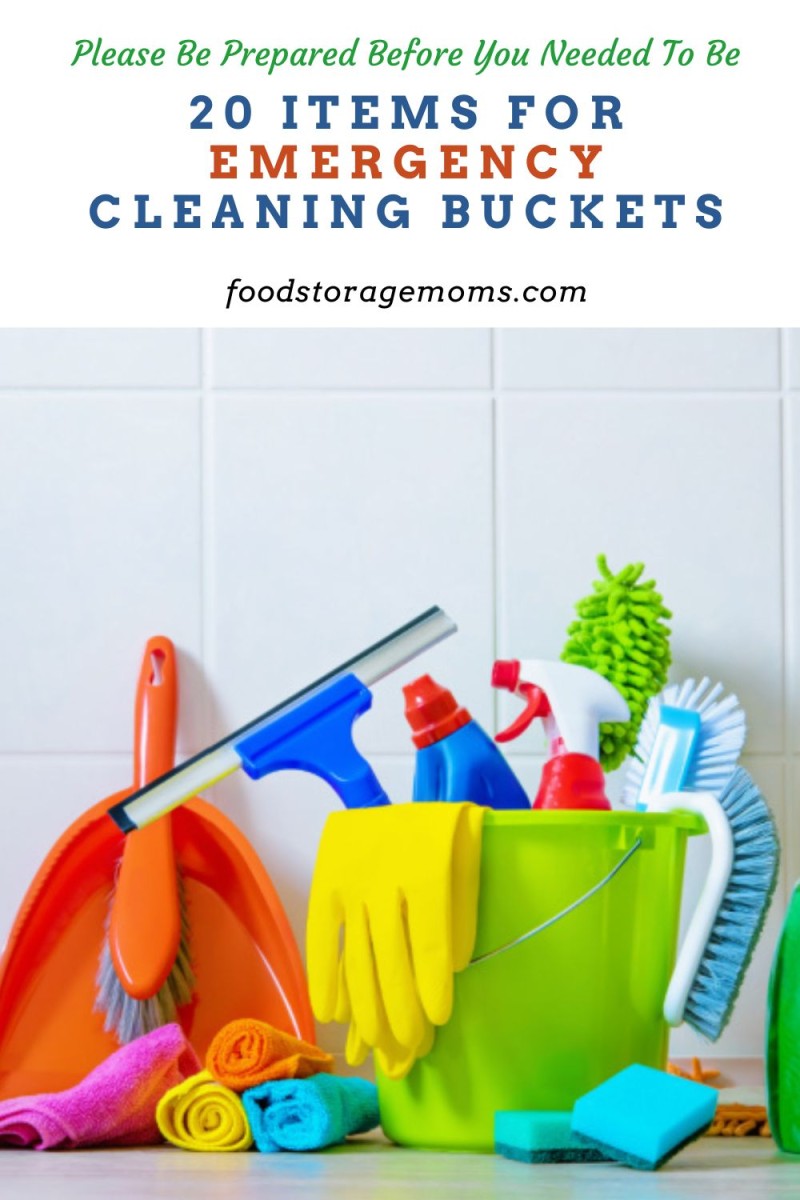 20 Items For Emergency Cleaning Buckets
1. Five-gallon buckets
To tackle any cleaning job following an emergency, you're going to need at least a 5-gallon bucket, but be sure that it's one that has a good durable handle. Not only can it be used to store a majority of your cleaning supplies, it can also help you make fewer trips when you're moving smaller things.
For example, if you have to clean up after a fire, a large bucket will be especially important to have as you'll likely be dealing with heavy, sooty debris. Preparing kits like this now will keep you safe later down the road. Don't forget the lid! 5-Gallon Buckets

2. Dishwasher soap
Following an emergency, you'll still have plenty of dishes to clean so that they don't start piling up, so be sure to stock up on enough dishwasher soap. Personally, I like to use Dawn liquid detergent, but you can use whichever brand of dishwasher soap you prefer. When natural disasters hit, there is going to be a lot of cleaning up to do and dishwasher soap will be an important part of that process! Dawn Liquid Soap

3. Hand Soap and Hand Sanitizer
You're going to want to have both hand soap and hand sanitizer on hand following an emergency because let's face it, you're going to be doing a lot of cleaning. And with all of that cleaning comes the potential for coming into contact with harmful bacteria. So, be sure to wash your hands frequently and use hand sanitizer when there's no running water and soap available. Bars of Hand Soap

4. Clorox Liquid Bleach
Clorox liquid bleach is one of the most powerful cleaning agents available and it's going to be your best friend following an emergency. Not only can you use it to clean surfaces, but you can also use it to disinfect water. Simply add 8 drops of unscented bleach per gallon of water, stir well, and let it sit for 30 minutes before using. In case you missed this post, Bleach: Everything You Need to Know

5. Sponges
You can never have too many sponges, or some other type of scrub pads, when you're dealing with an emergency cleaning situation. They're great for everything from dishes to floors to countertops. Be sure to stock up on both durable and disposable sponges so that you're prepared for anything. Sponges

6. Clorox wipes
Clorox wipes are another essential cleaning item that you should always have on hand. They're great for cleaning up messes quickly, and they can also be used to disinfect surfaces. Clorox Wipes

7. Cleaning Gloves
Cleaning gloves are a must when you're dealing with an emergency cleaning situation. Not only will they protect your hands from harsh chemicals, but they'll also keep them from getting too dry and irritated. I suggest some quality rubber or latex gloves. Some people are allergic to these products, so test out some brands and see how your hands deal with the combination of product materials and water. Cleaning Gloves

8. Non-latex gloves
If you have any type of latex allergy, be sure to stock up on non-latex gloves. These days, there are plenty of options available that will still protect your hands while you're cleaning. Non-Latex Gloves

9. Pair of work gloves
Your hands are not something that you should ever take for granted. If you'll be dealing with any heavy or sharp debris following a disaster be sure to have a few pairs of work gloves on hand. They'll protect your hands and make the job a whole lot easier. Work Gloves
When speaking of hands and the need for gloves for protection, I always suggest you have a first-aid kit close by. Cuts and splinters seem to be a natural result of cleaning and organizing after an emergency. Hopefully, these gloves will make the need for injury treatment less frequent or severe.

10. Garbage bags
You're going to need plenty of garbage bags following an emergency because let's be honest, there's going to be a lot of garbage to get rid of afterward. Be sure to stock up on both heavy-duty and standard garbage bags so that you're prepared for anything. Don't be afraid to go big by choosing the 33-gallon black trash bags because they'll be the way to go when you have a lot to throw away.  33-Gallon Garbage Bags
I like the construction quality bags, but don't get the huge ones since they'll possibly end up being too heavy to handle.

11. N-95 Masks
If you'll be dealing with any kind of hazardous debris following a disaster, be sure to have N-95 masks on hand. These will protect your lungs from harmful particles that could be in the air. Based on the events of the past couple of years, I'm sure we all have plenty of these. N-95 Masks

12. Window Cleaner
Any brand of window cleaner is something else you'll want to have on hand so that you can quickly clean windows that may have become covered with gunk and debris dust during a disaster. This will hopefully help keep the dust out of your home once you can open the windows again. Window Cleaner

13. Spic & Span Spray Cleaner
Spic & Span spray cleaner is another cleaning item that I recommend you get your hands on.  It's great for cleaning up just about anything, and it can also be used to disinfect surfaces. Yes, you may want to consider spray bottles to keep on hand too, especially if you don't have a particular cleaner you like. You can skip the toxic chemicals directly on your hands since you spray directly on the area needing to be cleaned. Spic & Span Spray Cleaner

14. Cleaning Rags
When you're tired of spending a lot of money on paper towels and then throwing them away, invest in several dozen cleaning rags to tackle any cleaning job.  They'll last much longer and can be easily washed and reused.
I've really grown to love small hand towels and rags made out of microfiber materials. Although they tend to feel soft on tender skin, they do have a texture that is effective in cleaning tough spots and stains. Mark has found them to be especially good when cleaning windows.

15. Mop
You'll be needing a mop to go with your 5-gallon bucket, especially if you're dealing with cleaning up floors after minor flooding in your home. Flood waters bring a lot of dirt, bacteria, and other unpleasant things with them, and you'll need the right tool for the job. Mop to Use

16. Clothesline
There's a fair chance that your washer and dryer might not work following a disaster. Although this seems like the simplest needed item you could have in your bucket, it just might end up being one of the most important. Clothesline or Foldable Wooden Rack
Even if you wash the clothes by hand, hanging them up to dry is a necessary option.

17. Clothespins
In order to dry your clothes when the dryer isn't working, you'll need a clothesline and clothespins to assist you. Clothespins

18. Paper towels
Earlier I mentioned going with cleaning rags, but paper towels are still nice to have on hand.  They're great for cleaning up small messes, and they can also be used as makeshift disposable gloves. I wouldn't be against making sure you have a scrub brush or scouring pads on hand. A large plastic garbage bag to throw all of these paper towels away might also be a vital item to keep in your bucket.

19. OdoBan
OdobBan baking soda is a powerful cleaning solution that's great for removing odors from just about any surface or object. It's especially useful following a disaster when you may be dealing with all sorts of unpleasant smells. This also works as one of the best disinfectants that I've found for cleaning. OdoBan

20. Bottles of Water to Drink
Besides having the right cleaning supplies, I thought that I'd also mention arguably the most important item that you would need following an emergency. Take the time to stock up on at least a 3-day supply of bottled water for everyone in your family. But don't hesitate to have more on-hand, just in case. You can also use this bottled water for cleaning! Water storage is an important thing people often forget to consider.
What is the difference between a deep house cleaning and a regular cleaning?
A deep house cleaning is a thorough cleaning of your entire home, from top to bottom. This includes things like dusting ceiling fans, washing windows, washing blinds and shutters, cleaning floor moldings, and cleaning out the fridge. Regular cleaning is more focused on day-to-day tasks like vacuuming, doing the laundry, and washing the dishes.
How long does a deep house clean take?
A deep house clean can take anywhere from a few hours to a full day or more, depending on the size and condition of your home. If you're doing it yourself, plan on setting aside a good chunk of time to get the job done right, or spreading it out over a few days so you don't harm yourself or get discouraged with all you have to do. You may also want to enlist the help of family or friends to get the job done faster.
Final Word
These are 20 items that you need to have in your emergency cleaning buckets. They'll help you get your house back in order and also go a long way in helping prevent your family from getting sick. Can you think of any other cleaning supplies that would be beneficial to have on hand? I'd love to hear from you in the comments down below! May God Bless this world, Linda
Copyright Images: Cleaning Supplies AdobeStock_323235861 by Alexander Raths