How To Store Water-Pros And Cons
I'm sharing some of my tips on how to store water and discuss the pros and cons. We all have various budgets, different amounts of water needed based on family size, and the space to store the water our family will require.
Just giving you the heads up here, I'm sipping water from my daily jug this very moment as I write this article. I drink a lot of water every day.
How To Store Water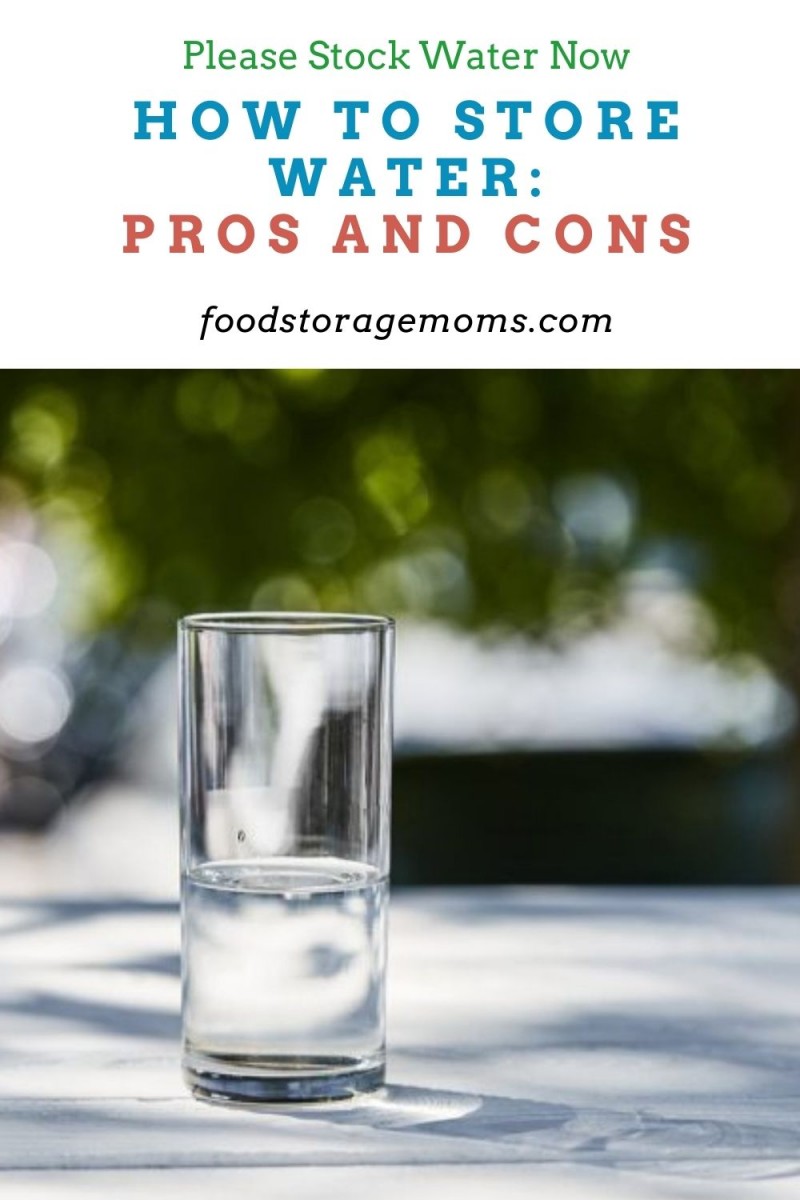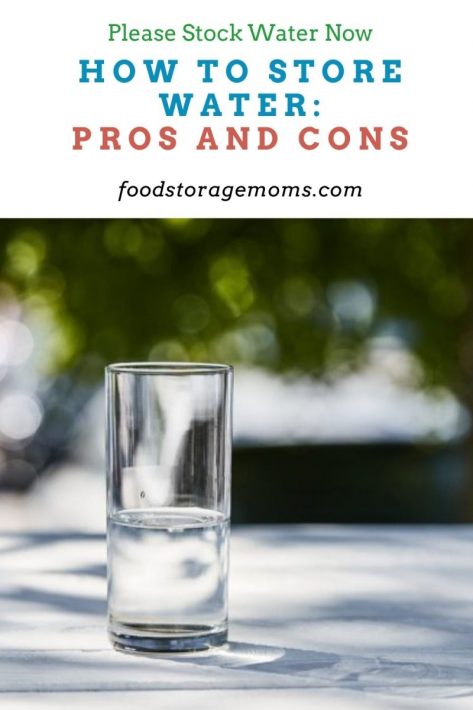 Please store ALL water at least 2-inches off the concrete/cement floor to prevent the chemicals from leaching from the cement into your containers.
Please store your your water containers in a cool dark location.
I use 2 by 4's for all my water containers to keep them off the concrete. I try to live by the things I suggest, and water storage is very important to me and my family.
Did You Know You Can Survive:
If you haven't seen the post where I have written about the time needed to survive without air, water, food, and shelter, here it is again.
3 Minutes without air (I don't recommend this)
3 Hours without shelter (extreme heat or cold weather)
3 Days without water (you need water or you'll perish)
3 Weeks without food (I promise this would not be fun)
How Much Water Do You Need?
I highly recommend storing 4-gallons of water per person per day. Is this too much? The American Red Cross recommends 1-gallon of water person per day.
Are you like me and you get thirsty just thinking about this amount of water?
Here is the pamphlet you may want to read regarding suggested water storage amounts: American Red Cross (page 7).
Please keep in mind, if the weather is hot where you live you may need more water. This may be necessary just to cool yourself down if the power is out for extended periods of time and to make sure you stay hydrated.
We need water for hydration, personal hygiene, cooking, and washing clothes. Let's talk numbers and make it easy for everyone.
Water for ONE PERSON for 1 day = 4 gallons
Water for ONE PERSON for 7 days = 28 gallons
Water for ONE PERSON for 14 days = 56 gallons
Water for ONE PERSON for 21 days = 84 gallons
Water for ONE PERSON for 30 days = 120 gallons
Preserving The Water – Options
1. Bleach
Pros:
It's inexpensive to purchase. Please use 2 drops of non-scented liquid household chlorine bleach to 1 gallon of water.
Cons:
The water must be rotated EVERY SIX MONTHS.
2. Water Preserver
This is what I use to store my water when I fill my containers: Water Preserver
Pros:
A little goes a long way. This solution, and I quote: "Water Preserver™ kills the pathogenic organisms responsible for typhoid, dysentery, and other serious diseases, and also kills and prevents the growth of yeast, mold, fungi, and algae which also make water undrinkable."
It's fairly inexpensive, and you only have to rotate your water every 5 years.
Cons:
I really can't find any cons. This is a good product that I have recommended to many readers. I haven't heard any negative comments from users.
Containers: Based on Cost
1. 2 Liter Plastic Soda Bottles
Pros:
They're basically free, you can wash them and fill them with water and bleach according to the ratio above. They are fairly light in weight when filled and don't take up a lot of space when space is a factor.
Milk jugs are not safe to wash and refill with water because it's nearly impossible to really clean the bacteria that may be lingering in the bottles. Reference: American Red Cross (page 8). Consider using them for clothes washing or other uses where drinking from the bottle is not included.
Cons:
The plastic bottles could possibly crack over time and are a bit hard to handle if you need to evacuate your home.
2. Bottled Water
Pros:
Watch for sales, and stock up, very inexpensive.
Cons:
Not good for the planet, they also don't store very long. They only store for 1-2 years, depending on how the water was processed. Bottled Water
3. 55-Gallon Barrels
Pros:
These are very cheap here in Utah, not sure where else they may be inexpensive. I have seen them for about $35.00 (empty) at local stores in Southern Utah.
You may be able to order them through Walmart and have them delivered to your local store.
Cons:
They are bulky and hard to handle, particularly if you need to get some water out. You need a bung to tighten or loosen the top. You will also need a pump in order to retrieve water from the barrel. Hard to store. BUNG and a PUMP
4. 5 Gallon Jugs
Pros:
These are fairly cheap and easy to store. Some are even stackable.
Cons:
Five-gallon jugs can be very heavy to lift and haul. A 5-gallon water storage container can weigh a little over 41 pounds if filled to the top.
5. WaterBricks:
Pros:
These WaterBricks can stack, they also have a handle and are easy to carry two 3.5 gallon containers. You can carry one in each hand since they weigh about 27 pounds each when filled with water.
WaterBricks come with handles and are easy to haul, when needed.
Cons:
They are a bit expensive. WaterBrick and Multiple WaterBricks
6. BlueCan Water
Pros:
I realize BlueCan water may seem expensive, but please do the research. This water will last 50 years if you make sure not to store it where it will freeze or exceed 145 degrees.
These cans are the size of a soda can (12-ounces) and come 24 cans to a box. They are easy to stack on top of each other. No preserver needed.
The aluminum cans have a liner. Information here: BlueCan
My gift to my daughters' families for Christmas was 4 cases of BlueCan water. To me, it's the best gift ever.
The best place to buy, if you don't live close to one of their distributors is Brownells.
If you sign up for their emails you will see when they have a sale going on or FREE SHIPPING available. That's when I ordered my Christmas cases last year. You gotta love it!
Cons:
More expensive than a few other containers.
7. High Capacity Tanks
Pros:
High Capacity Tanks typically have two spigots, one bucket level, and one ground level.
Great for filling a bucket and for when you need to empty the tank. They come in 150, 160, 200, 250, 300, and 350-gallon size tanks.
Cons:
These are bulky, hard to handle alone. They seem bigger once you get them home and try to place them where you want them to be accessible. Once in place, they are impossible to move without draining them.
They are extremely heavy, and you may want to anchor them to the wall for safety reasons.
These tanks are expensive to buy and very expensive to ship them to your home. Please try and purchase them locally and have them delivered, if possible.
Final Word
I hope this post helped you learn a bit more about how to store water. If you are teaching classes, please emphasize water is the #1 item you need to store.
Remember, whether you dehydrate your storage items or buy them that way, you'll need to re-hydrate them for use.
Freeze-dried items can usually be eaten right out of the can, but you may also want to re-hydrate them with water.
We can do this, one-gallon at a time. Thanks for being prepared for the unexpected. May God bless this world, Linda
How To Store Preps In A Small Home
Food Storage Secrets You Need To Know
Copyright Images: Water Deposit photos_310925740_s-2019,