50 Year Shelf Life Canned Water-Blue Can Pure Water
I posted this article a few years ago about canned water, specifically Blue Can water. Here's the deal, we all need water stored. Yesterday in my neighborhood, a few people called me asking if I "had water". I had just called the Public Works Department in our city and county. There was indeed a waterline break in our neighborhood. Luckily they found the problem and it was fixed rather quickly. We are so used to going in the kitchen or bathroom and just turning on the faucet. Most of the time.
When I hear there is a 50-year shelf life canned water, it's a cartwheel moment for this prepper chick! I am not kidding, I am so excited about this BLUE CAN Premium Emergency Water product. This is a sponsored post because they did send me some product. These opinions are mine and just so you know I have since ordered 16 cases. Yep, 16 cases stored behind a tall dresser. One of my readers mentioned one case may be the price of eating out just once a month. I would rather have water stored than eat out, but that's me. I love the comparison.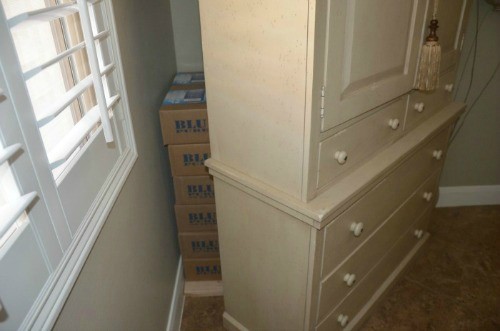 I am extremely fussy about my water, I mean the taste of my water. I do have reverse osmosis water because of where I live. I love the fact that they use 95% of recycled aluminum to manufacture their cans for this emergency water product. WooHoo! Good for our environment!
The little Blue Cans are 12 ounces of pure water. Blue Can filter and purifies their premium canned water to less than one part per million of dissolved solids. They recommend a temperature to store these cans between 33 degrees F to 150 degrees F. So this means they could possibly freeze in the garage if you have brutal winters. My garage gets up to 120 degrees F (sometimes) in the summer so we should be good here in Southern Utah to store some cases of Blue Can Water!
Condensed tips from the Blue Can brochure:
"Disaster Water Methods Available"
1. Tap Water-unavailable and more than likely will need to be boiled to make it drinkable (will need fuel to boil it)
2. Plastic Bottles-usually expire in 6-12 months (personally I do not like the taste of most plastic bottled water)
3. Toilet Bowl Water-needs to be boiled to be drinkable (again will need fuel to boil it)
4. Bathtub Water-needs to be boiled to be drinkable…more fuel required
5. Pool Water-needs to be boiled…or use a water purifier.
6. Water Heater-be careful of cross contamination…
7. Water Barrel Storage-needs to be rotated
Here's the deal, if you have the water sources listed above you can use it for personal hygiene (portable toilet) or wash your clothes. Please store some ready to drink pure water like the Blue Can…canned water is easy to store in the closet and have ready to drink right from the can. I am going to put a 12 pack in my car. I love these Blue Cans! You can buy them on Amazon: Blue Can – Premium Emergency Drinking Water
The CHEAPEST place to buy this awesome water is here: BROWNELL'S
Shake The Canned Water:
If you shake the can it cools the water…I am not saying ice cube cold. When I received the box and pulled one can out of the package the can was cool to the touch. I found out later that it is because it is pure water that keeps it cool. The aluminum cans will not rust or corrode like juice cans where the liquid eventually eats through the can. The water is pure water…I am talking about pure water. These would make great Christmas gifts for family and friends.