How to Find Other Water Sources in an Emergency
The first thing that I tell preppers to do is stock up on water. The American Red Cross suggests 1 gallon of water per person per day. I recommend you store 4 gallons of water per person per day. Regardless of how well we prepare, there still may be instances where we have insufficient amounts of water. In this case, you will need to know how to find out water sources in an emergency.
Stay Prepared
LifeStraw and another type LifeStraw
WaterBricks
How to Find Other Water Sources
NEVER drink water that has an unusual color or odor! Do not drink it if you suspect it has been contaminated with fuel or toxic chemicals. This type of water can not be made safe to drink. Instead, you can find other water sources both inside your house and outside!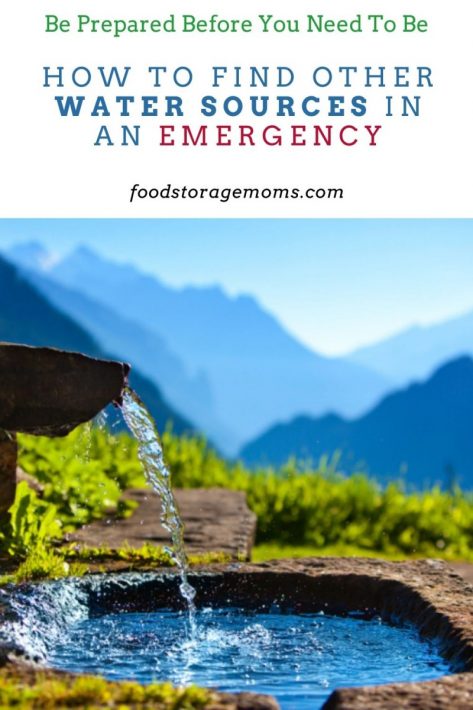 How to Find Other Water Sources Inside Your House
If there is a disaster of some kind, be sure to listen to local officials for advice on water precautions in your home. In the event that water has been contaminated, you will need to shut off the main water valve to your home to prevent contaminants affecting your fixtures. In addition to listening to local officials, here are some ways you can get water inside your home if you have none.
How to Find Other Water Sources Outside Your House
If you don't have running water in your house, it could be possible that water sources are contaminated and the pumps have been turned off or are without power. Additionally, if there is a flood, flood waters contaminate well water, rivers, streams, and lakes with livestock waste, human sewages, and chemicals.
When you go for a hunt for water sources outside of your home, you must treat the water before drinking it! Possible ways to get drinking water outside the home include:
If you think you may have to seek out alternative water sources, I would suggest finding out where those sources are now! Know where the closest river, lake, or pond is. Start collecting rainwater now. You can take steps today that will prepare you in this kind of emergency.
How to Treat Water for Consumption
Water can be contaminated with a variety of microorganisms such as bacteria and parasites. This contamination can cause diseases such as dysentery, cholera, typhoid, and hepatitis. As stated above, water found from outside sources should be treated. According to the CDC, you will want to treat your water in the following ways:
#1 Filter the Water
First, you will want to filter the water to remove any solid particles. You can use a piece of cloth or coffee filter for this.
#2 Boil the Water
You will then want to bring the water to a rapid boil. The water needs to boil for a full minute. If you are at higher altitudes, you will want to boil water for 3 minutes. Boiling water is sufficient in killing pathogenic bacteria, viruses, and protozoa.
#3 Let the Water Cool
You will want to let your water cool for about 30 minutes before drinking. This is because the CDC also recommends treating with chlorine after boiling. If you put chlorine directly in the hot water, it will be useless. 
#4 Add Chlorine
Once the water has cooled, you will add 16 drops of liquid chlorine per gallon of water you have. If you have a 2-liter bottle, you will need 8 drops. Let the water sit for another 30 minutes after this. 
#5 Check the Water
If the water smells like chlorine, you can drink it. If it does not smell like chlorine, the CDC recommends repeating the step above. After, the 2nd round of chlorine, if it still does not smell like chlorine, you should find another source of water.
Can I Just Boil the Water?
According to the CDC, it is best to do both. However, sources vary on this. The EPA says boiling is sufficient. Therefore, you would not need to treat the water with chlorine after boiling. To prepare to boil your water, make sure you have heating sources or that you know how to start a fire with minimal resources.
Can I Just Use Bleach?
Again, the CDC recommends boiling and using chlorine. However, the EPA says that if you cannot boil your water, using bleach is sufficient. Please only purchase bleach without scents added for your water needs.
Other Disinfection Methods
As with any emergency situation, you may not have bleach, liquid chlorine, or the ability to boil your water. However, you may have other disinfection methods you can use. Here are some other methods you can use, according to the EPA:
Granular Calcium Hypochlorite
This stuff is used to make a chlorine solution. DO THIS IN A VENTILATED AREA AND WEAR EYE PROTECTION. Here's how you make it:
Household Iodine
You may have iodine in your cabinet or your first aid kit. To purify water with iodine, you will add 5 drops of 2% tincture of iodine to each quart of water that you are disinfecting. If the water is cloudy or colored afterward, add another 10 drops of iodine. Stir and let the water stand for 30 minutes. 
You can find water disinfection tablets that contain chlorine, iodine, chlorine dioxide, or other disinfecting agents online or at local pharmacies and sporting goods stores. You will simply follow the instructions on the product label.
Water Preparedness
Water is crucial to our survival. You can only live about 3 days without water. With that being said, I would recommend stocking water now! In addition, check out some of my other posts on storing and purifying water:
Final Word
Even if you are stocking up on water, I would also recommend stocking up on bleach, iodine, and water disinfectant tablets. We never know how long a disaster could last. If we stocked 6 months of water but we didn't have clean drinking water for 8 months, we would need to find other water sources. Be prepared!
Copyright Images: Water Spring Deposit photos_25642859_s-2019