Bottled Water: Is It Safe to Drink?
We all need water to survive, but is the water you are drinking safe? When it comes to stocking and storing water, many of us grab a few cases of it every time we go to the store, but it may not be the best water to get.
With the news reports about the rampant flooding and water supply challenges being experienced in Florida and states along the Atlantic Coast from Hurricane Ian, and also in the Northeastern states and Canada from the recent storm Fiona, I felt it would be helpful to update this post regarding bottled water.
I'm hoping my readers have been stocking up on the water using larger storage containers. But, there are families out there with limited storage space or other issues that make storing bottled water a reasonable option. Yes, there may be some convenience to your purchase of water in plastic water bottles, no matter what the bottled water brands, but there are issues to consider as outlined below.
If bottled water is your preferred approach to water storage, here's everything you need to know about bottled water! Please remember whatever water containers you purchase, please purchase 2 by 4's to place the containers off the concrete floors. The concrete or any floor may leach chemicals into your water containers.
What is Bottled Water?
Bottled drinking water is also known as table water. It can originate from a variety of different places, including groundwater, surface water, and municipal supply from public water systems.
Bottled drinking water is treated and disinfected for taste. Chlorination and reverse osmosis are used as common practices to purify the water. Additionally, electrolytes and minerals may be added to your bottled drinking water. Some people are concerned with what may be added to their municipal water due to the addition of things like fluoride. Another challenge is the bottle label may not outline all the things that have been added due to the small percentage of the amount of that addition.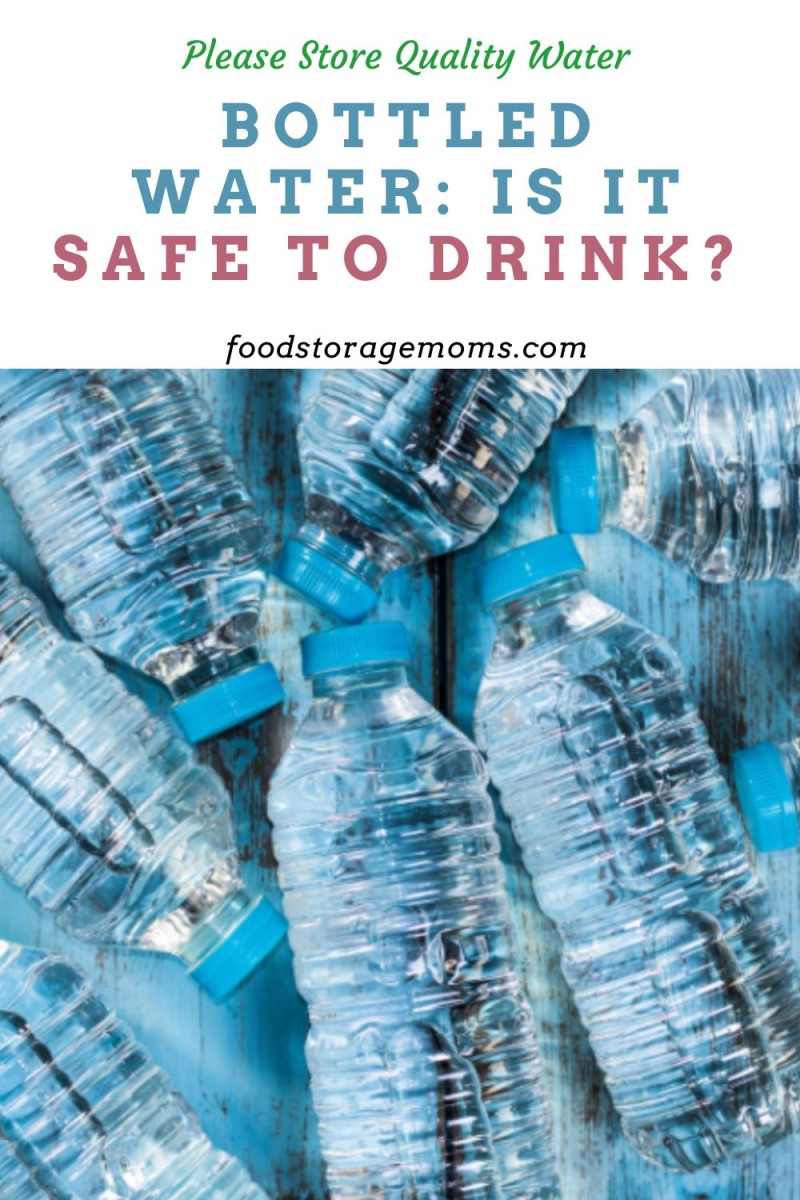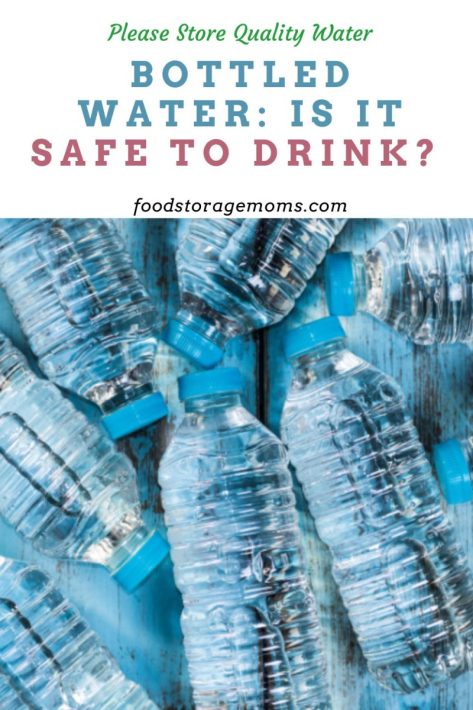 Different Types of Bottled Water
You may think the water you grab at the store is all the same, just bottled by a different company. However, all bottled water is not created the same. In fact, each brand of bottled water has its own distinctive taste and unique set of properties and mineral composition which is derived from the geological conditions that are present in the area the water comes from. Most water is referred to as "spring water," but that isn't necessarily accurate.
There are several different kinds of bottled water that are classified by the U.S. Food and Drug Administration which include:
Mineral Water
If you couldn't guess, mineral water has natural minerals in it and there may be different amounts of mineral content. In fact, to qualify it can't contain less than 250 parts per million in total dissolved minerals. These minerals are derived from rock formations that water travels through on its way to the spring source.
Purified Water
Purified water is a type of water that has been treated with processes such as distillation, deionization, or reverse osmosis. What this means is that the bacteria and dissolved minerals have been removed from the water.
Spring Water
When buying bottled water, most people tend to be most comfortable with packaging that states the container has spring water. It is defined as bottled water derived from an underground formation or aquifer, often called artesian water if taken from a well (see below). Water flows naturally to the surface of the earth and the location is called a spring. In order for it to be classified as spring water, it needs to be collected from that location. These waters are some of the purest waters and are generally free of any chemicals or contaminants.
Sparkling Water
Sparkling water is a type of water that has CO2 added to it. The CO2 gives it the fizz that you get with soda pop.
Artesian Water
Bottled Artesian water comes from a well that taps the water from a layer of rock or sand when the water is above the top of the aquifer. This water comes out of the ground under pressure. Water that is above 12 inches of the aquifer is called a geyser.
Is Bottled Water Safe to Drink?
One of the biggest questions that we should ask ourselves is what kind of water is best, bottled or tap? More than 100 billion dollars are spent by consumers around the world each year just on bottled water. So, it's pretty clear that there is a fairly high demand for bottled water. Bottled water manufacturers would like you to believe that it is safer to drink than the water that comes from the tap in your home or office because it goes through a filtration process that filters out specific contaminants. However, keep in mind that bottled drinking water doesn't have to be 100% contaminant-free to be sold.
According to Katherine Zeratsky, a licensed dietician with the Mayo Clinic, tap water, and bottled water are pretty comparable in terms of safety. In addition, the Food and Drug Administration (FDA) and the U.S. Environmental Protection Agency (EPA) use similar standards for ensuring the safety of both bottled water and tap water.
So, what's up with people thinking that bottled water isn't safe to drink?
Well, the real issue with it isn't the water…It's the plastic bottle it comes in!
Plastic Bottles and Your Water
Plastic bottles can actually leach chemicals into the water they contain. And, the longer the water sits inside the bottle, the higher the concentration of chemicals, like antimony, will be in your water, particularly if left out in sunlight.
What is Antimony?
Antimony is a metallic element that causes dizziness, nausea, and may prompt depression. It's used in the production of PET (polymerized ethylene terephthalate) as well as glass. It is used as a catalyst to bind the polymer at very low levels.
Over time, with extended exposure to hot environments, antimony can transfer into water or hot beverages that are bottled in PET containers.
Think about how much antimony could be transferred into your water bottles if the water is traveling from long distances. Who knows how long the water has been exposed to hot environments before it reaches your local grocery store?
Bottled Drinking Water Isn't Much Different Than Tap
Additionally, bottled drinking water manufacturers like to capitalize on the fact that they are providing better, cleaner water. BUT 25% of bottled water is actually culinary tap water that the company has filtered and packaged in a plastic bottle.
Bottom line is, the biggest difference between the tap water and your bottled water is the antimony you get from the plastic bottle. It really doesn't matter what water filter system may have been used prior to the bottle being filled in an effort to make it more suitable for human consumption if the bottle itself proves to be unsafe for some reason.
Some people, particularly those in rural areas who have private wells, feel they are safe putting their water in containers, whether large ones or small bottles. Generally, well water is safe, as long as those well owners have their water tested from time to time, they have a quality water filtration system, and they follow any local water regulation that may cover protection from things like fertilizers that often contaminate underground water.
How to Store Water Long-Term
With that being said, even if you choose to stock up your water supply with tap water in a plastic bottle, you could still be getting antimony in your water! So, what can you do to make sure your water is safe for the long term?
The best way to store your water is to store it in a food-grade water storage container that does NOT transfer toxic substances into the water it is holding. You can find food-grade storage containers at surplus or camping supply stores.
Make sure the containers are BPA-free. Many of you know about the chemical BPA. BPA stands for bisphenol A. It is an industrial chemical that is used in making certain plastics, such as water bottles.
Here are a few safe options you can find on Amazon:
WaterBricks and Spigot
My FAVORITE water to store is BlueCans, the cheapest place to buy them is Brownells (they sell out fast so ask them to notify you). I prefer the 24 cans per box.
WaterBob Bathtub Water Storage (This is my least favorite way to store water because you can't safely internally dry the unit completely after using it.)
Do Not use containers to store your water that has been used to hold liquid or solid toxic chemicals such as bleach or pesticides!
Other Water Resources
Water is essential to our survival, and we should have at least 4 gallons of water per day per person stored. In addition to storing your water safely, check out some of my other posts on water issues:
What is the Safe Drinking Water Act?
It was established by the EPA in 1974 (later amended in 1996) to protect the quality of drinking water in the U.S. The law focuses on all waters actually or potentially designed for drinking use, whether from above-ground or underground sources.
The Act authorizes EPA to establish minimum standards to protect tap water and requires all owners or operators of public water systems to comply with these primary health-related standards.
The 1996 amendments require that EPA consider a detailed risk and cost assessment, and the best available peer-reviewed science, when developing these standards.
State governments, which can be approved to implement these rules for EPA, also encourage the attainment of secondary standards (nuisance-related).
Under the Act, EPA also establishes minimum standards for state programs to protect any underground source of drinking water from endangerment by underground injection of fluids.
There are also compliance and enforcement regulations outlined for the ultimate protection of citizens, and the prevention of contamination whenever possible.
Are there issues with the environmental impact of plastic waste from water bottles?
One of the challenges of the general use of plastic water bottles is that most end up in landfills. Many states have recycling programs where people can be paid a small amount for those plastic bottles if they're returned to designated centers. The time and hassle factor often make those efforts less than successful. If interested, check out what may be available in your area and take advantage of what's offered.
As Americans, we should do all we can to keep our environment as clean, safe, and pristine as possible. Even if you don't get a financial reward for doing so, take advantage of any recycling programs your local municipality may offer. If you live next to any waterways, try to do your part to keep contamination at a minimum, and if they have events designed to clean them up, make it a fun and worthwhile family project to help out.
Final Word
When it comes to storing water, it's important to store as much as you can as safely as possible. At the end of the day, whether it has a few chemicals or not, you just can't live without it. I love my reverse osmosis system, but if you have a home water filter system, you are ahead of most of your neighbors.
I have a reverse osmosis system on my tap water, and I store my own water in safe large containers. Not only is it economical, but it is better for the environment and free of antimony. How do you store your water? May God bless this world, Linda
Copyright Images: Bottles of Water Deposit photos_12066692_s-2019, Bottles of Mineral Water AdobeStock_194604161 by Rafa