25 Emergency Items You Need
Today it's all about 25 emergency items you need. Emergencies, a majority of the time, happens when you least expect it and if you're not prepared for it, your family could pay for it with their lives. This is why you need to be stocking up on a number of emergency supplies to ensure their safety. Some of the items on this list may be ones that you've never used or even thought about owning before. They would certainly be useful to you during a crisis. In case you missed my post, Urban Survival Class: How to Make a Bug Out Lanyard
25 Emergency Items You Need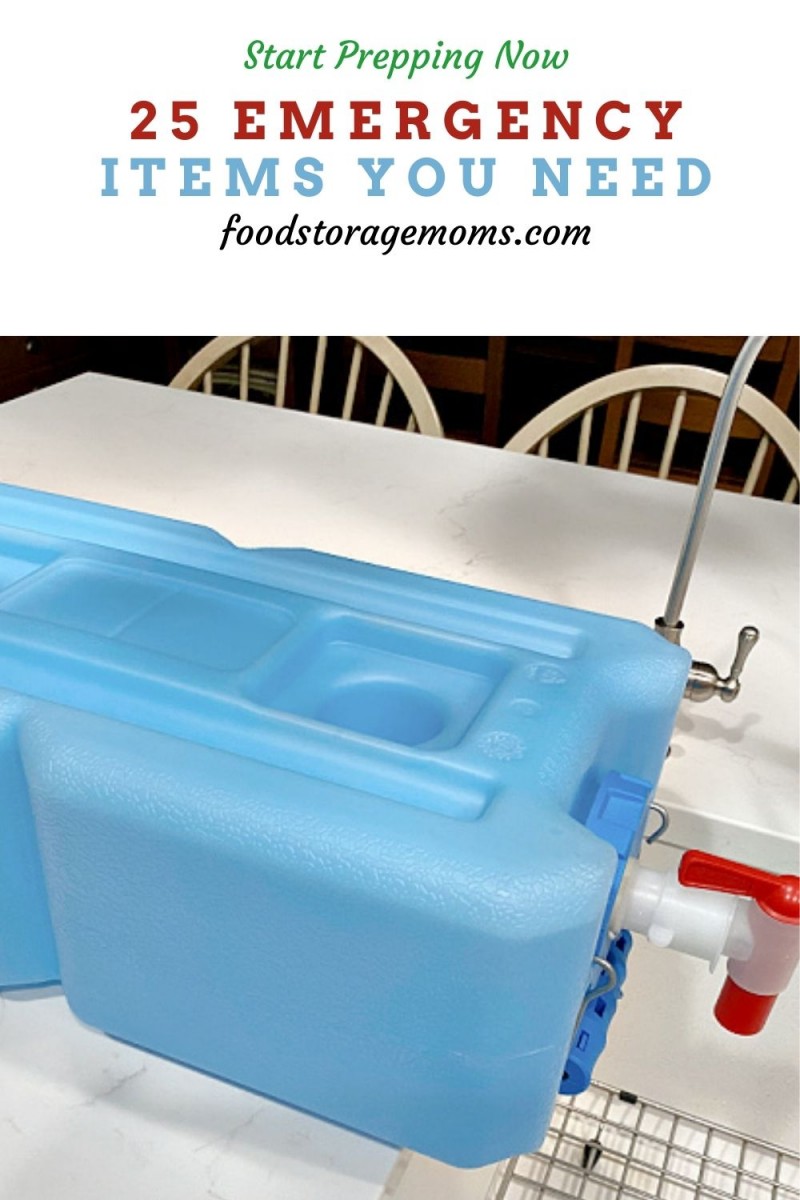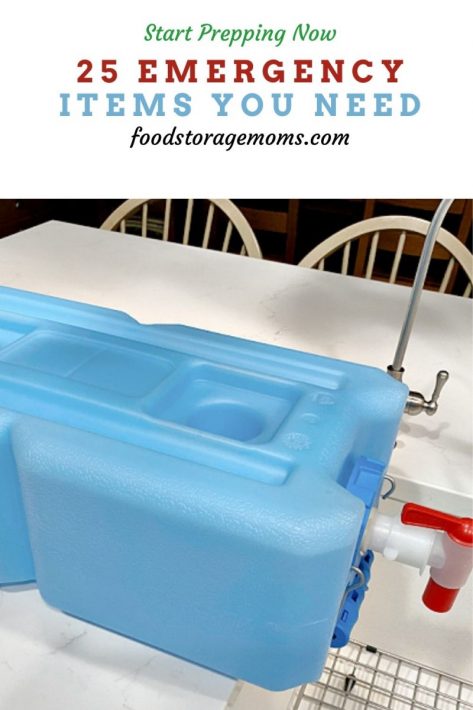 1. Water Containers
Having enough drinking water should be one of your first concerns when it comes to preparing for an emergency. Make sure that you have plenty of filled containers already set aside, and also others that you can use to add to your supply. I love the WaterBricks shown below. These hold 3.5-gallons of water and weigh about 27 pounds when filled. I use Water Preserver in these so I only have to rotate the water every 5 years. I use a 1/2 teaspoon Water Preserver in each WaterBrick (the 3.5-gallon size). You can stack them, and or put them under beds. They also have a Water Spigot available (see picture below) for purchase, separately.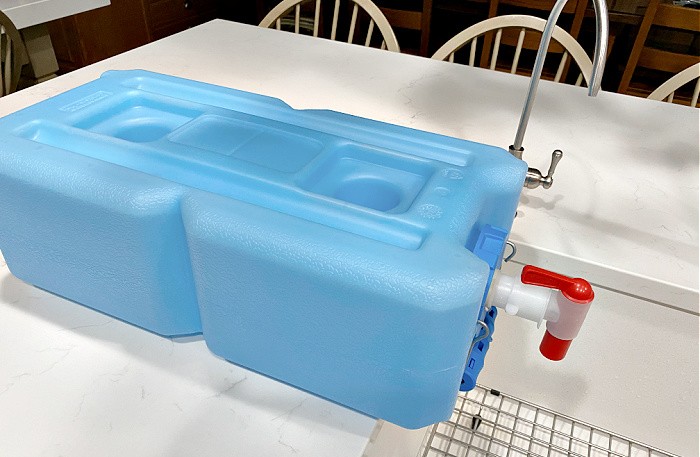 2. Water Filter/Purifier
If the tap water that's coming out of your faucet is no longer dependable, what would you do? I'd encourage you to get a water purifier not only for your home but also a portable water filter in case you're forced from your home. That way your family will be able to drink the water that comes directly from most any water source. Berkey Sports Bottle (BLUE bottle below)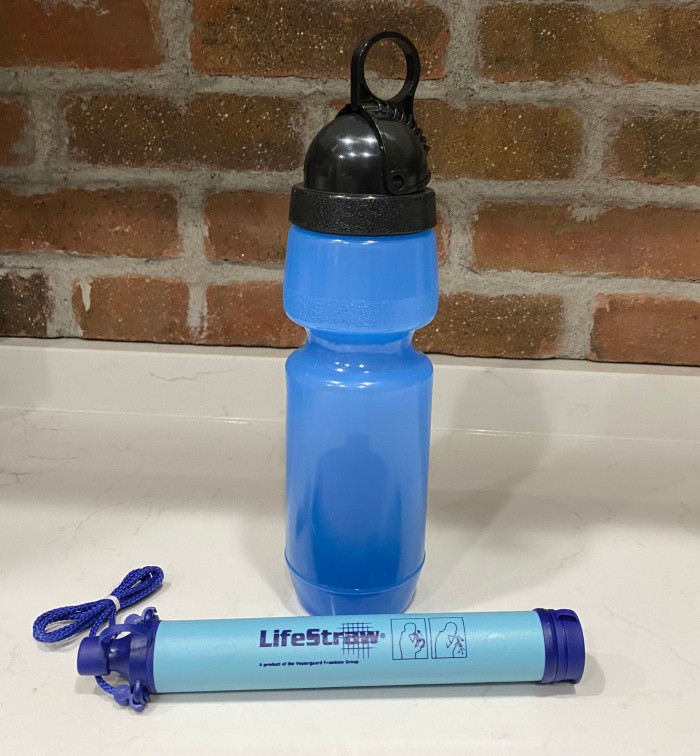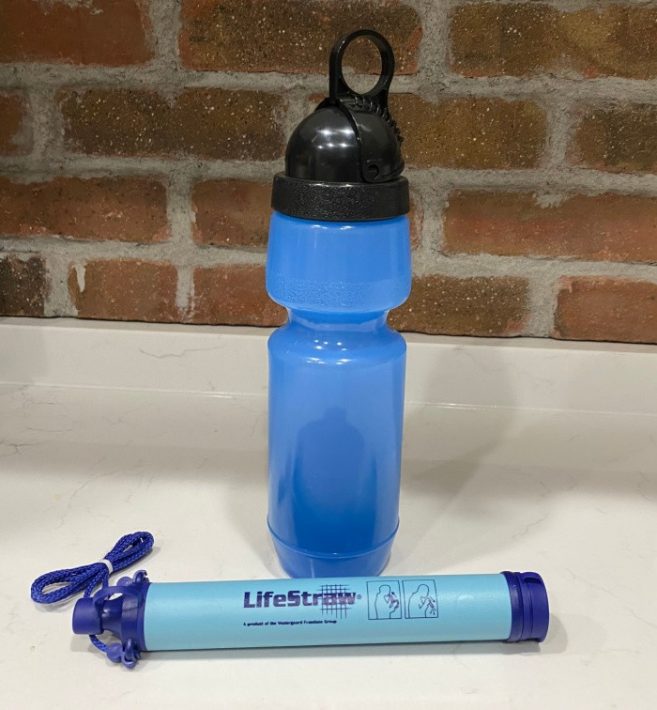 3. Firewood/Charcoal/Propane/Butane
You will be needing firewood for warmth and cooking purposes. If you have the space to do so, start storing your chopped firewood as soon as you can. Sometimes people ask me how much emergency fuel they need to store. Here's the deal, you can get by with "cooking" one meal a day. If you feel you need two to three meals a day you will need more fuel, obviously. We will need that fuel to boil water so we can wash dishes, if nothing else, just the pans and serving utensils. I keep six tanks of propane stored at all times. I can use it with my CampChef stove/oven, my BBQ, and my 2 burner propane stove.
We will have to be careful with the amount of fuel we use so we don't go through too much fuel too quickly. I have enough different types of fuel to last me well over a year to cook meals. Now, if my neighbors need help with cooking because they didn't plan for any emergency, my fuel will go much faster.
This is why it's critical we meet with neighbors to confirm everyone is preparing. Most are not, so be prepared for that, if you feel comfortable with sharing. Here's a picture of my charcoal briquettes without starter fluid, oak hardwood charcoal, pinecones, and raw wood.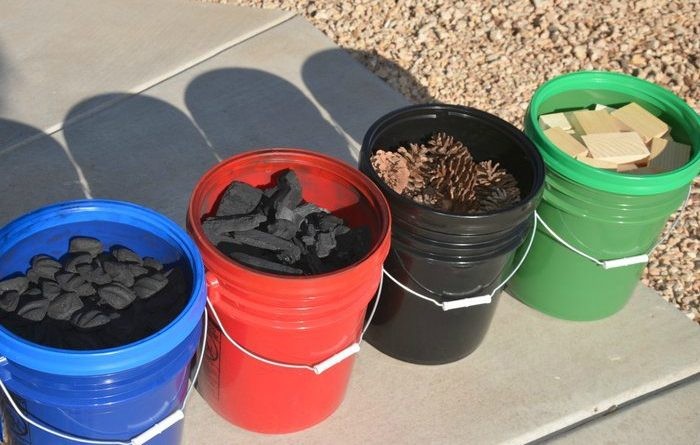 I also purchased wash sinks, so I can discard the water outside should our sewer lines become backed up or shut off completely. It's all about making plans for the unexpected. These are the "sinks" I have shown below. If you have buckets, those will work. Lindy's 12-Quart Stainless Steel Flat Bottom Dish Pan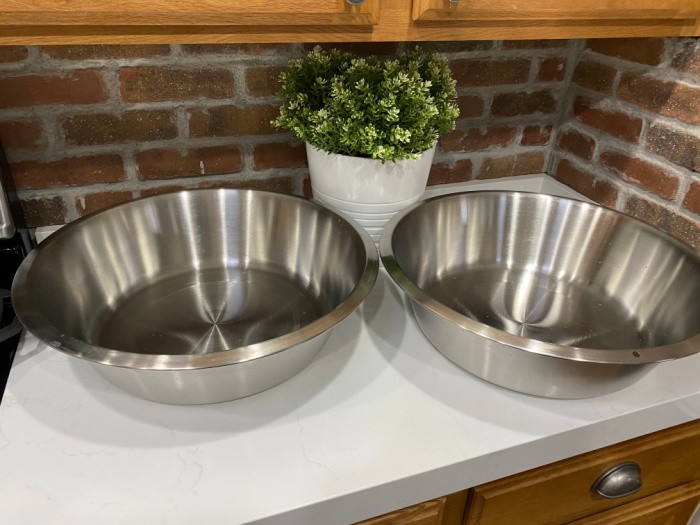 4. Flashlight w/batteries/Solar Flashlights/Lanterns
Don't leave your family fumbling around in the dark. Make sure that you have several extra flashlights on-hand and also a stockpile of batteries to hold you over. I have flashlights with batteries, but I have several solar flashlights too. Lanterns with batteries or solar ones are awesome.
5. Gas Containers
You will be needing a stockpile of gas for your generator, vehicles, cooking purposes, and several other reasons.
6. Knife and Knife Sharpener
Knives can be used to butcher meat, chop fruits and vegetables, and to cut rope if you need to. Yet a knife will become useless once it's become dull, so don't forget to have a knife sharpener as well.
7. Outdoor Cooking Method
If your electricity has gone out and you're not able to use your stove for cooking, you'll have to come up with another solution for preparing your meals. You may have a charcoal or propane grill in your backyard that you can use in the meantime, but when your situation is dire and you have to bug-out, a camp stove or Kelly Kettle Stove may be necessary. This is a Kelly Kettle below. It uses pine cones, twigs, and dry leaves for fuel. It can heat a pan of soup or boil water in minutes.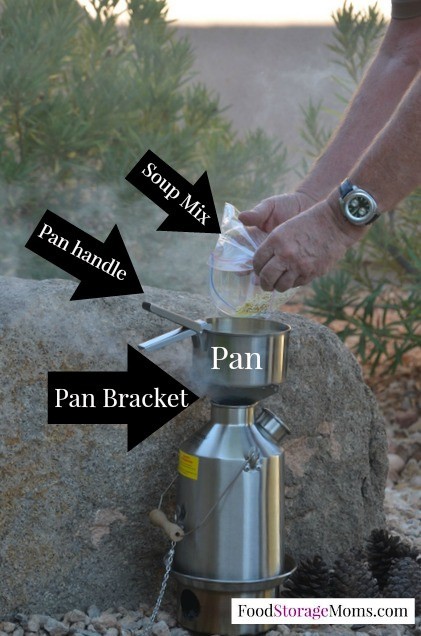 8. Cast Iron
When you're forced to leave your home, you'll need skillets and pans that you can cook in. Your current kitchen cookware won't hold up as well over a roaring outdoor fire. I'd encourage you to spend a little extra and get something that's durable, like cast iron. Here are more reasons why you need to have cast iron for your outdoor cooking purposes. I wish everyone could have a 6-quart Dutch Oven. If you have a Dutch oven and charcoal, with matches you can cook just about anything, and boil water as well.
9. Fishing Gear
For those of you who live near a body of water, there's a good chance that it may be teeming with fish. Knowing the basics of fishing, and having the right fishing gear will provide you and your family with another meal solution.
10. Seeds
Having an abundance of seeds will provide your family with fruits and vegetables if you were to ever wake up one day and the grocery store was no longer an option. In case you missed my post, Best Vegetables to Grow in Pots. I'm still growing lettuce, spinach, and cilantro outside. They have survived several freezing nights with the row covers. This is where I buy all of my garden seeds: SeedsNow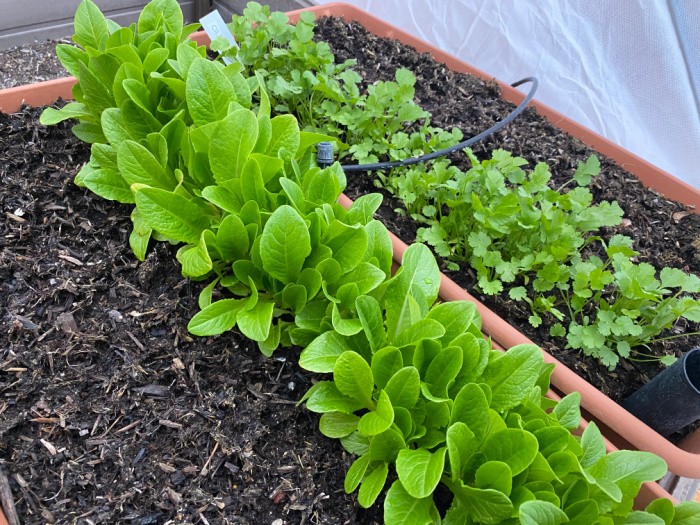 11. Garden Tools/Gloves
Okay, so you got your seeds you're going to grow, but now you're going to need the gardening tools to see those vegetable crops all the way to harvest.
12. Canning Supplies/Dehydrator
Without being able to go to the grocery store following a major crisis, you will have a garden to fall back on, but that may not an option during the winter. You will need something where you can store your harvested food. That way it's preserved for a longer period of time. We all know how hard canning supplies have been to come by. I keep hearing Ball/Kerr (Jarmin) are ramping up their supplies. Be careful with fraudulent canning lids, there's nothing worse than having bad canning lids. Please make sure you are buying them from reputable companies.
Please watch for a dehydrator to dehydrate your harvest when your budget allows. It's easy to use, and fruit slices that are dehydrated make great snacks! Dehydrating apples is easy, How To Dehydrate Apples
13. Ax
Even if you've never swung an ax before, you'll be needing an ax to chop down and split some firewood.
14. Tarps
Tarps can be used to cover your supplies from the elements, to drag heavier objects, and also as a handy shelter.
15. Duct Tape
Duct tape could very well be what saves the day for your family during a crisis. It's great for repairing things and also to make something that would benefit your family during an emergency.
16. Portable Mattresses/Blankets
Your situation may already be bad enough as it is, and sleeping on the ground outdoors will only leave you feeling worse. Be sure to have portable mattresses on-hand, whether it's a blowup mattress or a few cots. Don't forget some blankets to help stay warm.
17. Sleeping Bags
Even during the summer, it can get fairly cool at night when you're sleeping underneath the stars. You'll want to spend a little extra to invest in good quality sleeping bags that will keep your family warm at night.
18. Portable Toilets
After the power has gone out and you no longer have a way to flush the toilet, your bathroom throne will be useless. You'll want to have a portable toilet or a composting toilet that you can use.
19. Fire Extinguisher
Fires don't happen too often, but the chances of having one really increase when you're using an outdoor fire every day to prepare meals. In case you're wondering about fire extinguishers, this may help you choose the one you need. FIRE Extinguisher. I have this one: First Alert Fire Extinguisher | Professional Fire Extinguisher, Red, 10 lb, PRO10
Here are some interesting facts about regular fire extinguishers we have at home, in the garage, or in the car. All fire extinguishers are labeled with certain information to help identify which classification of fuel the extinguisher will be effective:
1. Class A Fires: Ordinary combustibles like paper, cloth, wood, rubber, and many plastics.
2. Class B Fires: Flammable liquids like oil, and gasoline, charcoal lighter, kerosene.
3. Class C Fires: Energized electrical equipment like wiring or motors. Once the electricity to those is turned off they become a Class A.
4. Class D Fires: Combustible metals like aluminum, magnesium, or titanium.
So when you purchase a fire extinguisher it is extremely important to identify the type of fuel igniting the fire that you suspect would be most common so you can select the correct extinguisher you think may be best for your personal situation to do the job correctly.
20. Rat Poison
Following a major crisis, rats and rodents would be lingering everywhere. Rat poison is a great way to keep them out of your home if this happens.
21. Bug Spray
Like rodents, bugs (flies, cockroaches, etc.) would also be an issue when you're living in a world with unsanitary conditions. A stockpile of canned bug spray would help prevent a bug infestation from happening.
22. Candles w/matches
The batteries in your flashlights will eventually start to run low. Although candles are a bit more dangerous inside a home, they may be your only option if your situation doesn't improve.
23. Generator
Generators are nice to have to keep your lights and appliances working when you've lost your electricity. If you have a good one, it can be hooked up to your home to keep the heat or the A/C unit working, not to mention, help keep everyone in your family from going crazy from the temperatures they aren't used to.
24. Flare Gun
Should a hurricane strike your area and the massive flooding forces your family out onto the roof of your home, shooting off a flare gun may get the rescue crew's attention.
25. Whistle
If you're ever trapped beneath the rubble of your house and you heard an emergency crew nearby, you'll be glad you had a whistle with you. Something heavy against your body may hinder you from calling out, or your voice might become hoarse from yelling out for an extended period. The Best Emergency Whistles
Final Word
This is a list of 25 emergency items that every prepper should have, though it's not an exhaustive list. Food, water, a first-aid kit, baby needs, hygiene, and feminine products are other items that you will need to consider. What are some other items that would be essential during an emergency? What are some emergency items you've found you need based on your own experience(s)? Please be prepared before you need to be. May God Bless this world, Linda