What You Will Need If the Power Goes Out
Hopefully, you're only dealing with a temporary power outage if you wake up one morning without any electricity. While it may not be a life and death situation, having to go without electricity has its major inconveniences. To help make your situation more manageable, you'll want to be stocked up on a number of different emergency items. These are emergency supplies that you need to have if the power goes out.
What You Will Need If the Power Goes Out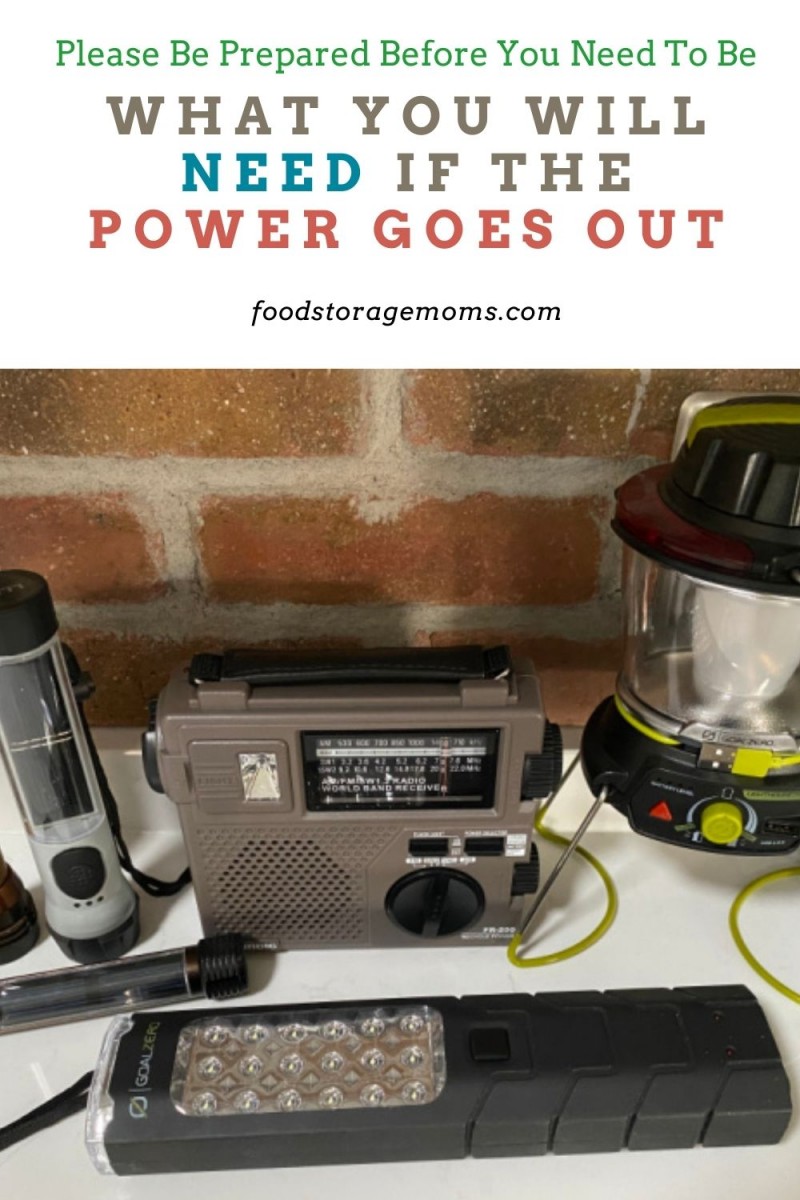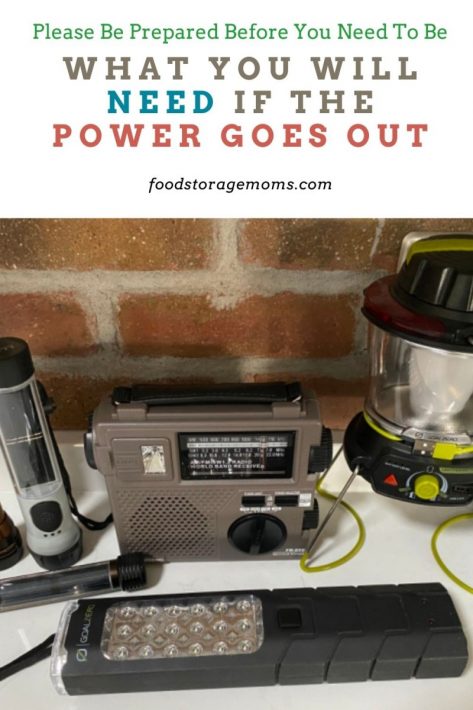 1. Non-Perishable Foods/Liquids
Having an emergency supply of food in your pantry will be a godsend that your family can fall back on because you never know if your local grocery store will be open or not. You should have at least a one to two-week supply of both food and water. Consider having the following:
Canned fruits and veggies
Canned meats
Canned soups
Dried fruit
Protein bars
Nuts, Trail mix, beef jerky
Bottled water
Gatorade/Powerade
2. Water Purification
If your power outage turns into something that lasts for a couple of weeks, you may eventually run out of your supply of bottled water. There's also the chance that your tap water that comes from your kitchen sink may not be safe to drink. You'll want to invest in a water filter that removes any particles that may be in your drinking water. You could also buy Purification Tablets from Amazon or one of your local stores.
3. Sleeping bags
Getting a good night's sleep without electricity during cold weather can be difficult to do unless you have enough good-quality sleeping bags for everyone. Look for sleeping bags that have the temperatures that will work in the areas where you may use them.
4. Camping Stove
If your stove range runs on electricity, you will need a camping stove so that your family can continue eating hot meals. Make sure that you also have enough propane as well. Years ago we decided to change to a natural gas stove. I enjoy the "instant-on" feature of the flame, the lower utility bill, and the convenience of cooking with gas since I know I can make the stovetop work without the electric ignition by using a match or lighter.
If you want to make bread, bake some casseroles, cook grilled cheese sandwiches, or make pancakes, you may want one of the Camp Chef Stove/Oven. If you decide to buy one check the adaptors because some come with the small adaptor or the small propane canisters. I opted to use the BBQ size propane tanks so I had to purchase a large propane tank adaptor. You may not have to buy one, but it's critical you know before you MUST use the stove after a disaster.
5. Weather Radio
Your emergency situation may already be bad enough as it is. Don't allow things to get worse by not having a weather radio on-hand. Your local news will keep you posted and updated on any other possible threats that may be coming your way. Emergency Radio (this one can charge your cell phone as well)
This will also help you stay in touch with the outside world so that you don't start feeling fear of the unknown. Be sure that you have plenty of batteries to use, or go with a weather radio that is hand-cranked or run on solar power.
6. Car Cellphone Charger
Keep your cell phone charged by plugging your charger into your car. You can also purchase backup charging packs that work great.
7. Baby Wipes
Unless you're trying to stay cool, you probably know just how unpleasant a cold shower can be. Baby wipes are a way that you can keep clean in between showers. The next time you go to Sam's Club or Costco, pick up a box. If they dry out you can refill them with water and they will still work.
8. Bucket
You may need a way to flush the toilet after the power has gone out if your local water district pumps don't work. In case you missed this post, 29 Reasons To Save Buckets For Survival
9. Duct Tape
You may be scratching your head on this one, but duct tape has proven itself time and time again to be an effective tool for emergencies. It's extremely versatile and durable and can be used to repair glass and temporarily mend clothing, etc.
10. Flashlights
Don't be left scuffling around in the dark without several flashlights strategically kept throughout your house. I have a bunch in my home, many I keep charged by the sunlight coming in my window. I love these solar flashlights! Lanterns and Flashlights
11. Batteries
You will be needing batteries for more than just your flashlights. Make sure that you stock up on all different types of them, including C's and D's that light up lanterns and flashlights.
12. Cardboard
Cardboard works as a great insulator. You can use it to cover your windows so that cold air doesn't creep in. Although not too comfortable, they can also come in handy as mats on the floor since concrete can be pretty cold to sleep on.
13. Garbage Bags
Garbage bags aren't just for taking out the trash. During an emergency, they can be used as a cover for a shelter, and also insulate your doors and windows. You may even need some heavy-duty garbage bags for body bags, I learned this in my C.E.R.T. certification. Hopefully, we will never need to use them for covering bodies, but it's a good idea to have some of those super strong ones.
14. Manual Can Opener
Be sure to have a manual can opener set aside to handle your canned goods because most of them don't come with an easy-open tab. Please stock more than one can opener, one is none and two is one. I'm not sure if I said that right, but you get the drift. Can Openers
15. First Aid Kit
It's common for injuries to happen during an emergency. You will need a first aid kit that has bandages, dressings, disinfectant ointments, and a pain reliever. If you don't have time to put one together, the one above is brought to you by the Red Cross, which comes with an instruction booklet. In case you missed this post, First Aid Kits-What You Need To Survive
16. Hand/Feet Warmers
Keep your hands and feet warm if the power goes out during the wintertime. You can pick them up at places like Walmart and The Home Depot. You can also buy them online, Hand Warmers.
17. Prescription Medicine and OTC
For those of you who take prescription medication, ask your doctor if you can have a week's worth of your prescription that they might have on hand as patient "samples". If you tell your doctor it's for emergency purposes, this shouldn't be an issue. I try to get my prescriptions filled in 90-day doses so I never run out. I've heard some doctors are willing to prescribe in one-year doses. It doesn't hurt to ask. You should also have enough OTC pain reliever, stomach relief, and cold and flu medicine on-hand. In case you missed this post, 35 OTC Medications You Should Store
18. Snacks
Having plenty of snacks tucked away will help your family's mental state immensely during an emergency. For situations such as this, it's okay to indulge your sweet or salty tooth a little, whether it's cookies, chips, or chocolate that does it for you.
19. Board Games
There are a lot fewer ways to entertain your family following a power outage. Teach your children some of your favorite board games that you enjoyed playing with your family when you were a young child.
20. Cash
The businesses in your area may not take debit or credit cards during this time, but they may be accepting cash. So it's a good idea to keep a small stash of money somewhere safely hidden in your home. (Just don't forget that you put it there.) Make sure you store one's, five's, and ten's.
21. Gas-Powered Generator
If you can afford to do so, I'd recommend that you get yourself a generator. That way you can keep your lights, refrigerator, and a few other appliances functioning as normal. If you get a really high-powered one, you can even have it hooked up to where it keeps your furnace and AC unit working. Keep in mind that there are fuel storage issues, and you'll need room outside your home for the installation.
What You Will Need If the Power Goes Out
Final Word
Candles and matches are other items that you could certainly use, but you have to be extra careful with them. This is why I'd recommend that you stick with flashlights or battery-powered lanterns, especially if you have children or pets. What are some other items that you think may be needed following a power outage? I'd love to hear from you. What will you need if the power goes out? May God Bless this world, Linda.