How to Barter with Food and Water
Bartering is an old practice that has been going on for thousands of years and is still used today in certain areas of the world. Did you know that during the Great Depression many families didn't have the money for food and supplies, so they relied heavily on a bartering system to meet their everyday needs? Let's talk about how to barter with food and water.
How to Barter with Food and Water
A natural disaster or an economic collapse could leave you in a situation where you aren't able to use cash to get what your family needs. Having the right items to barter during this time will be critically important.
For obvious reasons, food and water will become some of the most sought-after commodities during that scenario, which is why having a stockpile of the barter items that are sought-after could truly benefit you. Here's how to barter with stockpiled food and water, some of the best barter items, so that you're able to get what you need most for day-to-day living, or even for survival.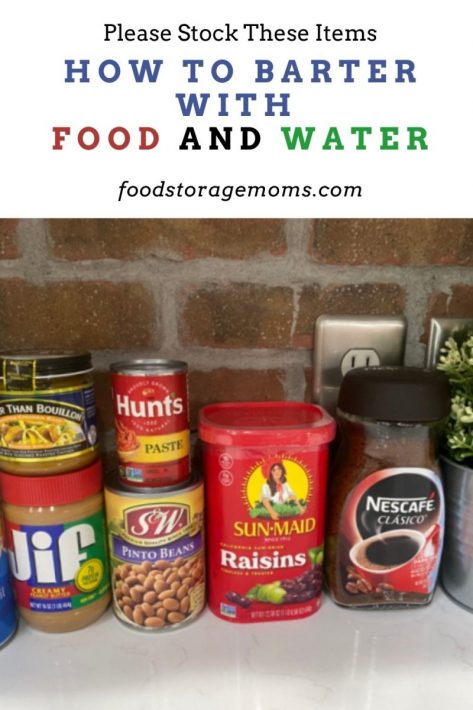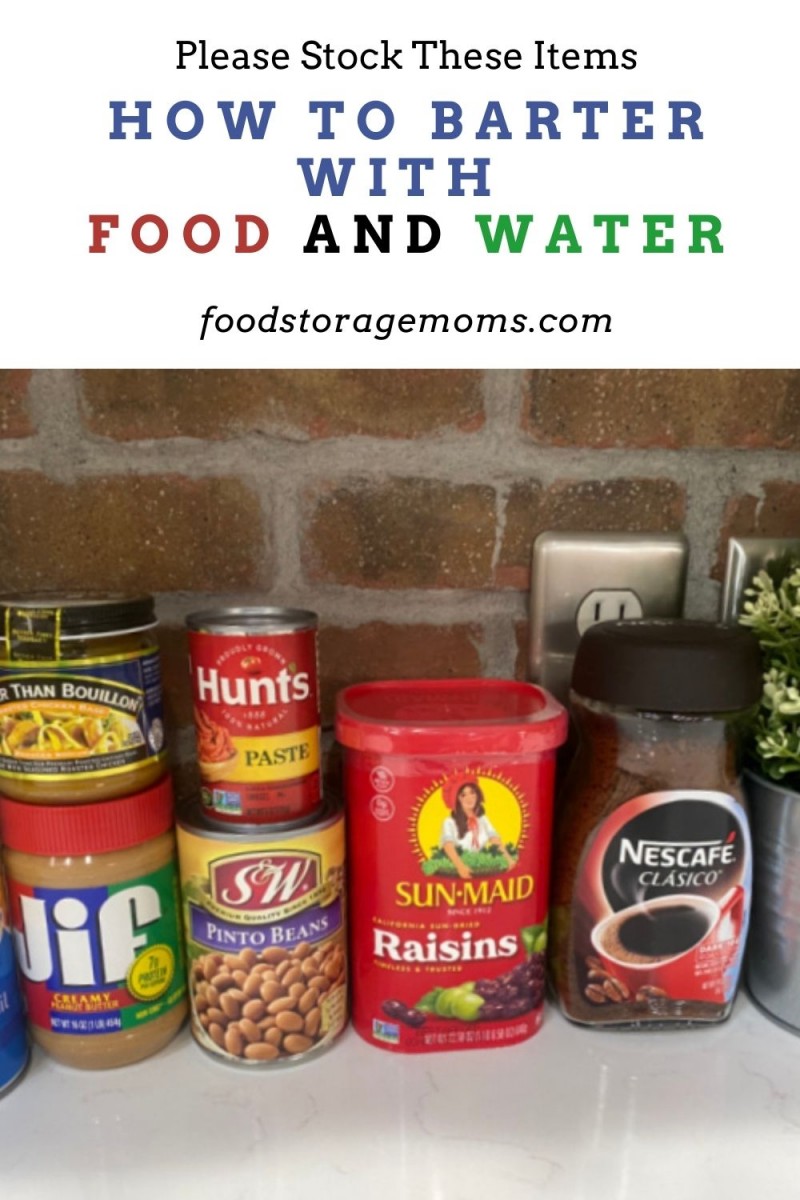 Things to Consider When Stockpiling
When you're thinking about the right foods that you should consider stockpiling, there is an approach that you need to take into account as follows:
For starters, you should only stockpile foods that have a longer shelf-life because you just never know how long it will be before those items become a necessity for you and others. It could be tomorrow, or it could be months or years from now.
That's why preppers will choose to gather non-perishable food items that will bring them optimal food quality long after the emergency situation arises.
You also need to think about getting food products that are cost-effective and won't cost you too much money as you stockpile. Consider purchasing foods that you can get at a great value/discount, or something that can be bought in bulk to save you even more money.
There will be a higher demand for these items following a major disaster and their value will increase as their prices at the store will only increase. (That's if grocery stores are still even an option.)
Lastly, there's also the fact that you may be put in a situation where you need to transport these goods. Avoid buying food goods that are big and bulky, especially if you are left with a lack of storage space to put them. Focus on smaller, lightweight food items that are not only easy to store, but also more convenient to transport.
Drinking Water, Along with Purification and Filtering Methods
I buy these bottles of water at Costco because they are small and I can hand them out to visitors when needed. As I remember, they come with 48 bottles in the case and cost about $10.00. They're not good for long-term water storage, but if you rotate them they work for short-term. They have 8 ounces in each bottle. I've heard that they now have a larger 80-item package, so be sure to check on that.
Drinking water is sure to be the number one hottest item on everyone's list following a major crisis because being caught without it could prove deadly in just a matter of days. This is why having an abundance of pure drinking water that you could barter will only prove to be more valuable than gold during this period. You could always rely on bottled water, but there's also the fact that it's bulky and takes up a lot of space.
Make sure that you have several different filtering methods available to you so that you can ensure that you are drinking sanitized water.
You can get deathly sick if you're consuming water that has bacteria and other infectious sediments in it.
Everyone else will also be looking for clean water, so stocking up on filters and water purifiers would prove a wise decision.
Purification tablets, Berkey Filter Bottles, and Aquamira Drops are just a few of the related items that you should look into. I also like the PortaWell water filter system. I did a post about that product a few months ago. Check my archive for more information since their product is portable, filters a higher volume of water, and filters more quickly since it is a battery-powered pump-driven system and not based on gravity. 
If you're planning on hunkering down in your home following a disaster and storage space isn't an area of concern for you, stocking up on plenty of 5 Gallon water containers is one way that you could go. We have some larger 160 and 250-gallon storage tanks too. I use a product called WaterPreserver to treat all our stored water. It is good for five years, saving a lot of time and wasted water rather than the every six-month treatment from unscented bleach.
There are also 55-gallon water barrels that could stretch your family's drinking water supply, but there's the inconvenience that they are heavy and incredibly difficult to transport.
Food Items To Barter
Following a disaster, there may come a point when your local grocery store jacks up its prices on certain food items, or they may entirely run out of just about everything. There's also the possibility that all the stores in your area could be closed for an indefinite period. You need to have food storage as part of your overall self-reliance plans, but storing foods not only to feed your family, but also items that you'd be willing to barter with could make a real difference during an emergency. These are just a few items that you should consider.
Nonperishable food items (canned vegetables like carrots, green beans, and peas, fruits like peaches, apple sauce, apricots, and pears, and meats like chicken breasts, tuna, beef, and turkey)
Dried goods (beans, noodles, rice, and popcorn)
Emergency food supplies as outlined in my posts
Fresh produce (straight from your garden)
Eggs
Jerky and smoked meats
Popular snacks (including Lay's potato chips, Oreos, Hostess Cupcakes, etc)
Peanut butter
Grain products like wheat, barley, and rice
Morning and Afternoon Caffeine
Could you imagine waking up in the morning without your usual cup of coffee? Most people wouldn't make it past the first week. Coffee and tea are items that will barter nicely, but don't forget the coffee filters!
Then there's the dose of afternoon caffeine that people rely on to carry them through the rest of the day. Stocking up on soda pop and energy drinks will also give you the bargaining chips that you need to barter with.
Candy and Other Sweets
Don't kid yourself if you think this food category is something that everyone could drop cold turkey. There are people out there who would be willing to give up almost anything to obtain some hard candy and other sweets. Candy and sweets will be priceless following a major disaster, and you may be able to barter candies and other sweets for critical supplies that your family desperately needs.
You should consider chocolates, peanut brittle, nuts, popcorn, and more. Also, items to top off a breakfast meal like sugar, cocoa, and syrup. This is an important tip to know when it comes to how to barter food and water.
Don't Forget the Kitchen Staples
Returning to some level of normalcy following a major disaster or economic collapse will be one way many people try to cope with their new everyday circumstances. Most people (myself included) enjoy eating as a way to deal with their feelings and there's no better way to do so than by indulging in delicious baked goods or devouring a satisfying hearty meal.
After a disaster, it won't be long before everyone runs out of the necessary ingredients to continue enjoying their favorite baking recipes or eating meals that have any flavor. You can rest assured that kitchen staples will be highly sought after. Here are several items that should be high on the list for you to seek as bartering items, or items you may need where your food and water could come in handy:
Canning salt
Pepper
Sugar
Crisco and cooking oil
Bouillon
Spices (stored in glass jars)
Vinegar
Honey
Baking soda
Baking powder
All-purpose four
Yeast
Powdered milk
What are some other critical items I can barter that aren't food or water-related?
Consider stocking up on these items as a bartering participant to add to your bartering resources since most people won't be as well prepared as you are:
Toilet Paper
Batteries of all kinds and a flashlight or two for each family member
Weapons and Ammunition
Baby Wipes
Dental care items like dental floss, toothpaste, and toothbrushes
First-aid items like ointment, bandages, gauze, cotton swabs, suntan lotion, and aloe vera
Cigarettes
Paper goods and kitchen items like pots and pans, matches, utensils
Final Word
Nobody ever likes to think about what would happen if a major disaster were ever to strike their area. That's why it's so important for you to stockpile the right kinds of food now for your own food security and will take care of your family, but also provide you with something that you could barter with when money becomes irrelevant. Do you know how to barter food and water? May God Bless this world, Linda