Food Storage: What I Have Changed
Today I want to talk about food storage: what I have changed over the years. When I was growing up my family had a pantry in the kitchen and it was very small. Back then no one stored water, that I'm aware of.
About 50-60 years ago most people in our neighborhood stored powered milk, TVP (textured vegetable protein), wheat, and sugar in 50-pound green metal containers.
I was thinking 100 pounds, but Mark remembers 50, so 50 it is. It doesn't really matter because looking back, it was not the smartest way to store food.
We also stored 25 pounds of chocolate chips and flour in smaller 5-gallon buckets which were really hard to open. We had this tool shown below to pry off the lids and it sometimes would break a fingernail. Thankfully, we don't use lids anymore that need this tool. They still sell them: Bucket Opener
Thankfully Gamma Lids came out with an easier lid to open our 5-gallon and 6-gallon buckets. Hooray! They are a two-piece unit that fits nicely on buckets that are compatible. We used a mallet to put the "ring" on very carefully and then we screwed the lid in place.
Food Storage: What I Have Changed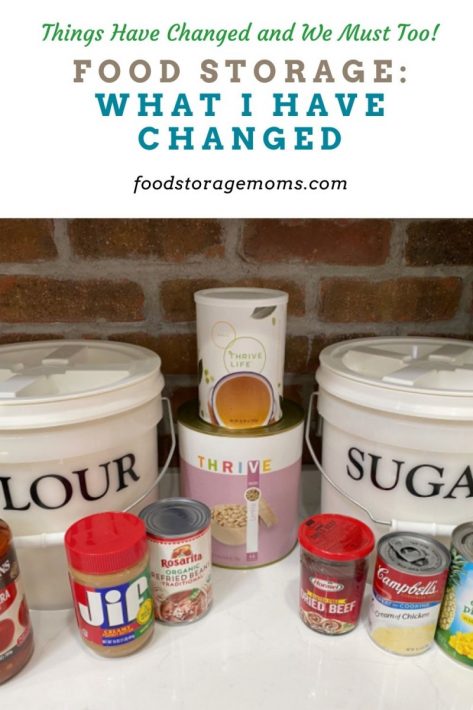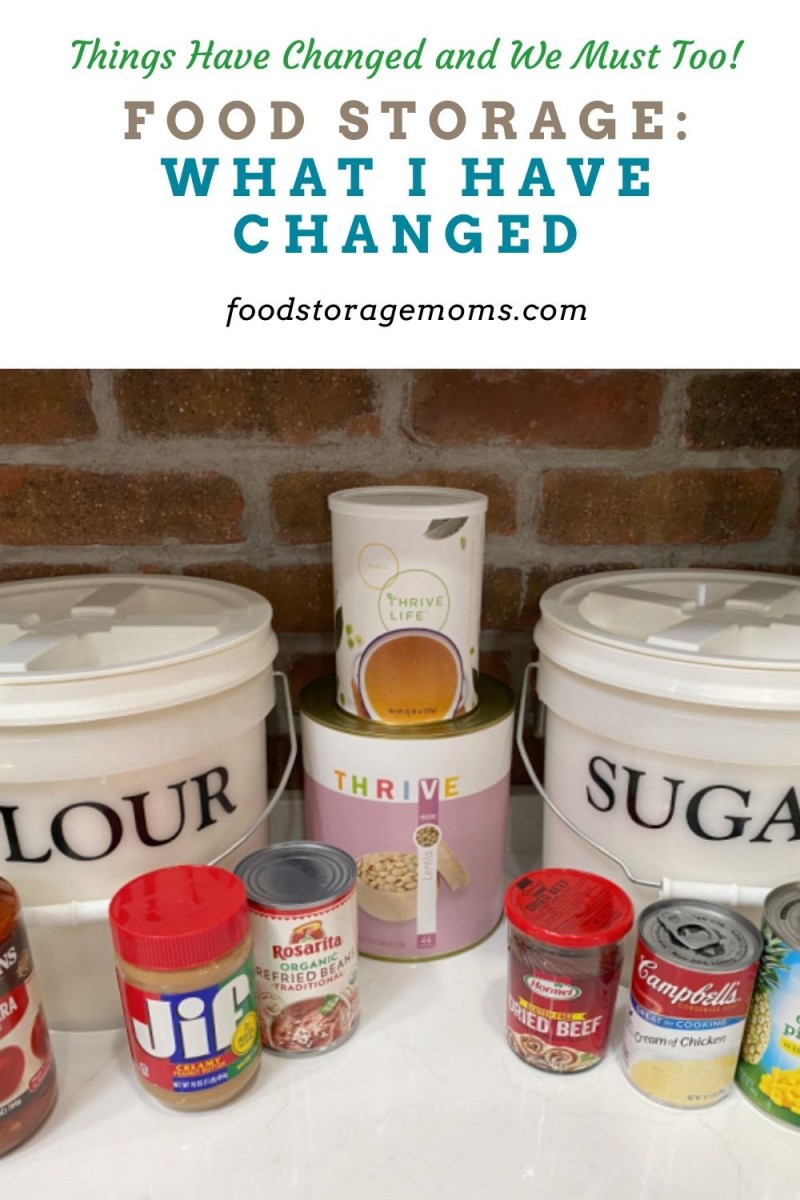 Food Storage: What I Have Changed
Water Bath and Pressure Canned Foods
When our girls were growing up we always grew a very large garden. We pressure canned vegetables for the entire year each summer. We water bathed every fruit we could get our hands-on.
We were blessed to live by orchards and we could buy bushels of fruit and we also picked up the dropped fruit from the ground. We made grape juice, salsa, apple pie filling, we canned sweet cherries, pears, apples, applesauce, peaches, lots of peaches.
We dehydrated every vegetable and fruit as well. It was a family affair. Then we moved and the fruit was more expensive to can, and our canning days slowed down. Then there was a so-called sugar shortage, whatever, we canned without sugar.
Did you know you don't need sugar to can fruit. It doesn't preserve it, it just makes it sweeter. It's all good. That was a tidbit Mark and I learned in our Master Canner Preserver classes. Sugar is for taste only, gotta love it.
We froze corn scraped off the cob. Life was good seeing all those jars lined up in the basement on the shelves Mark built for us. And the freezer was filled with grated zucchini and sweet corn.
Freeze-dried Food
We soon learned about freeze-dried food and how great it is. About 15 years ago the prices were high compared to dehydrated food but the shelf-life was longer. We signed up with a monthly service to make it more affordable, as in discounted pricing.
We lived too far away to go pick it up from northern Utah. If you spend over $100.00 a month the shipping was free. It's much easier to buy monthly than have a pallet full of meals delivered to your door, or at least for my budget.
I was fortunate to teach at a food storage store up north and learned about freeze-dried food, dehydrated food, Mylar bags, and oxygen absorbers. I even had the chance to teach people how to cook with the store's products. I learned a lot more about food storage than I had ever known before.
Mark and I still occasionally have freeze-dried food delivered, but rarely nowadays as the prices have become way too expensive, in my opinion. I flat out refuse to buy the meats right now, they are over-priced. It may just be the case based on my food budget, but I will not cave in to those prices. I will eat beans for my protein and other less expensive food.
I recently purchased some freeze-dried cucumbers from Thrive Life, I was curious how they looked. I bought the pantry size cans which are a lot smaller and work better for Mark and me. They are chopped, and they taste awesome! You would not need to rehydrate them, just sprinkle some on salads.
Freeze-Dried Information
Let me explain what freeze-dried food is in a nutshell. The first step to freeze-dried food begins with freezing. The second step is the frozen food is placed in a vacuum chamber under low heat. Then the third step starts when the frozen water crystals evaporate directly from ice to vapor which is a process called sublimation.
What's really nice about freeze-dried food is the fact that it lasts longer, depending on the manufacturer. Please always look at the cans and see the shelf-life listed. You can eat the food directly out of the can and therefore uses a whole lot less fuel, if any, when it comes to meal preparation.
Freeze-dried foods usually have an open shelf-life of 1-2 years. Here again, please look at the #10 can or on the website of the producing company.
Pros: Lasts 20-25 years, depending on the company where you purchase the food. You can also eat the food directly out of the can. You do not need to slice, chop, or cut the food into bite-size pieces.
Cons: It is more expensive, but remember you use less fuel.
Purchasing a Home Freeze Dryer
I'm asked often if someone should buy a home freeze dryer, I think the concept is awesome. I have friends that share them. There is a store here in St. George, Utah that had one on display and was actually freeze-drying some food. Now, this is when they first came out and it was the small original model.
As I looked at it, I got the giggles in a nice way. I said, to my sister, this would never work for me, I preserve way too much food. The food item they had in it took 24 hours. If I had to wait to freeze-dry 4 boxes of peaches in that little unit the fruit would be too ripe. Those of you who bottle fruit know exactly what I'm talking about. The "race" is on to get them all bottled within a couple of days.
Preserving pears are more forgiving, you wait until the ones in the box are just right for canning. I'm very glad I purchased my freeze-dried food when I did because of the cost of them now. The home freezer-dryer is a great idea if you have the money to purchase one, and can find the necessary items to store the food properly.
Dehydrated Food
Okay, most of us buy dehydrated food every day. We purchase cereal, spices, pasta, beans, baking mixes, etc. Dehydration is the way the water has been removed from the products. The water is slowly removed from the food without actually cooking it.
It's one of the most affordable, lightweight, and compact ways to purchase food for our storage or everyday cooking. We need to be aware of the dehydrated term, it generally takes longer to cook. You can't "snack" on it right out of the can. It's too hard. This is fine for soups, stews, etc.
We need to remember that typically dehydrated food does not last as long as freeze-dried. It usually has a shelf life of 5-8 years. They typically have an OPEN shelf life of 6 months to 1 year.
Pros: Dehydrated food is a lot cheaper. It's ready to stir into a pot of soup or chili. No need to chop, slice or cut into pieces.
Cons: Shorter shelf-life and you can't eat the food right out of the can. It must be cooked, and therefore uses more fuel and time to prepare a meal.
Canned Goods
Now that my daughters have started their own chapters in life, we no longer need to buy #10 cans. We have stocked for years, and now we are down to a family of two. It's surprising how much less food you buy for two people.
We rarely eat out, so I still stock a good pantry. I call it my own grocery store to shop from. In case you missed this post, Canned Foods I Highly Recommend You Store
I remember teaching an emergency preparedness class and a woman said she doesn't own a can opener. WHAT? I thought to myself, how are you going to open your #10 cans or your other canned goods.
She said she eats only fresh food. I get it. But, I asked her if she had olives, tomato sauce, tomato paste, cans of tuna, etc.? I guess she didn't, but I do. Of course, a lot of canned goods come with pull tabs now.
In case you have #10 cans, this is the only can opener that works for me on those large cans. Can Opener: Swing-A-Way Commercial Easy Crank Please stock more than one can opener, you will need them. Regular Can Openers
Bulk Food I Recommend
When I say bulk food, I'm talking about 5-gallon buckets filled with the items listed below. Every family eats differently, I understand that. If you have dietary issues, you will stock different food, I get it. But this is what I store so I can feed many people, yes, many people. Please remember this, God helps those who help themselves.
We must all store food, the government will not deliver food to everyone during a disaster, I can guarantee it. If we have a disaster, the drive-throughs will be closed, and the grocery stores wiped out within 24 hours. We must think about short-term food, prices are going up and they will not stop going up. I hope the world is listening.
Here are a few food items I want to mention:
Wheat
Flour
Sugar
White Rice
Pasta
Black Beans
Pinto Beans
Smaller Storage Containers:
Honey (I store it in quart mason jars)
Unsweetened Cocoa
Coffee
Tea
Spices
Baking Powder
Baking Soda
Chocolate Chips
Salt
Lemon and Lime Packets
Vinegar
Peanut butter and jam
Dog food and treats
In case you missed this post, Food Storage: What I Stock and Why
Final Word
If you see things I have missed, please let me know and I will add them. You remind me of items and I so appreciate it. My mind never stops when it comes to my blog, so I may forget an item here and there as I put my lists together. I'm always doing 5 different posts at once, that's how I roll.
I couldn't do it without my husband, Mark. I'm so thankful for you my readers, who encourage me and mention kind words. We have an awesome group of people in our comment forum, and I thank you from the bottom of my heart. May God Bless this world, Linda