Canned Foods I Highly Recommend You Store
I realize many of us don't eat a lot of canned foods. My concern is how best to respond when I receive emails asking for suggestions for food storage that is cheaper than freeze-dried food. Dehydrated food is significantly cheaper than freeze-dried but usually has a shorter shelf-life. So today I'm updating a post where I discuss canned foods I highly recommend you store some canned food. Before everyone starts telling me they can't have the salt they contain, let me explain my thoughts.
For one thing, a lot of people can't afford to purchase freeze-dried food. I get it, trust me. I didn't buy my freeze-dried food on a pallet. I bought a few cans a month for years, and I mean for years. Yes, I rotate it, but I can sleep at night knowing I have some really good food storage for many years to come.
BUT, I also have some cheaper dehydrated carrots, potatoes, and other foods with a shorter shelf-life. Another thing I really recommend is stocking up on canned foods. You can always donate to your local Food Bank the cans you choose not to eat in a year or two before it expires.
Please make sure you have food for your family, you can't expect your extended family, neighbors, or your church to feed your family in an emergency situation. And please don't think the government delivers food right after a disaster. It's not going to happen for days, weeks, or possibly months. Just think what would happen if every family expected others to step in and help them during each disaster. Please be prepared!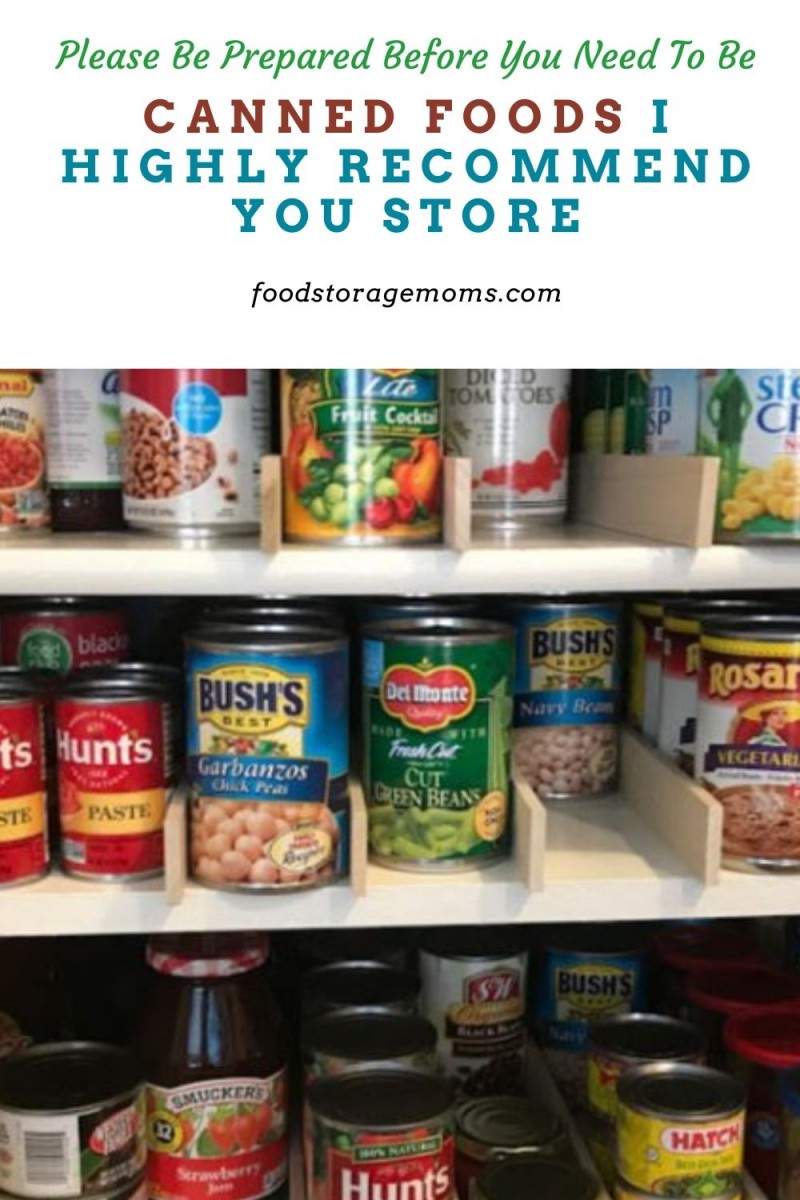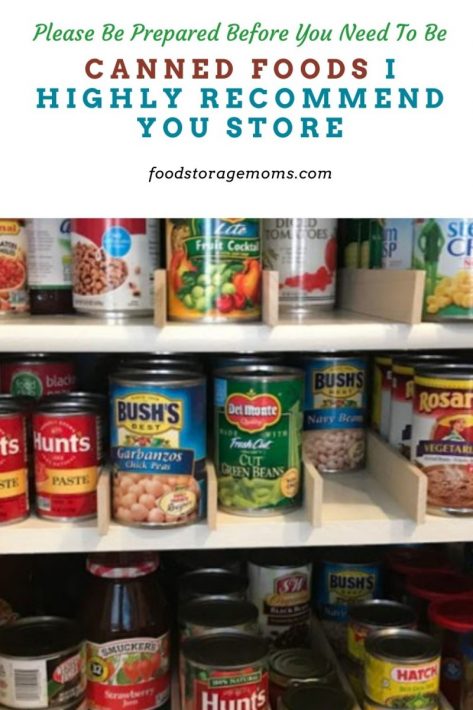 Local Store In Utah
I saw this sign at my local grocery store. I don't like to put fear in my readers' minds, but let's be real. You and I both know all the storms we have had this year are going to affect our food supply chain, along with all the new issues we are hearing about global supply chain challenges. I understand that various governments are trying to free up the ports and truck terminals so things can be properly distributed, but we are looking at months before we see much of a change. Please be prepared.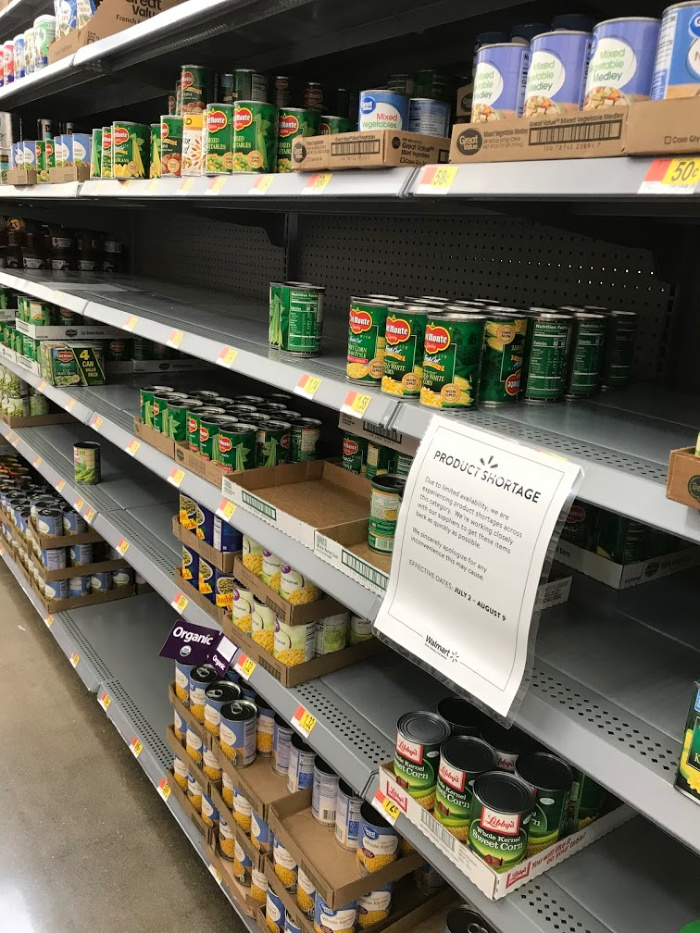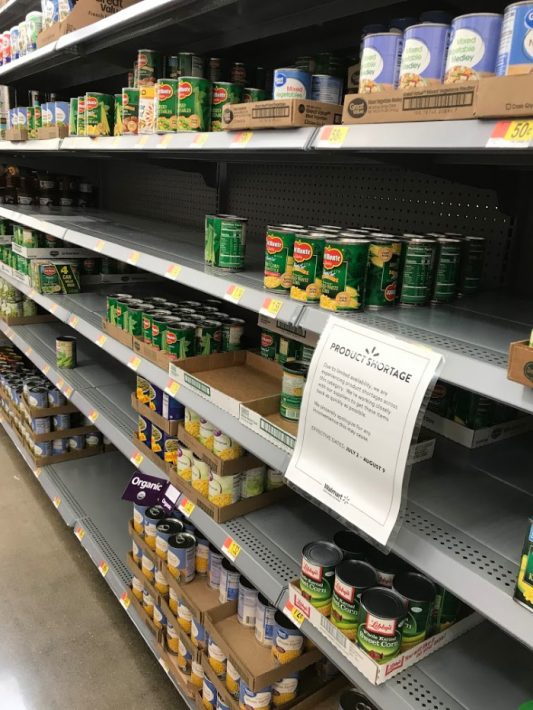 Home Canned Foods
Of course, if you have access to a Farmer's Market or your garden is flourishing, by all means canning your own food is so much healthier, and possibly cheaper, in many cases. But not everyone has the land, equipment, jars, lids, etc. to do much of what they need to properly supply food for the family.
Plus, we must consider the health and financial strength of the family during these difficult times. We can only do what our health and budget warrant.
Great Canned Foods
Water:
Yes, we still need 4-gallons of water per day per person, but today I'm just talking about canned foods.
Dairy Products:
Right now, dairy products that are freeze-dried are more expensive than I've seen for a long time. I list them because many enjoy dairy-related foods so much. Just keep in mind that it may be more prudent to build up your food storage inventory with other canned goods until things become more affordable.
You may think you need dairy products to get your needed nutrients. Do some research on the subject and you'll find out that many fruits and veggies provide plenty of nutrients. As a good example, beans of all kinds can give you the protein you need on a daily basis.
Vegetables:
I don't make a big deal of it to others, but I'm trying to focus more on a plant-based diet approach. When I say "diet," I'm not just talking about monitoring weight, I'm talking about a balanced, healthy, naturally grown plant-based daily meal plan. So many studies have shown that those who eat more fruits and vegetables tend to be more healthy over time than those who feel the need to eat meat with most meals.
Of course, we'd all like to have fresh vegetables as a key part of a healthy diet, but we're talking about planning for those emergency situations where you are faced with meal preparation when trips to the store become difficult, or the stores become a less reliable source.
Most vegetables come in canned product offerings, making the choice more about what you and your family like to eat than worrying about comparing all the nutrients they might contain. If you vary meals from day to day and eat a good variety of vegetables, you will be well on your way to not only being prepared but doing so with a healthy result. Here are veggies I'd suggest you strongly consider having in your food storage stash:
Asparagus
Artichoke hearts
Beans
Beets
Carrots
Corn
Potatoes
Diced tomatoes
Stewed tomatoes
Pizza sauce
Spaghetti sauce
Enchilada sauce
Sauerkraut
Green chilies
Water chestnuts
V-8 Juice
Rotel Tomatoes
Tomato sauce
Tomato paste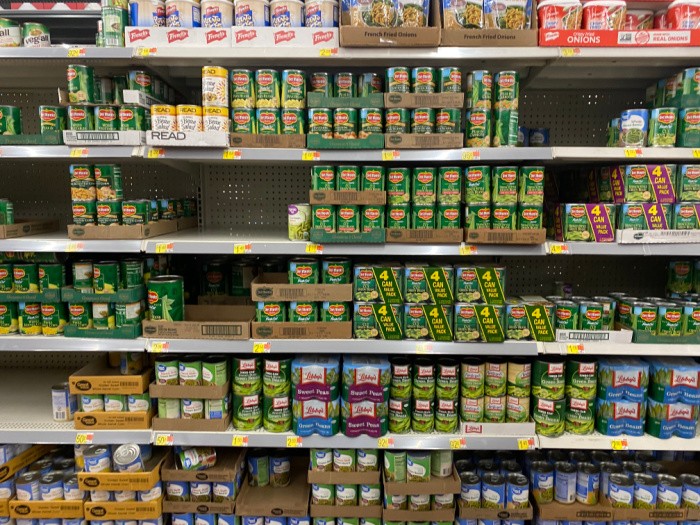 Have you noticed how scarce the grocery store shelves are my friends? I sure have, please stock up only what you and your family will eat.
Fruits:
There is nothing more refreshing food-wise than biting into a fresh apple, peach, plumb, or most any other fruit right off the tree. Having to eat just canned fruit may seem like a poor substitute, but in times of emergency, you'll be glad you planned ahead and stocked up. I've listed just a few varieties below, but a visit to your local store will reinforce the fact that most fruits come in a can.
Be sure to get canned fruits the family likes to eat so you don't have some that sit on the shelf longer than desired. Try a different one each night for a while and then poll the family to see what their favorites are. I've always said, "buy what your family will eat."
Fruit cocktail
Peaches
Apricots
Applesauce
Pears
Pineapple
Cherries
Mandarin oranges
Pie filling
Pumpkin
Canned Protein/Meats:
Mark and I really enjoy a quick sandwich made with canned tuna, chicken, or ham. We'll make up some chicken or tuna salad and put it on our favorite bread or bagel. You not only get a flavorful meal in minutes but a meal that is full of nutrients we all need.
When we're in a real hurry, we'll have peanut butter and jam sandwich. Mark loves his sandwich with a fruit jam, I often make mine with honey. I like to buy the canned chicken available at Costco, but I'm sure other stores have good choices too.
Tuna
Chicken
Ham
Corned Beef
Vienna Sausages
Canned ground beef
Salmon
Sardines
Canned bacon
Peanut butter/Jams/Jelly
Spam
Dry Beans/Lentils Are Awesome:
As mentioned above, beans are a healthy choice, particularly if you are looking for a product with the protein you need. Of course, you can buy your bean options in bags where they come in dried form. There may even be some larger cans of beans available in #10 cans. For a quick meal, you'll need to consider having a stash of smaller cans of beans you can open, heat up, and enjoy.
Tonight I made a delicious tomato and bean soup that called for a variety of bean types. I put a bunch of veggies in the soup too. Along with the soup, I served a salad that had as one of the toppings two or three bean varieties. They all came from cans of beans I had in the pantry. I haven't listed all the available bean options, but this is a good start as you add to your canned food inventory:
Pinto
Black
Garbanzo
Navy/White
Kidney beans
Cannellini
Lentils
All beans work for me, I love them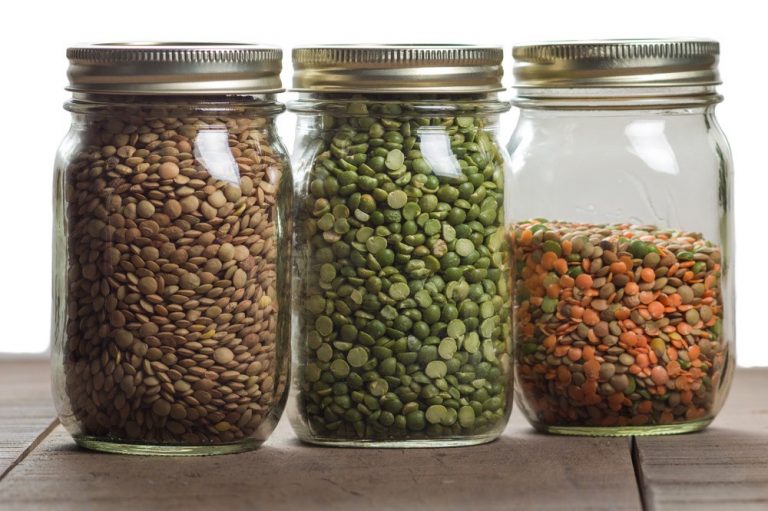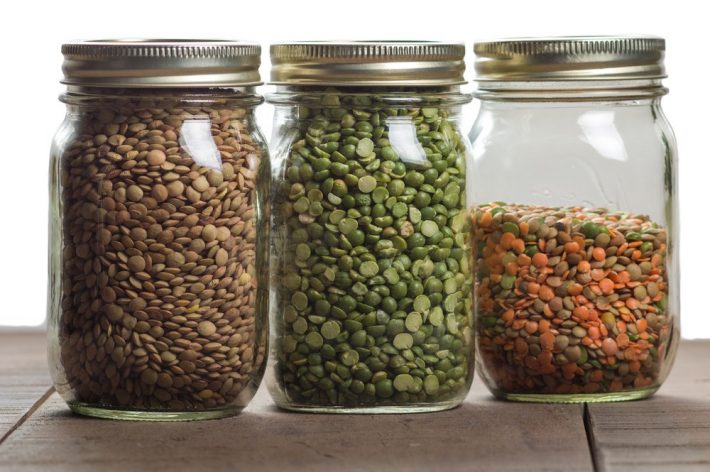 Condiments:
While you are doing your meal planning as part of the exercise to increase the canned foods in your pantry, don't forget that many meals are made more attractive, flavorful, and possibly nutritious, by adding various condiments to the mix. Some of the items may seem more like staples as illustrated by the flour, sugar, salt, etc., but many of us don't think of buying these items as "canned" goods. Just buy them as part of your efforts to be better prepared, and remember that if purchased in airtight containers, they will have a much longer shelf life.
Mayonnaise
Miracle Whip
Mustard
Ketchup
Salsa
Hot sauce
Vinegar
Oils
Honey
Flour
Sugar
Salt
Baking powder
Baking soda
Spices
Olives
Pickles
Soy Sauce
Worcestershire sauce
Hickory Smoke Sauce
Barbecue sauce
Ready-Made Boxes or Canned Foods:
I wish all the items we want for a preparedness plan can be purchased in real cans. There are some items we'll want to store that only come in boxes. The list below has a mixture of both canned and boxed products, but they are all things we should consider having on hand. Just keep in mind that the canned items will tend to last longer on your shelves than those sold by the box.
It is important to always set a schedule to check expiration dates on all stored items, not just when they are purchased, but from time to time during the year so you can properly rotate them and not have any go to waste. I try to group my stored items by type so they are easier to find, rotate, and use on a consistent basis.
Chili
Stew
Soup (just add water or milk)
Boxes of Mac and Cheese
Muffin mixes
Pancake mixes
Ravioli's
Spaghettio's
Cake mixes
Crackers
Oatmeal
Cream O'Wheat
Malt O'Meal
Mark's choice of cold cereal below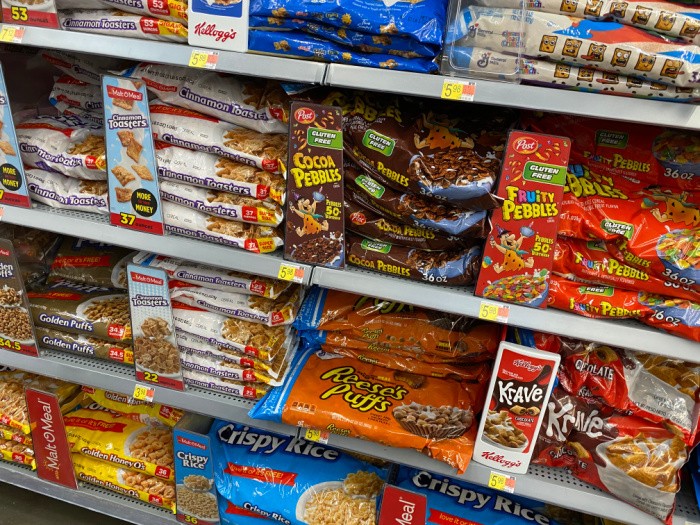 Temperature Safe For Storage:
We can't all keep our houses at 65 degrees. If you have a very cool basement you are one of the lucky ones. The cooler we keep these foods the better. I'm not saying to store them in the refrigerator, but definitely not in the garage due to high temperatures experienced in most locations, at least part of the year. Please keep all boxes in airtight containers, if possible, so rodents can't chew through them.
Don't Forget to Take Advantage of Case Lot Sales!
When it comes to saving money when purchasing canned foods, I've found case lot sales to be a true Godsend. Here in Utah, they seem to be most common in our grocery stores in late summer and early fall. I try to stock up on the items I've depleted during the past year, along with some new items I'd like to try.
I particularly look for canned soups since winter is fast approaching and I enjoy a hot bowl in the evenings. At a case lot sale a few weeks ago Mark noticed a product we hadn't seen before, Idahoan Foods packaged instant potatoes. They can be cooked on the stovetop or in your microwave. They are made from real potatoes, and unlike some others we've tried, have the true flavor and consistency we are used to seeing from our peeled, cooked, and mashed whole potatoes.
There was a wide variety and he brought home some of each. Each package was only $1.00, which we felt was a great deal. We've found the Idahoan Buttery Homestyle to be our favorite, but the others with garlic, various cheeses, and different spices are also delicious. Check them out at your local store to see if they carry them. We did notice some at Wal-Mart this week.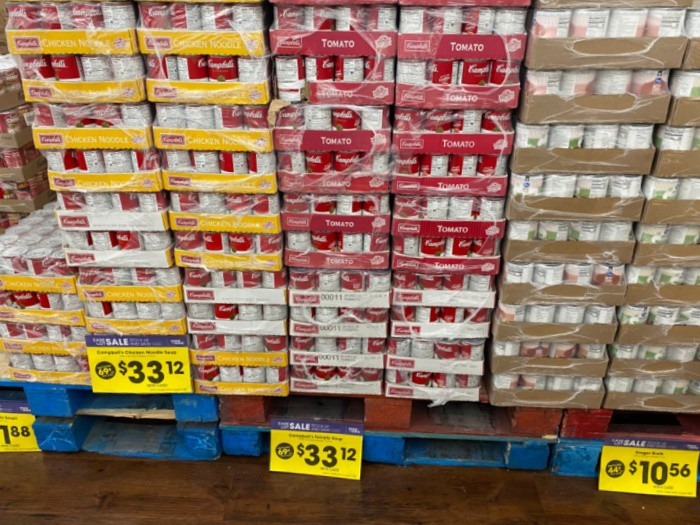 FREE Printable Lists
Final Word
Let's make this list as long as we can. I will add the canned foods you use to my list if you'll let me know your favorites. Let's help the world be prepared for the unexpected. Let's stock up as soon as possible. May God bless this world, Linda
Copyright Images: Beans Lentils in Jars Depositphotos_37988837_S