Canned Foods I Highly Recommend You Store
I realize a lot of us don't eat a lot of canned foods. My concern is when I receive emails asking for suggestions for food storage that is cheaper than freeze-dried food. Dehydrated food is a lot cheaper than freeze-dried but also usually has a shorter shelf-life. So today I'm talking about storing some canned food. Now, before everyone starts telling me they can't have the salt in them, let me explain my thoughts.
For one thing, a lot of people can't afford to purchase freeze-dried food. I get it, trust me. I didn't buy my freeze-dried food on a pallet. I bought a few cans a month for years, and I mean for years. Yes, I rotate it, but I can sleep at night knowing I have some really good food storage for many years to come.
BUT, I also have some cheaper dehydrated carrots and potatoes with a shorter shelf-life. Another thing I really recommend is stocking up on canned foods. You can always donate the cans you choose not to eat in a year or two before it expires to the Food Bank in your area.
Please make sure you have food for your family, you can't expect your neighbors to feed your family. And please don't think the government delivers food right after a disaster. It's not going to happen for days, weeks, or possibly months. Please be prepared.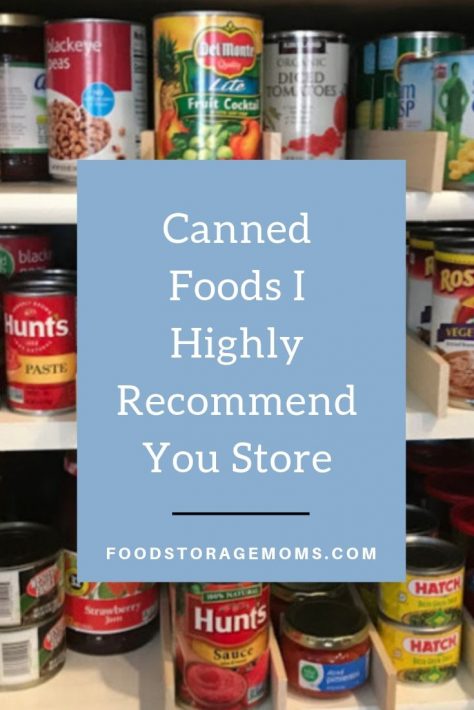 Local Store In So. Utah
I saw this sign at my local grocery store. I do not like scare tactics but let's be real. You and I both know all the storms we have had this year are going to affect our food supply chain. Please be prepared.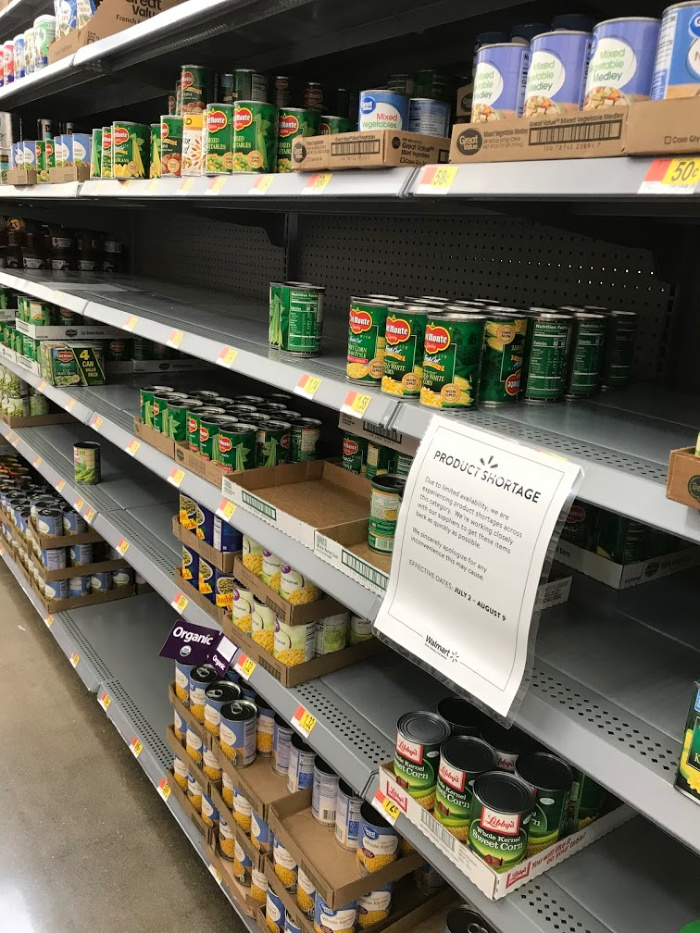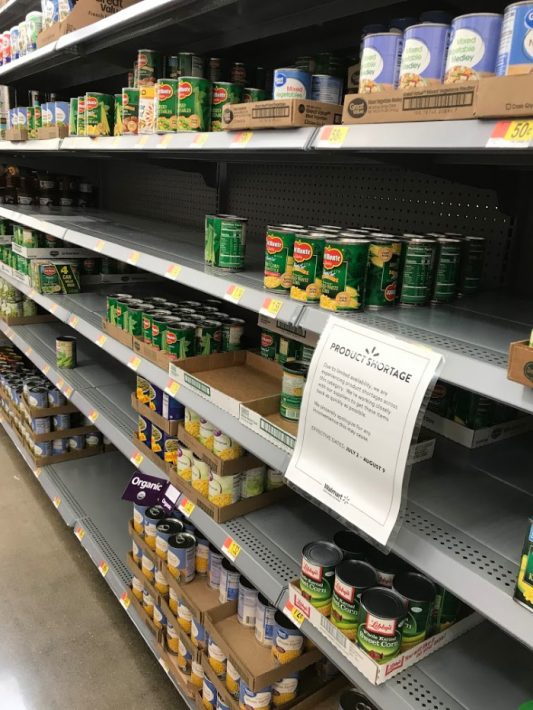 Home Canned Foods
Of course, if you have access to a Farmer's Market or your garden is flourishing, by all means canning your own food is so much healthier and cheaper in some cases. But not everyone has the equipment, jars, lids, etc.
Plus, we must consider the health and strength of family members. We can only do what our health and budget warrants.
Great Canned Foods
Water:
Yes, we still need 4-gallons of water per day per person, but today I'm just talking about canned foods.
Dairy Products:
Vegetables:
Asparagus
Artichoke hearts
Beans
Beets
Carrots
Corn
Potatoes
Diced tomatoes
Stewed tomatoes
Pizza sauce
Spaghetti sauce
Enchilada sauce
Sauerkraut
Green chilies
Water chestnuts
V-8 Juice
Rotel Tomatoes
Tomato sauce
Tomato paste
Fruits:
Fruit cocktail
Peaches
Apricots
Applesauce
Pears
Pineapple
Cherries
Mandarin oranges
Pie filling
Pumpkin
Canned Protein/Meats:
Tuna
Chicken
Ham
Corned Beef
Vienna Sausages
Canned ground beef
Salmon
Sardines
Canned bacon
Peanut butter/Jams/Jelly
Spam
Dry Beans Are Awesome:
Pinto
Black
Garbanzo
Navy/White
Kidney beans
Cannellini
Lentils
All beans work for me, I love them
Condiments:
Mayonnaise
Miracle Whip
Mustard
Ketchup
Salsa
Hot sauce
Vinegar
Oils
Honey
Flour
Sugar
Salt
Baking powder
Baking soda
Spices
Olives
Pickles
Soy Sauce
Worcestershire sauce
Hickory Smoke Sauce
Barbecue sauce
Ready-Made Boxes or Canned Foods:
Chili
Stew
Soup (just add water or milk)
Boxes of Mac and Cheese
Muffin mixes
Pancake mixes
Ravioli's
Spaghettio's
Cake mixes
Crackers
Oatmeal
Cream O'Wheat
Malt O'Meal
Temperature Safe For Storage:
We can't all keep our houses at 65 degrees. If you have a very cool basement you are one of the lucky ones. The cooler we keep these foods the better. I'm not saying to store them in the refrigerator, but definitely not in the garage due to high temperatures. Please keep all boxes in airtight containers, if possible, so rodents can't chew through them.
FREE Printable Lists
Final Word
Let's make this list as long as we can, I will add the canned foods you use to my list. Let's help the world be prepared for the unexpected. Let's stock up as soon as possible. May God bless this world, Linda