11 Foods To Buy On A Cheap Budget
I have 11 foods to buy on a cheap budget today. Mark and I went to Costco yesterday and nearly choked over the price of steaks. We went there for some other items, but people were grabbing those packaged ribeye steaks like no tomorrow.
Yes, they were probably going to barbecue them for the weekend, I get it. But the price for 3 steaks was $91.00. They were beautiful and marbled throughout. I just couldn't believe the price was over $21.00 per pound.
I could almost feel my cholesterol going up just looking at those beauties! There is nothing better than a juicy tender barbecued steak.
Unless it costs $30.00 or less per package and I get to cook it myself. Nope, it's not going to happen. So, today, let's get real, my friends. Unless we have a cow, or a pig, or some chickens in our yard, we may need to cut back on meat.
Those of you who raise your own meat, I applaud you. I would love to do that, but it's not realistic in my stage of life at this time and at my location.
There are still options to properly feed our family, slash our grocery bill, and eat healthy at the same time. A bonus is having a garden, of course. Then we can supplement our grocery budget with fresh vegetables from right out our back door.
I love my Aerogarden, I'm saving to purchase a second one. In case you missed this post, Growing Fresh Lettuce Indoors Year-Round. I still have lettuce growing in the unit and we eat a salad almost every single night with tomatoes from our garden.
My Favorite Pans for these Items
11 Foods To Buy On A Cheap Budget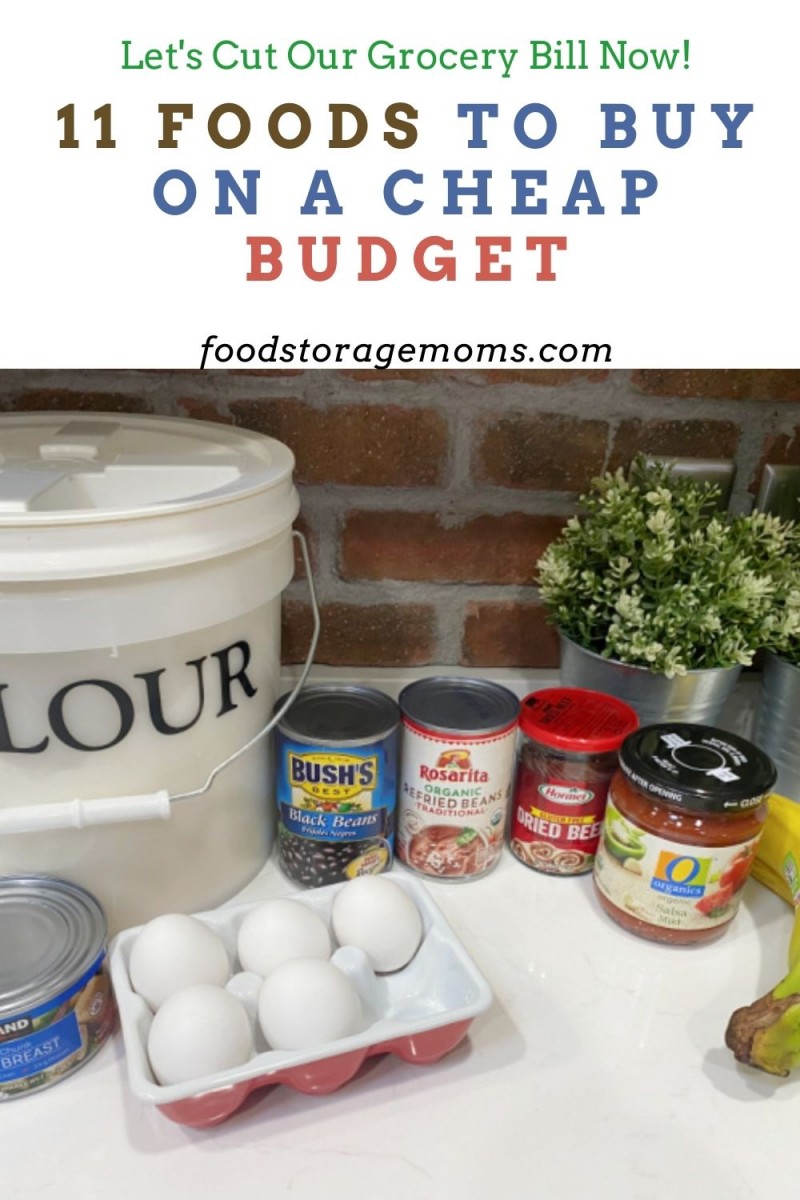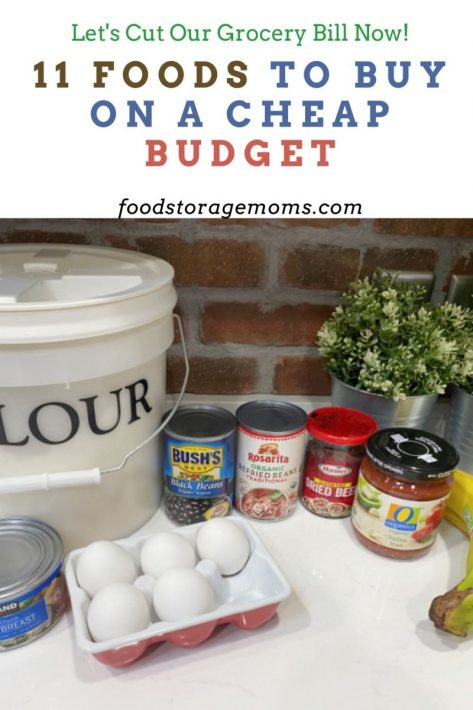 11 Foods To Buy On A Cheap Budget
1. Rice
Do you love a bowl of sticky rice? Mark and I eat rice almost every night because we love it. It's easy to make a big batch ahead of time and bag the leftovers into a few meals for the week. We make fried rice, rice bowls with vegetables, and top them off with teriyaki sauce.
Open a can of mandarin oranges and that rice is now even better with those small oranges on top.
You can make burritos with rice and beans for breakfast, lunch, or dinner. That's why I always stock salsa, lots of it. Tacos are great with some rice added to the beans. It will stretch your budget, and your family will enjoy a different flavor to boot.
2. Beans/Lentils
I love beans, they can be dry or in cans. My favorite beans are pinto beans, followed by black beans, and lentils taste great in soups. We can make lentil tacos, bean tacos, or a combination of beans and lentils in tostadas. In case you missed this post, Lentils: Everything You Need to Know.
3. Oats
We can use oats for a bowl of hot oatmeal and add some of our dehydrated fruits to it and our bellies are full! I used to add oatmeal to my hamburgers to stretch the patties a bit further. And who doesn't love oatmeal muffins, right?
4. Pasta
When I had kids at home we had spaghetti once a week, a pasta salad another night, and casseroles with pasta. My homemade soup always had pasta in it. Back in the day, it would have been elbow macaroni, spaghetti noodles, or lasagna. Life was good with pasta, spaghetti sauce, and grated cheese.
5. Bananas
If there was ever a great deal on fruits, it's bananas, right? Mark and I pile them high every week when we pick up milk at the grocery store for his cold cereal. I'm sure people wonder why we buy so many, but I also like them in smoothies and on ice cream. Life is good with a bowl of ice cream and bananas.
6. Spinach
The great thing about spinach is you can get a HUGE container of organic baby spinach for about $3.00 – $4.00 and it goes really far. We like it in soups, quiches, salads, and smoothies. Just think of all the nutrients in that spinach!
I understand some people who are on blood thinners can't have spinach, at least that's my understanding. This is my very favorite spinach salad, The Best Spinach Bowtie Pasta Salad
7. Eggs
Mark and I grew up eating bacon and eggs for breakfast. Not a lot of bacon, more eggs, but still our breakfasts were awesome. I'm not sure when it changed, but now it's scrambled eggs or quiches with a little bit of leftover ham or bacon. Or it may be no meat at all, just homemade bread with butter works with scrambled eggs, right?
8. Peanut Butter
What's better than a peanut butter and jam sandwich? Did you notice I didn't say peanut butter and jelly? I like the jams with chunks of fruit, that's how I roll. We started buying smaller jars of peanut butter and jam because our family is now down to two people and we want the jams to stay as fresh as possible once the container is opened.
I remember raising our girls and we bought #10 cans of peanut butter, I actually miss those days.
9. Canned Meat
Do you love tuna or chicken salad sandwiches? We add mayo or Miracle Whip to the can of drained meat and mix it up. If you have bread and butter pickles it's the best meal ever. We usually add some of our favorite chips too. Mark loves those with a BBQ flavor!
10. Frozen Vegetables
It's really awesome when I see the mid-week ads in the mailbox show frozen vegetables for $1.00 a bag. You can keep them in the freezer or dehydrate them if you have a dehydrator.
They are great as side dishes or add the dehydrated veggies to a pot of soup. One of my favorite frozen vegetables is chopped onions. When I want to make tacos, sloppy joes, or soup, the chopped onions are ready to go. No slicing, chopping, or watery eyes.
11. Flour
Today, I want to really ask people to teach their kids and grandkids how to make bread, biscuits, tortillas, pancakes, and even sourdough bread or pizza. Life is good when you can make your own bread and related food items, I promise.
All of my recipes are no-fail. If you have fresh ingredients YOU CAN MAKE bread! In case you missed this post, How To Make My No-Fail Homemade Bread
11 Foods To Buy On A Cheap Budget
Final Word
I really hope you enjoyed the 11 foods to buy on a cheap budget today. If you have some ideas, let me know and I'll add them to this post. It's crazy how much food prices have gone up and we need to help each other save money whenever we can.
Is it the weather, is it because the farmers don't have people who can pick the produce? Is it a water shortage (drought), or the truckers who are unable to deliver the goods? I'm still not sure why we are seeing prices spike right now.
It's all about teamwork. If we have a broken link the food chain becomes ineffective and so does everything else. Please keep stocking up and teaching your kids and grandkids to cook from scratch. It's a much-needed skill. May God Bless this world, Linda