Chicken Noodle Soup Recipe
This is truly the best homemade chicken noodle soup recipe in the world, even if I say so myself. I have made this for years, and now my grandkids ask me for the recipe. The reason I think this is the Best Homemade Chicken Noodle Soup Recipe is the fact that 99.9% of the ingredients are right there in your pantry, freezer, refrigerator, or food storage shelf. I wanted to update this recipe since I enjoy serving it so much, and hope you'll learn to do the same.
You can interchange some cans of chicken with frozen chicken or leftover chicken, besides using a variety of veggies to add flavor. Different pasta choices add even more adventure when making this soup.
You can make your own noodles, or use my secret ingredient noodles: Grandma's Frozen Egg Noodles are what I used today. Of course, you can boil your packaged noodles/pasta of choice and add them later when the soup is almost finished cooking. I use my electric crockpot so I can do other things because I usually have ten things going on at once. So I set the crockpot on low and go about my day doing stuff we all do each day. I call it my set and forget dinner. It really is a very yummy smooth soup with just the right amount of spices. It practically fills my 3-1/2 quart crockpot. It's a great soup to take to a neighbor who is ill or needs a little something from a friend to cheer them up for any reason.
In case you missed this post, Chicken Noodle Soup Mix in a Jar
Chicken Noodle Soup Recipe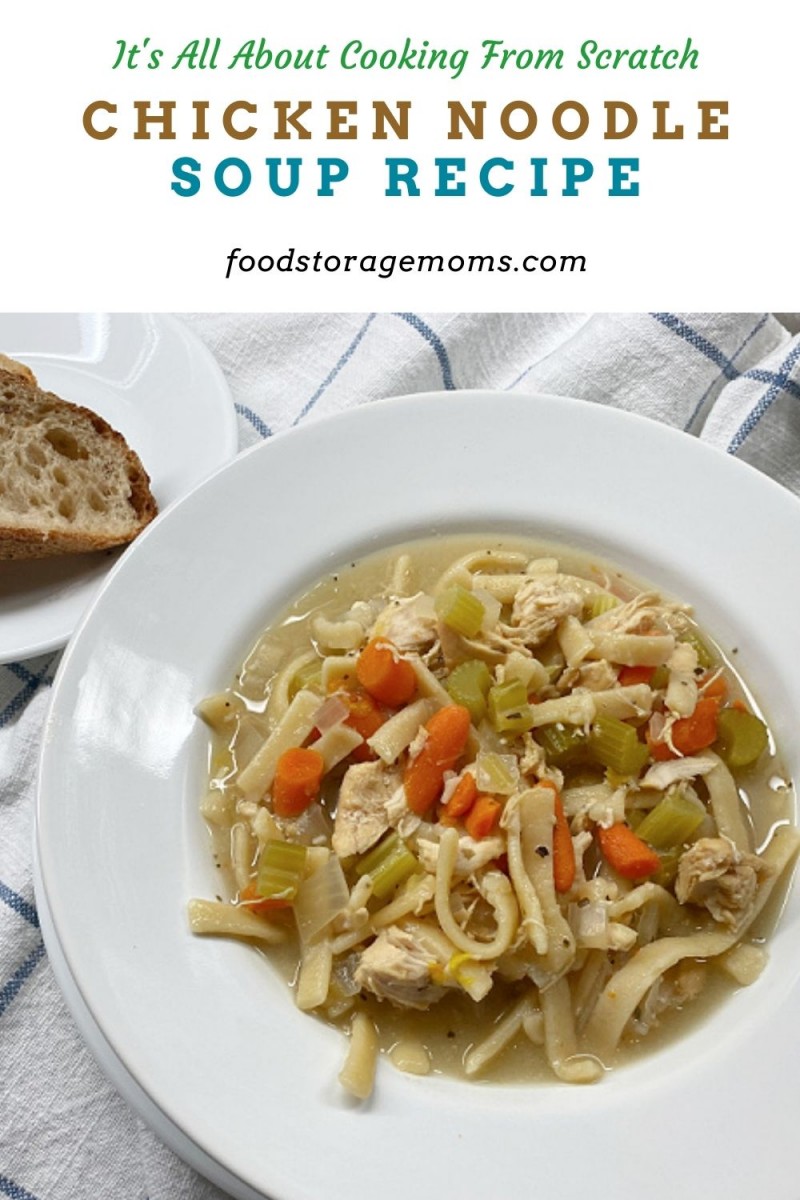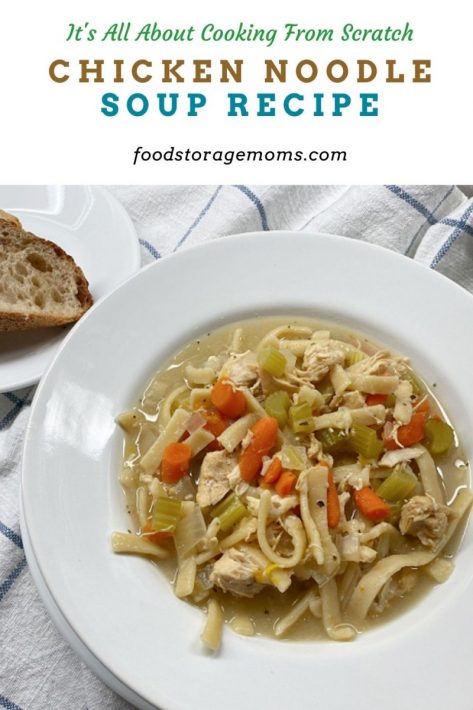 Items You Will Need In The Kitchen:
Chicken Noodle Soup Recipe
Step One: Gather Your Ingredients
Gather your ingredients so you are ready to assemble the soup. I used a slow cooker today, but you can make this in a soup pot as well. I like the slow cooker approach so I don't have to keep checking it for a boilover. It also saves on having to stir for a consistent "cooked-through" result.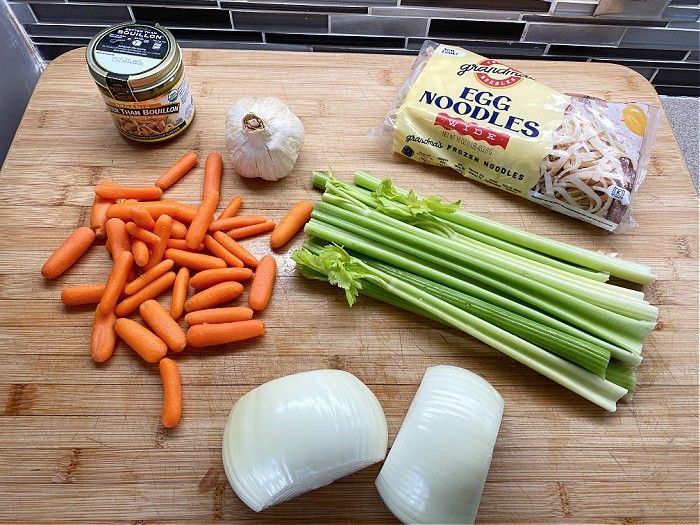 Step Two: Have Spices Ready
I like to gather the spices so I'm ready to add as needed. There's nothing more frustrating than having to go look for an ingredient during the preparation process. What really "takes the cake" (an old saying Mark uses) is when you realize you don't have one of the ingredients and have to make a quick trip to the store.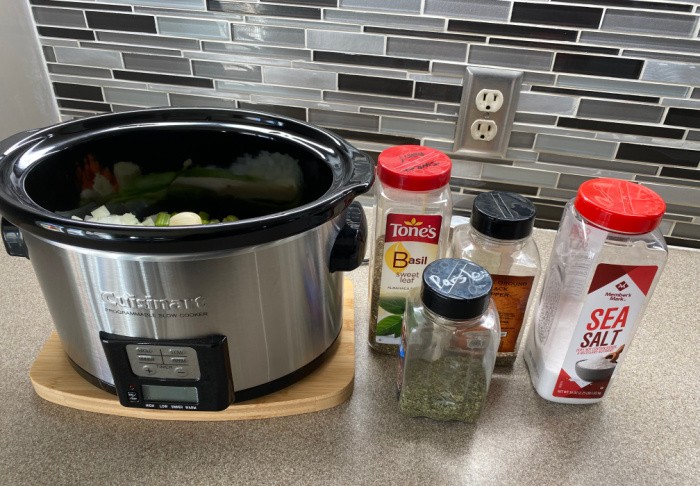 Step Three: Use Bouillon Chicken Base
Today I used a "Better Than Bouillon" chicken base. After opening it you place it in the refrigerator. Chicken Bouillon You can use chicken broth or another chicken bouillon you like. This bouillon product is one I've used for a long time and found it to be very flavorful and easy to work with.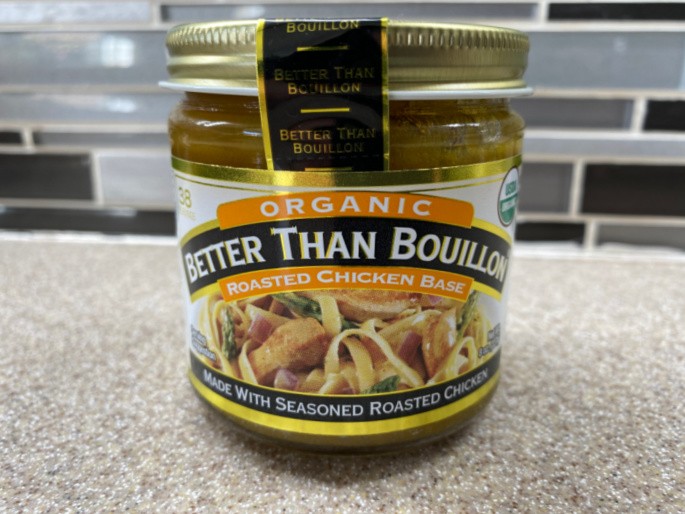 Step Four: Prepare Noodles
I realized today when we picked up these Grandma's Frozen Egg Noodles they have a NEW package, so be sure and look carefully when you pick some up. Of course, you can use regular noodles, but these are my favorite so I tend to use them most of the time in my noodle soups buy. They are as close to homemade noodles as I can make. Remember, they come frozen, so you'll need to check the store's frozen food cases to locate them.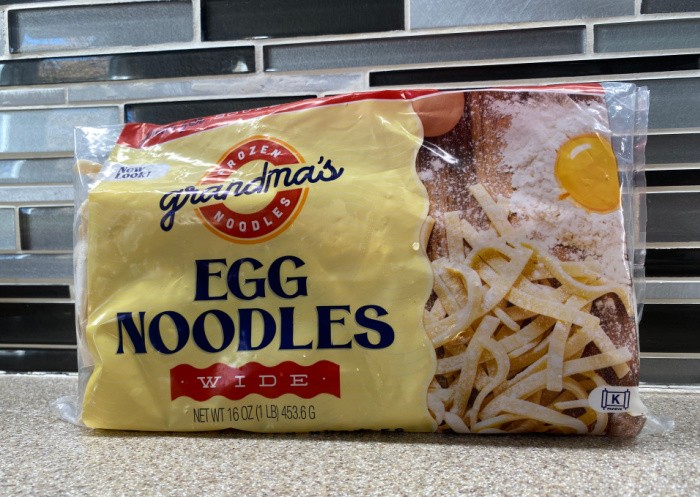 Step Five: Combine Ingredients
Combine the chopped onions, chopped carrots, chopped celery, and some garlic to the slow cooker.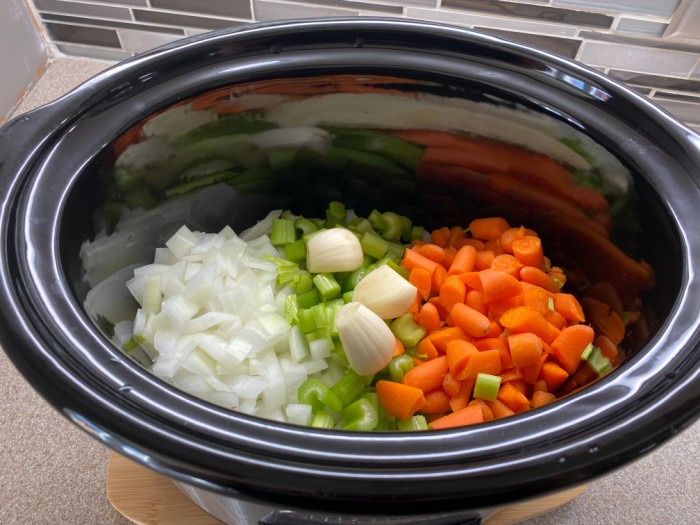 Step Six: Add Seasonings
Add the seasonings and the chicken bouillon to the slow cooker.
Step Seven: Add Water
Now add the six cups of water to your slow cooker.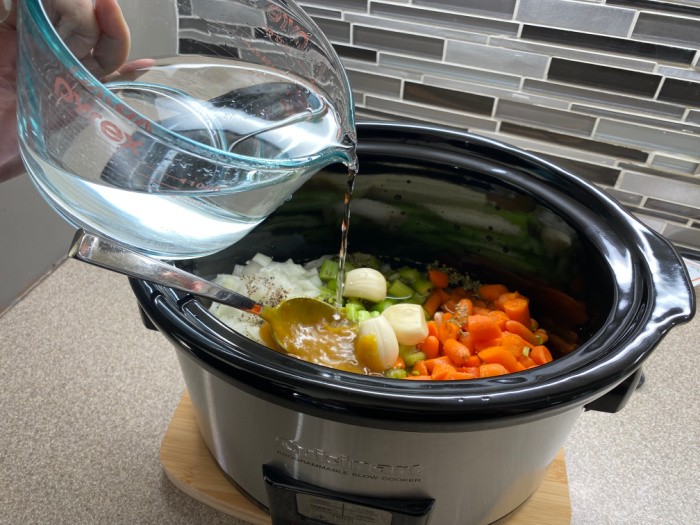 Step Eight: All Ingredients in Cooker
This is what it looks like covered with water. I have to have a cutting board underneath when using a slow cooker or a pressure cooker to protect the countertops. This is the one below my slow cooker, it measures 16.1 x 12.13 x 1.06 inches. It's a Pemberly Row Bamboo Large Chopping Board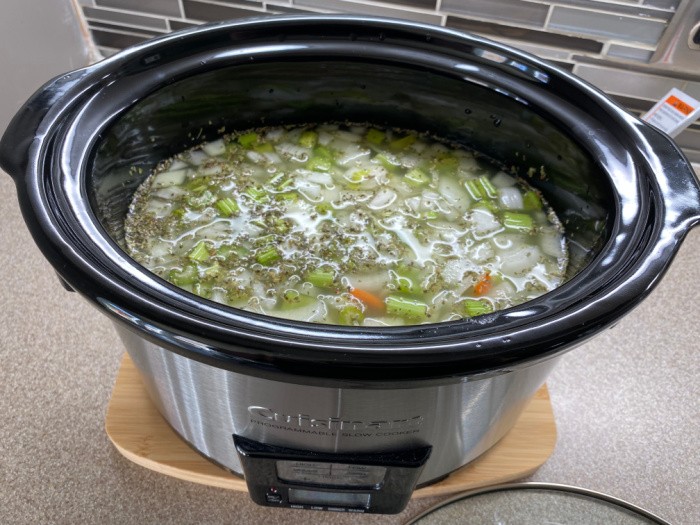 Step Nine: Prepare Chicken
Today I decided to use some frozen chicken tenderloins. I cooked them with water in my microwave. I'm trying to use up what meat I have in the freezer instead of canned chicken, but either one will work. Cooking them first makes me feel more comfortable since I know they will be cooked through and through by the time the soup completes its cooking time.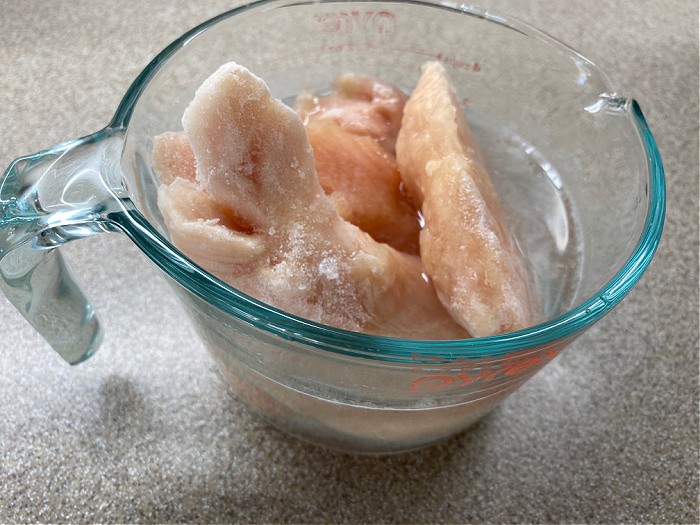 Step Ten: Cut Chicken
After cooking them, I cut the chicken into bite-size pieces. Cooking them first also makes this step that much easier.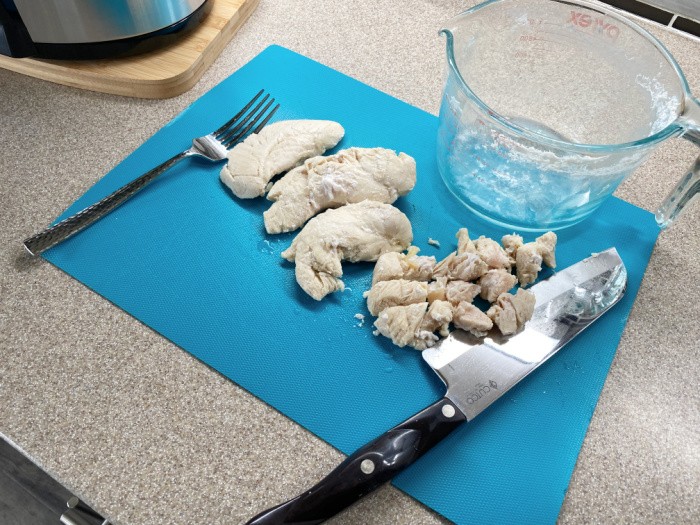 Step Eleven: Add Chicken to Cooker
Next, I added the cooked chicken and turned on the slow cooker to low. I love starting dinner early in the morning, don't you?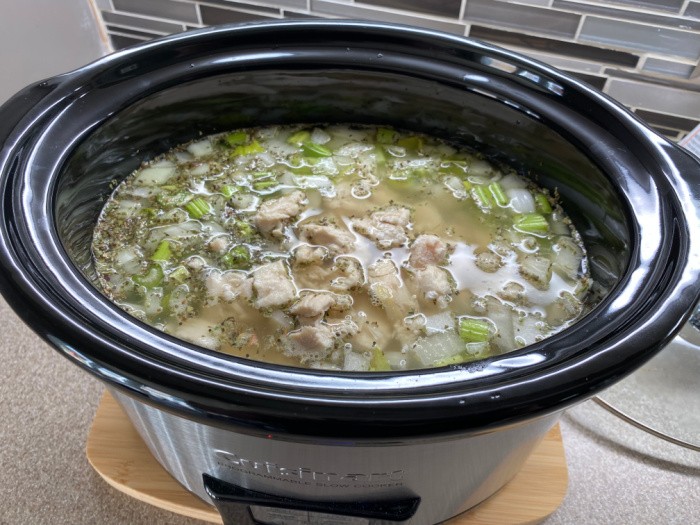 Step Twelve: Cook Til Done
Note in the recipe I list dehydrated veggies as an option. I try to use my stash of dehydrated foods whenever possible. They taste just as good, take up less shelf space, are always available and ready to use, and I feel so good putting my preparedness inventory to use. Some of the veggies I use are actually grown in my own garden. Life is sweet!
Chicken Noodle Soup Recipe
Keyword:
Chicken Noodle Soup
Ingredients
2

cans of chicken (12.5 ounces each drained, or substitute 2 cups of cooked chicken)

6

cups

water

1/4

cup

Better Than Bouillon Chicken Base, or substitute equal amounts of water with chicken broth

3/4

cup

freeze-dried onions, or 1 fresh onion chopped into bite-size pieces

3/4

cup

dry dehydrated carrots, or 1-1/2 cups diced fresh carrots

3/4

cup

dry freeze dried celery, or 1-1/2 cups diced fresh celery

1

teaspoon

dried parsley

1

teaspoon

dried sweet basil

1

teaspoon

pepper

salt to taste

1

package Grandma's Frozen Egg Noodles (11-ounces cooked and separated as directed, or boil your pasta of choice)

2

cans cream of chicken soup undiluted (optional)
Instructions
Combine all ingredients in a slow cooker on low for 6-8 hours, BUT add the Grandma's Noodles the last two hours or they will be mushy. Enjoy!
Who invented chicken noodle soup?
It's amazing what you can find out on the Internet. I was curious how this delicious meal-offering came about, so I Googled it. It turns out that the learned men of ancient Greece felt that by combining chicken and broth you could provide something that had health benefits. Who knew they would end up being right?!
The Asians also started combining chicken and broth in 1200 – 1300 AD. During the 1700s the tradition of using this soup to help heal people had migrated to Italy. The US jumped on the bandwagon in the early 1900s, and serving noodle-based soups has become a staple ever since.
The Campbell Soup Company has been making this combined chicken with noodles soup for many years. They offered a "new" soup they called "Noodle with Chicken Soup" in 1934 and it did ok in the marketplace. It wasn't until about 1939 that a radio announcer plugged an ad and called it "Chicken Noodle Soup" by mistake, prompting a sales frenzy, and the rest is soup history.
Does chicken noodle soup help a cold?
As mentioned above, chicken with noodles soups has been viewed as having health benefits for centuries. No one can say this soup cures anything, but science has shown that besides the health benefits from its nutritional value, it can provide some emotional and psychological support when people are sick.
This soup's contents and texture, when eaten at a warm temperature, can tend to soothe a sore throat, besides being easy to digest. Sick people often don't feel like eating anything, but they need nourishment now more than ever. The ingredients can help to strengthen our body's immune system, thus speeding our recovery. It also helps to protect against viruses and has the nutrients to help the overall health of gums, teeth, and our eyes.
One key thing during sickness is to be sure and stay hydrated. Since soup is water-based, its consumption helps keep us hydrated whether we are sick or not. It also stimulates our nasal passages with the steam it generates if heated sufficiently. Electrolytes in the body as also key to good health, and this soup has sodium, magnesium, and potassium to fill that bill.
All the ingredients including zinc, vitamins A and C, and a number of antioxidants, combine to help us build up our muscles, bones, and blood, making us feel stronger and better able to fend off future health challenges. Besides, the ingredients, particularly the noodles, make us feel full and satisfied.
If you're following a particular diet, note that one cup of this chicken noodle soup, depending on all the various ingredients available to include in the soup, has 150 calories, 13 grams of protein, 5 grams of fat, and 12 grams of carbs. Yup, it's really healthy for almost anyone to eat on a regular basis.
How do I store the cooked chicken noodle soup?
Like almost any food you want to store, putting this soup in an airtight container and placing it in the fridge is the answer. I'd feel comfortable having it there for 2-3 days. Anything beyond that is iffy.
Can I freeze the soup after cooking it
As you would do for the fridge, put the soup in an airtight container, or even a strong freezer bag. You should be able to store it there for six months or longer, as long as you keep the soup frozen at all times.
Can I substitute some of the vegetables?
One of the great and unique things about soups of all kinds is the option of trying various substitute ingredients. This particularly applies to the vegetables. If you want to check out a number of the recipes for chicken noodle soup on the Internet, you'll see things like eggplant, mushrooms, zucchini, and really any legume choice. I also saw some recipes suggesting you add kale and/or spinach. Give any or all a try and see what you think.
Can I make this without chicken?
Not all soups have to include meat to taste good. Of course, you'd have to change the name if trying to describe it to others. The ingredients would remain the same, just drop the chicken and the instructions for how to prepare it.
What can I do to make the soup creamy?
Just like we did with adding different veggies, you can try a variety of items to make the soup look more creamy, have a creamy taste, and have a creamy texture. I like adding some Cream of Chicken Soup. Others will actually add real cream, heavy cream, milk, or flour during the cooking process. Again, try each one separately or in combination to see if you like the results.
I add one to two cans of cream of chicken soup (undiluted) to the slow cooker about 2 hours before serving.
What can I serve with chicken noodle soup?
Most soups are great on their own, but many of us like to have a side dish of some kind to spice up the meal. Here are a number of options to try as you design the ultimate family meal with goodies from your pantry, fridge, or freezer:
Tossed Salad
Fruit Salad
Sliced Fruit
Cheese and pizza
Bisquits
Crackers, any variety
Pretzel rolls
Ham and cheese rollups
Deli sandwiches
Bread sticks
Almost anything you can dip in the soup
How long can I store raw chicken in the fridge?
Raw chicken can be left in the fridge for around 2 days. Chicken shouldn't be stored in the fridge for longer than this. If it spoils, you should be able to tell from the color and the smell. My approach has ALWAYS been when in doubt, throw it out.
Final Word
The winter months are here, and what better time to try a new chicken noodle soup recipe? There is nothing quite as soothing on a cold winter night as a hot bowl of soup. If you're also trying to eat healthy so you can ward off those pesky winter sicknesses, this is a great choice, and you'll relish the flavor and comforting feelings at the same time. Don't forget to incorporate some of your homegrown veggies, and if you raise chickens too, that is truly awesome.
Soups can bring out that "creative" side of you. Get that slow cooker out and become the kitchen king or queen you've dreamed about. It's all about being prepared, loving the time spent in the kitchen, and enjoying meal prep and dining with family. Thanks for visiting my site today, I appreciate it. And also keep prepping, you'll be glad you did. May God bless this world. Linda