How To Turn The Gas And Water Off To Your House
Today it's all about how to turn the gas and water off to your home. A couple years ago I happened to go out to our garage to get a loaf of bread out of the freezer. Well, we had water running down the shelf that held our 8-year-old water heater. I mean like a small river. I was surprised, and I'm sure most of you would be too. In some disasters the issue may not be water that is rushing from the gas water heater, it may be the gas due to a bent or broken gas line. So, I want to challenge everyone to find your water and gas turn off valves, today.
Here's the deal, I have neighbors call ME to ask how to shut off the water line to their house. It's been because their water heater has gone out, or they read where I suggested they consider turning off the water when they leave their home for a few days. Let's start with turning off your water. I hope this picture helps you. You turn the handle either horizontal or vertical depending the direction of the pipe.
How To Turn Off The Water To Your House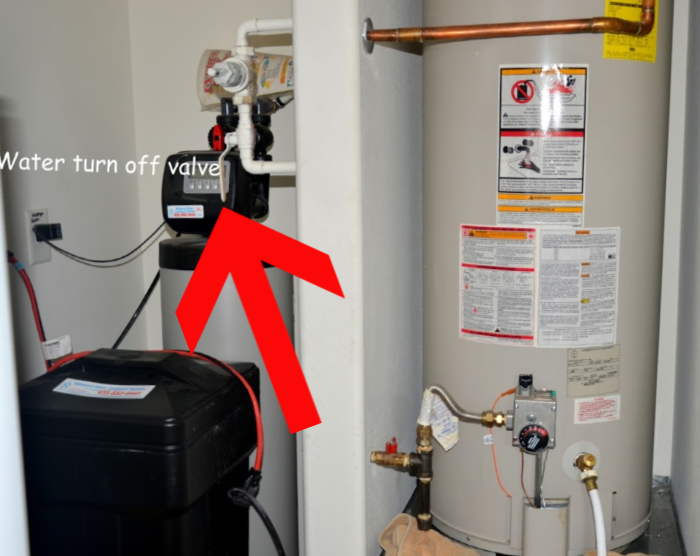 We all need to know how to turn the water off in our houses, as well as outside our homes. I had a cute neighbor who was a plumber by trade and he told me once, "I wish people would turn the water lines off when they go out of town even for 3 or 4 days." He said, "If people only knew how much damage water can do to their house if it springs a significant leak while they are gone, they would turn off the water inside the house whenever leaving to go on a weekend or long vacation."
He also mentioned to "turn off your hot and cold water pipe valves to their washing machine" as another, less safe option if you are going to leave for an extended period of time. Well, I am sure my neighbors would have called me if they saw water running down the driveway from under the garage door. I'm just glad I was home and not out of town. I used so many towels to mop up the water, as you can only imagine, right?
Learn Where To Turn Off Your Water Heater Valve
He also showed us how to turn the water heater valve off at the top of the water heater to STOP more water going into the leaky water heater. It made me think about what would happen if we had a disruption in our city water lines, and thus, no hot water. We at least had cold water for 48 hours. We can live with cold water for a few days. Boy, do we take these water heaters for granted!
The water valve shown above turns off the water to the whole house. My plumber told us we could shut off just the hot water by turning a valve on the top right water inlet pipe above the heater (not shown).  Once the new heater was installed he turned the valve back on. We had already turned off the gas line to the water heater once we knew the heater was not functioning properly. You can see the red gas valve on the bottom left side of the heater in the picture above. Yours may be somewhat different. I know many of you have electrice water heaters, so the gas line issue doesn't apply. But if the heating element goes out in that electric water heater, or if the unit starts leaking water out of the bottom like mine did, you'll still need to turn off the water source.
Please take a minute today to see where to turn the water off to your house. Not tomorrow, today. Please be prepared for the unexpected.
How To Turn The Gas Off
Here's a picture on how to turn the gas off to your house.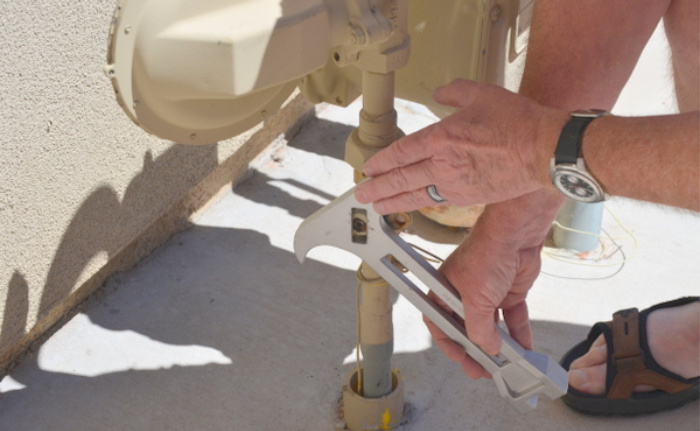 Here is a tool every family should have in order to turn off your gas line. Please know, I am not telling you to turn off your gas line unless you feel you are in eminent danger and you can't contact the gas company. You can sometimes cause more problems if you turn off your gas and then must have the gas company come and turn it back on. I'm just asking you to be prepared with a tool that you can use if you have an emergency.
TED: Warning, Warning, Warning
Turning off the gas to your house at the street is important, but turning it back on again is a different thing. It is best to have an official technician from the gas company turn it back on.
The problem is that part of the gas meter system is a 4 inch disc shaped object in the gas pipe near the meter. This disc contains a thin membrane that changes the 30 pounds of gas pressure from the street to about 6 pounds of gas pressure in the house. I f you turn the gas meter on in one fast turn it is possible to rupture this membrane and you get 30 pounds of gas pressure inside of the house which can have dire consequences.
There is a careful way to turn the gas back on just as the gas company technician would do it but it is a slow process involving turning all of the gas valves off inside the house appliances and observing the second hand on the gas meter as you turn the valve on very slowly to make sure no gas is flowing inside the house. Then the membrane is not ruptured. Then turn each appliance's gas on including lighting the pilot light according to each appliance's procedure.
Final Word
Here's the deal, please show your family members how to turn off the water to your house. If they are older, show them where the gas line valves are. Let's be prepared before we need to be. May God bless this world, Linda
P.S. Please check your carbon monoxide and smoke alarms. Change them out if they are too old, or replace their batteries if that's all that's needed.
Change Your Air Conditioning/Heater Filters