The Truth About Dirty Furnace Filters
Do you know how often to change your furnace filters? I'm talking about the furnace and air conditioning air filters in your home. My cute neighbor called me a few years ago to come over and help her figure out what was wrong with her air conditioner since she couldn't get it to turn on.
Here's the deal, I absolutely love to figure out why something does or does not work. I want to know how to turn off the water lines, gas line or where the breakers are located, etc.
I really think it's because I am left-handed. I am not sure.
The first question out of my mouth was "when was the last time you changed your furnace filters?" She said two months. Okay, that's about right. I went over and checked the thermostat and the outside HUGE power breaker for the air conditioner.
My husband went with me and he pulled the breaker out and put it back in to test it. We tested the regular circuit breakers to make sure nothing was tripped on the board.
HVAC-what it means
I looked up in the ceiling where the vents are located in most of the homes in our neighborhood. I mentioned to her that she should keep those vacuumed and that we all needed to change the filters on a consistent basis.
We could see they were dirty and needed to be replaced. Then we checked everything we could check before she called a repair company.
I then gave her a phone number for the company I use to repair my HVAC units. HVAC stands for heating, ventilation and air conditioning. HVAC controls the very indoor air we breathe every day.
This is why the furnace filters must be changed at least every 30-60 days. After checking out the system the HVAC company concluded the problem was due to the furnace filters being EXTREMELY dirty and that caused a tripped safety switch.
She had to pay for a service call, but thank goodness it did not blow the compressor or wear out the fan motor. WooHoo!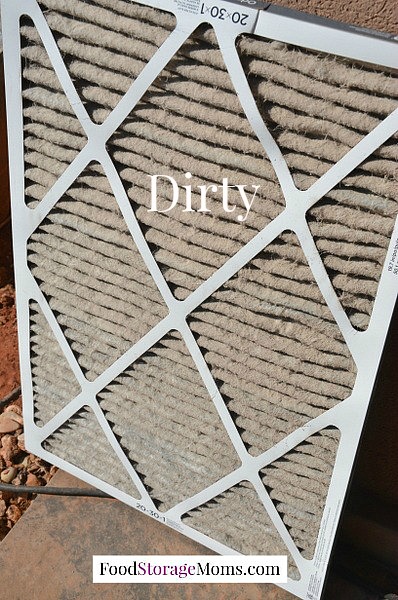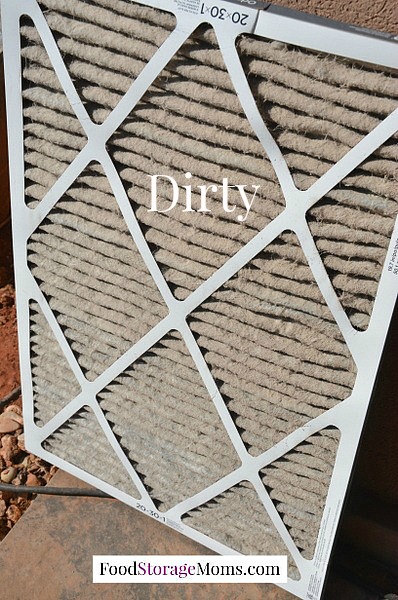 Dirty Furnace Filters
She for sure needs to change her furnace filters more often. I have to laugh because I call her my BFF on the street. She told me in her last house she owned she had not changed them once in 14 years.
Oh my gosh. LOL! We were surprised the air conditioning and furnace still work. I adore her, but we will now go over and replace her air filters when we replace ours.
This is not the first time I have seen air filters that have not been changed as often as they should have been. I used to sell real estate and one of the things I always looked at when showing a home to someone is that I would check the air filters.
If the filters were clean I could almost assume the rest of the house was cared for in a good way.
I really wanted to add this post during this article this month to make sure everyone is prepared for the winter. There might be a neighbor of yours that could use some help to replace their air filters.
It seems like every year we hear or read about people who have died in their homes from the heat in the summer due to faulty air conditioning, or cold in the winter when the furnace isn't working right.
It's critical we know our neighbors because they might not have anyone who checks on them.
Critical Things about Furnace Filters
1. You breathe the air that is circulating in your house if they are dirty, oh my, just think about what you are breathing,
2. Clean air filters mean less strain on the A/C or furnace motor.
3. If you can't see through the furnace filters they probably need to be replaced. People with pets ( if they are the type that shed-pet dander) may need to replace their air filters more often.
4. Don't go cheap just to save money on the filters. You may spend more in the long run if a family member gets sick, or if your HVAC unit wears out sooner than expected. Try different filter brands and capacities to see what works best for your family. It could be you can do just fine with the less expensive filters.
5. I have a lot of allergies so I buy the 3M Ultra Allergen 1500 filters.
6. You will save energy bills by having clean filters-no reason to waste $$$$ on energy bills if a clean air filter will help cut your bills.
7. Having clean air filters will actually extend the life of your A/C or furnace unit.
8. If you have allergies or asthma it's critical that you replace them more often-maybe even more than once a month.
9. Check around and buy several so you always have a few spares on hand.
10. If you rent, be sure and ask your landlord if they will provide extra air filters for you to keep on hand since it saves them repairs in the long run.
Outside air quality
Here is a link to National Air Quality Outside Levels (you can decide if the air quality is good for your health to venture outside or to open windows). All you need to do is enter your zip code.
Final Word
Please change your furnace filters often to keep your family safe and help your equipment to last longer. May God bless this world, Linda