Are You Prepared for a Medical Emergency?
Are you prepared for a medical emergency? You may have health insurance and a first aid kit, but do you have the important information you need to help you recognize the signs of a medical emergency? Regarding your overall health, you may try to eat well, exercise regularly, and make it a habit to get plenty of rest at night. But even when our bodies seem to be in good physical shape, that still doesn't count out the possibility of you having a medical emergency anytime.
Perhaps you've heard some of the horror stories of younger people collapsing on the ball field or basketball court? What would you do if that were your son or daughter, or maybe even one of your students? Would you know a few of the basics to help keep them alive until the paramedics or other first responders arrived?
It doesn't take a natural disaster in your area to cause you or a family member to experience a medical-related incident. Depending on your personal medical history, you may be better prepared than others for a life-threatening situation where you need emergency medical services. You may have gathered some health information regarding your current medical conditions. You may have been given some advance directive steps by your doctor(s) so you know what to expect and how to respond. That may include when to visit an urgent care facility or make an emergency room visit.
Sadly, many people may not have the information available to make the critical decisions necessary. Let's discuss some issues you need to acquaint yourself with, just in case you need medical care that only emergency personnel can provide. That way you'll have additional information to help you do some of the emergency planning you should be doing BEFORE the emergency hits.
Are You Prepared for a Medical Emergency?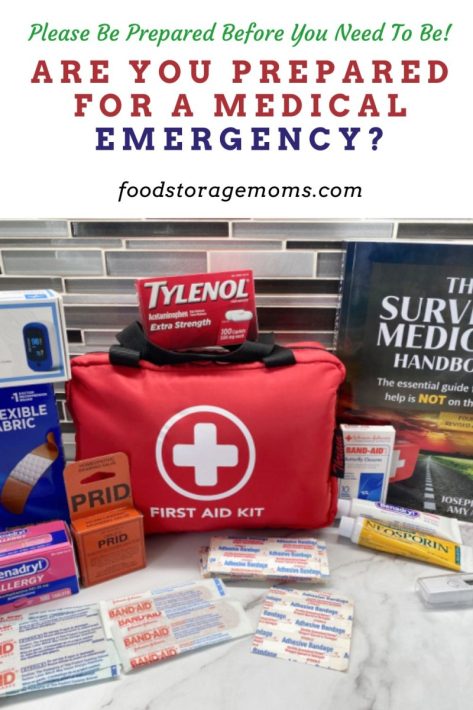 In Case of a Medical Emergency
A medical emergency is a traumatic event that can happen entirely out of the blue. Instead of cowering back in fear in those moments, choose to rise to the occasion by being well prepared beforehand. I have a few beneficial tips that may help you save a life one day, and I don't mean that lightly. Keep reading to find out what are some simple, yet effective ways to be prepared for any medical emergency.
Create a List of Medical Information for Each Family Member and a Consent Form
This one may not seem that important, but by you having each family member's medical information available you can alert arriving emergency responders with critical facts needed. The physicians at the hospital or clinic will need to understand some medical history. That could include previous illnesses, medications being taken, past surgeries, and any allergies to possible prescriptions administered. Having a list of your doctors' names, phone numbers, and other contact information can prove very important in case they need to reach out to them.
This information will allow them to administer help much more quickly and effectively. And by you giving your consent by documentation ahead of time, you have given them authorization for treatment. That may include emergency surgery if necessary when their legal guardian isn't present. What To Do When There Is No Medical Help or the new 4th Edition The Survival Medicine Handbook
Learn CPR (Cardiopulmonary Resuscitation)
Are you aware that about 70% of all heart attacks take place in the home? And what's worse, over half of Americans feel completely powerless and wouldn't know what to do in those situations. That doesn't have to be you! Organizations like the American Red Cross, and the American Heart Association always offer introductory CPR courses that can be set up over the phone. Besides learning CPR, you'll also be required to learn how to perform the Heimlich on a person that's choking, as well as other life-saving practices.
Learn About What are Some Classic Medical Emergency Indicators
A lot of the time, there are a few warning signs that a person is experiencing, or is about to have a medical emergency like a seizure or a stroke. But if you're aware of these indicators, you could possibly prevent, or at the very least, lessen the severity of a medical emergency. You'd also be able to call 911 for help sooner because you realized the signs before anyone else did. The following are several classic indicators of a medical emergency:
Difficulty breathing
Uncontrolled bleeding
pain in the chest or abdominal regions for more than two minutes
vomiting or coughing up blood
Severe diarrhea or vomiting
confusion
a quick change in behavior
sudden dizziness or blurred vision
slurred speech
suicidal thoughts
Knowing how to help someone get medical help and when to visit an emergency room (ER) or emergency department (ED) is one of the smartest things you can do. Until the healthcare professionals get there, someone is depending on you to make an emergency call and execute an emergency response plan. Having medical professionals make the right diagnosis as soon as possible could certainly save someone's life.
Keep a First-Aid Kit in Your Home and in Your Vehicle in Case of Emergency
In several emergency cases, you'll need a complete first-aid kit with you in order for you to be an effective medical treatment provider until the professionals get there and can take over. The treatment might be as minor as a scratch or rash, or more serious as a puncture wound. Either way, you need to be prepared as best as possible.
Not only should you keep one in your home, but you should also consider keeping one in each of your vehicles. That way you always have one with you wherever you go. Your first-aid kit should include items such as:
bandages
adhesives
superglue
antibacterial ointment
scissors
tourniquet
gloves
CPR mask or barrier device
Tylenol
Personal medications for any family member that may need them
Benadryl for allergic reactions
Poison Control phone number: (800) 222-1222, please check to see if you have a local number for your area.
If you're still looking for a more thorough list of all the medical items that you should consider having in your first-aid kit, here's a list that's provided by The American Red Cross.
Other Last-Minute Medical Attention Tips
Before I wrap this up, there are a few other helpful tips that may prove useful to you one day. Some may even seem a bit petty, but hey, it's better to be safe than sorry.
Keep telephone numbers of hospitals and emergency room facilities with you.
Having in your wallet or purse your insurance cards with health insurance companies' names, policy numbers, contact information, co-pays, and some coverage information is very helpful.
Make sure that all family members know how to call 911.
Keep all significant medical information accessible, like in a file or folder.
Know your blood type.
Make sure that all family members know the location of first-aid kits and/or supplies.
In a medical emergency, if you don't have access to a phone, be familiar with your surroundings and look for help from anyone nearby.
Try and remain calm. Panic is not going to make anything better. Staying composed will allow you to think straight and act fast in case of an emergency.
Don't forget to add the In Case of Emergency (ICE) contact information in your phone.
Medical problems can happen in the blink of an eye, the big question is are you prepared for a medical emergency? Remember that emergencies can happen anywhere, at any time! It could take a while for emergency responders be arrive on the scene, so try to be as prepared as possible to provide aid as needed.
More Emergency Tips
Final Word
Medical emergencies can be extremely scary and take a toll on you and your family, but with the right preparation and planning, you can handle them with confidence. Just remember to stay informed, always have a first-aid kit available at home and in your vehicle, and learn basic CPR techniques. Keep a list of medical information for each family member. Should a medical emergency ever happen to you or one of your loved ones, you'll be glad you did!
In case of an emergency situation, you should know how to deal with many medical situations and emergency services. It's vital that you have the right emergency contacts in place and that you know how to reach the emergency department. Medical treatment can be something that needs to be done right away, which is why it's vital that you understand the importance of emergency care. May God Bless this world, Linda