How To Get Started With CERT
What in the world is CERT all about? Well, the initials, C.E.R.T. stand for Community Emergency Response Team. You can see a few different tools below that Certified CERT-trained people will use in a disaster. We as neighbors, friends and family need to learn how to work together in the event of an emergency.
As a group of neighbors, we took the eight-week course and we really did learn some great tools to use during and after a natural disaster or unforeseen emergency. It's important to know what CERT is and how it can help your community as people get involved.
I wrote this post back in March of 2014, and with all the emergencies and disasters in the news lately, I felt the need to update the information for my readers. I strongly believe that some of you may want to become certified if you aren't already.
Please note they have annual training to update all of us, so if you're interested in knowing how to organize a group in your neighborhood, this is for you. The idea of training civilians to assist in the first responders' role may seem strange to some of you, but CERT members can make a real difference.
This means that those of us who are trained by CERT will step up to the plate and do things we have been trained to do when and as needed. In most cases, we are not medically trained. If you think about it, medical personnel will be heading to clinics, hospitals, and makeshift medical care facilities. So our neighborhood and community will be helping each other as those who've completed CERT basic training jump in to assist.
How To Get Started With CERT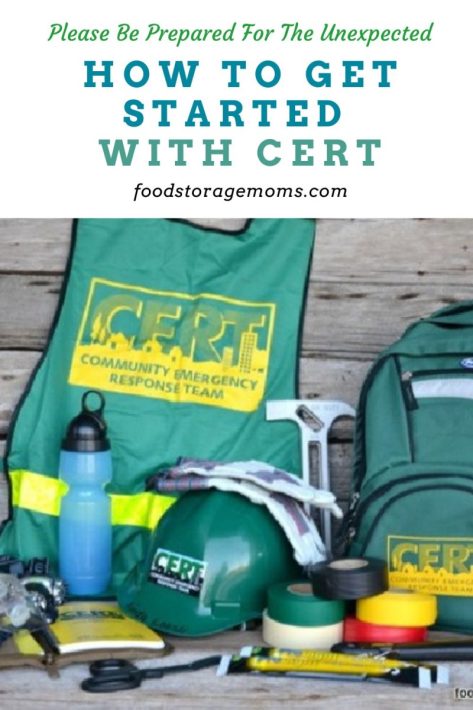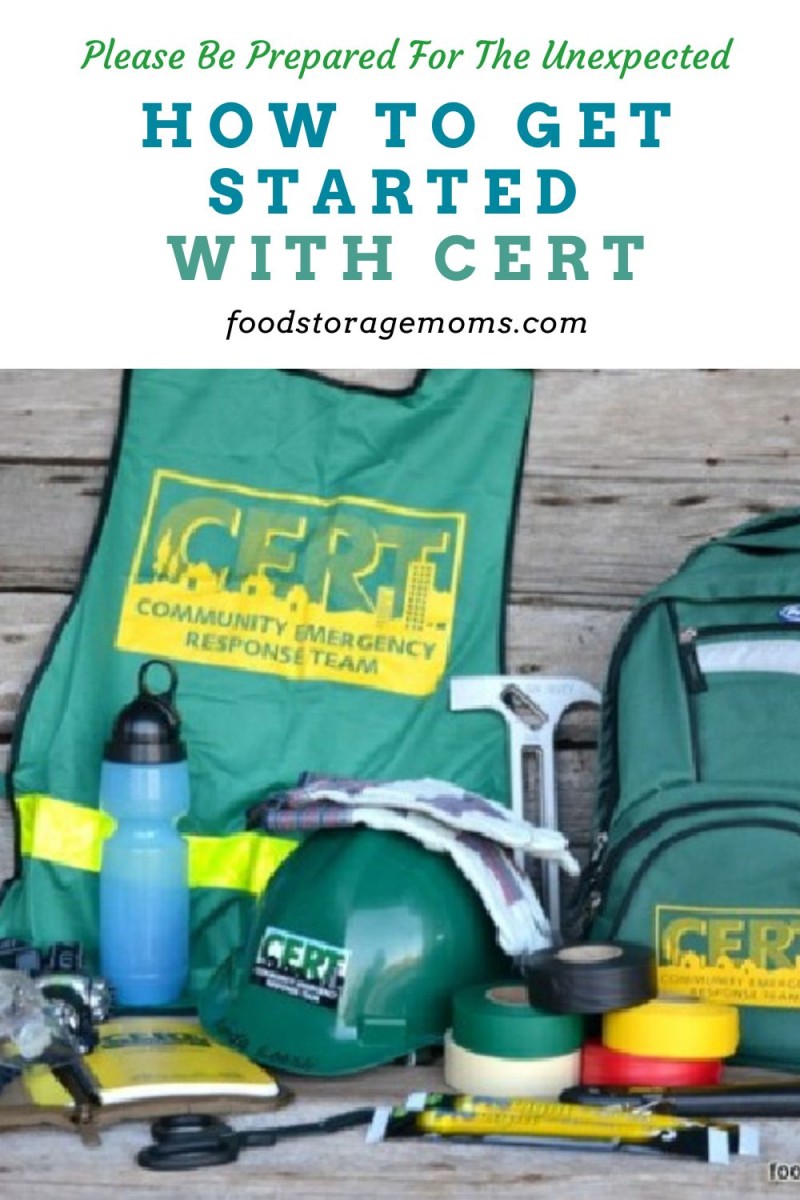 Why do we need CERT instruction and community involvement?
The course teaches you what to do after any disaster, including how to choose someone to be in charge of your team. The hazard training teaches members triage as part of the CERT concept. That means a trainer will instruct you on how to evaluate the condition of the individuals and property affected. You then put into use what you've learned and do things like apply different colors of tape needed for letting others know which condo, home, or apartment dwelling is in need of attention. You need to have someone in charge of emergency response very quickly after a disaster.
I have talked about this before, but I will mention it again. Here's the deal, after a power outage, for example, during the first 24 hours you will look to see if the neighbors have lights. Hmmm, they don't. In the next 24 hours, you will go check with your neighbors to see if they know what's going on. The first 24 hours may not be a big deal, depending on the type of disaster or emergency, but the next 48 hours could be critical if people don't start looking out for each other.
CERT-trained community members may be asked to provide some needed supplies and assistance.
It's during the second 24 hours that people realize they have not prepared themselves for disaster by storing food, water, and other items we've talked about on this blog for years. This is when people may get mean and try to take advantage of others. Let's just say they WILL be mean if they aren't prepared at all.
Hunger and being thirsty are not pretty, and seeing your family look at you for food and water will be awful if you haven't planned ahead. Please remember, we must be self-reliant, the government won't deliver any food or water for days or weeks, possibly. I want you to think about what's in your house this very minute, that may be all the food and water, toilet paper, soap, etc. you have available for use for a fairly long time.
The roads may be so damaged you can't drive on them. The stores are closed due to a major disaster. If the stores are open the shelves will be empty within 24 hours or less.
How to Get Started with CERT
We also need to have some physical tools as well, in order to help each other with immediate needs. We are NOT doctors or nurses, but we need to know how to help our neighbors, friends, and family until help arrives, such as government agencies and medical personnel.
It could be a few hours, a few days, or even a few weeks in the most severe situations. None of us know when help may arrive. We NEED to be able to take care of ourselves. We can't always depend on our government or local authorities, they can only do so much.
Community Emergency Response Team
Here are some of the things you will learn if you take all of the classes. My two favorite things in the class were learning to use a fire hose (it's heavy and awkward to use, but fun), and listening to a doctor trained in psychological first aid.
Disaster Preparedness
Fire Safety
Disaster Medical Operations-Part 1
Disaster Medical Operations-Part 2
Light Search and Rescue Operations
CERT Organization
Disaster Psychology
Terrorism and CERT
Course Review and Disaster Simulation
Why Every Community Needs CERT
Let me give you some statistics for OUR area in Southern Utah. These statistics are a few years old, but nonetheless, please look at these numbers in St. George, Utah (Washington County) area. We have on average 140,000 people living here. Washington County has 17 ambulances, 46 fire trucks, and 204 police cars.
We have two hospitals with 145 beds available to serve this population. These numbers are scary, we can't depend on anyone but ourselves if a severe disaster hits. Please check out your local numbers. You might just be as surprised as I was when I saw the reality of the situation.
What's In A CERT Bag or BackPack?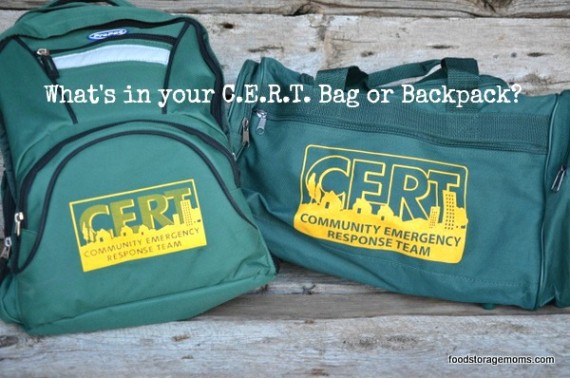 Here's the deal, I have no medical training but I can organize just about anything. I thought to myself if we could get twenty people to join us, our neighborhood would be in better shape than it was before the classes. Well, we had 5 people, of course, now I live in Northern Utah, so I'm not sure how many are trained here in this neighborhood.
The C.E.R.T. backpack on the left above is actually my bag. The one on the right is my C.E.R.T. emergency bag with supplies. My husband has his own bags which I will show another day. He carries the medical supplies. We both have several duplicate items because we might not be in the same area all the time. We have slowly added to the bags as our budget could afford the items.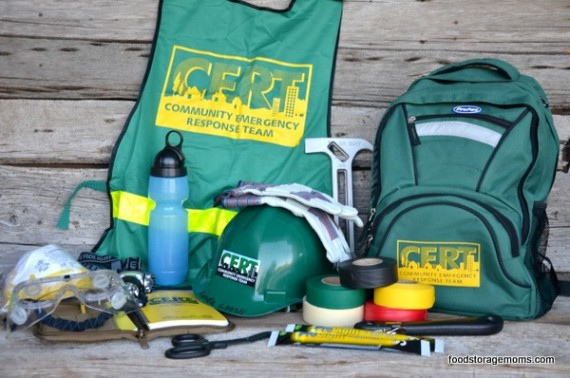 Here are the contents of my CERT backpack:
A book to note my inventory and evaluation of homes and people, different colors of tape to mark the assessment of the injured people (red=needs immediate help, yellow=delay/not immediate, green means they are ok and may not need much assistance, and black means they are the worst off and possibly dead – Note: we'll discuss triage and the use of the tape in more detail below).

Berkey Sports Bottle for filtering water, goggles, headlamp, work gloves, and a 4 in 1 tool (shown below), CERT vest, light sticks, and scissors, N95 masks. My N95 Masks:

3M 8000 Particle Respirator N95, 30-Pack

or

3M 8511 Particulate N95 Respirator with Valve, 10-Pack, and hardhat
A set of instructions for various scenarios do deal with utility connections.

We all need to be aware of how and where to shut off our water, electricity, and gas lines.

Of course, we would never shut off the

gas unless we can smell gas or fire

coming our way, common sense needs to be used. I recommend everyone get the tool "On Duty" for shutting off gas lines, water lines, etc. It is a 4 in 1 tool. This is it: On-Duty Emergency Gas & Water Shutoff 4-n-1 Tool for Earthquakes, Hurricanes, Fires, Floods, Disasters, and Emergencies.
Mark's CERT Bag Has Medical Supplies
Mark's ( my hubby) CERT bag has all the medical supplies we will need until help arrives. if it arrives. I know of two nurses and one doctor in our neighborhood. Of course, I don't know everyone that lives in the subdivision.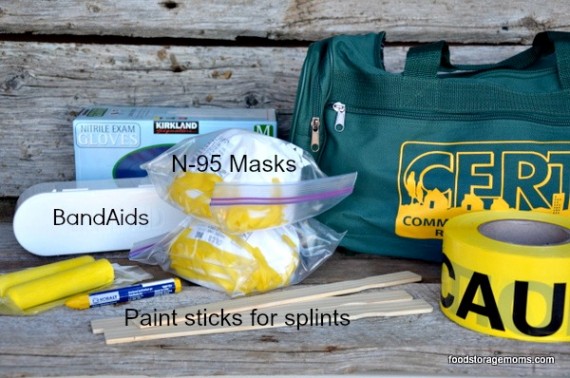 Some Items I'd Suggest You Consider Including in Your Bag(s):
duct tape
flashlight(s)
first aid kit
sharp knife
clippers
sunscreen
toiletries
toilet paper
small tools like wrenches, hammer, socket set, screwdrivers, hand saw, etc.
ear plugs
sticks for splints
Update on the bags: We took a suturing class by a doctor to show us how to suture deep and shallow cuts if we had to do it. We now have two suture sets included in our bags. I have added a stethoscope and several surgical scissors and bandages we might need.
Items like bleach will be critical if the sewer lines are broken.
We will need black bags for trash, and body bags to tag or label with the name (if we know the name).
I was really disappointed with the HOA where I lived after I asked for a list of the families that lived there. They refused to give me a list. I understand the privacy stuff, but I can only help those people who I know.

I can't waste any time on homes that appear empty when I know people live in homes near me.

I wanted the list so I could ask people for their next of kin. I know my kids would want to know I was okay if I was hurt and unable to communicate.
Basics of CERT
This information is taken out of my Citizens Corp-CERT Participant Manual, I just modified the script to personalize it more.
CERT-Fire Safety
1. You basically gather facts regarding the disaster, what has happened, and how many people are involved.
2. Assess and communicate the damage, walk around the area, and determine what has happened to a house or commercial building you are assessing.
3. Consider probabilities, what is likely going to happen now, or what may happen through cascading events.
4. Assess your own situation: are you in immediate danger? Can you handle this situation or have the equipment that you need?
5. Establish priorities, are any lives at risk? Can you help? Remember, life safety is the first priority.
6. Make decisions, and base your decisions on the answers to steps 1 through 3. Establish priorities.
7. Develop plans of action, develop a plan that will help you accomplish the priorities, whether verbal or if more complex, and write them down.
Fire Extinguishers
In the CERT class, we all learned how to have a buddy with us to assist in putting out a fire. I must tell you those fire hoses are very very heavy. That was probably the most exciting thing I learned during our training. You sweep the hose to put out the fire.
Here are some interesting facts about regular fire extinguishers we have at home, in the garage, or in the car. All fire extinguishers are labeled with certain labels to identify which classification of fuel the extinguisher will be effective:
1. Class A Fires: Ordinary combustibles like paper, cloth, wood, rubber, and many plastics.
2. Class B Fires: Flammable liquids like oil, and gasoline, charcoal lighter, and kerosene.
3. Class C Fires: Energized electrical equipment like wiring or motors. Once the electricity to those is turned off they become a Class A.
4. Class D Fires: Combustible metals like aluminum, magnesium, or titanium.
So when you purchase a fire extinguisher it is extremely important to identify the type of fuel you suspect would be most common so you can select the correct extinguisher you think may be best for your personal situation to do the job correctly.
Triage
As mentioned above, one of the more interesting parts of the CERT class dealt with the term triage, which is a term that means "sort." Triage isn't always necessary, but during triage, the victims of a disaster are evaluated, then sorted by the urgency of the treatment needed, and then set up for immediate or delayed treatment.
Triage is used extensively in military maneuvers and has been shown to be very effective in situations where:
There are many more victims than rescuers.

There are limited resources.

Time is critical.
You use triage as soon as possible after victims are located or rescued. During triage, victims' conditions are evaluated and they are prioritized and labeled (tagged) into at least three categories:
* Immediate (I): The victim has life-threatening injuries like a blocked airway, heavy bleeding, or shock, that demand immediate attention to save their life. There is an urgent need for rapid, life-saving treatment. You can use two approaches to tag the victim: the first would be to put some red tape on the victim, and the other would be to write an "I" on the victim with some kind of marker. I guess another option would be to attach the red tape and then mark the tape with the "I", then there wouldn't be any questions.
* Delayed (D): In this case, the injuries don't jeopardize the victim's life. The victim may require professional care, but treatment can be delayed. Here you tag them with yellow tape and/or mark them with a "D".
* Dead (DEAD): Here you note that there is no respiration after two attempts to open the airway. Because CPR is a one-on-one type of care and is so labor-intensive, CPR is not performed when there are many more victims than there are rescuers and you need your people resources applied to those who can survive the disaster. This is where you use the black tag.
One other tag to consider is a green tag that identifies the individual as in reasonably good/ok condition and not needing care.
Triage May Prove Difficult to Perform
The CERT program has the goal to do the greatest good for the greatest number of people. The process may seem to be a little arbitrary, but it isn't a heartless exercise, you really are trying to help those needing the most assistance in the fastest manner possible.
The victims are then taken to the designated medical treatment area (immediate care, delayed care, or morgue). If you've had time to label the treatment areas with "I", "D" or "Morgue" you can use any spontaneous volunteers or the less injured to help move the victims to these areas as appropriate.
There are special procedures to follow when conducting triage as listed below:
* Step 1: Stop, Look, Listen, and Think. Before you start, stop, and size up the situation by looking around and listening to observe and listen to what is going on around you and the victims. THINK about YOUR safety, capability, and limitations, and decide if you will approach the situation, and if so, how you'll perform what is necessary.
* Step 2: Conduct Voice Triage. Begin your efforts by calling out as follows: "Emergency Response Team. If you can walk, come to the sound of my voice." If there are survivors who are ambulatory, instruct them to stay at a designated location and continue with your triage process. There may be victims present who can provide useful information about the disaster at hand, unique issues about the location or building involved, and specific information about other possible victims who can't be immediately observed.
* Step 3: Start Where You Stand and Follow a Systematic Route. Start with the closest victims and work outward in a systematic approach to cover the area as quickly and effectively as possible.
* Step 4: Evaluate Each Victim and Tag them. As mentioned above, "I" = immediate, "D" = delayed, or "DEAD". Remember to include those who may be walking around but are still wounded/injured.
* Step 5: Treat "I" Victims Immediately. Initiate airway management, bleeding control, and treatment for shock for the "I" victims.
* Step 6: Be Sure to Document the Triage Results. Outline how resources were deployed, detail the victims' locations, and record how many casualties were assisted under each category of severity.
Safety Comes First
Although we are all concerned about the victims in a disaster situation, the rescuer's safety is most important during triage. Proper protective equipment is vital so you don't endanger your own health. If you get hurt your ability to help others is limited. If you come in direct contact with other's blood there may be long-term consequences. Take proper precautions!
Finally, consider helping to organize a CERT class in your neighborhood so all interested can benefit from the great training being offered. Check with your local police or fire department to see what it would take to put the CERT class together, then get busy and promote the class to everyone you can. It will be worth your effort. The CERT book alone is worth the price of the class, and the CERT backpack is a bonus. We learned a lot in the awesome class!
What is a Community Emergency Response Team?
According to Ready.gov "The Community Emergency Response Team (CERT) program educates volunteers about disaster preparedness for the hazards that may impact their area and trains them in basic disaster response skills, such as fire safety, light search and rescue, team organization, and disaster medical operations.
CERT offers a consistent, nationwide approach to volunteer training and organization that professional responders can rely on during disaster situations, allowing them to focus on more complex tasks."
How to Get CERT Trained
If you want to get trained in CERT, then you will need to complete the classroom training that is offered by a local government agency. Sometimes the police or fire department will offer classes.
How to Get FEMA Certified
If you want to take it a step further and get FEMA certified, then you'll need to contact the Independent Study Program's Customer Support Center at (301) 447-1200 or independent.study@fema.dhs.gov.
FEMA: Federal Emergency Management Agency.
You might want to go check out "The Volunteer Protection Act of 1997": The Volunteer Protection Act of 1997 signed by President Clinton(https://www.npccny.org/info/gti2.htm).
Final Word
This is one more way to be prepared for the unexpected. Please look into getting CERT Certified, you will be glad you did. May God bless this world, Linda