Drones: What Can They Be Used For?
Just a couple of decades ago, drone technology was something that could only be found in the hands of our government. Today, that story no longer holds true. Drone sales have continued to go up, year after year, where consumers have various reasons they feel they need one. 
Our kids can even get their hands on one down the toy aisle. People have found so many innovative and practical uses for drones, which has helped make our lives easier. They've also been able to save countless human lives. Drones: what can they be used for?
What To Stock Up On In September
Drones: What Can They Be Used For?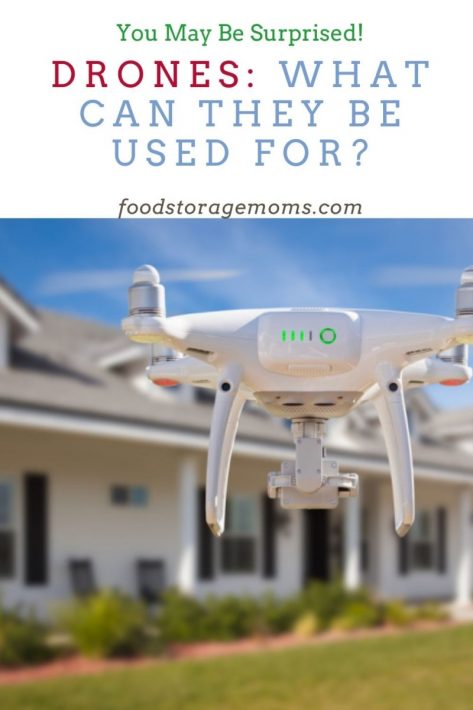 But not all people think that drones are a good thing, and they have some good reasons to feel that way. Drones can take away our privacy as U.S citizens, but they've also been responsible for taking innocent lives. Here's a number of different ways that drones are used and I can guarantee that a few of them will surprise you. 
Military
Drones have been used by the CIA, and also our military and ground forces for more than a decade now, especially in regions of the Middle East. They have helped dramatically reduce the risk of putting our American troops in danger and also as a useful strategy in collecting surveillance, intelligence, and performing airstrikes.
Detecting bombs is another way that drones have been able to save the lives of our military men and women.
Drones have been effective in targeting and taking out terrorists and their leaders. Yet they've also been responsible for killing a large number of civilians, something that is against international law. Because of this, many people are against the use of drones in the military, because some people feel the military leaders are treating war more like a video game and not really considering human life.   
Fighting Crime
Fighting crime is another way that drones are often used. They are capable of gathering evidence to warn law enforcement of a threat before it happens. Drones can be useful at crime scenes, providing more details than what we can see on the ground.
Many people don't appreciate the thought that our privacy as U.S citizens could be breached, but drones can prevent crime and save lives. 
I want to share what happened to Mark and me one night around 10:00 P.M. We were watching the nightly news and I saw a huge white light flashing in our backyard. Of course, the dogs then went crazy. We have shutters (which were closed), but the white light was very bright even then. The dogs started barking louder and I thought maybe someone was in our backyard. We could see the light shining over both backyards on either side of us.
Then, we could see the lights flying overhead when we stepped outside. Okay, this was about 6 years ago and drones were not that well known, at least where I live for civilian use. We then went out front and there were several police cars with lights flashing. Then we saw a few policemen on foot with flashlights and weapons.
Of course, we went back inside and learned later that two people had ditched a stolen car on the freeway and headed into our subdivision. This is when I learned about drones flying around neighborhoods via policeman. It gave them "eyes" to find criminals. We saw firsthand how well they worked.
Now, it seems every neighbor has one and even the kids are using them in the street. I must confess, I was a bit creeped out when I was working in my backyard and I could see something flying towards my house. I asked my granddaughter if she could see it, my eyes aren't as good as they used to be.
She said I think it's a drone. Sure enough, the closer it got we could see that it was an orange drone. The weird thing is if you are working in your garden and you see this object in the sky above you, you may wonder, "what are those drones flying around my house for?" In a way, I felt like I no longer had my privacy in my own backyard. I must be honest, I didn't like it.
Illegal Activities
As I've already mentioned, drones aren't always in the right hands. Drones can also be used for illegal purposes as well. More highly advanced drones can carry a substantial amount of weight, and fly through the air at speeds of up to 40 mph.
Because of their capability and how accessible they are, drug smuggling across the border while using drones has been an ongoing concern over the past several years.
Weather Forecasting
Drones can also be helpful with weather predicting and teaching us more about climate change than ever before. Most of our weather data that is collected takes place in a stationary building. Yet with drones, they can travel and follow the weather as it develops to provide us with more accuracy.  
News Coverage
Drones are also very reliable when it comes to news coverage. They can take aerial shots and video with live footage of areas that are unsafe or impossible for people to reach. Drones have been used to get footage of California fires, flooded areas, and witnessing a Skyview of the aftermath of tornadoes and hurricanes.   
Agriculture
Farmers and agricultural workers are always looking for ways of improving their efficiency, while also expanding their crop's yield. While the thought of using a drone for farming sounds more like something from Star Wars, more and more farmers are using drones to help with their repetitive and time-consuming tasks. 
Farmers can use drones to help cultivate their crops by dispersing seeds, fertilizing, and spraying pesticides. Drones are also capable of pollinating flowers and produce, which is very useful at a time when the honeybee population is in rapid decline. Companies are also working on a solution of how to use drones for picking produce during harvest.     
Construction
It's also not uncommon to see drones hovering over construction sites during the planning and as they survey the progress of the construction. They have advanced camera technology that is used not only to monitor the buildings, but the topography and soil type throughout the building process. 
Archaeology
There have been huge strides made in archaeology with the help of drones over the past couple of decades. They've been able to survey sites and collect useful data much quicker than ever before.
Transporting Medicine and Aid
Natural disasters and emergency situations can create a huge need for medicine and aid in a hurry. Drones are capable of transporting medical supplies and medicine to areas that may be considered high-risk for responders to reach. 
They can also be used to search for survivors at a greater vantage point than what the ground offers. Search and rescue operations have also used drones in the past to direct rescue workers on the ground to where the victim is located.  
Pizza Delivery
You've probably never had your pizza delivered to you at your door by a flying man-less craft, but that day may arrive here sooner than you think. Several restaurants and delivery services have been working to develop a system to deliver with drones for a quicker and cheaper delivery. Surprisingly, they can carry a reasonable weight of food. 
Companies like Domino's, McDonald's, Uber, among many others, have already been testing the market with this for a number of years now in various places around the world. Even Amazon is in the process of using drones to speed up their delivery services.
Amazing Selfies
Hoping to impress your friends with how you took that impossible selfie without having a selfie stick present? This is one of the more fun purposes of having a drone. That, and using it to take incredible pictures while you're on vacation. Don't forget to bring it when you are taking pictures of the Grand Canyon!  
Final Word
When people hear about the wonderful uses of drones, there's usually a bunch of mixed feelings in a group. Drones have been used to save lives, but also for taking life as well. They can transport decent sized loads, and even farmers have found uses for them. As drones continue to become more accessible to us, it will be interesting to see what else they are capable of.  What do you think of drones: what can they be used for? May God Bless this world, Linda.
Copyright Images: Drone Deposit photos_206783602_s-2019