How To Use A Nebulizer When The Power Is Out
This is a topic that really concerns me, how to use a nebulizer when the power is out. If you or someone you know has mentioned nebulizers and what will they do when they lose power, this is a very frightening thought or feeling. I was up in Salt Lake City, Utah recently, and when I'm up there I like to stop by the Goal Zero facility in Bluffdale, Utah and to visit with the staff. I like to see all the new things available, and I love their customer service and employees.
They go above and beyond helping me with my questions. I really like to know the ins and outs of how things work.  I wanted to try out my Goal Zero YETI 400 solar power source with some young girls who use a nebulizer, Jenna, and Avery who are sisters. I did a YouTube for you as well so you can see how the solar power source works. Jenna is 11 years old and has had asthma since she was a baby. Avery is 5 years old and has asthma as well. Elaine, their mother mentioned to me how concerned she is if the power goes out, so I asked her if I could show her how to use some solar power from a Goal Zero YETI 400 with her nebulizers.
How To Use A Nebulizer:
This is Jenna above with her mouth-piece attached to the nebulizer which is being powered using zero electricity, just solar power from the Goal Zero YETI 400.
I asked their mother, Elaine, to explain how a nebulizer works:
"My girls use a nebulizer whenever their asthma flares up, or when they have any respiratory problems restricting their breathing. This could be something as simple as a mild cold, but for someone with asthma, it can quickly turn into pneumonia because their lungs just aren't as strong and can't clear out the obstructions. The nebulizer works by delivering liquid medication (Albuterol is what we use) in vapor form directly into their lungs and it helps open up the airways so they can cough easier and breathe more naturally. When we need it, it takes about 10 minutes to disperse the medicine and is repeated every 4 hours. We typically are doing this every 4 hours for a few days when we are doing it."
This is Avery using her mouthpiece with the nebulizer. All solar power from the Goal Zero YETI 400! Here is the nebulizer using only solar power in action: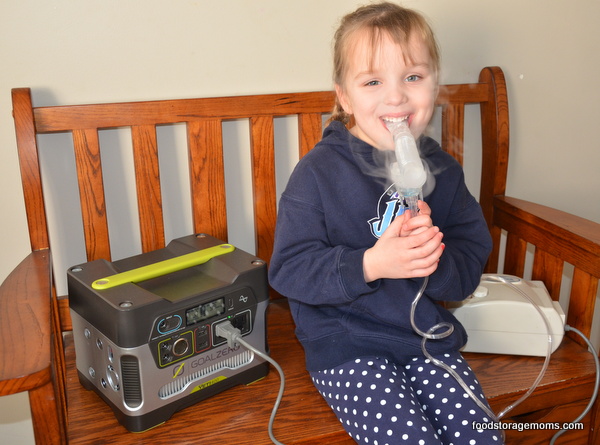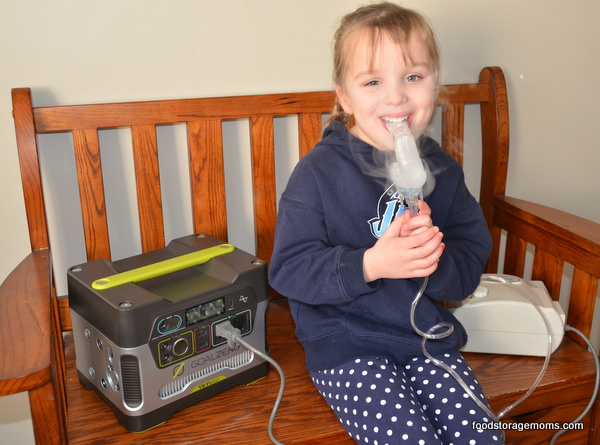 You need to keep these power sources charged all the time because then they are ready to be used when needed in a power outage. You use a nebulizer when you need it, right? So please keep them charged and purchase the solar panels to recharge them when we lose power for extended periods of time. Please check your wattage because every nebulizer uses different power amounts.