17 Ways to Become More Self-Sufficient
Do you think you are self-sufficient? Think about the things you rely on…do you use electricity in your home? Do you pay a gas bill? Do you pay a mortgage? Do you buy your food at the grocery store? This means you are not completely self-sufficient. Of course, many of us are not able to become completely self-sufficient, but you can begin the process. Here are 17 ways to become more self-sufficient. In case you missed this post, 101 Homesteading Skills We Need To Teach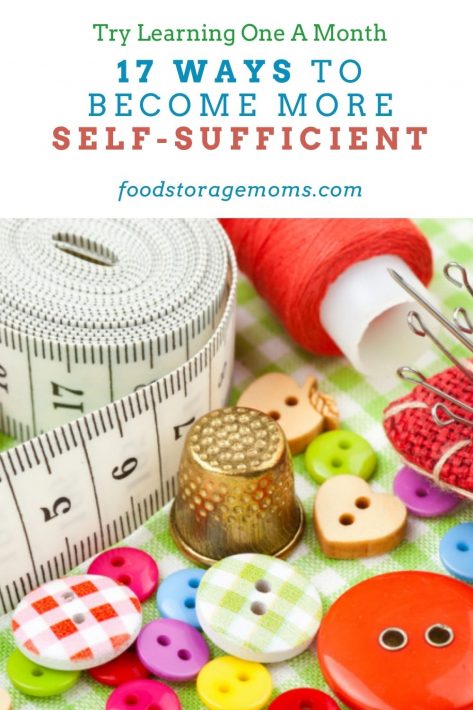 17 Ways to Become More Self-Sufficient
The more self sufficient you become, the better it will be if SHTF! Here are some things you can do to become more self sufficient over time!
#1 Grow Your Own Food
Start a garden, even if it's small at first. Think tomatoes, potatoes, peas, cucumbers, zucchini, corn, plant some apple trees, or anything you think your family would enjoy growing and eating. This is where I buy my garden seeds, SeedsNow
Please Check Out What To Plant Each Month:
#2 Start Saving Seeds
When you first start out, you may need to buy seeds from the store, but that makes you reliant on the store. So, save your seeds so you don't have to buy more from the store in the future. 
#3 Compost to Become More Self-Sufficient
This is a great way to use your kitchen scraps without needing trash pickup. It also eliminates the need for you to go to the store to buy fertilizer for your garden. You can make your own fertilizer.
#4 Preserve the Food You Grow
If you are growing more food than you can eat, it is a blessing to be able to preserve it. This helps build your stockpile in case something happens where you can't grow what you need for a season. There are 3-ways to preserve your food: freeze it, dehydrate it, or can it. 
#5 Cook From Scratch
Boxed food is easy and awesome, but who knows if it will always be there. The more you learn to cook from scratch, the less dependent you will be on buying things from the store. Here are some great recipes:
#6 Start Using Cloth Instead of Paper Products
Unless you know how to make your own paper products, you may want to switch to cloth. Reusable cloths can eliminate things like napkins, paper towels, wipes, cotton balls, etc. You can also stock and store these items, but if you don't want to be reliant on the stores, look into reusable clothes. In case you missed this post, How To Save Money On Your Paper Products
#7 Get Some Farm Animals to Become More Self-Sufficient
If you live in an area where you can have animals, consider the prospect of getting some. I have a friend who always has chickens, 2 pigs, and 2 cows. They would sell one pig and one cow and butcher the other one. Having chickens gives you eggs and chicken (meat). Having a pig and cow gives you beef and pork. This makes you less reliant on the store for your meat and eggs. A dairy animal such as a cow to milk would be good as well. 
I know this sounds like a real stretch, but families have been raising animals throughout history. It's not practical in the city, but if you have a rural home location it may be an option. It's also a great learning opportunity if you have children who could share doing the chores.
#8 Learn to Hunt and Fish
Hunting and fishing are great skills to have. If something happens and you can't buy food, you will know how to find your own food.
#9 Forage for Food to Become More Self-Sufficient
This is basically just knowing how to find food in the wild. Our ancestors would have starved if they didn't know how to do this. In fact, there are many weeds in your backyard that you can actually eat. Here's a list:
#10 Collect Rainwater
If you have city water, you are relying on that water to be there. If it's not, you will be out of luck. You should always stock up on water, and if you can't, you can always collect rainwater if your state allows it. (I could never understand the rationale for municipalities to not allow collecting the water, but whatever.)
Related: How to Find Other Water Sources in an Emergency
#11 Air Dry Your Clothes to Become More Self-Sufficient
Not only does this save you money, but it extends the life of your clothes. If you don't have electricity, you will need to air dry your clothes. This unit is similar to the one I purchased years ago so I could hang up my wet cleaned clothes. Pennsylvania Woodworks Clothes Drying Rack
#12 Consider Alternate Energy Sources
Right now, most of us pay an electric bill, but what if you had electricity without paying someone to give it to you. Using solar energy is a huge step in becoming self-sufficient. If you don't want to go full solar, you should invest in some solar items like solar chargers, solar ovens, or solar flashlights.
#13 Bring in Income
Even if you have a job, you are reliant on that business or company to stay in business. Think of ways you can make money if you don't have that job anymore. Sell produce, honey, eggs, meat, or handmade goods for profit. Your vocational training could possibly qualify you to become a consultant who would support other companies or individuals in various industries.
#14 Learn to Do it Yourself to Become More Self-Sufficient
Instead of calling a plumber, mechanic, or drywaller, try to do it yourself. There are tons of Youtube videos for just about everything. I learned how to fix a leaky sink, cutting the piping, and sealing it. I got help just by asking my local hardware store. The more you can do on your own, the more self-reliant you are. 
#15 Get Out of Debt
When you are in debt, they own you. The best way to be self-sufficient is to not owe anyone anything and that includes the mortgage you took out. Try to save some each month an set goals to pay down your debts. If you make an extra principal payment on you mortgage each month it's surprising how many years can can reduce from that 30 year mortgage, particularly early on when smaller amounts are doing towards principal from each payment.
#16 Be Content with What You Have
If SHTF, you could be without a lot of things you thought you needed. The truth is, we can live with a lot less. To become self-sufficient, live smaller, and want less.
#17 Make Your Own Clothes
If you don't know how to sew or make a shirt, now is the time to start. If you can make your own clothing, you won't have to worry about buying them at the store. Another great place for clothing is your local thrift store for gently used clothing. I made my girls many of their clothes when they were young, and before they felt the need to be "trendy." Early on I even made some of my own clothes, it was fun.
Final Word
When it comes to being self-sufficient, you don't want to rely on anyone except yourself for many of your needs. This means you have to learn to do things you may have someone else doing now. Check out my post "30 Pioneer Skills We Cannot Lose" to become even more self-sufficient. May God Bless this world, Linda
Copyright Images: Sewing Set Deposit photos_19188717_s-2019