Dill Cheddar Green Onion Cream Cheese Ball
This Dill Cheddar Green Onion Cream Cheese Ball recipe is perfect for any party. Most of the ingredients can be found in your home, refrigerator, pantry or food storage area. This Dill Cheddar Green Onion Cream Cheese Ball appetizer (copycat) recipe is one I played around with to make it taste as close to the grocery store recipe here in town that sells a cheese ball very similar to this recipe. It's so addicting because it has dill, cheddar and green onions combined with cream cheese. I am really glad we do not live any closer to this grocery store.
It is at least 12 miles from my home, so I really try not to go into "town" any more than I have too. If you have freeze dried cream cheese,  cheddar cheese and green onions in your food storage stash, you are good to go anytime! Note that there are other items that can be added to make this appetizer fun and flavorful to eat, like the pecans you see on half the cheese ball shown below, besides offering various types of crackers.  Below I've shown Triscuit and Wheat Thins varieties.  Even within these types of crackers, there are many flavors/varieties to spice up the taste buds.  Other types of nuts can also be used, based on your unique favorites.  As mentioned in the recipe, you can adjust the flavor by using different types of cheese, more or fewer onions and dill to taste.  Add some garlic salt/powder, or other spices to make it a family favorite you can serve anytime.
I must admit, whenever we have a party, or go to a party, the appetizers are the greatest way to break the ice and get people talking. You grab a small plate, fill it with the amount of cheese ball and crackers you want, and then strike up a fun conversation.
Dill Cheddar Green Onion Cream Cheese Ball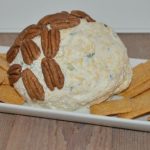 Dill Cheddar Green Onion Cream Cheese Ball
Ingredients
2-8-

ounce

packages of cream cheese

or equal amounts of freeze-dried cream cheese-made as directed

2

cups

grated cheddar cheese or equal amounts of reconstituted freeze-dried cheddar cheese

¼

cup

sour cream

1

teaspoon

dill weed

1

teaspoon

onion powder

3

washed and chopped green onions or equal amounts of freeze-dried green onion

Pecans or almonds to garnish on top of cheese ball

optional
Instructions
Combine all the ingredients and use a hand-mixer or stand mixer to blend them together. Roll-in pecans or sliced almonds if desired. Serve with crackers of choice.