Would you love to learn how to make Chocolate Truffles? You can with this really easy recipe. I have made these for years. The chocolate truffles just melt in your mouth and you will catch yourself reaching for a second and third truffle. This is a family tradition of making and giving these to the special people we love!
When my daughters were young we made these every Christmas! I can still remember all the little fingers making chocolate marble size balls and rolling them in "Chocolate Sprinkles-better known as Chocolate Shot" in the cooking and baking world.
It's so nice to have something ready ahead of time when you are invited to go to a Holiday party or dinner…you just reach in your refrigerator and take one of these "Hostess Gifts" with you. It's a really fun family activity to make chocolate truffles. One thing I love about this recipe is the fact I can change the flavorings.
I must say 99% of the time I make the dark chocolate chips with vanilla extract/flavoring. I have made them with orange extract and peppermint extract too. You get to decide if you want light, dark or white chocolate chips. The Chocolate Shot comes in so many colors, the theme can be anything you desire. Have fun while you make these!
Chocolate Truffles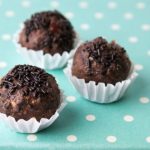 Chocolate Truffles
Ingredients
12-

ounce

package real milk or dark chocolate chips

3

tablespoons

milk

3

egg yolks

3/4

cup

butter (no substitute cut into pieces)

½

teaspoon

vanilla (or any flavor of choice)

Chocolate Shot or "Sprinkles"
Instructions
In Double Boiler, melt chocolate chips with milk. Beat with mixer one yolk at a time into the melted chocolate. Remove the pan from heat and start adding the butter pieces a few pieces at a time using the mixer. Beat 2-3 minutes, then mix in the vanilla. Chill the chocolate in the refrigerator. When the chocolate is workable, roll into balls the size of marbles and roll in the chocolate shot or ground nuts. Serve well chilled in tiny paper/foil cups. Keep the Truffles refrigerated. Makes approximately 50 Chocolate Truffles.