How To Use An Electric Pressure Cooker With Printable List
I know sometimes people are afraid to use a pressure cooker, not to be confused with a pressure canner to preserve food. If you can afford an electric pressure cooker I would highly recommend getting one because it will save you time, and I mean a lot of time in the kitchen.
Sometimes I forget I have this wonderful kitchen tool called an electric pressure cooker. Here's the deal, if you want to save time and money get one of these gems. I prefer the Fagor brand: Fagor 670040230 Stainless-Steel 3-in-1 6-Quart Multi-Cooker
. Last night I had some company here for dinner and I had a few too many pots going on the stove I was watching.
So let's get started……………….
How To Use An Electric Pressure Cooker
I decided to grab the pressure cooker and start cooking the small red potatoes. I placed the red potatoes in the pot inside the cooker with one cup water (the minimum required) and locked the lid in place. I set it on HIGH for 8 minutes by pushing the HIGH button 8 times (thus 8 minutes cooking time). I set the dial on top to "pressure" and pushed the "start" button. Then I did laundry and made salads and let the cooker do its thing.Here's a YouTube I made showing you how to use it: Food Storage Moms.
Here is a FREE printable for veggies: Temperatures-Vegetables. Please adjust the cooking times according to your electric pressure cooker.
Here is a FREE  printable for rice, grains, and beans: Temperatures-Rice, Grains and Beans. Please adjust the cooking times according to your electric pressure cooker.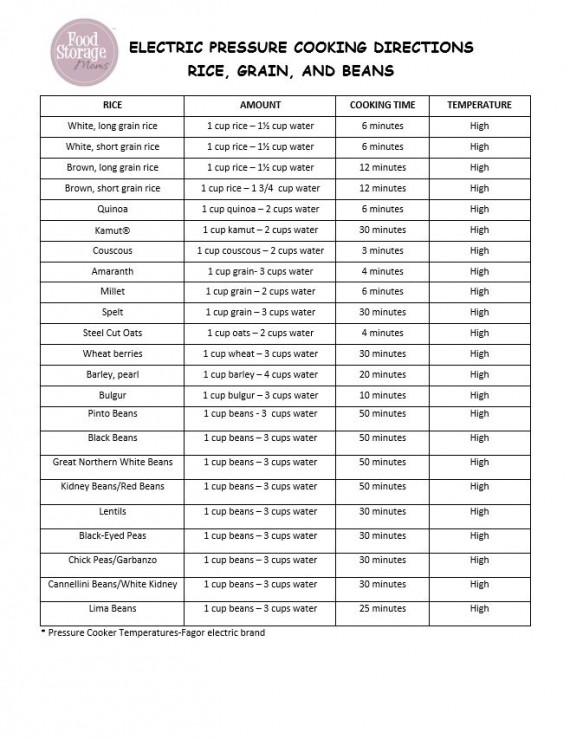 Here is a FREE printable for meat: Temperatures-Meat Please adjust the cooking times according to your electric pressure cooker.
Pasta Recipe
If you want to cook a recipe with pasta, here is the formula I use:
1 pound uncooked pasta
48 ounces of spaghetti sauce or canned tomatoes to cover the ingredients in the pan
Meat, precooked sausage, cooked chopped chicken or cooked fried hamburger
Chopped onions, chopped green pepper
Shredded carrots (optional-I like to sneak in all the veggies I can)
Salt and pepper to taste
Combine all of the ingredients in the pressure cooker. It must be a little watery because the liquid will be absorbed into the pasta.  After cooking, drizzle olive oil and sprinkle with Parmesan cheese. Cook on high for 6 minutes. Use natural release as stated below.
I took this statement from Fagor Website. and I quote:
a) Natural release method: let the pressure drop naturally without turning the pressure regulator knob to "Steam". This will take several minutes, during which the food inside will continue cooking. Some recipes benefit from this extra cooking time. You will know when the pressure has been released for the floating valve will drop and you will be able to open the lid.
b) Quick release method: release the pressure immediately by turning the pressure regulator knob to STEAM. All the pressure will be released in seconds. CAUTION: The steam coming out of the cooker will be hot, and might contain droplets of hot liquid. Always turn the jet of steam away from your face and hands. NOTE: If you do not press the START/STOP button at the end of the cooking time, the multi-cooker will beep periodically to remind you that the cooking ended.
I hope these charts help you use your electric pressure cooker today or in the future when you are able to get one for your family. Life is good when you eat at home around the dinner table and do so without a lot of unnecessary cooking time. ***** Please do not use one of these for pressure canning. It is NOT safe to do because there is no pressure gauge to regulate the pressure. Please be safe when preserving your food.
My favorite things:
Fagor 670040230 Stainless-Steel 3-in-1 6-Quart Multi-Cooker
Fagor 6Qt. Stainless Steel Removable Cooking Pot