Safe Food Storage Containers
Do you sometimes wonder what you can use for safe food storage containers? Here are my secrets of the trade, so to speak. I use whatever I can get my hands on when they go on sale if they are the types I really want. I do prefer certain storage containers over others, and I will explain what I use them for and why they work for me. Most plastic safe food storage containers today have a number on the bottom that will tell you if the plastic is BPA Free, etc. Plastic Bottle Labels
Here's the deal, some people have huge beautiful custom made wood or metal shelves lined in a pantry. Some people, like me, have a small home and we need to be a bit more creative in storing our food for short term or long term storage. Let's get started with my favorites. I store some of these in one tall thin pantry closet, but they work fantastic. All my #10 cans are stored on rolling 48-inches wide by 18-inches deep by 72-inches tall shelving. Yes, the wheels lock for safety. I buy the shelves online at Costco because they are more heavy duty compared to the ones sold at many stores. They are a little more expensive, but I buy "right" the first time, plus they last for years. Costco Shelves
Safe Food Storage Containers
5 Gallon Buckets
The advantage of 5-gallon buckets is that they are fairly cheap at most local big box stores. In fact, some grocery stores and bakeries will give them away to shoppers who buy products from them. They come in white, red, green, blue, yellow, and black through various distributors. Please keep in mind the black ones are not safe for storing food. I bought black ones to store my pine cones and the store informed me they are not to be used for food items.  5-gallon Gamma lids and 5-gallon buckets
They are cheap, or free, easy to handle, or easy to fill with our favorite food storage items. Plus you can buy them to color-code your food or emergency fuel. I purchase Gamma Lids because they are easier to open the buckets than the hard to open lids they come with.
This is a list of some food items I store in 5-gallon buckets:
Bread flour
Sugar
Pasta
Beans
Rice
My hard white wheat comes in 6-gallon buckets and I replace the lids with RED Gamma lids.
2 Gallon Buckets
I use this size for my pantry, you may have seen this picture before. Here again, I buy the Gamma Lids that fit the bucket size. The ones on each side are the 2-gallon buckets and the center ones are the 5-gallon size. The 2-gallon size fits nicely on my pantry shelves and the 5-gallon ones sit on the floor. My daughter used to do lettering, so she did the black vinyl lettering that identifies the contents. Magic markers work well to label them, too. Here are the 2-gallon buckets and the 2-gallon Gamma lids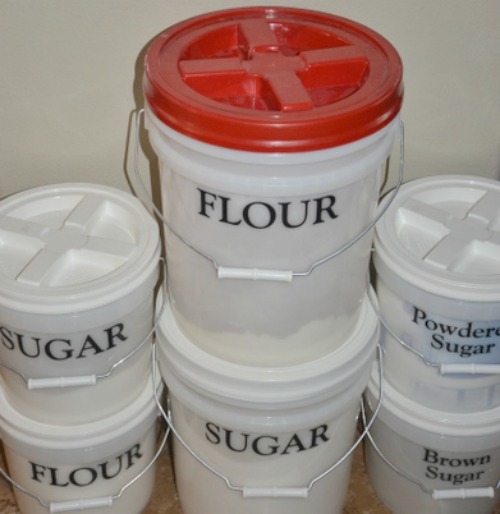 The 2-gallon buckets I use to store sugar, flour, brown sugar, and powdered sugar with 2-gallon size Gamma Lids.
Glass Mason Jars
I store popcorn, quinoa, freeze-dried celery, freeze-dried-onions, freeze-dried green onions, freeze-dried garlic, and many more items I use almost daily. I use my FoodSaver whenever I use quart mason jars or pint jars, as long as it is not a powder. I'm not going to go into how you can place the powder in a baggie on top of the food item if you are making meals in a jar. The powders will ruin the accessory tubes because it will get sucked up into the tube and damage the unit. Of course, we can use Ball/Kerr brand Mason jars for water bath canning as well as pressure canning.
I store my home dehydrated fruits and vegetables in these as well after using my Food Saver with the product. They are only stored for one year or less. I do not use oxygen absorbers because I eat them way too fast to need them.
JarBoxes
These are great for storing your Mason jars because they keep the filled jars safe from breakage and the empty jars clean and dust free for next year. The thing that's really cool about these containers is a woman designed them by the name of Jeri of Wyoming who preserves just about every kind of food known to man. She started out by selling only quart sizes, then designed a pint size safe food storage container next. Now they are sold every where! I have only "talked" to her through emails, but I'm so proud of her success and this awesome idea to protect our Mason jars!!
They snap shut and are stackable! I have them stacked in closets and under beds. I love these!
JarBOX open:

JarBox Closed: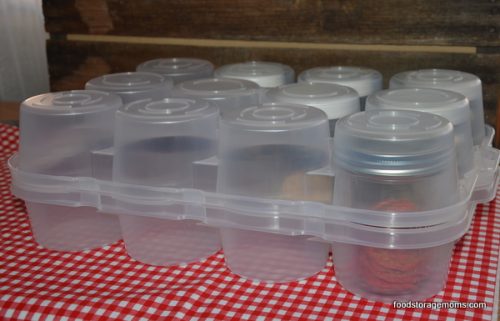 OXO Plastic Containers
I have several sizes of Oxo containers. They have an easy-to-open pop-up lid that's great for arthritic hands like mine. They are stackable and BPA-free. I love them! Once I open my #10 cans of my popular food storage items I remove the oxygen absorber and pour the contents of the can into the correct size I need, depending on the amount of food in each can. As you know every #10 is full, fuller, or less full than other #10 cans. I cannot say for sure which #10 will fit which OXO container because all food storage items are so different.
I store freeze-dried pineapple, strawberries, apple slices and eat them as snacks out of the OXO containers. Please note, be careful with strong flavors like onions in these containers. I can't get rid of the smell, but I just wash it and refill it with the same item. I store just about every #10 can of food in these because they are so easy to open and close.
I hope this post today helps every family decide which safe food storage containers will work best for them. Thanks again for being prepared for the unexpected. May God bless all of us.