15 Tips for Buying Your First Dehydrator
Today I have 15 tips for buying your first dehydrator. Have you thought about buying one, or do you already have one? Let me know what brand you have and what you like about it.
It's worth the investment because it allows you to preserve foods that you've purchased and not only want to eat now, but store for future use. This will ultimately prevent waste and save you money in the long run. However, before buying a dehydrator, it's essential to know a few helpful tips to ensure that you're buying the perfect one for your home.
15 Tips for Buying Your First Dehydrator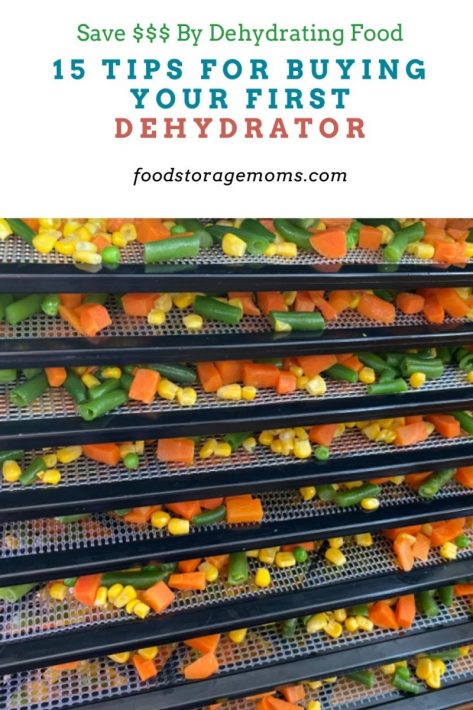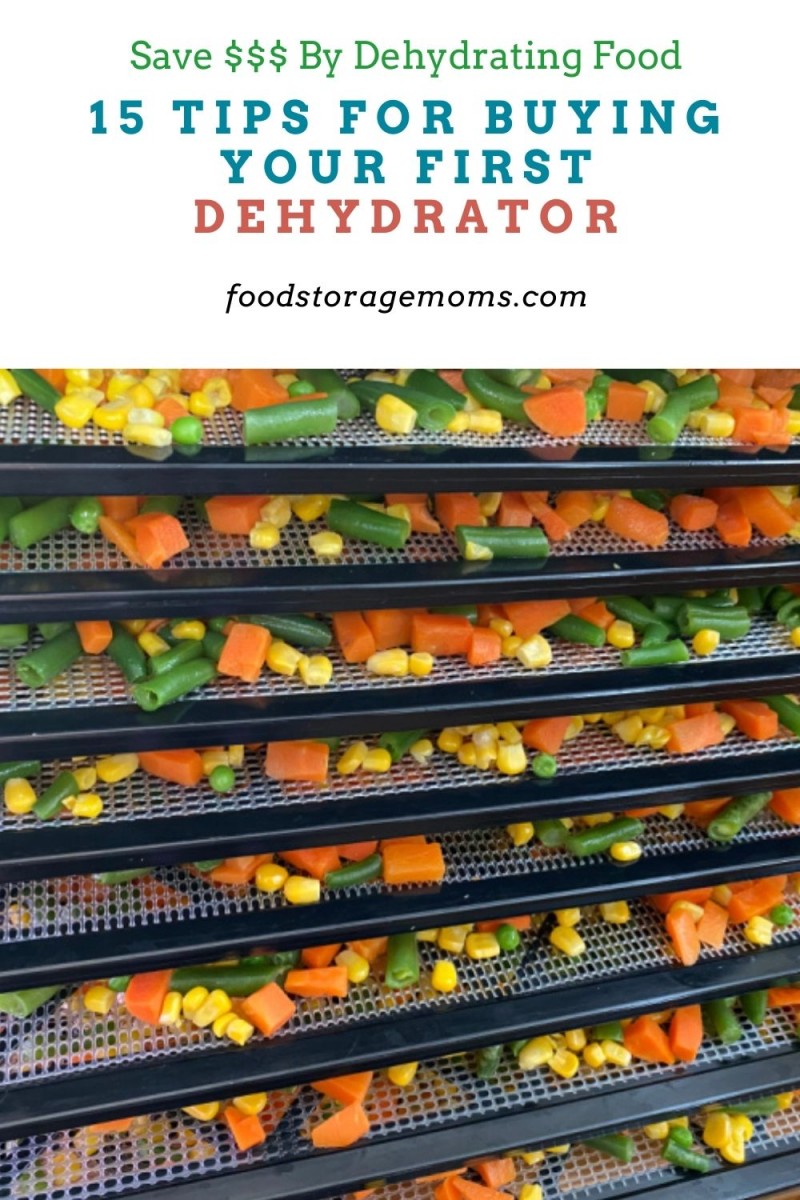 1. Research Some of the Different Brands
When you're looking for the perfect dehydrator, expect to see lots of options from different brands. It's a good idea to start researching these brands and their reputation based on customer reviews.
If a company has sold dehydrators for years and has great reviews, their products are likely worth buying, but you should dive into doing more research to see for yourself.
Nesco Gardenmaster, Excalibur, and Cosori are just three of the many brands you may come across on your search. This is similar to the one I have (mine is 9 years old), Excalibur 9-Tray With A timer
2. Figure Out How Much You're Willing to Spend
Set a budget for yourself after getting a rough idea of how much the average food dehydrator costs. Some are more expensive than others, but they usually come with convenient and valuable features for the consumer.
How much can you afford to spend on a food dehydrator? Next, try to think of all the money you can save once you buy the appliance and begin dehydrating food to preserve it for future use.
3. Make a List of the Most Important Features You Want
Please start thinking about the features that you'd like your food dehydrator to have when you buy it. Not all dehydrators are created equally, and some will have better features than others.
Look for things like a convenient airflow system, ideal thermostat, and neat trays that you can use to dehydrate multiple foods simultaneously. Have your list ready when shopping to search for that perfect dehydrator. For me, the unit's capacity and wattage were important considerations.
4. Find Out If It's a Noisy Dehydrator
Try to get an idea of how loud the food dehydrator is when you're using it. Some can make a lot of noise. If noise isn't an issue for you, it's not something you need to worry about when you're looking for the best dehydrator.
However, if you don't want to hear loud fan noises coming from the kitchen each time you dehydrate something, check the specifications and reviews for details on the noise level.
5. Does It Come with Stacking Trays?
Stackable trays inside the dehydrator make it possible for you to dehydrate more food at a faster pace. If you're planning to dehydrate lots of things, such as fresh fruit, vegetables, and meats, you may want to find a dehydrator that comes equipped with these spacious stackable trays. Please plan your products you want to process, and don't dehydrate different things like fruit and meat at the same time since they may need different temps and time.
My Excalibur comes with trays that slide into the slots/grooves on the sides inside the dehydrator. The Nesco is more of a stacking unit, and some models have additional trays you can add.
6. Does It Have a Thermometer/Temperature/Timer?
Always invest in a food dehydrator that comes with a thermometer/temperature gauge. You're going to need the thermometer to keep track of the temperature inside the dehydrator because some foods dehydrate better at specific temperatures. If it doesn't have a thermometer, it's a real inconvenience.
7. Find Out If the Thermostat is Adjustable
Can you adjust the thermostat in the food dehydrator to your liking? It's a question that you should ask before you spend money on the appliance. You may need to adjust the position of the thermostat at times while dehydrating certain foods.
8. Is It Compact and Lightweight?
You may not want another bulky appliance in your kitchen, especially if you already have many of them, including a microwave, toaster oven, and air fryer. So, look for a dehydrator that is compact, lightweight, and easy to store when it's not in use. Some of the compact options are still spacious enough for you to dehydrate multiple trays at once.
9. How Much Can You Dehydrate at Once?
Find out how much food you can dehydrate at once when using different types of food dehydrators. Extensive options tend to have more space, but smaller options still offer enough interior space with stackable trays for you to place foods, such as fruit slices and vegetable pieces.
10. Make Sure It Contains the Nutritional Content
If you're dehydrating food to preserve it and eat it at a later time, you want to make sure the foods are going to maintain their nutritional content during the dehydration process. You can find out this vital information by reviewing details about the product.
When the dehydrator doesn't take away from the nutritional content, it's common for the company to use that as a selling point, so it should be easy for you to find out if it's true or not.
I quote from The Excalibur Dehydrator website, "Cooking foods at a temperature no higher than 105-165 degrees in a dehydrator preserves nutrients and enzymes."
11. Are the Shelves/Trays Easy to Clean?
Each time I dehydrate a food, I place my trays with the netting in my kitchen sink filled with warm soapy water and use a scrubber to lightly scrub the netting. I rinse them and stand them on their ends to drain on a drying mat. Drying Mat and Kitchen Scrubber
12. Decide Where You'll Put It Once You Buy It
Think about where you're going to put the dehydrator once you buy it at the store or get it delivered to your front door. First, you need to make sure you have the right amount of space for the food dehydrator you're buying. If not, you might not know where to put it or when you'll get to use it due to a lack of space.
13. Is It Energy-Efficient?
Finding an energy-efficient dehydrator is essential. You want to dehydrate food to save it, but you don't want to waste a lot of energy in the process. The good news is that several brands offer energy-efficient options.
14. Can It Dehydrate Foods at a Fast Pace?
Try to get an idea of how long it takes for some of these different dehydrators to dehydrate the foods that you're going to process. Some take longer than others. If you'd like to get the dehydration process done as quickly as possible, you'll want to look for a highly efficient option.
15. Look at the Reviews
Always check the reviews of the different dehydrators while you're looking at them online. You can read what people are saying about these appliances, along with what they like and don't like about them.
Final Word
If you're thinking of buying your first dehydrator, consider these 15 tips beforehand. Try to get a feel for what you want and like before you start shopping. May God Bless this world, Linda
You Can Read My Other Dehydrating Posts