How To Dehydrate Kale and Make Kale Chips
Today it's all about how to dehydrate Kale and make Kale chips. If you don't have a dehydrator, no worries. I have the instructions for using an oven below to do both of these.
If you are on blood thinners you may not want to eat these. You could make them for your family though.
According to AARP Healthy Living: "A word of caution: Kale is very high in vitamin K, known as the clotting vitamin because, without it, blood won't clot properly.
If you are taking blood-thinning or anticoagulant drugs, like Warfarin (brand name Coumadin), you need to avoid large amounts of kale."
How to Dehydrate Kale
In order to make Kale Chips, you need to know how to dehydrate kale. I'm going to show you step by step instructions on how to dehydrate kale. Don't worry, it's easier than you might think.
Step One
Wash and pat dry the Kale. Tear off the leaves, or use a knife to cut them away from the rib. The rib has a strong flavor and does not taste good.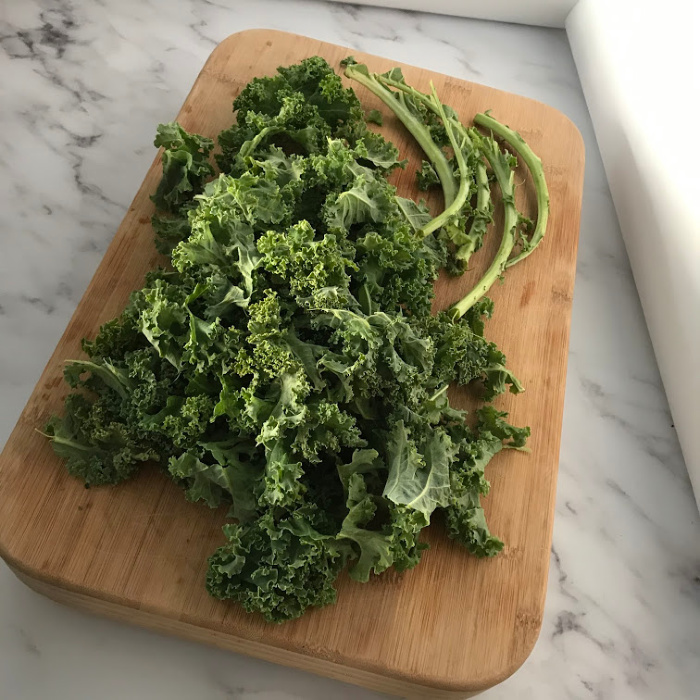 Step Two
Place the leaves on the dehydrator racks, making sure they are spaced evenly. My Excalibur Dehydrator said to set the temperature on 125 degrees.
I have directions below on how to use your oven if you don't have a dehydrator. No worries, you can dehydrate these in your oven and still make the chips.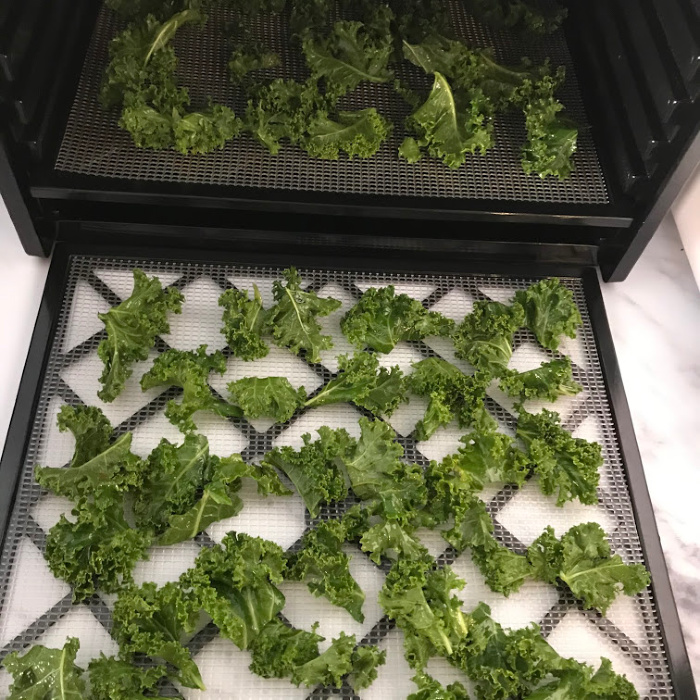 Step Three
These took between 2-3 hours to become crispy. I will let them sit overnight to be sure they are totally dry before putting them in mason jars.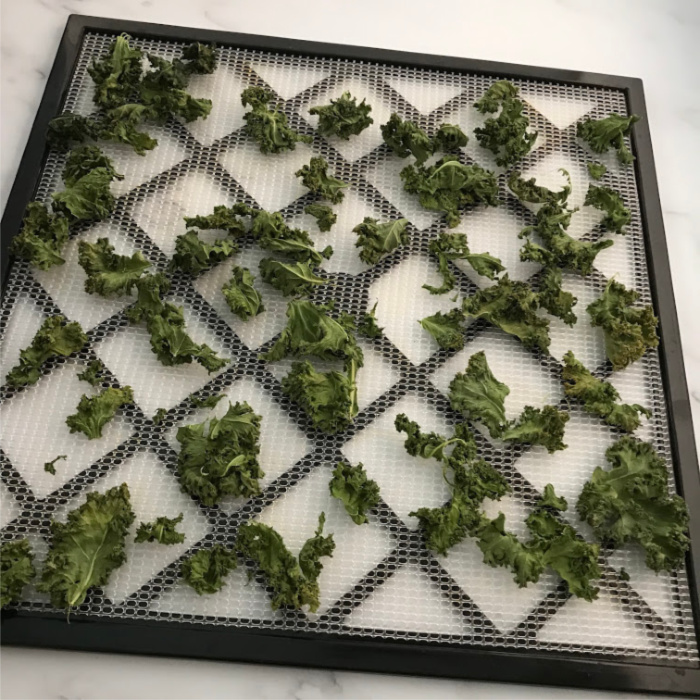 Step Four
I use my FoodSaver to keep these fresh for about a year. I'm a Master Preserver-Canner and I learned that the best shelf life for home dehydrated vegetables is one year.
That works for me. I buy freeze-dried fruits and veggies for longer shelf-life.
How To Make Kale Chips
Making kale chips is something I feel like everyone should know. They are a healthy alternative to regular chips. Keep reading to discover how to make kale chips.
Step One
The first thing you need to do is wash and gently pat the kale dry. You're going to want to remove the leaves from the rib because it has a strong flavor and you don't need them in your kale chips.
I remove them when I dehydrate Kale as well.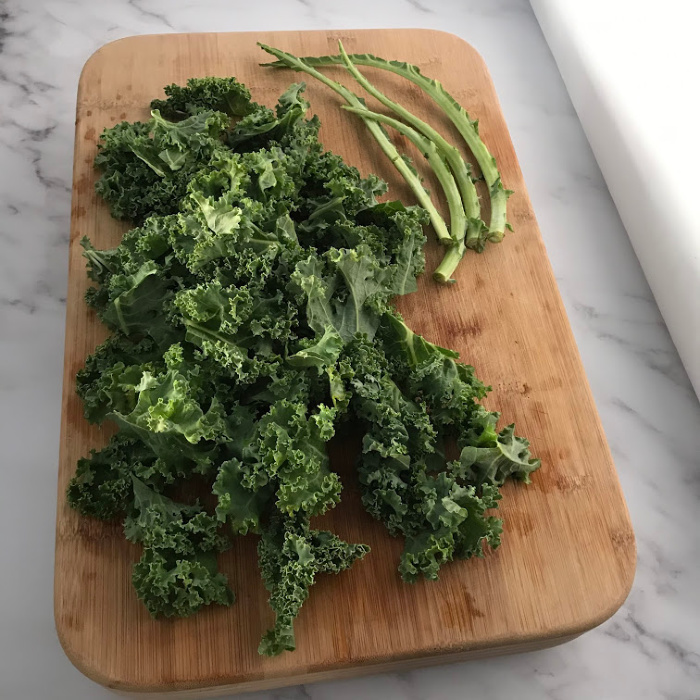 Step Two
Place the leaves in a large bowl. I have the recipe below, but let's talk about how to make these right here. You will need olive oil, salt, and cayenne pepper, if desired.
I used cayenne in this recipe today. I drizzled the oil over the leaves in the bowl and used my hands to thoroughly cover the leaves with the oil.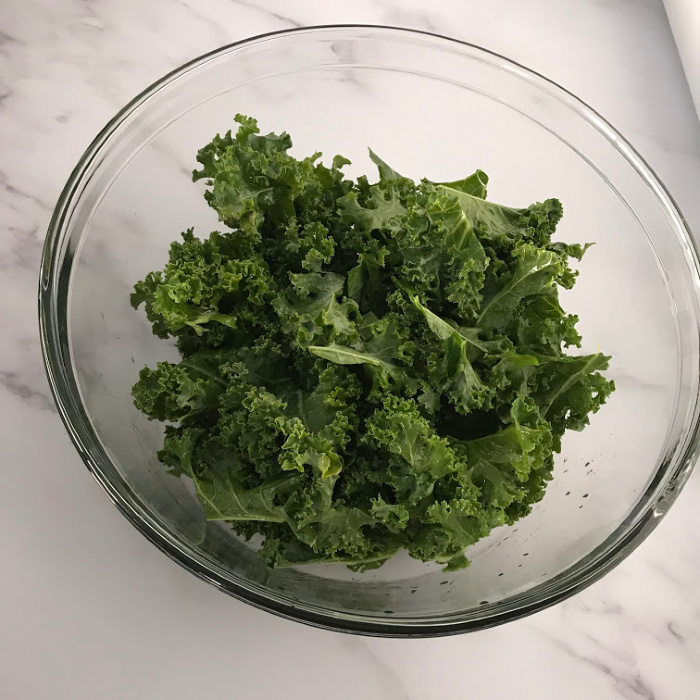 Step Three
Here you can see the bowl with the kale, olive oil was added above. Then I sprinkled the salt and cayenne pepper over the leaves.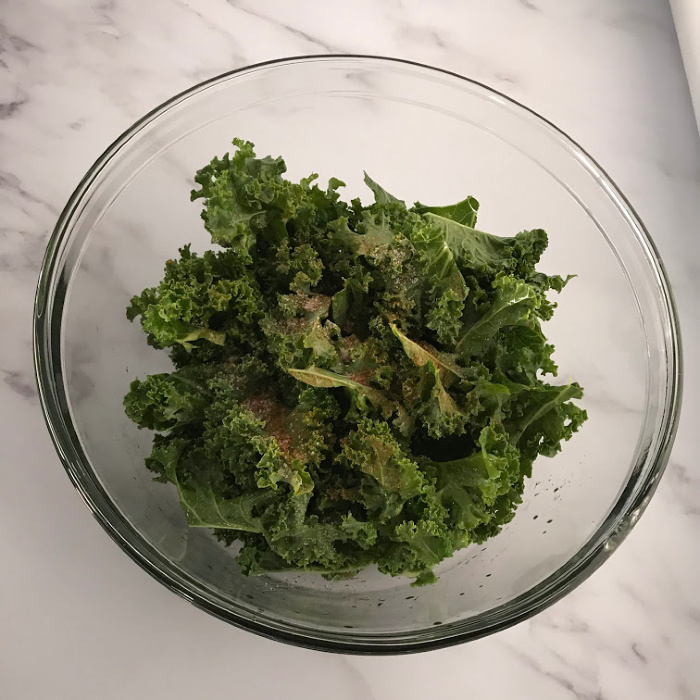 Step Four
Place the seasoned leaves on the dehydrator racks. I have an Excaliber Dehydrator and the book states to set the temperature at 125 degrees.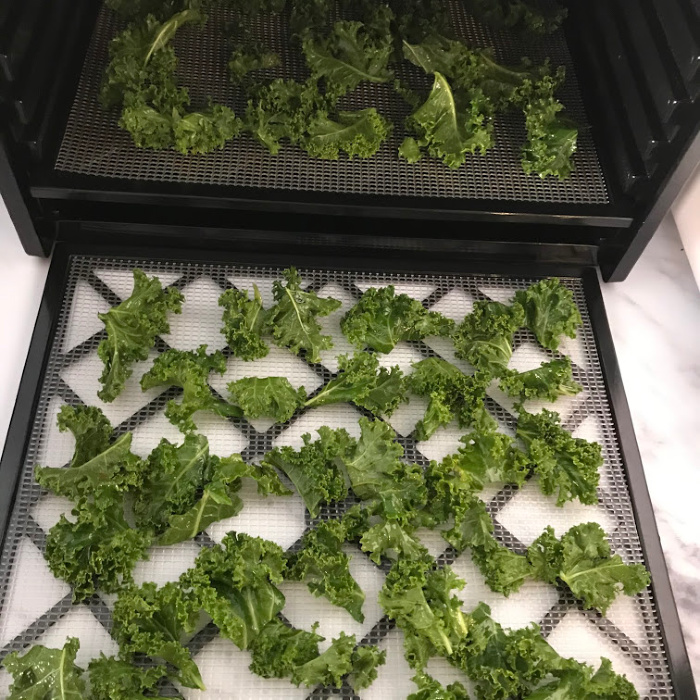 Step Five
These took about 2 hours from start to finish. Oh my gosh, these are so good! I think these are a healthier choice over potato chips. You will love them.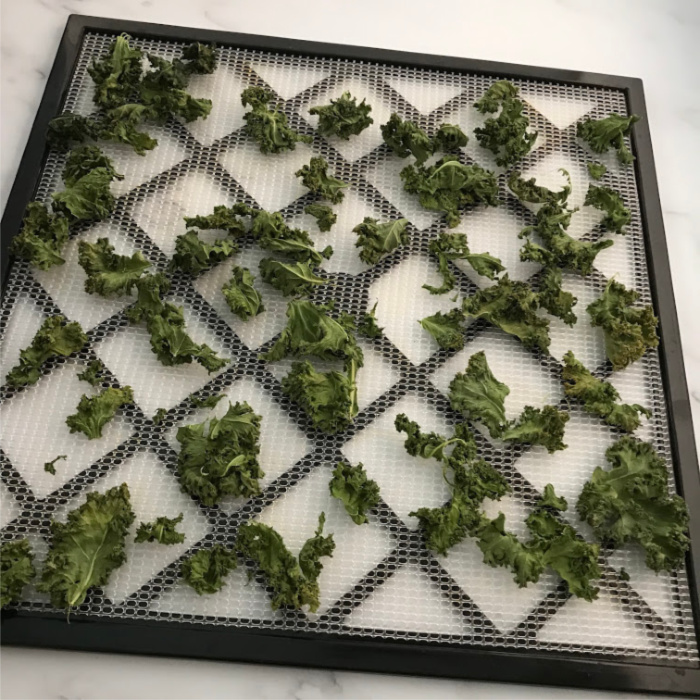 Finished Product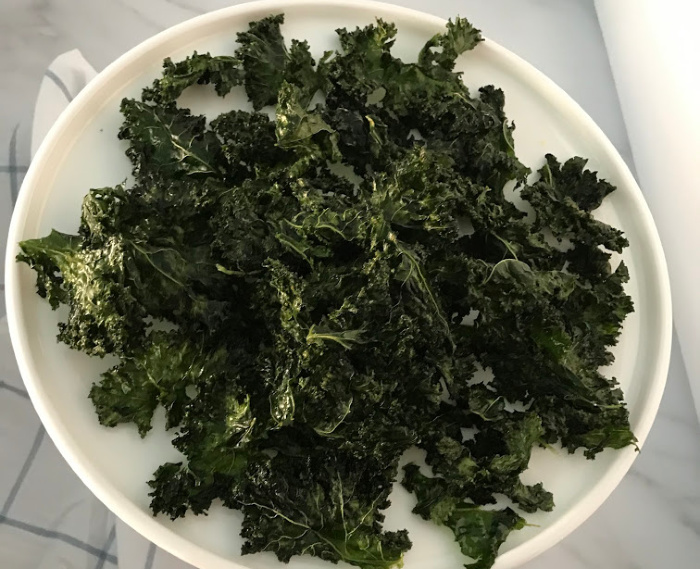 Kale Chips Recipe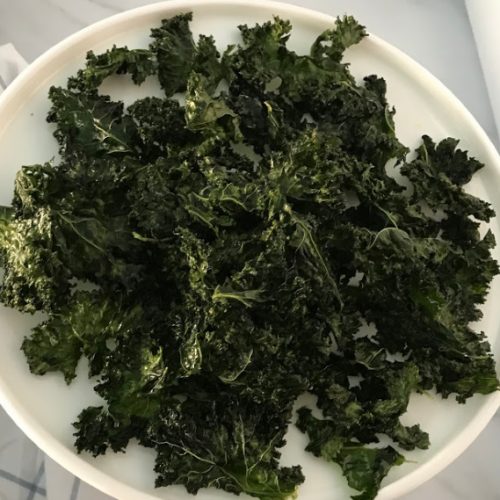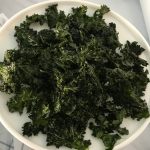 Kale Chips by Food Storage Moms
Ingredients
2

bunches

Kale (any variety)

1

tablespoon

olive oil

1/4

teaspoon

salt

dash

of cayenne pepper (optional)
Instructions
Wash and pat dry the Kale. Remove the leaves from the rib and place them on the dehydrator racks. If using an oven use an ungreased cookie sheet. My Excalibur dehydrator book said to set the dehydrator to 125 degrees. If you are using your oven, set your oven at the lowest setting and prop the door open with some foil to keep the Kale chips from getting too hot. Mine took 2-3 hours today in my dehydrator. The time will always depend on the humidity in the room you are dehydrating them. Let the Kale sit overnight and place them in mason jars. These will keep for about one year if they are totally dry.
Can I Make These in My Oven?
Yes, you can. If you don't have a dehydrator, here is how you make these. You will follow the steps above, but put the leaves on a cookie sheet.
No need to grease the pan, they will not stick. Set your oven to the lowest temperature, mine is 170 degrees.
Next, prop the oven door open with a chunk of foil to keep the oven from getting too hot. Please remember, there is no way to gauge the time it will take to dehydrate the Kale or the Kale chips in the oven.
You will have to monitor your oven at least every 15 minutes to be safe. Remove the cookie sheets when you can feel that they are totally crisp.
I would still let them sit overnight to be sure they are totally dry before placing them in mason jars for storage.
Is Kale Healthy?
When it comes to kale, you may be wondering if it's healthy or not. Kale contains fiber and antioxidants. You will also notice that kale contains vitamin K. You will be getting lots of nutrients when you consume kale.
How Can I Use Dehydrated Kale?
A lot of times people will use dehydrated kale to make kale chips. Kale chips are a popular alternative to regular chips.
You can also use dehydrated kale has a snack. In an emergency, dehydrated kale chips come in handy.
What Can I Serve With Kale Chips?
When I'm eating kale chips, I enjoy eating other fruits and vegetables. I think you can eat just about anything with kale chips.
You can scoop a little hummus on the chips, which is also delicious. Some people may choose to eat kale chips with ranch or another homemade dip.
Here are the other Dehydrating Posts I have done:
Final Word
You may be able to grow kale where you live. I know I can here in Southern Utah. The more food we can grow ourselves the better off we will be.
I'm trying to show others how to dehydrate so our bounty can be preserved.
Even if you only have window screens, you can dehydrate food. Just cover it with netting to keep the birds and critters away.
Where I live we have night critters, so I would have to bring the window screens inside the house.
Whatever works, we need to know other ways to preserve our food. We can do this, I promise. Thanks for being prepared for the unexpected. May God bless this world, Linda