How To Dehydrate Watermelon For Healthy Snacks
Today I am showing you how to dehydrate watermelon. It is so easy and healthy without any chemicals and preservatives. If you have a bumper crop of watermelon, this is one way to make some easy snacks to eat every day or take hiking and camping. Do you sometimes look in the refrigerator and say hmmm… I am not going to be able to eat all that watermelon. Have your dehydrator handy and cut the watermelon into bite size pieces and start drying them. If the watermelon is sweet the dehydrated watermelon pieces will be sweet. Remember you can dehydrate in your oven or on screens in the sun. Are any of you planting watermelon seeds this year?
This particular watermelon was seedless (you can see the small white seeds). If you dehydrate a regular watermelon with black seeds you will want to remove the seeds before dehydrating. I will only dehydrate a seedless watermelon…I am not removing any seeds. LOL!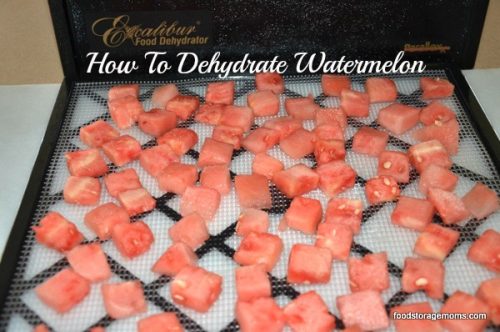 Here's the finished product, yummy!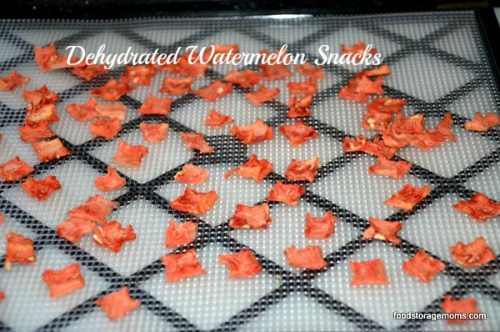 These dehydrated watermelon pieces are so sweet and chewy….you will love dehydrating some! I promise! Enjoy!
***Please note if you do not have a dehydrator you can use your oven. Set your oven at the lowest possible setting. Leave the door open. You need air to circulate around the food you are drying. You will need to watch the food closely because it is a little more tricky for the dehydrating time. Place your food on a nonstick tray.
How To Dehydrate Watermelon
Cut watermelon and remove the rind. Cut the watermelon into bite size pieces approximately one inch in diameter.
Instructions:
Place the watermelon pieces on the dehydrator racks spacing them so they do not touch each other. This way they will dry more evenly. I used an Excalibur Dehydrator and my manual says to set the temperature at 135 degrees. Be sure and look at your own dehydrator to see the correct temperature for your dehydrator. The time to dehydrate will always depend on the humidity of the room you are using to dry the product. Today this batch of watermelon took about 9 hours. No chemicals or preservatives.
PRINTABLE recipe: Recipe by Food Storage Moms