It's all about step-by-step instructions for dehydrating mushrooms today. Watch for the mushrooms in your town to go on sale and stock up. Then dehydrate them. You will never run out of mushrooms ever again.
I bought these at Costco today so I could show you how easy it is to dehydrate them. Have you heard of mushroom powder?
Yep, I will be showing you how to make that too! Stay tuned, it's coming up soon. Fresh mushrooms are tasty, but so are dried mushrooms.
Did you miss my post on freezing mushrooms? You have options for preserving mushrooms.
Step By Step Dehydrating Mushrooms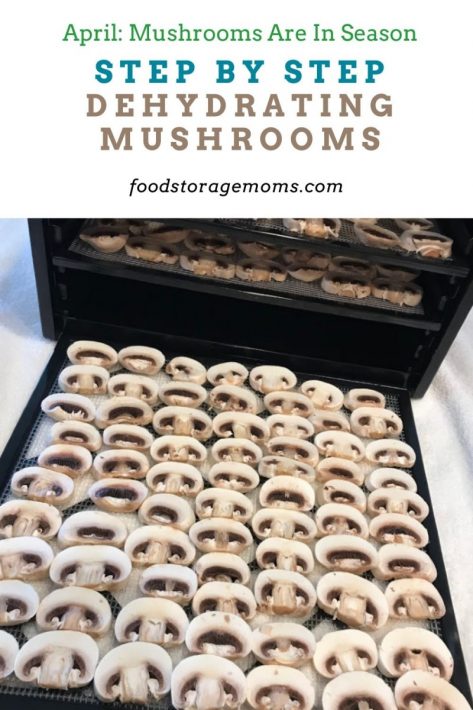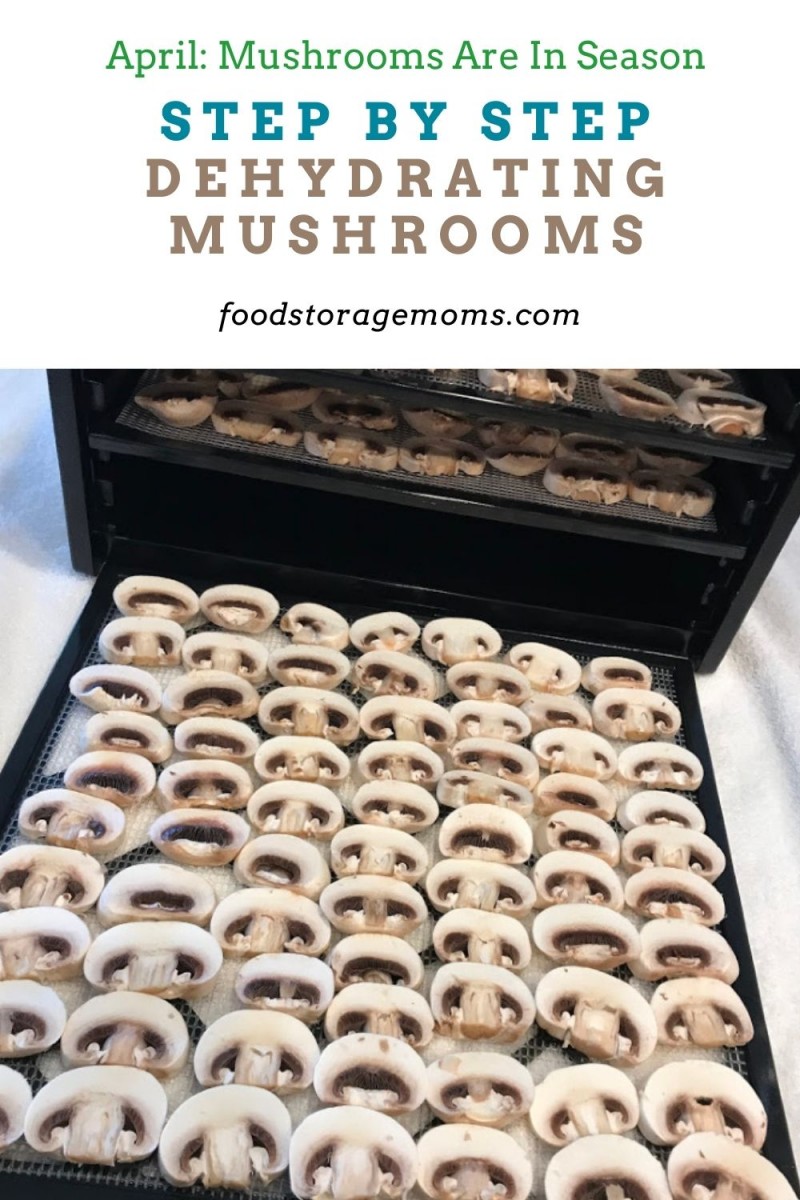 Nutrition of the Mushroom
The poor mushroom is often overlooked as food that many people don't enjoy. That is not true in this household. Mark and I both love mushrooms, so much that I've learned how to dehydrate them and even turn them into a powder.
The nutrition of the mushroom is actually quite amazing. Because there are so many types of mushrooms out there, I'm talking about the nutrition of the shitake mushroom today.
Mushrooms provide B vitamins, riboflavin, and niacin.
Mushrooms are also a wonderful source of selenium and potassium.
Mushrooms also provide a tiny amount of vitamin D.
Mushrooms are also low in calories and fat.
Can You Eat Dehydrated Mushrooms?
When it comes to eating dehydrated mushrooms, you may be wondering if you can eat them. Yes, you can! You can totally eat dehydrated mushrooms in any way.
Eat them as a snack
Eat them in a salad
Eat them as trail mix
Eat them on the go
Eat them in an emergency
You can eat dehydrated mushrooms, just like you would a regular mushroom. Except you can pull the dehydrated mushrooms right out of the jar and eat them! They are actually very delicious and full of flavor.
Step by Step Process of Dehydrating Mushrooms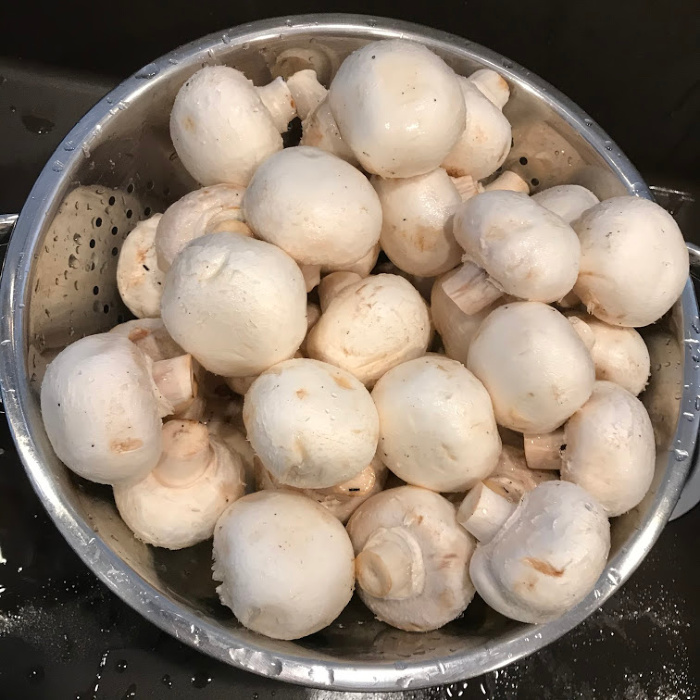 Step One
I washed all the mushrooms in water. You can use a brush, but it takes too long for me. I cut the stems off and started slicing them 1/4-inch thick with a knife. Then I spread them out on my Excalibur Dehydrator trays.
My dehydrator has a timer, so I set the temperature at 125 degrees per the instructions from my book. They took about 5 hours to become leathery but not brittle.
The time will vary depending on the humidity in the room where you choose to dry them.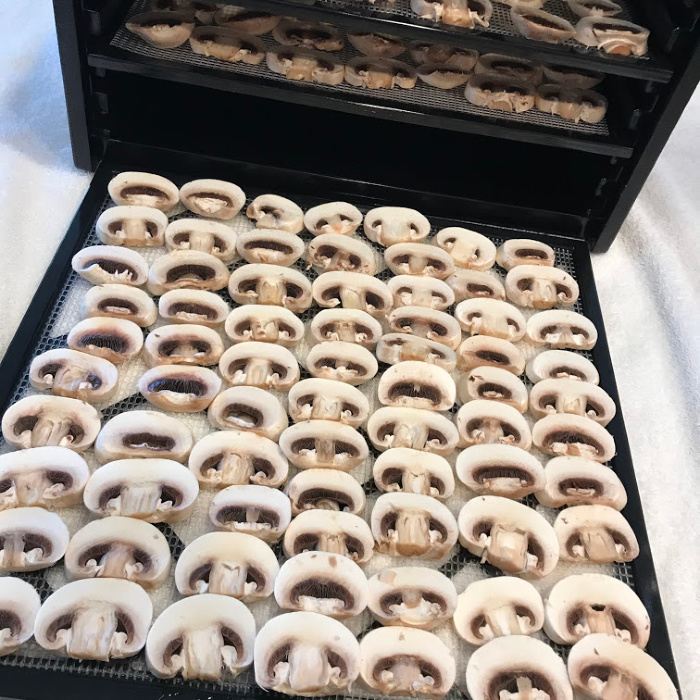 Step Two
Here is the finished product after dehydrating mushrooms in my kitchen. Make sure you try and put the mushrooms in a single layer.
How To Condition Your Fruit or Vegetables
If you live where it is HUMID: "To condition the fruit, take the dried fruit that has cooled and pack it loosely in plastic or glass jars. Seal the containers and let them stand for 7 to 10 days. The excess moisture in some pieces will be absorbed by the drier pieces. Shake the jars daily to separate the pieces and check the moisture condensation." https://nchfp.uga.edu/how/dry/pack_store.html
I live in the DRY DESERT: I set my fruit and vegetables on my countertop for 5-7 days. Ten days is even better to make sure everything is dry before using your FoodSaver unit.
Now you can use a FoodSaver to remove the air from the mason jars. These mushrooms will last for one year without any oxygen absorbers.
I used my Magic Bullet to make some mushroom powder. White Foodsaver Set for Wide And Regular Lids
How To Use Dehydrated Mushrooms
Pizza
Spaghetti Sauce
Soups
Stews
Omelets
Soup stocks and sauces
What Is The Shelf-life Of Dehydrated Mushrooms?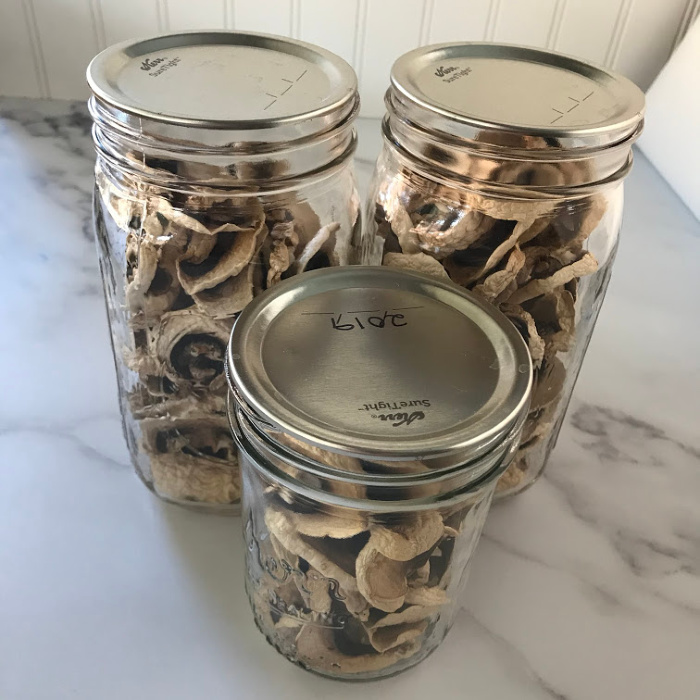 FoodSaver Equipment
In order to use a FoodSaver to seal these jars, you need an accessory hose with the wide mouth and regular mouth size white lids.
As a Master Canner/Preserver, I can safely say they will keep for one year. No, I do not use oxygen absorbers. I only dehydrate what I can use in one year.
It's nice to know you can start preserving your own food for short term storage. Don't worry, this all gets easier over time.
Do Mushrooms Lose Potency When Dried?
You may be wondering about the strength/taste/potency of the mushroom after it is dried out. In order to keep their potency, it's important that mushrooms are dried out at a low temperature. As long as you follow my steps, you'll be good!
How to Rehydrate Dehydrated Mushrooms
Have you ever wanted to rehydrate those dehydrated mushrooms? You totally can by following these steps.
Take the mushrooms that are dehydrated and cover them with a generous amount of water.
Make sure the mushrooms are generously covered with water.
Soak the mushrooms for 20-30 minutes.
Keep in mind that the rehydration time depends on how big and thick the mushrooms are!
It's nice to know that you can rehydrate mushrooms in such a little amount of time. Sometimes you change your mind and want hydrated mushrooms and this trick will work wonderfully.
Why Use Dehydrated Mushrooms Instead of Fresh?
You may be wondering why anyone would want to use dehydrated mushrooms instead of eating them fresh? I firsthand have witnessed how good dehydrated mushrooms taste.
When you dehydrate mushrooms, the flavor actually gets more intense and even better! Give it a try and see how you enjoy rehydrated dehydrated muscles.
Can You Buy Dehydrated Mushrooms?
Of course, you can buy dehydrated mushrooms, however, they are much cheaper to make them yourself! Following my steps, you'll be making your very own dehydrated mushrooms and you can enjoy them anytime you want.
Here are the other Dehydrating Posts I have done:
Final Word
I hope you try dehydrating mushrooms if you haven't already. You will never run out of mushrooms again. Just add them to homemade pizza, soups, stews, or spaghetti sauce.
Life is good if our pantry is full. Thanks for being prepared for the unexpected. May God bless this world, Linda