9 of the Best Party Appetizers
Do you love appetizers as much as I do? Here are 9 of the best party appetizers ever! You've had it happen to you, you get invited to a get-together of some sort and they ask you to bring something and you're not sure what to bring that will be a real hit without a lot of time or expense? I like to offer to bring an appetizer. I usually always have these ingredients in my pantry, refrigerator, or freezer.
I'm sure you love appetizers as much as I do! Please tell me the ones you enjoy eating at family reunions, neighborhood get-togethers, or parties with friends.
The 9 Best Party Appetizers
I can easily grab the ingredients and make an appetizer in minutes! Anything delicious that you can make quickly is a win-win in my book! How many times have your kids or grandkids been super hungry and you didn't know what to feed them as a special treat? You can easily make these appetizers. I have had instances where we've had last-minute company and I needed to fix something for them to eat. Over the years, I've figured out what to throw together and it has been awesome. Make sure you check out these best party appetizers so that you can benefit from the easiness and deliciousness of it all!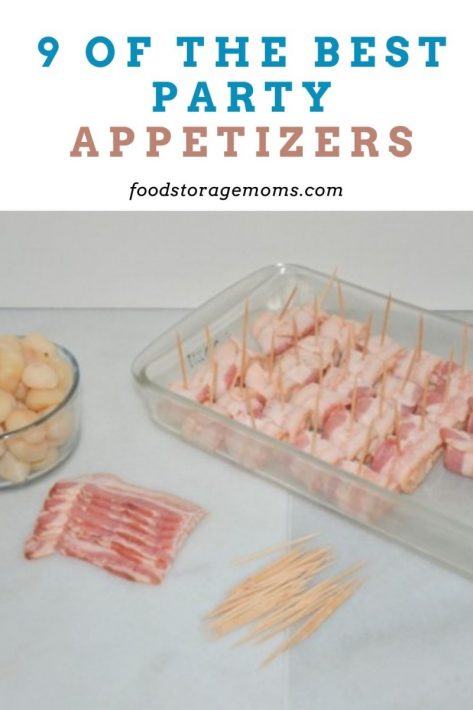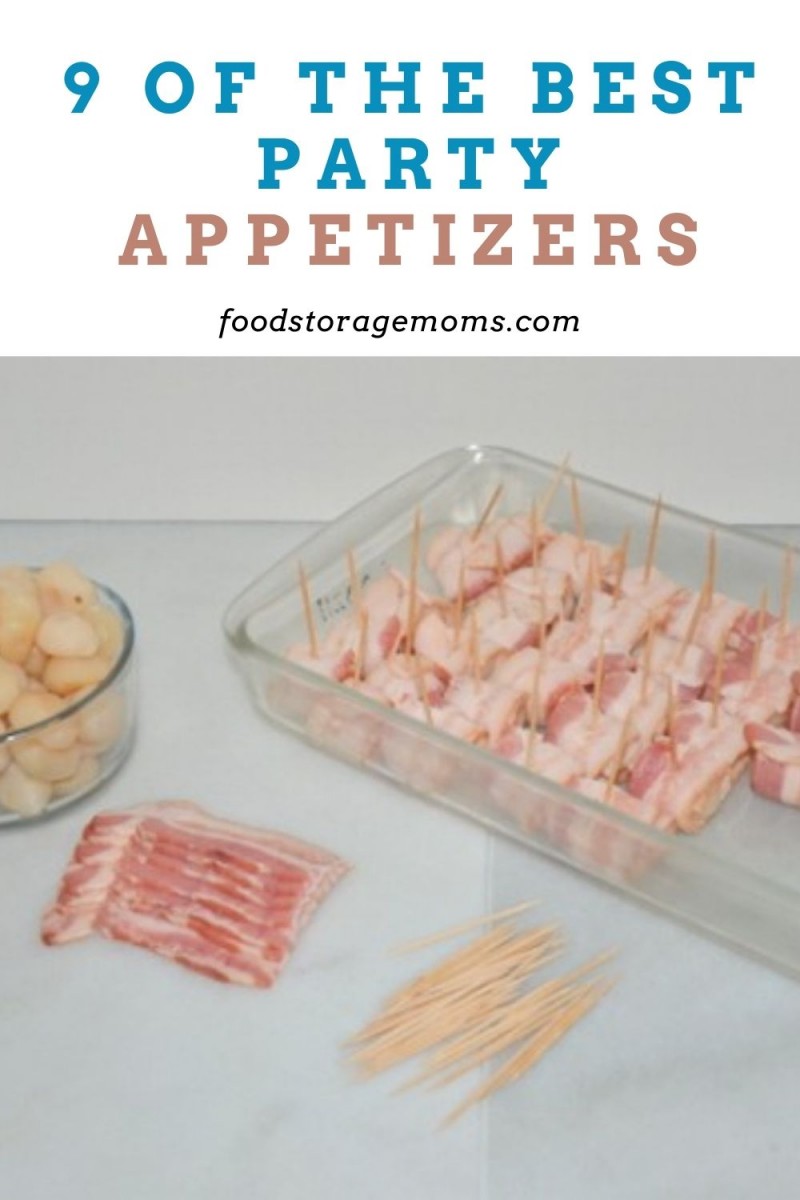 Cheese-Fresh Fruit Appetizers
Most of us have cheese and fruit in our fridge. You can easily slap this appetizer together with the help of what you have in your fridge!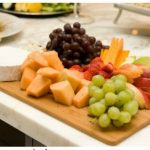 Cheese-Fresh Fruit Appetizers
Ingredients
your favorite cheese-sliced

apples (cut and cored)

grapes-red and green make the platter look festive

sliced strawberries

chunks of cantaloupe

sliced pears
Instructions
The appetizer pictured above is always popular at parties. This is a really healthy platter for people to stand around and chitty chat while munching. People love this one and it's a great one to take to the park and enjoy the fresh air with family and friends.
Water Chestnut Appetizers
Do you have water chestnuts in your cabinet? If so, you can turn them into a delicious appetizer that everyone will surely love.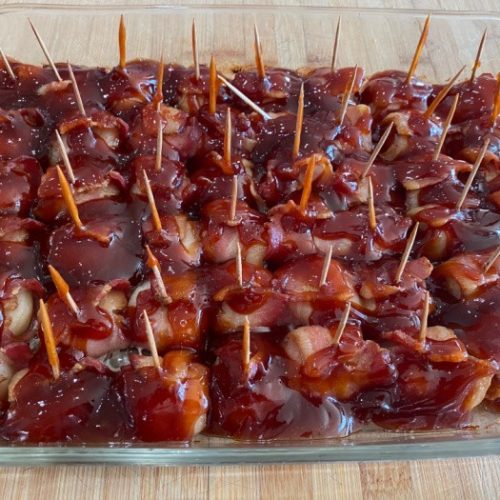 Bacon-Wrapped Water Chestnuts
Ingredients
3

cans of whole-water chestnuts-drained

1-1/2

pounds

thin raw bacon

1

cup

ketchup

1

cup

brown sugar

2-3

tablespoons

soy sauce

½

teaspoon

dry mustard

this is optional-I like a little kick to mine
Instructions
Bacon-Wrapped Water Chestnuts Appetizer
Gather all of your ingredients. Preheat your oven to (375°F) = (190°C) Grease a 9″ by 13″ inch pan.

Cut the package(s) of uncooked raw bacon into thirds. This creates the perfect sized strips of bacon to wrap the water chestnuts.

Wrap a piece of raw bacon around one water chestnut and secure it with a toothpick. Place the bacon-wrapped chestnuts in the greased pan. Continue to wrap each water chestnut with a piece of bacon until all the chestnuts are wrapped. Place the pan of bacon-wrapped chestnuts on a middle rack in the oven.

Bake uncovered for 20 minutes.

Drain the fat from the pan. This is the hardest part of the whole recipe. Be careful!
Bacon-Wrapped Water Chestnuts Sauce
It's time to make the delicious savory sauce! Place the ketchup, brown sugar, soy sauce, and dry mustard in a medium-sized bowl and whisk until smooth.

Cover the baked chestnuts with this sauce mixture.

Bake for an additional 20-30 minutes. Enjoy!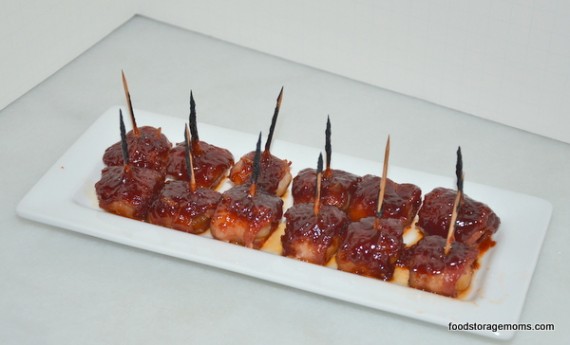 This is how they look while preparing them: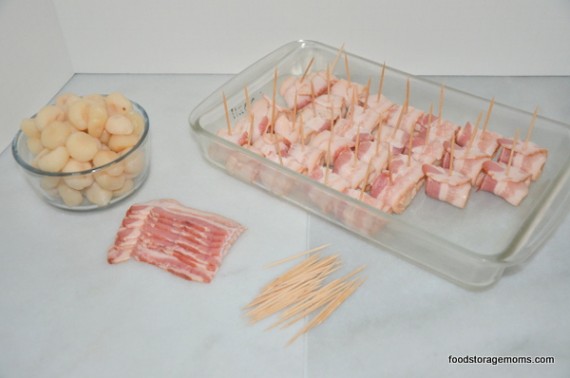 Sweet Little Smoky Appetizers
I think one of my favorite appetizers in the whole world are these Sweet Little Smokies. Who doesn't love a good little smokie?
Little Smokies Recipe
Ingredients
12-18

ounce

jar of grape jelly

12

ounces

chili sauce

3

pounds

Little Smokies
Instructions
1. Grab a slow cooker and place the Little Smokies in it.

2. Add the grape jelly and chili sauce on top of the links.

3. Turn the slow cooker to LOW for 3-4 hours.

4. When heated through, use a heat-proof tool to place them on your serving tray!
Recipe Notes
Everyone loves this recipe! If you keep some little smokies in your freezer and a couple of jars of jelly and chili sauce in your pantry, this is an easy recipe to make and take to any get-together. These are perfect for family reunions
Pineapple-Cream Cheese Dip
Being able to take your favorite cracker or pretzel and dip it in the Pineapple-Cream Cheese Dip will put you in appetizer heaven. Sometimes you need to have a little something salty and sweet, together!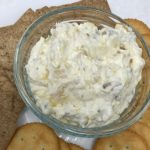 Pineapple-Cream Cheese Dip
Ingredients
2- 8-

ounce

packages softened cream cheese

2- 8-

ounce

cans drained crushed pineapple

1

cup

finely chopped pecans

2

tablespoons

green onion chopped

optional

1-1/2

teaspoons

all season salt-similar to Lawry's salt
Instructions
1. Place all the ingredients in a medium-sized bowl.

2. Use a hand mixer to blend completely.

3. Keep refrigerated until ready to serve. Serve with your favorite crackers or veggies
Recipe Notes
This is an easy one to make because if you typically keep cream cheese in your refrigerator, pecans in the freezer, and crushed pineapple in the pantry you can make this one at the last minute. It's perfect, even if you have to stop and pick up crackers at the grocery store on the way to the party. This appetizer is one of my family's favorites! We like the crackers called Chicken In A Biscuit and also Wheat Thins served with this one.
Stuffed Baked Sausage Mushrooms
Have sausage and mushrooms on hand? These Stuffed Baked Sausage Mushrooms are so delicious you won't be able to get enough of them. If you need a quick appetizer, go ahead and give these a try!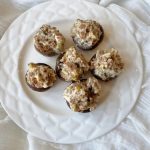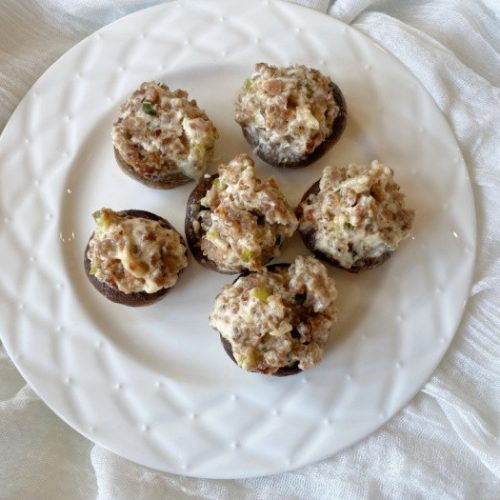 Stuffed Baked Sausage Mushrooms
Ingredients
15

large mushrooms or 24-30 smaller mushrooms-washed and dried-remove the stems

1-8-

ounce

cream cheese softened

1-16-

ounce

package of Jimmy Dean Maple Sausage

or your favorite flavor

Chop the mushroom stems

if desired, to add to the sausage when cooking it

green onions-chopped fine

optional I never use these
Instructions
1. Preheat the oven to (350°F) = (176°C).

2. Cook and crumble the sausage and drain the grease if any.

3. Stir in the softened cream cheese and chopped green onions.

4. Scoop the mixture into each mushroom.

5. Bake for about 15-30 minutes depending on the size of the mushrooms. Serve hot.
Recipe Notes
These are really easy to make the day before and cover with plastic wrap until you want to bake them. These are always gone within minutes.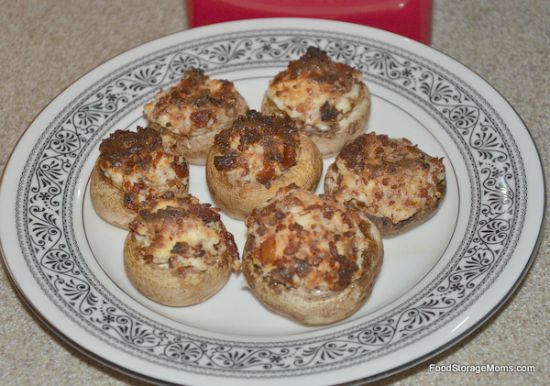 Easy Spicy Meatball Appetizers
If you have someone in your life who enjoys something a little spicy, then give this Easy Spicy Meatballs Appetizers a try. You will enjoy the flavor of the meatballs and how easy they are to make!
Easy Spicy Meatballs
Ingredients
⅓

cup

Franks Hot Sauce

1-1/2

cups

brown sugar

¼

cup

water

Meatballs-precooked

about 40-50-depending on the size
Instructions
Combine the Franks Hot Sauce, brown sugar and water in a medium saucepan over medium heat. Stir until the brown sugar dissolves. Place the precooked meatballs in a crockpot and cover with the sauce. Cook for about 2-3 hours or until warmed through. Serve with toothpicks and buttermilk ranch dressing and celery sticks, if desired.
Recipe Notes
I love this recipe because I buy the frozen meatballs from Costco and add the rest of the ingredients from my food storage stash! Get the slow cooker out and it's ready to make another very easy appetizer. They have a little kick, but you can cut down the hot sauce so they aren't so spicy if that is your preference. Serve out of a small slow cooker with toothpicks or place on a platter. This one is perfect for football season parties!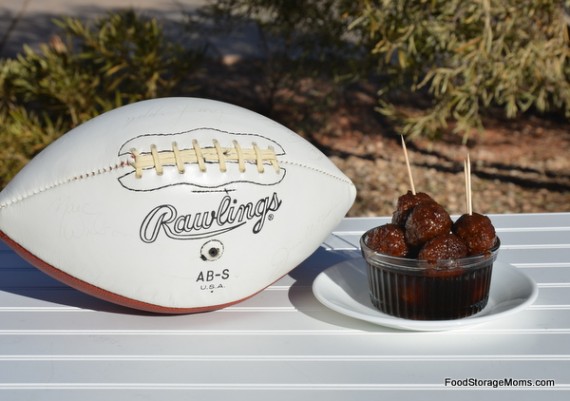 Cranberry-Cream Cheese Bites
Do you have cream cheese on hand? If so, these Cranberry-Cream Cheese bites are going to rock your world. One bite and you get so many different flavors!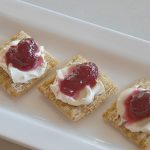 Cranberry-Cream Cheese Bites
This one is perfect for the holidays when the cranberries are on sale!
Ingredients
Cream Cheese-softened

1

can of Whole Berry Cranberry Sauce

14 ounces

½

teaspoon

dried and crushed jalapeno peppers

more or less depending on personal preference

1

box of Triscuit crackers
Instructions
Spread a small spoonful of softened cream cheese on each cracker. Combine the jalapenos and cranberry sauce in a bowl. Place a small spoonful of the cranberry sauce mixture on each cracker. Serve immediately.
Hot Chip Beef or Ham-Cream Cheese Dip
Spice up your appetizer life with this Hot Chip Beef or Ham-Cream Cheese Dip. You can dip whatever you desire into it and the taste is unlike any other dip out there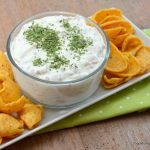 Hot Chip Beef Dip
Ingredients
8

ounces

cream cheese, softened

½

cup

sour cream

1

cup

chip beef or ham, cut into small pieces

2

tablespoons

fresh green onion, chopped

2

tablespoons

milk
Instructions
Gather all of your ingredients.

Soften the cream cheese in a small bowl or baking dish so you can dip your chips or crackers with ease in the softened cream cheese. I like to allow the cream cheese to sit at room temperature as I prepare the other ingredients. I have also warmed it in the microwave at 30 second intervals, if i am a little short on time.

Rinse the beef to remove any excess salt/sodium. Cut or chop the beef into thin slices so it can be more easily stirred into the dip mixture and stay on the chip or cracker when eaten.

Add the sour cream. The sour cream makes the dip more soft and easy to work with, besides adding a little tart taste to the flavors in the dip.

Mix the ingredients in the bowl using a hand mixer, or by hand, if preferred. Make sure it has a creamy texture since it will be used as a tasty dip. You can heat it in your microwave oven, at 30 second intervals, if you feel that will help soften the mixture.

Now add the beef that's been cut. Continue to stir until fully blended with the sour cream and cream cheese mixture.

Once the beef is blended in the dip mixture, you'll top things off with the cut-up green onions. The onions are always added to our recipe, but others will often add things like pecans, green peppers, black pepper spice, garlic powder, or other favorites to add a unique flavor to this dip. Serve with Fritos or your favorite crackers.

Be sure to store this appetizer in the fridge until it's ready to be served, so it stays as fresh as possible. It may thicken up a bit, but should soften up some once left on the counter for a few minutes at room temperature.

We warm it up in the microwave to serve it hot with Frito chips!
Cheesy Dill-Cream Cheese Pecan Ball
As you can see, you can make a lot of different dips out of cream cheese. This Cheesy Dill-Cream Cheese Pecan Ball is so easy to make and the perfect appetizer to throw together last minute.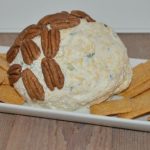 Cheesy Dill-Cream Cheese Pecan Ball
Our family and friends love this one! It's always a favorite because it has a little dill and green onions in it. We serve this one with Wheat Thins for sure!
Ingredients
2-8

ounce

packages of cream cheese

2

cups

grated cheddar cheese

¼

cup

sour cream

1

teaspoon

dill weed

1

teaspoon

onion powder

3

washed and chopped green onions or equal amounts of freeze-dried green onions

Pecans or almonds to garnish on top of cheese ball

optional
Instructions
Combine all the ingredients and use a hand mixer or stand mixer to blend them together. Roll in pecans or sliced almonds if desired. Serve with crackers of choice.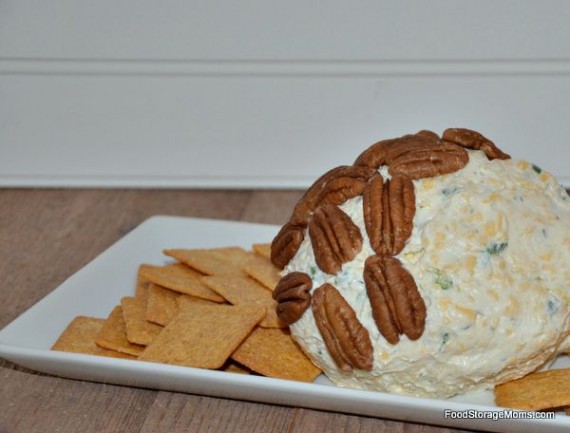 Final Word
I love "finger foods" for appetizers because I feel like people need more time to talk and laugh together. It seems that social media has taken the closeness of face-to-face conversation away from some of us. I love social media and use it almost every day, but I firmly believe girls need girls, women need women and friends need friends. Have a great time with friends and family soon. I hope you try some of the best party appetizers presented here! What are some of the best party appetizers that you have made over the years? I'd love to hear from you. May God Bless this world, Linda.