How To Dehydrate Pineapple-Healthy Snacks

Today it's all about how to dehydrate pineapple when it's fresh and juicy. You can see why I have been showing you different foods to dehydrate. I would love it if everyone could get a dehydrator of some kind. This is probably my favorite fruit to dehydrate. My grandkids love freeze dried pineapple. Of course, I can't freeze-dry my stuff so….I dehydrate it. I had purchased some pineapple from Costco and I could see that my husband and I were not going to be able to eat it as quickly as I had thought. So I put the dehydrator on the counter and started slicing the spears. So easy! Here's the deal if you have any fruit that you know you won't be able to eat in the next day or so, you can usually dehydrate it. I dehydrate bananas all the time. The take up less freezer space.
Dehydrate Pineapple-You Will Love It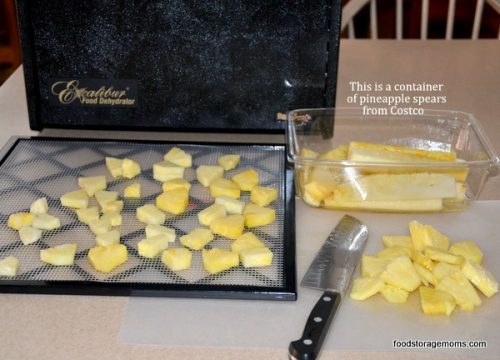 Here is the finished product. These dehydrated pineapple pieces are ready to take camping, hiking or just to snack on! No preservatives or chemicals…..just a healthy snack for our family! Pineapple helps alleviate arthritis pain.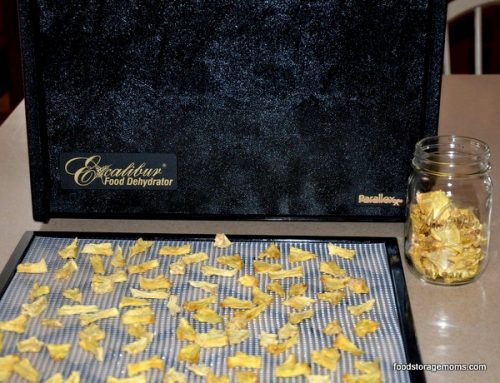 Pineapple is packed with vitamins for a healthier stronger body.  Pineapple strengthens bones. Pineapple even helps with digestion!  Gotta love it!
How To Dehydrate Pineapple
Ingredients
1-3 Pineapples, sliced about ¼ inch thick
No chemicals or preservatives
 Instructions
You slice the spears into ¼ to ½ inch pieces and place on the dehydrator racks. I set my Excalibur Dehydrator at 135 degrees. Be sure and check your own dehydrator for the temperature that is required. They took about 9 hours. I like to dry mine so they are still a little pliable, but not too crispy. I place them in quart jars and use my FoodSaver if I do a lot of them. These are a great healthy snack!
My favorite things:
OXO Good Grips Stainless Steel Ratcheting Pineapple Slicer with Depth Guide
Excalibur 2900ECB 9-Tray Economy Dehydrator, Black
Nesco FD-75A Snackmaster Pro Food Dehydrator, White